Are you looking for HP Diwali Sale 2023 massive discounts to grab your HP laptop?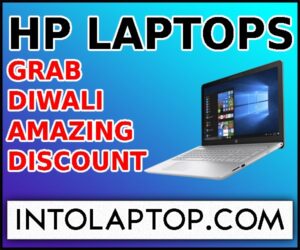 Well. Finally, Diwali Festival time has come.
You are not alone if you have waited for several months to buy an HP laptop for the 2023 HP Diwali Sale.
Most people looking for a good deal on expensive products wait for this Diwali festival for months to get an HP laptops at massive discounts.
HP Diwali Sale 2023 with Massive Discounts
Diwali is the occasion when millions of products are sold within a few days across all major product categories. Product sellers know this and try to attract customers to their brands.
The best way to attract customers is to offer heavy discounts on expensive products.
HP is not behind in this game.
It has come up with HP Diwali Sale 2023 offers for its laptops, desktops, and accessories.
You can expect savings of up to INR 56,000 (678 US $) on HP laptops this Diwali.
HP Diwali Sale 2023 is on so do not wait to buy the HP laptop you always desired to own. The following information will help you select the right laptop based on your requirements and budget.
HP offers a wide range of laptops to cater to different demands.
For example, a student has a different laptop requirement compared to a gaming enthusiast or a corporate company planning to equip its office with a high-end laptop.
Most probably, you are looking for a consumer-grade HP laptop for student, professional, business, or personal requirements.
HP offers laptops for all these categories.
HP laptops are categorized mainly across three categories – Home, Business, and Gaming.
The Home category has the following 5 laptops.
HP Pavilion
HP Essentials
Chromebook
Envy
Spectre
The Business category has the following 5 laptops. 
EliteBook
ProBook
ZBook
HP Essential
Chromebook
The Gaming category has the following 3 laptops.
OMEN
Victus
Pavilion Gaming
A).

 HP Home Category Laptops
1.

HP Pavilion Laptop
These laptops are designed to be all-rounders that can handle a variety of tasks in everyday life. Start with HP Pavilion 14 and Pavilion 15 which are light and thin.
They have powerful features for which HP laptops are known.
You get a long-range battery that can be charged quickly. You can work for long hours without the need for frequent charging.
The long-duration power will keep you connected longer.
Check HP Pavilion x360 which has a flexible hinge design.
This laptop lets you work, watch, write, and play in the position you prefer. Move it according to your comfort and convenience.
The Pavilion Power model from HP has the latest graphics and power system.
It offers full HD capability. This series has laptops with the option for 4K display and IPS technology.
If you do a lot of multimedia work, the laptops in this series with their high-level graphics are the best option.
They are also perfect for gaming. You can play all your favorite games.
Go through all these HP Pavilion laptops to choose the model that best meets your requirements.
HP Pavilion laptops start at INR 57,000 (690 US $) and go up to INR 90,000 (1090 US $)
2.

 HP Essential Laptops
These laptops are best if you do not need high-end features. They are not so basic that you cannot do most of your work.
These laptops are suitable for students and personal use where you are not looking for powerful features for graphics, gaming and processing.
There is no use buying highly expensive laptops if you do not use their high-end features regularly.
If most of your work is limited to simple Internet browsing, minimum office tasks, and simple software applications, then HP Essential laptops are sufficient for you.
The best part is that you will save a lot of money if you buy an  Essential laptop from HP.
Laptops in this range are equipped with AMD or Intel processors.
They have HD or FHD displays. The battery will charge fast and keep you connected for long hours. Your entertainment session will not be disrupted even when you are using your laptop on the go.
Take advantage of HP Diwali Sale 2023 to buy an Essential laptop at a discount.
Laptops in this range start at INR 28,000 (340 US $) and go up to INR 60,000 (725 US $).
3.

 HP Chromebook
HP Chromebook laptops have been designed to get most of your digital works done if they can be done mainly through the Internet.
The operating system Chrome has advanced a lot and now comes with some amazing features.
HP Chromebook laptops have been designed to take advantage of the powerful features of Chrome OS. You get access to millions of Android apps available for Android devices.
HP Chromebooks are light and highly affordable laptops. You will also find the expensive model here that offers some extra features.
Compact size, long battery life, light Chrome OS advantages, access to all Android apps, and a full-size keyboard are some of the features found in HP ChromeBook laptops.
The prices start at highly affordable INR 18,000 (218 US $) and go up to INR 60,000 (725 US $).
4.

HP Envy Laptops
HP Envy Laptops have high-performance processors from Intel. They have lightning-fast storage systems and long battery life.
The devices in this range come under the premium category, so they are able to handle the most demanding tasks you can throw at a laptop.
You get an HD display as well as a touchscreen with a micro-edge glass surface. The laptop is covered in an all-metal body and is quite slim and thin.
The lightweight laptops have been designed for high mobility, stylish look, compact size, and lightweight. The laptops in this range start at INR 82,000 (990 US $) and go up to INR 2,00,000 (2420 US $).
5.

 HP Spectre Laptops
These premium laptops come with powerful features and yet they are stylish and lightweight. Take a look at Spectre x360 which gives you four operation modes.
It has a 360-degree hinge. Use a digital pen to write, draw, mark, sketch, and capture what you see on your screen.
The lightweight Spectre laptops come with a 4K display at 8 million pixels to show graphics in amazing detail.
These laptop models are designed to deliver maximum performance and visual pleasure.
Spectre models start at INR 1,13,000 (1370 US $) and go up to INR 1,67,000 (2025 US $)
B).

 HP Business Category Laptops
The Business category includes some additional options in addition to the HP Essentials and Chromebooks.
The three other series in this category include:
1.

HP ProBook
Laptops in this series are designed for the demanding tasks that businesspeople have to handle on the go. The ProBook laptops achieve all these goals without increasing the weight.
The light and thin design works well with most business people and professionals who have to travel with their laptop.
Power your projects with the powerful Intel processor or the energy efficient AMD processor. These laptops have high-level Client Security and BIOS Protection of HP.
All your private and sensitive information will remain secure.
Take a look at the laptop models available in this category starting from INR 50,000 (599 US $) and going up to INR 1,23,000 (1500 US $).
Buy before the HP Diwali Sale 2023 ends.
2.

HP EliteBook
The Elite family of HP laptops is highly secure and manageable. They are protected with excellent security features as demanded by businesspeople.
You can complete most of your office tasks quickly due to the powerful processor and other features of these laptops.
The devices have protection from BIOS attacks. Other security features are installed to keep out hackers and malicious software.
The laptops offer long battery life and high-performance. HP EliteBook is easy to carry due to their light weight. You can install and operate most business applications.
The touchscreen display and excellent security features make these laptops popular among business people. The devices in this range start at INR 1,20,000 (1429 US $) and go up to INR 2,00,000 (2420 US $).
3.

HP ZBook
ZBook Laptops are perfect for mobile workstations.
The portable high-configuration laptops give you amazing features. You can do all types of multimedia tasks in these laptops without any difficulty. They are equipped with the advanced Intel processor.
To make graphics jobs easier, these devices have 3D graphics capability.
Excellent storage and memory are present to ensure fast performance.
You can install multiple applications and operate many of them simultaneously without any issue.
Take a look at different HP ZBook workstation laptops that start at INR 1,21,000 (1465 US $) and go up to INR 2,00,000 (2420 US $).
C).

 Gaming Category Laptops
When it comes to the gaming laptop, HP is not behind from other laptop brands.
Here you will find some of the top end laptops perfect for gaming where fast processing speed, maximum graphics capabilities and other top features are needed to operate most demanding videogames.
You can use these laptops for other common software application tasks as well.
1.

 Pavilion Gaming
The Pavilion series of HP laptops have several models for gaming.
They come with advanced graphics, top AMD processor, and better cooling.
The FHD high-resolution display ensures fast refresh rate.
You will see smooth gameplay visuals that bring content to life.
These laptops are perfect for entertainment due to their advanced graphics processing capability.
The laptop is equipped with better thermal cooling system that keeps the device cool.
The laptop operates in a stable condition and delivers better performance when it remains cool.
2.

 OMEN Series
HP OMEN Laptops have powerful processor, amazing graphics and excellent memory.
All these top features have been provided to ensure your game never feels like you are on a slow-moving device. Play your game at full speed anytime, anywhere.
Now you are not away from your favorite games even on the go.
The Dragon Red light backlit keyboard brings the same effects as you see in the gaming desktop keyboards.
The 4K display and top audio quality makes the device perfect for playing games to the fullest.
These laptops start at INR 130,000 (1569 US $) and go up to INR 300,000 (3629 US $)
Discounts on HP Laptops
You are assured of discounts on HP laptops because they are presently being offered under Diwali sale offers.
Many accessories for HP laptops are available at up to 75% discount.
These discounts are valid for all buyers, so you do not have to do anything special to avail these offers. Just make sure you make the purchase decision quickly because the discounts on the laptops may not be available after Diwali.
Best HP Laptop In a Low Price Band
Some models of laptops made by HP can be purchased at highly reduced prices.
They do not have premium features but are suitable for most essential applications. You can get most of the works done using these devices.
Some of the low price HP laptop options are available in the Pavilion category. If you are ready to settle for a ChromeBook, you will pay a lot less.
You will be limited by the Chrome OS but then you get access to millions of Android apps.
HP Brand
HP is a well-known brand in the computer product industry. It has maintained an excellent reputation in this field due to its high performing computers and laptops.
It also makes different types of accessories for these devices.
Some of the best laptops for students, businesses and gaming are made by HP.
HP is one of the top laptop brands in 2023 so when you purchase HP laptop, you cannot go wrong.
You will get an advanced device that comes with warranty and the assurance of HP brand.
Are HP Laptops Better Than Other Brand Laptops?
HP is known to make high-quality devices that last long and deliver top performance.
They come equipped with all necessary features that buyers of a laptop expect.
It offers a wide variety of laptops for different applications, making it easier to choose the right laptop quickly and easily.
Whatever your budget, you are sure to find the laptop you need.
You can also check Diwali offers on Acer Laptops
How to Choose the Best HP Laptop?
First of all, determine your requirements and budget.
Take into account your majority of tasks that will require the use of the laptop. Are you a student?
There is no use buying a high-configuration gaming laptop for student applications.
Go for a mid-range laptop that starts at INR 50,000. Most top features needed for study can be found in HP laptops that sell below one lakh rupees.
If you are a businessperson or professional, you need a laptop that will come with long range battery power. HP Business laptops have been designed especially for business people.
These devices can handle demanding tasks that require top graphics and processing power. You can run all those business applications that require a high-configuration computer.
Do not miss HP Diwali Sale 2023 offers.
This is the right time to buy a laptop at highly reduced prices.
Rest of the year, you will have to pay the maximum retail price.
Prices of laptops always keep going up and rarely come down. Celebrate this Diwali with the HP laptop you always desired. Browse different HP laptops to find the one that meets your requirements.
Final Words about HP Diwali Sale 2023
Hope you found this article useful about HP Diwali sale 2023.
Grab your Best HP laptop with Massive Discounts Rightnow at this HP Diwali sale 2023 season. Don't miss the golden opportunity.
Also, you can explore intolaptop.com to find out more awesome laptops. 
Also Read : TOP 10 Best HP Laptops
Last update on 2023-09-17 / Affiliate links / Images from Amazon Product Advertising API