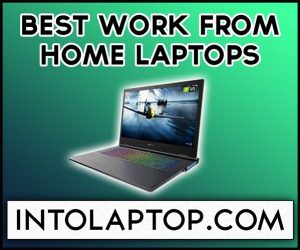 No matter if you always work from home as a freelancer or you have just started it because of the outbreak of the Coronavirus (Covid-19) Pandemic. Since many countries have been gone in the state of lock-down and offices have been shut down temporarily to stop spreading of this deadly disease.
You need to remember one thing that working from home is not something which is as straightforward as it sounds. You have to face many obstacles that make it hard to balance your personal and professional life. Since you've already been through a lot, a sluggish laptop is not suitable if you are planning to start professional work from home. For a large part of their careers, a lot of freelancers, modern nomads, and consultants worked from home.
Best Work from Home Laptop
Whether it's the tech (bloggers & programmers), business, artistic, media industry such as YouTubers or even education, etc. You'll see lots of people working remotely to earn their bread and butter. That is why in today's post we have compiled a list of 10 Best Work From Home Laptops in Corona Virus Pandemic (Covid-19) scenario.
They will provide you excellent performance and will not slow you down during intensive work. You can also visit into laptop to check out even more laptops according to your work, needs or budget. 
1.

 Best Work from Home Laptop for Students
When you're a student you'd like one of the best laptops in class. Choosing the very best laptops can be homework in itself with so many options at so many different costs.
According to our reviews, the laptop which can fulfill each of your requirement as a student without showing any issue is ASUS Vivobook S. This laptop clearly takes its marks from the same manufacturer's more expensive ZenBook series, with its rounded corners and wedge-shaped unibody appearance.
The ASUS Vivobook S offers you an Intel Core i5 CPU which is a hyperthreaded dual-core ULV processor and provides enough power.
BUY NOW ON AMAZON
Dell Inspiron 15.6 Inches laptop is another great option to be considered for college or university students. Its HD screen is one of the most notable features which make it one of the crispest and most vivid pictures you'll find today on a consumer-grade notebook.
The Dell Inspiron 15.6 inches laptop for students was near the top of the pack for both single and multi-thread output at Cinebench, which tests the CPU in short bursts.
Furthermore, putting the Intel Core i5-7200U laptop to work has yielded even better performance, which means you will not be disappointed after getting this laptop.
BUY NOW ON AMAZON
The laptop's most important component in terms of performance is its processor and if you want powerful performance then Acer Aspire A315 can fulfill this requirement.
It offers an Intel Core i5 7th gen CPU that clocks up to 3.1 GHz. The Aspire 3 can perform even more challenging tasks in conjunction with the integrated HD Graphics 620 and 6 GB RAM.
During our tests, this laptop operated rapidly and smoothly as expected and proved to us its efficiency. The programs started fast and we didn't feel any limitations during the regular usage.
BUY NOW ON AMAZON
2.

 Best Work from Home Laptop For Freelancers
First, in this list, we have Acer Spin 3 Convertible Laptop which is a comparatively sleek 2 in 1 convertible touch screen or intensive work machine with a trademark design of the predator series. It can be used by freelance graphic designers.
Acer Spin 3 convertible comes equipped with an Intel Core i7 processor with 512GB SSD hard drive and 16Gb of RAM. With that, it can run the day to day task without having any problem.
In our test it only slows down when we opened the twitch stream otherwise, it performed great. Spin 3 Convertible laptop has a 10 figure touch-sensitive display so when you use this laptop in 360-degree tablet mode.
BUY NOW ON AMAZON
Asus ZenBook 14 is another great choice for freelancers or people who do home-based work. Thanks to the angled rear lid and narrow bezels along the bottom of the screen, this laptop's design is visually striking and distinct as compared to other Ultrabooks.
In order to run a native Full HD resolution of 1920 x 1080 as its siblings, the Asus ZenBook 14 offers a glossy 14 inches IPS display. ZenBook 14 laptop provides solid overall system performance with the combination of SSD, a crippled Core i7 CPU, and dual-channel RAM. On top of that, it is also comparatively lightweight.
BUY NOW ON AMAZON
If you want to work at a stationary place or want a desktop alternative then Dell G5 15 is a great option for you. Despite being slightly heavier in weight the Dell G5 15 has enough power to run anything but the most demanding tasks, it comes loaded with an Intel Core i7 CPU and 16GB of RAM.
However, the chassis is thick but the company has designed this laptop is a pretty sleeker way.
BUY NOW ON AMAZON
3.

 Best Laptop for Professionals to work from Home
Professional work always requires a capable computer whether you use a desktop or laptop, although laptops are more suitable for this category since they are portable and you can carry them anywhere you want pretty easily.
The first laptop we recommend you is Acer Predator Helios 300 which offers a premium-looking design. During intensive work, this laptop will impress you with better than expected results.
No matter which program you run it can handle it like no problem due to its hardcore specs. It comes equipped with an Intel Core i7 ninth gen CPU and Nvidia Gforce GTX 1660 Ti 6GB. 
BUY NOW ON AMAZON
And when we talk about hardcore performance the Dell Alienware R4 is another worthy competitor.  Its Full HD display with the resolution of 1920 x 1080 delivers plenty of brightness and vivid colors.
We recommend you to run Windows 10 from the SSD rather than from the HDD since it really helps to improve the overall performance of Dell Alienware R4 laptop.
For the 60 Hz display panel, the GTX 1060 is more than enough to provide high to maximum details on the Full HD panel of Alienware R4. This laptop can cope up with any task you throw at it.
BUY NOW ON AMAZON
Finally, we will recommend you the HP Omen 15 for your professional work requirements. Yes, this laptop is heavy but the built is pretty strong and chassis is made out of aluminum.
The moment you pick HP Omen 15 you realize that the body and frame are well constructed. Due to its powerful CPU, a fast NVMe/M2 SSD, and a solid mid-range GPU, the Omen 15 by HP is certainly more than powerful enough for any kind of work or tasks.
You can even add another RAM if you want to give this laptop a further boost by making it dual-channel.
BUY NOW ON AMAZON
4.

Best Work from Home Laptop for Content Creators
Every computer is not capable of doing Video/Photo editing or other intensive work, that's why content creators have to have a decent laptop on which they can do these kinds of projects without facing any slowdowns or hiccups.
Alienware M15 is one of the thinnest and lightweight laptops among the big chunky rigs in this league. In fact, the M15 gaming laptop is the slimmest Alienware laptop ever with a weight of 4.8 pounds and 14.3 x 10.8 x 0.7-0.8 inches dimensions.
It comes equipped with a powerful Intel Core i7 processor and a Max Q GPU with 8 GB VRAM.
ASUS ROG Zephyrus S GX701
Another strong contender for this category is the ASUS ROG Zephyrus S GX701 laptop. Its sleek and slim aesthetics makes other bulkier rival laptops look outdated and old.
Zephyrus S GX701 laptop comes loaded with an 8th generation Intel Core i7 8750H six-core processor, which has a turbo clock speed of 4.1GHz along with Nvidia GeForce RTX graphics that has Max Q design.
The beefy specs are enough to show what kind of hardcore performance you will get from this beast laptop under the workload. 
Content creators always prefer a laptop that offers a lightweight and thin design because they will be able to carry it easily and can work on the go during travel.
So if you want these features then Lenovo Legion Y740 Laptop is the best pick for you. With an Intel Core i7-8750H processor, Nvidia GeForce RTX 2070 and 16 GB of RAM, the Legion Y740 proves itself a pretty powerful system.
It provides you the best performance you can get in this price range and you will not be disappointed after purchasing this laptop. 
BUY NOW ON AMAZON
Last update on 2023-09-12 / Affiliate links / Images from Amazon Product Advertising API