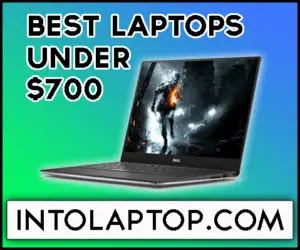 Finding a good laptop under a $700 budget is not an impossible task unless you have an idea of the device's components and capability according to what you want to do with that machine. That's why if you wanted to buy a new laptop under $700 according to your work requirements then you must read today's article.
In this post, we have not only compiled a list of top 10 best laptops under $700 price range but also we have reviewed them in detail to check out their performance under every condition.
Also Read: Best Laptop Under $1000 Budget
There are a lot of machines available under this price tag but we have only mentioned those who performed well in our testing, and filtering good laptops is a pretty difficult task out so many other options.
With each laptop below we have included its features, capability and the work it can do best to make your job of researching all this stuff made a lot easier. You now only have to choose a laptop from below that best to your needs.
It is obvious thing The best laptops should have good specs quality and sturdiness. But when we start looking for machines under a specific or rather tight budget, we tend to allow a few compromises.
Because in order to make a laptop less expensive the manufacturers always have to cut some corners, which is normal.
Best Laptop Under $700 Budget in 2024
But as we have mentioned above that below we have only included those laptops which perform well and come equipped with good and reliable components.
With that being said let's get to the main point without any further delay.
Also Read: Best Laptop under 1000 Dollars
1.

Lenovo Thinkpad E590 15.6″
"The Best Business Laptop Under $700"
Design
Most of the body of Lenovo Thinkpad E590 15.6″ is made out of plastic but the chassis is made by aluminum so does the lid. Because of this mix of aluminum and plastic.
The Lenovo Thinkpad E590 is built wise very sturdy and strong machine. Although the overall look is very familiar with the previous models of the Thinkpad series.
There is not very much difference in the overall look of the Lenovo Thinkpad E590 as compared to its predecessors.
Which is fine since those were also very good and reliable laptops according to the consumers. 
Display 
Lenovo Thinkpad E590 has a 15.6-inch display with the resolution of 1920 x 1080, the contrast level of the screen measured to be 1,352:1 which is excellent.
Though the brightness wise screen is slightly dim for the display like this. Apart from that the display of Lenovo Thinkpad E590 is good and scored decent figures during the testing.
If you set a black background you could see some lighter areas but in normal use, they will not be noticeable.
Lenovo has put a different display panel in Thinkpad E590, that's why the screen feels considerably better than the previous models of the same series. 
Performance Under Workload
Because of the combination of NVMe SSD and Core i7 processor, Lenovo Thinkpad E590 provides great overall performance.
We had a very snappy and fluid experience with this laptop during our testing, we didn't encounter any issue regarding the workload.
Lenovo Thinkpad E590 achieved good results in PCMark since this laptop has enough power to do daily typical office work and light gaming.
But if you want to increase its power even more then you will have to install a second RAM module to enable dual-channel mode.
As we have mentioned earlier that Thinkpad E590 comes with an NVMe 256GB Toshiba SSD, out of which 212GB will be usable after windows installation and recovery partition.
Thinkpad E590 offers AMD RX 550X 2GB GDDR5 GPU, which is powerful enough to achieve up to 1,176 MHz clock rates easily.
BUY NOW ON AMAZON
2.

Acer Aspire 

Vero 
"Simple Design With Power Performance & Good Battery Life" 
Design
The Acer Aspire is good-looking, its deck is made out of chunky plastic and a brushed metal finish their kind of gives this laptop a premium look.
But the thing is that Aspire 15 is exactly what you would expect to be from an under $700 budget laptop.
So the manufacturers have to focus more on the hardware and practicality of this machine instead of its looks and appearance.
All over the design of Acer Aspire is pretty simple and straightforward accepts the chrome trim around the touchpad.
Its dimensions are 15 x 10.2 x 1.2 whereas it weighs almost 5 pounds, which means carrying this laptop in your backpack for the whole day is definitely not a good idea.
However, Aspire 15 is a machine that is loaded with a lot of ports, there is a USB 2.0, a DVD double-layer drive, a headphone jack, and a power connector on the right side.
On the left, it got USB 3.1 Type-C port, Ethernet port, VGA input, HDMI port, two USB 3.0 ports, a Kensington lock and last but not least a card reader.  
Display 
The 15-inch non-touch screen version of Acer Aspire 15 shows sharp but not much colorful display.
However, the 1920 x 1080p resolution is capable enough to let you experience the details in HD videos or movies. Aspire only reproduce 62.3% of the sRGB color gamut though previous models of this same series were capable of reproducing double the Aspire 15 figures.
Its maximum brightness level is 227 nits, which is good enough considering that it is a budget laptop.
Despite the fact that Acer Aspire 15's predecessors were always got liked because of their display quality and this laptop's display is not as good, still, Aspire 15 is a great option under $700. 
Performance Under Workload
Acer Aspire provides an excellent price-to-performance ratio since it is powered by an Intel Core i7 processor, 52,00 RPM 1TB hard-drive and 16GB of Ram.
You can easily do multi-tasking on Aspire, daily typical office work is not an issue for this laptop either.
For entertainment purposes yes you can do light gaming on this machine because it offers a good cooling system with powerful GPU. In our overall performance test Aspire, 15 scored a decent figure of 7,871.
The Core i3 variant of this laptop performed even better and scored a solid 8,543 in Geekbench 4.
BUY NOW ON AMAZON
3.

Asus TUF FX505DT
"Powerful Gaming Machine With Attractive Asthetics" 
Design
With the angular appearance, Asus TUF FX505DT continues the trademark design of the TUF series, on the lid, there is an Asus logo and when you open it you will find the same red color scheme on the keyboard as its predecessors.
However, in the latest model FX505DT of the TUF series, Asus has ditched the red scheme on the lid and around the air vents instead.
This time the company has chosen to go with a simple black finish on both interior and exterior of the laptop.
Because of the fact that this laptop falls in the budget category, the overall build including the lid, keyboard, and mousepad of the Asus TUF FX505DT are all made out of plastic. 
Display
The Asus TUF FX505DT is basically a budget gaming laptop and when you want to game on a budget then you to go through some compromises.
The good thing is that Asus has offered a full HD 1920 x 1080p resolution with a 120Hz refresh rate in TUF FX505DT, whereas in every other similar gaming laptop under this budget screen is always below average.
TUF FX505DT is the only budget gaming laptop that provides this kind of good display otherwise, you will find it only in premium gaming laptops.
Its screen covers 66% of the sRGB color gamut though these figures are below the entry-level average, the screen is vibrant and colorful.
During gameplays, this display allows you to sea the minute details and affects. In our testing, we didn't notice any stuttering or freezing while playing graphic-intensive games.
The clarity of this display is definitely one of its plus points. 
Performance Under Workload
Asus TUF FX505DT comes equipped with 4GB GeForce GTX 1650 GPU, which makes this laptop a capable gaming machine under $700.
You can play the latest graphic-intensive, triple-A games on this laptop in HD 1080p medium setting without any problem.
However, the GTX 1650 GPU is a kind of low-end graphics card since it does not offer any ray tracing or tensor cores like other high-end graphics cards of the GeForce GTX series.
But it still provides good enough performance that you can play any latest PC game with 52 to 68 frame rates per second, which is great regarding the price tag of Asus TUF FX505DT. 
BUY NOW ON AMAZON
4.

 HP Envy X360
"Sleek & Stylish Lightweight 2 in 1 Convertible"  
Design 
HP Envy X360 convertible laptop is available in Black color which the company has named nightfall.
It seems like the color of this laptop changes with the light angle from purple-black to brownish kind of black, which looks pretty cool especially on a budget laptop.
When you hold this device it does feel like a premium laptop because of the aluminum finish on the surface of the lid.
The only downside we have noticed in its design is that the surface area should have been stronger, it feels like you can bend this thing without using much force very easily. 
Thought the lid feels pretty stiff maybe because of the glass. Although HP Envy X360's lid is stiffer maybe because of the glass panel.
There are two 360 degree hinges that connect the top lid with the bottom part since it is a convertible. 
Display 
Hp Envy X360 offers 15.6 inches FHD Touch Screen Display with 1920 x 1080p resolution, which provides 166 PI pixel density.
On top of that, you will also get a 120Hz refresh rate. Envy 360 offers great quality because of its higher resolution with one downside though.
Every App will not be perfectly scaled due to the higher pixel density but that is not the problem of the laptop, so don't worry.
HP Envy X360 convertible laptop achieved 675 average brightness levels during our test, which is, by the way, the best result as compared to all other under $700 laptops we have tested so far. 
Performance Under Workload
For doing daily tasks, typical work, or watching videos HP Envy X360 laptop is a great option to be considered but it is worth mentioning that the performance is decent not very good.
If you want a laptop with 360-degree capabilities and a good touch screen display under the budget then you can go for it.
One main problem is that it only provides you the best performance with multi-thread configuration, even with that it kind of slows down after the first run.
The good thing is that after how HP Envy X360 performed in our test we can definitely rank it between the good or acceptable kind of machine in terms of performance. 
BUY NOW ON AMAZON
5.

Lenovo Flex 14 2-in-1 Convertible Laptop
"Easier for Carrying Most Well Build Convertible" 
Design
As compared to the other 2 in 1 convertible laptop the Lenovo Flex 14 is a very compact and well-built machine. Although looks-wise this laptop has a pretty simple and straight forward kind of design.
From the appearance, it doesn't even look like a 2 in 1 convertible unless you look at the hinges. Otherwise, it just looks like any other basic business laptop that can blend in very easily in a business environment or a classroom.
The lid of Lenovo Flex 14 2 in 1 convertible laptop is made out of plastic which really reminds you of the material used in Lenovo's Thinkpad series laptops.
Its keyboard and main deck are also made out of plastic which can flex under pressure. Another great feature in Flex 14 convertible laptop is that you can not only use it in the tab mode but also you can twist the screen to the sideward position.
That could be the reason that the screen kind feels heavier than the bottom portion.   
Display 
As we have mentioned above that while buying a budget laptop you always have to compromise a few things and in Lenovo Flex 14's case, it is the display.
The 14″ FHD 1920 x 1080p touch screen display panel offers an average contrast ratio and average response times. 
The maximum brightness of Flex 14 is measured to be 271 nits, which is well below the 300 nits average of the many other laptops you can find under $700 budget.
On top of that, the display is petty glossy, which really makes it difficult to see under the direct over the headlight or outdoors.
To make matters worse the backlit keyboard reflects on the glossy screen of Flex 14 and troubles you even in the indoors. 
Performance Under Workload
Like every other budget convertible laptop, Lenovo's Flex 14 also provides just decent performance under load.
If you want it to just surf websites, stream videos, or typical kinds of daily office of study work then it is a great option under the budget.
However, in professional working scenarios, it just performs enough to called decent of acceptable. In general tasks Flex 14 convertible laptop performs up to the mark.
This laptop can be used for light content creating works on photoshop or video editors. During our test it did a great job while we use photoshop to design, we didn't experience any slowdowns or stuttering. 
BUY NOW ON AMAZON
6.

Dell Inspiron 15 5000
"Simple Business Work Machine Which Provides Great Performance"
Design
Dell Inspiron 15-5000 laptop is made out of plastic from top to bottom unlike the premium series laptop of Dell which are all aluminum.
Obviously, under a $700 price tag, you cannot expect more than that. The surfaces of Dell Inspiron 15-5000 are kind of rough uniform and if you go for the grey colored finish then it can resist better against fingerprints then metal, which is a good thing.
Chassis is strong enough though whenever you open or close the lid you can hear an audible cracking noise, which kind of puts you in doubts about the build quality.
We found that down the center lid is considerably more flexible, which means you should be careful while putting any kind of pressure on that particular area.  
Display 
With Dell Inspiron 15-5000 you will get a 1080p 15.6 inches IPS display, you can choose between touch and non-touch configuration according to your requirements.
Regarding the price response time, the colors and brightness of the display are decent but not extraordinarily good. 
The contrast ratio, however, is about 1000:1 which is good. But the colors are slightly shallow and it gives the display an overall budget device look, which it is.
Dell 15-5000 laptop is not designed to be used outdoors on a frequent basis since brightness is dim and under the overhead lightning working on it could become problematic. 
Performance Under Workload
The best thing about Dell Inspiron 15-5000 is that it comes equipped with the same processor which manufacturers used in their premium level devices.
As a result, this laptop can do day to day tasks, typical office work, and other normal things with ease without having any issue.
You can upgrade RAM in Inspiron 15-5000 up to 32GB and if you do that our recommendation is that you should go for dual-channel configuration if possible.
Dell Inspiron 15-5000 performs considerably well in our Benchmark test by scoring solid 5584, which is more than enough daily usage.
Moreover, we didn't encounter any issues regarding performance during our tests accept while editing video it shows signs of slowing down.
Which is obvious since Inspiron 15-5000 does not come with dedicated GPU, otherwise it performed better than other laptops you can buy in this budget. 
BUY NOW ON AMAZON
7.

Microsoft Surface Pro 6
"Excellent Display with 2 in 1 Convertible Configuration"   
Design 
The elegant new black color theme of Microsoft Surface Pro 6 is the one and the only main difference otherwise, it has almost the same aesthetics as the previous models.
This tablet-laptop weighs only 1.7 pounds and it is 0.33 inches thin, however, its predecessors also have these same qualities.
So if you are a user of Microsoft Surface series then there is nothing new with  Surface Pro 6 overall appearance.
Instead, there is something missing in the latest Surface Pro 6 laptop. For some wired reason, Microsoft has ditched USB-C port yet again.
Which is kind of disappointing, users always buy this laptop because of the fact that it is easier to carry.
Display
12.3 inches display of Microsoft Pro 6 offers 2736 x 1824p resolution with a pixel density of 267 dpi. Microsoft Surface Pro 6 provides an astonishingly higher contrast ratio of 1447:1.
The brightness it provides is also good regarding the price measuring at 463 nits. This is one few laptops that you can use in the outdoors without having any brightness issues.
The is display is also multi-touch which offers pretty fast response time. Because of the glass coating, the screen is pretty reflective but you can use it with increased brightness without having any problem.
In our tests, the display of the Surface Pro 6 performs great, from all angles display was perfectly readable without a decrease in brightness or color distortion.
Without any doubt, this display is one the best you can get under the budget of $700 and if you like touch screen laptops then you can not have a better option then Surface Pro 6.
Performance Under Workload
With an Intel Core i5 processor and 8GB of RAM, Microsoft Surface 6 Pro performs considerably well on daily tasks and under the typical workload.
Multi-tasking is not an issue for this device, you surf the web and watch HD videos at the same time.
But in Overall performance tests and Benchmarks, this laptop performance was average, which is not a shocking thing when you consider the price tag.
So if you want a laptop for day to day usage with an excellent touch screen then Microsoft Surface Pro 6 is a great option. It is easier to carry and you can work with it in any outdoor condition. 
BUY NOW ON AMAZON
8.

Acer Chromebook Spin 13
"Most Stylish & Premium Looking Chromebook"
Design
After Google, Acer also has adopted the aspect ratio of 3:2 for the display of Acer Chromebook spin 13.
This laptop weighs almost 1.5kg with a footprint of 310 x 246 mm and 18 mm of thickness. These factors make Acer Chromebook a relatively big laptop.
The good thing is that this laptop offers all those aspects which you usually expect from a premium level machine.
Such as diamond-cut edges, Gorilla glass for the touch screen and touchpad, and an anodized aluminum chassis.
Acer Chromebook spin 13 really looks like a high-end laptop from its appearance. The lid has two hinges for support for either side of the deck.
The material which was used for building this laptop does catch fingerprints even if you just hold it to examine.
On the right side, you've got a volume rocker, status light, USB Type-C connector, and a power button.
Whereas on the left side there is a headphone jack, USB 3.0 port a Micro SD card slot, and another Type-C connector.
Display 
Acer Chromebook spin 13 offers 13.5 inches 2 k 10 point multi-touch screen, which shows bright and color full display.
The resolution of 2256 x 1504 is rather unique, not only for a chrome book but for any laptop.
However, we didn't have any complaints with the display of Chromebook spin 13, in fact, this is one of the best touch displays you can have under the budget of $700.
It provides detail in HD videos, the best experience is to use it in the tablet mode. The screen is very responsive to the touch and the touch pen you got with it works pretty smooth.
In simple words, this laptop has most of the premium specs and features but in budget price.
Performance Under Workload
Acer has tried best to make Chromebook Spin 13 perfect from every aspect whether its design, display or hardware.
This laptop offers the best you can get from a budget laptop. Chromebook spin 13 powered by an Intel Core i5 8250U processor which has four hyperthreaded cores.
With that, it gets 1.6GHz base speed and 3.4GHz of turbo peak. On top of that 8GB of RAM, 128GB SSD and Intel integrated graphics provide this machine enough power to run through daily typical work and day to day tasks.
Yes, the 128GB SSD is not enough for storage that's why Acer Chromebook Spin 13 offers 100GB more of cloud-based storage where you can store some things up.
BUY NOW ON AMAZON
9.

Dell Inspiron 15 7000 Series
"Good Gaming Machine With Powerful GPU"
Design
At first, Glance the matte black case of the Dell Inspiron 15-7000 Series Gaming Edition looks pretty simple.
But when you look at the aggressive-looking red-colored fan grills on either side, it gives you the hint that this ordinary looking laptop has massive power packed inside.
On the back of the lid, there is a Dell logo in red to confirm that this notebook is a pretty capable gaming machine.
Dell Inspiron 15 has rubberized surface textures and many rounded parts the deck surface feels nice to touch. The most amazing thing is that you can get this beast laptop under $700 budget.
Display
You can get Dell Inspiron 15-7000 7567 with three different display configurations, a Full HD TN panel, Full HD IPS panel, or glossy UHD IPS panel.
But some similar features come in all the variants, such as a 15.6 screen with a resolution of 1920 x 1080.
As we have mentioned at the start of this post that in budget laptops companies have to cut corners somewhere, that's why the display of Dell Inspiron 15-7000 7567 gaming laptop is not very good as compared to other gaming machines.
But regarding the price tag, it is what you expect. However, the display provides enough sharpness and color brightness that you can enjoy an epic and lag-free gaming experience with this machine.
During gameplay of the latest Triple-A titles, you can see the detail pretty well, in simple words if you want a capable gaming laptop in this budget then Dell's Inspiron 15-7000 Series gaming laptop is a worthy contender.
Performance Under Workload
Dell Inspiron 15-7000 gaming laptop gets powered by a 7th generation Intel Core i5, with turbo boost technology it can reach 3.50GHz though the base speed is 2.50GHz.
It offers 8GB DDR4 2400MHz RAM accompanied by Intel UHD Graphics. These specs are more than enough to play the latest graphic-intensive games on 1080P medium settings without stuttering or lagging.
If you want you can upgrade the RAM, which will improve the already great performance of the Inspiron 15-7000 7567 gaming laptop even further.
There is another variant of this gaming rig that comes with an Intel Core i7 processor and works 30 percent faster than this Core i5 equipped gaming laptop.
BUY NOW ON AMAZON
10.

HP Pavilion Gaming Laptop
"Best Gaming Specs in Affordable Price"
Design 
HP has completely redesigned the case of the Gaming Pavilion 15 laptop to make it look different and aggressive as compared to the other Pavilion laptops.
How there are a few main things left to remind us about its predecessor. The chassis of the Pavilion 15 gaming laptop is made out of plastic with a matte black color.
HP has named it Shadow Black, though it does contrast the black color including the keyboard with several green areas.
While we were reviewing the machine, the air outlet design on the back shocked us. Pavilion 15 gaming laptop does not have any maintenance cover and you can not remove the battery as well.
If you want or access battery for some reason then you have to open up the bottom cover, don't the reason why HP has done that but it would have been far more convenient and easy if this laptop has the simple procedure of removing the battery like normal laptops.
Display 
The HP Pavilion Gaming laptop offers 15.6 inches display with a resolution of 1920 x 1080, which has a 144Hz refresh rate.
In our tests, it has achieved an average maximum brightness of 324 cd/m, and it has become the brightest screen we have ever tested. Under a $700 budget, it is a plus point for this laptop since the majority of machines with this price tag has always an issue of the dimmer screen.
The contrast ratio of HP Pavilion Gaming laptop is excellent as well as measuring at 821:1, so display wise this laptop is recommended if you are interested in buying a gaming laptop.
Performance Under Workload
The HP Pavilion gaming laptop performed considerably well in our benchmark test, which was expected though regarding the specs it comes equipped with.
Pavilion gaming laptop powered by a Hexa Core CPU, powerful GPU, dual-channel RAM, and an NVME lightning fast SSD.
No other laptop offers this kind of amazing specs and powerful performance, especially under a $700 budget.
It seems like HP has chosen to focus on the hardware of the pavilion gaming laptop rather than on its looks.
HP Pavilion is a powerhouse gaming laptop that can provide you with the epic experience of real gaming under a cheaper price tag as compared to a premium gaming laptop.
BUY NOW ON AMAZON
Last update on 2023-11-27 / Affiliate links / Images from Amazon Product Advertising API