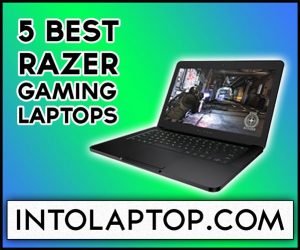 Razer gaming laptops' main points of attraction are always their slim, sleek design and powerful gaming performance even better than some of the more expensive bulkier rivals.
That's why many gamers consider Razer Blade gaming laptops as MacBooks of the gaming world. Another plus point of getting a Razer Blade laptop is that because of their comparatively lightweight aesthetics you can carry them with you in your backpack where ever you want.
Best Razer Gaming Laptop with 8GB GPU in 2021
And also makes Razer Gaming laptops for creative professionals since they can get the best performance for their work with a compact design. Now if you have made up your mind to get a Razer Gaming laptop then the next question is which one you should choose?
Don't worry, to help you out in that we have compiled a list of top 5 best Razer Gaming laptops with upto 8GB Graphic Processing Unit (GPU) in 2020. You can also explore into laptop for even more laptop options. 
1.

 Razer – Blade Pro 17.3″ 4K Ultra HD
"Ultra HD, 4K Gaming Beast"
Razer Blade Pro 17: Gaming Laptop - 4K Touchscreen - ULP...
Display: 17.3″, UHD, 3840 x 2160, 4K Touch Screen, G-Sync
Processor: Intel Core i7-7820HK, 3.9 GHz, Quad-Core, OverClocked
Graphics Card: NVIDIA GeForce GTX 1080, 8GB, VR-Ready
RAM & Storage: 32 GB DDR4, 1 TB, NVMe SSD
Operating System: Windows 10
Pros
Slim Lightweight Design
Excellent Gaming Performance   
Trackpad is Back at Its Position
VR-Ready GPU
Cons
Price Tag is High
No Core i9 Version
Battery Life is Short
Although the current Razer Blade Pro looks like its predecessor in many ways, there are a number of notable variations. Firstly, rather than the smooth edges of earlier versions the design now has sharper corners.
Giving it a more business-like and professional look that will not only attract gamers but non-gamers as well. To make sure the latest Razer Blade Pro 17 is impressively slim and compact the company has worked hard.
As a result, the laptop is up to 25 percent lighter than other 17 inches gaming laptops in its size, according to the manufacturer. This is an impressively svelte gaming notebook, at 0.78 x 15.55 x 10.24 inches with the body dimensions of 19.9 x 395 x 260 mm.
But the best part is not its slim and lightweight design but its 4K ultra HD touch screen that is just amazing and it also offers a ULP mechanical keyboard.
BUY NOW ON AMAZON
2.

Razer Blade 15
"Stunning Design & Powerful Performance"
Pros
Gorgeous & Attractive Design
Powerful Gaming Performance
Fast Transfer Rate
Great Battery Life
Cons
Runs Hot While Gaming 
Average Audio
It seems like with each new model, the Razer Blade gaming laptops are becoming prettier, stronger, and more powerful. The latest deal from the brand is the all-new Blade 15 gaming laptop that comes in a beautiful white chassis that will certainly attract every gamer's or non gamer's attention.
Although the interior of the Razer blade 15 gaming laptop is not equally stunning like its exterior. This gaming beast is powered by an Intel Core i7 processor and one of the latest Nvidia RTX GPUs.
On top of that, the graphics card in this gaming laptop is VR-Ready as well. You will get a 4K Ultra HD display of 15.6 inches with a resolution of 3840 x 2160 in Razer Blade 15 gaming laptop.
The best thing about this display is that colors are vivid and crisp, it would have been great if the display offers more brightness so users would not have any problem with using it outdoors.
BUY NOW ON AMAZON
3.

Razer Blade Stealth 12.5″ 4K Ultrabook
"Faster Performance & Improved Battery Life"
Pros
4K Touch Display 
Great Over-All Performance  
Excellent Battery Life
Cons
No SD Card Reader
Less Key Travel
Charger is Cumbersome
The Razer Blade Stealth's architecture remained absolutely unchanged year on year. The 12.5 inches notebook also sports the same 12.6 x 8.1 x 0.52 inches body dimensions as the previous models.
However, the latest model at 2.84 pounds is 0.9 pounds heavier than before. While we're still a little bit saddened when laptops aren't revamped with a new design, the chassis of Stealth may still be staying really fresh into its second year.
There are even a few rival manufacturers who have tried to replicate the design of Razer Blade Stealth 12.5 inches gaming laptop but performance-wise they were not able to compete with this gaming beast.
Now the best thing about this gaming laptop is that it offers a 4k touch screen 12.5 inches display. That is bright enough and shows vivid and sharp quality images. While gaming it shows even minute details which you cant notice in other displays.
BUY NOW ON AMAZON
4.

Razer Blade 14″ Gaming Laptop

"Best Razer Blade Gaming Laptop"
Pros
Great Gaming Performance
VR-ready GPU
Excellent Display 
Amazing Battery Life
Lightweight & Slim
Cons
Runs Hot When Gaming 
Speakers are Average
Thermal Cooling Needs Improvements
The Razer Blade 14 gaming laptop is as stunning as the first and is almost as svelte at 4.16 pounds and 13.6 x 9.3 x 0.7 inches. The Razer Blade makes the smaller Alienware look rotund by comparison 13 5.4 pounds and with body dimensions of 13 x 10.6 x 0.87 inches.
But it can provide you the same performance as the MSI GS63VR Stealth Pro 4.2 pounds, which has body dimensions of 14.9 x 9.8 x 0.69 inches. The Acer Predator 15 looks like fat and bulky with a weight of 8.2 pounds and body dimensions of 15.4 x 11.8 x 1.5 in front of the Razer Blade 14 gaming laptop.
The amazing thing is that Razer Blade 14 is not only attractive design-wise but it also offers you some hardcore specs like a powerful Intel Core i7 CPU, Nvidia GeForce GTX 1060 6 GB, 16 GB of RAM and 256 GB SSD.
BUY NOW ON AMAZON
5.

Razer Blade Stealth 13.3″ Ultrabook
"Sleek & Stylish with QHD+ Display"
Pros
QHD+ Bright Display 
Powerful Processor  
Fast SSD
Slim & Lightweight Design
Cons
Average Battery Life
Price Tag is High 
At last Razer Blade has changed the color combination users were expecting from ages. Since we have already mentioned in some of our previous articles about the constant sea of gray in the laptops made by this brand.
Though when we laid eyes on this Stealth gaming laptop, we suddenly burst into an audible wow. In gunmetal brown CNC aluminum from the Stealth looks so as to fine.
We don't really care that the mark on the back of the three-headed snake is not burning. This laptop looks so amazing and unique among the same series of Stealth gaming laptops by Razer Blade despite the fact that the design is not entirely revamped.
It offers a QHD+ display with a resolution of 3200 x 1800 which is pretty sharp and vivid. The best thing about this display is that it is also well illuminated with the 328 nits average brightness.
BUY NOW ON AMAZON
Conclusion
Here is our list of Top 5 Best Razer Gaming Laptops you can get, before including then in this list we have reviewed them in detail with state of the art benchmarks and real-world gaming scenarios.
You can choose any of the above gaming laptops according to your requirements, needs, and preferences. If this top 5 list is not enough for you then you should explore intolaptop.com where you will find out even more options.
But before you finalize any laptop for buying you should check out our detailed Laptop Buying Guide that we have crafted for you. It will help you in choosing the best gaming laptop according to your choice.
Otherwise, you can get stuck with an under power device. And no one would like that happening after spending so much money since gaming laptops do not comes cheap, no matter which brand you have chosen.  And if you still can not decide then explore Into Laptop's Best Gaming Laptops Section to find out the best gaming laptop according to your specific budget. 
FAQ Section:
Which one is the Best Razer Gaming Laptop?
In this article, Into Laptop has covered 5 Best Razer Gaming Laptops. Since the BEST criteria depend upon the requirements of end-user, hence each of them is the BEST Gaming Laptop, depending on each customer's requirements.

However, as per Into Laptop's recommendation Razer – Blade Pro 17.3″ 4K Ultra HD which is an ultraportable gaming machine, is the Best Choice.
How Reliable are the Razer Gaming Laptops?
Razer Laptops are the top choice of gamers, as they offer the best specification laptops with the latest GPUs, Display Colors, high-performance RAM, and processors. Razer Gaming Laptops are reliable and will perform great for several years.
Can we use Razer Gaming Laptops for Multiple Purposes?
Yes, Razer Gaming Laptops can be used for various purposes. The primary feature of these laptops is high-end gaming, apart from that, you can use them for graphic design, 3D animation, video rendering, programming, and professional business usage.
What Latest Games Are Supported by Razer Gaming Laptops?

Following 20 Latest Games are benchmarked and tested with Razer Gaming Laptops and rendered brilliant results.

Assassin's Creed Odyssey
Apex Legends
Battlefield V (BF5)
Borderlands 3
Call of Duty: Modern Warfare
Control
CS:GO
The Division 2
Dota 2
F1 2019
Far Cry New Dawn
Fortnite
Ghost Recon – Breakpoint
Overwatch
PlayerUnknown's Battlegrounds (PUBG)
Rainbow Six Siege
Red Dead Redemption 2
Shadow of the Tomb Raider
Watch Dogs 2
The Witcher 3
Where can I buy Razer Gaming Laptop?
Razer Gaming Laptops can be easily purchased online. At IntoLaptop.com you can find out the best collection of Razer Gaming Laptops that you can order online.
Things You Must Know Before Buying a Laptop
Laptop Brand: Which Brand's Laptop is your priority?
Display Size: Which Screen Size will you prefer?
Performance: Which CPU will you need?
Graphics Card: Which GPU will you like to have? 
RAM & Storage: How much RAM & Storage is needed?
Operating System: Which Operating System you want to have?
Battery Life: How much battery life do you expect?
Work Purpose: Know the purpose and buy a Laptop tailored for your work purpose.
Budget: Find the Laptop within your budget.