Top 3 Best TouchScreen Portable Monitors in 2023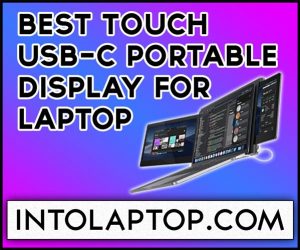 Though Portable screens that can be paired with a laptop are not a modern trend, however like every other tech device they have also revolutionized over the time period of last year or two.
Most of the big suppliers of screens have at least one in their portfolio and new versions emerge more frequently than ever.
You can use these screens for plenty of purposes like you choose to install a second screen and give presentations and small audiences and display two full-screen programs at once.
Or you can expand your handheld game device or touch up your projects with a stylus, ready to support mobile displays of varying types, models, and paradigms.
Also read: Best Curved Monitors for Secondary Display of Laptops
Best TouchScreen USB-C Portable Monitors in 2023
Many smaller laptop screens can be taken on the road while traveling but those clearly sold as such are the real portable displays.
And those sizes range quite a bit from 3.5 inches to 22 inches.
For artists and gamers, portable displays run the gamut from private, business, and general-purpose versions to screens.
Any size between 12 to 17 inches is considered to be the sweet spot for use with a laptop.
That is why we have not only compiled a list of the top 5 best USB-C Portable Touchscreen Monitors you can get in 2023 with their detailed reviews for your convenience.
You can also explore intolaptop.com to find out more details about the best available laptops.
Many people adapt the screen size of their laptops to their portable screens.
But there are also a handful of 7 inches for use with the Raspberry Pi 4 and 10 inches mostly for use with game consoles on the market. 
1.

Asus Zenscreen MB16AMT 15.6″ Touch USB-C Portable Monitor
"Touch Screen & Stylish Design" 
Design 
Two aspects differentiate the Asus ZenScreen Touch (MB16AMT) from much of the general-purpose handheld displays we've tested. First, it has a touch screen, a characteristic it shares with certain digital pen displays like the Cintiq 16 from Wacom.
If you watch videos from your tablet, even if the battery on your laptop is low on power the good thing is that it has a built-in battery that recharges, which can be a lifesaver.
This 15.6-inch panel, ideally fit for use with Windows computers and Android phones, is feature-rich and a joy to use. It is not inexpensive, but highly efficient.
The ZenScreen Touch is enclosed in a stunning, silver-gray shell and it measures 9 x 14.2 x 0.4 inches. At the heart is a Full HD 1920 x 1080 touch-sensitive, 15.6 inches IPS screen.
The display has the same size as the Asus ZenScreen MB16ACE, Asus ZenScreen Go MB16AC, AOC I1601FWUX, and Lepow 15.6 Inches USB-C Portable Display. All of which we reviewed or are in the process of reviewing.
Despite the difference in screen size and the native resolution of the laptop and ZenScreen as for all these panels, the ZenScreen Touch worked with our Dell XPS 13 with no obvious compatibility problems.
Display 
We used a Klein K10-A colorimeter, a Murideo Six-G signal generator and the CalMAN 5 program for Portrait Displays to check our luminance, color, and contrast.
Most portable displays report luminance levels which are known as brightness per unit area above 200 nits, but only a few have accomplished this in our trials.
One of the fortunate few, the ZenScreen Touch is running at 240 nits, just outside of its 250 nits mark. The contrast ratio of 1,260:1 is way above its ranking of 700:1, due to its ability to render dark shadow regions.
The ZenScreen Touch filled 69.1 percent of the sRGB color space in our Normal mode color checking. So far as the color performance is concerned, the ZenScreen Touch did 72.7 percent of sRGB and the ZenScreen MB16ACE 69.8 percent similar to the Asus ZenScreen Go.
Worse than the AOC I1601FWUX just 61.4% of sRGB volume, and marginally less than the Lepow 15.6-Inch Mobile USB-C Display 65.4% of sRGB volume.
In general, our recommendation is that you look for at least 95% sRGB performance in mobile monitors. The only portable display which achieved 97 percent of sRGB during our tests lately is the Lenovo ThinkVision M14.
Performance 
You need a portable display with a touch screen to try out the Asus ZenScreen Touch MB16AMT monitor. This model allows both gesture-based multi-contact with your fingertips and motion control with the supplied stylus eraser or pen.
It also has a built-in battery like the ZenScreen Go to allow you to use the Touch via an Android phone or to have enough power to operate the display even if the laptop's battery runs low.
Such two features set it apart from other general-purpose handheld displays and combined with a decent collection of features which includes the robust OSD and its mini-joystick.
It makes the ZenScreen Touch monitor one of the best options for a portable device in its 15.6 inches or larger size range. For a general-purpose handheld phone, the ASUS ZenScreen Touch is at the expensive edge.
But if you need the touch power and the extra energy the battery offers, it's well worth the price. But the one organizational downside is the tendency to appear bland in certain shades, such as primarily red and purple.
An artifact of its fairly poor color range, but the same mismatch persists in other modern Portable Touchscreen Monitors. 
BUY NOW ON AMAZON
2.

WIMAXIT USB-C Portable Monitor 15.6″ Touch Screen
"Thin Display Bezels, Sleek & Slim Aesthetics"
Design 
One of the first things We have found since opening the package is how sleek and small this display is. The unit integrates a stylish textured black shell, covering the 15.6 inches IPS touchscreen panel.
The monitor is surrounded by small bezels, save for the thicker bottom bezel that also bears the word WIMAXIT. Four mini-HDMI and four USB Type-C ports and a 3.5 mm headphone jack are situated to the right of the display.
You'll see the entry, menu, volume up and down, and power buttons on the left side as well as a micro USB connector. The covering that stretches over the top of the unit and completely covers the monitor while it is not in operation is connected to about two-thirds of the device's back and can not be removed.
The cover doubles as a stand for this handheld screen, too, articulately. The panel came fitted with cables including HDMI, USB-C to USB-A, and USB-C to USB-C.
Because our Surface Pro didn't have HDMI or USB-C connectors, we couldn't get straight into the product analysis. We will talk about that later on in this review.
The display is very thin and can be slip easily into the backpack along with a laptop and some other stuff you want to carry on while traveling.
Display 
We reviewed this display on Windows 10 but it also operates on iPhones, Smartphones, MacBook,s and even with gaming console like Nintendo. Yet a large part of how we use our PC is as a Windows 10 user device.
Having said that while using Windows 10 this monitor's ten-point touch features are where this system stands out to us the most. We don't have to change the way we work, which requires a mix of the trackpad, the keyboard, and the touch when we were doing it.
However, we still have to avoid reaching out when we use it attached to the laptop. With its aspect ratio of 16:9, this 1920 x 1080 pixel Full HD monitor can also get relatively bright and you can adjust the brightness and other monitor properties as well according to your requirement.
Though it is not the brightest display since some other similarly priced monitors provide you more brightness level. Still, you can not say that this monitor is dim since the brightness level is decently good and will be sufficient for any kind of work or use.
During our use, we were satisfied with its results and didn't find anything to complain about it however this is not the case with its performance because we have faced some issues there.  
Performance 
Our only regret about this display is how the company incorrectly handled a brilliant idea to act as a stand using the built-in cover. This would be an understatement to say the stand is flimsy.
We expect that users to invest in a small display stand but we had to position items around the base during our analysis as rudimentary workarounds to prevent it from falling down.
This deficiency is especially troublesome since the device's stability is very critical as a touch display. Sadly, without additional support, regular usage depending on the given stand or you can call it a cover could cause the device to fall.
Another drawback is the poor speakers on this unit.
Fortunately, a 3.5 mm headphone jack is available that enables consumers to tap into their wired headphones.
Or you can also attach your Bluetooth headphones to your laptop so as to avoid the weak sound output of the speakers on the panel.
This display does not have an internal battery, and it is powered either by the computer it is attached to or by an outlet using the adapter it provides.
Many mobile PC users respect the limited power their machines have and it is a battery drain to power another monitor.
BUY NOW ON AMAZON
3.

UPERFECT 4K Portable Monitor Touchscreen 15.6″
"Ultra HD 4K Display & Stereo Sound"
Design 
Although the laptop displays above are getting high marks to be the highest overall performance for a laptop. For usability and flexibility, the Perfect portable 4 K monitor is considered by many to be the best display.
This has a 4K screen and it also offers four times as many pixels as a 1080 resolution Full HD screen. Users link the Perfect portable monitor via USB or HDMI cables to a laptop, phone, or game console.
For these three modes, they will use the device repeat, expand and just second-screen. Because of its user-friendly nature, it is often used as the best portable display.
This compact laptop computer eliminates eye exhaustion with its glare-proof panel and integrated blue light protector layer. The Perfect is a 15.6 inches compact laptop, desktop, tablet, or games console monitor.
It can be used for business conferences, advertisement demos, and the creation of video games. For those who want to play video games or watch movies on the go, the graphics of home theater standards make the UPERFECT the ideal portable display for a laptop. 
Display 
The industry benchmark for high-quality resolution is 1080 pixels. This compact laptop monitor has 4 K resolution, offering unmatched crisp, simple, and vivid graphics.
Its IPS glass panels give a viewing angle of 178 degrees in almost every direction for excellent picture quality. Also with colleagues at work, It's fun to share the details and collaborate on this monitor.
If you want this monitor for gaming purposes then it depends on the laptop or console you use for games. Some gaming laptops or consoles work fine with a 1080p resolution monitor, while others require a 4k monitor to display a realistic-looking image.
Let us make it better and easier. The 4k monitors are great for you whether you play the game on a gaming laptop or consoles like Nintendo Switch and Xbox. With these, you should get the latest gaming monitor like this one that can handle 4K graphics.
It provides you an Ultra HD resolution of  3840 x 2160 which is very rare in the market since many manufacturers only offer you Full HD 1080p devices.  
Performance 
UPERFECT 4k display offers the utmost picture quality and transparency with breathtaking, vivid images. It is designed to offer a perfectly immersive or successful environment for consumers.
Many other fake 4 K displays seek to pass them off as genuine 4 K when in fact a lot of special effects shots and even the entire video just has 2K/1080p resolution. If you read, watch videos, or keep up with mates, you need a monitor that keeps your eyes healthy.
Extended exposure to blue light causes eye damage. This monitor's Low blue light absorbs toxic blue light in order to shield the eyes of all ages. Flicker-less removes conventional LCD's unhealthy flicker to avoid eye strain and vision damage.
It has built-in dual speakers, and extremely high-quality stereo performance, offering better sound clarity. UPERFECT supports stereo 2W with, long service life. 3.5 mm headphone jack audio output from games and concerts that delivers amazing stereo sound.
However, its built-in speakers are great and provide you with excellent sound quality. 
BUY NOW ON AMAZON
4.

Prechen Portable Monitor Touchscreen 15.6″
"Premium Looks & Great Connectivity Options"
Design
To power it up Prechen portable monitor comes with a USB power cord. Mini HDMI ports on the display help to connect to users. Stay rid of the language problems, Prechen comes in 15 different languages including German, Chinese, French, Spanish, Russian, and Italian, etc.
It is a good choice for lovers of games with actual gaming experience and successful jobs. Its Built-in dual speakers offer crystal-clear audio clarity booming sound and carry an appealing home theater experience.
You can even add your own speaker to a better sound with 3.5mm Audio input. Prechen 15.6 inches portable display is fitted with Two Mini HDMI interfaces, the Dual Audio Transmitting System can be attached to give you a vivid image and an incredible viewing experience.
Overall this monitor comes loaded with some features which no other similar one is offering right now. 
Display
Prechen Monitor gives you native resolution visuals with outstanding color reproduction from Full HD 1920 x 1080p screen. The IPS panel gives you a clear image and a fantastic viewing experience.
It is another on the list of the best compact laptop displays. It comes with a screen measuring 15.6 inches, with resolutions measuring 1920 x 1080. The monitor depicts IPS technology.
Prechen Portable Laptop Screen supports 170 ° viewing angles and 60Hz refresh rate. The native monitor pixels will provide a crystal clear image with 1080 PPI settings.
Prechen Portable monitor's HDMI supports portrait or landscape mode. You should switch to portrait mode when viewing website data to help you interpret the data in a more visual way.
However Full HD displays are pretty common in Portable Touchscreen Monitors since the majority of them provide you the 1920 x 1080 resolution.  
Performance 
Once attached to a PC or laptop, no drivers are needed to enable it. Link and use it, with plug and play features, easy to attach and to use. A wide range of products is compliant with a portable display Prechen dual HDMI interface.
It will work with Raspberry Pi, Xbox, PlayStations, and Windows 10 laptops as with previous versions Windows 7 and 8 are both compatible. Its panel provides the networking options like the audio jack as well.
Prechen Portable Console is one of the best options for computer fans who want to watch high-resolution games on a console for desktop or handheld console.
Prechen Portable monitor Support Extinct or Print screen, the HDMI lightweight display can be conveniently attached to the device by plugging the HDMI cord as well.
Connecting it to the laptop or desktop to increase work performance. 
BUY NOW ON AMAZON
5.

UPERFECT Portable Monitor 13.3″ Computer Display
"Metal Aluminum Frame & Strong Build"
Design
The UPERFECT 13.3 inches portable monitor is aluminum and alloy metal which is more effective in avoiding damage and crack than plastic/iron / inferior materials.
The cross-section of the wire drawing oxidation process makes the display impressive & luxurious. The original LCD panel is more durable and has a long-lasting feel to it.
It includes a creative & unique round hole shape that can assist the display with a pen. The viewing angle will be changed however you want due to the different length of the pen.
Among the rival brands, most of the devices you can get offers plastic body, so this monitor's metal chassis worth appreciation especially in this price range.
The top, right and left bezels are thin but the bottom one is pretty thick, the hole shape part where you can place the stylus or pen could be a reason for that. 
Display 
UPERFECT Monitor comes with a high-resolution Full HD 1920 x 1080p screen, returning true color by 72%. NTSC offers the best color analysis & correct color restoration for the HD display.
It provides you 178 ° viewing angles from the imported IPS brand screen. Away from the lower second-hand screen, suitable for video viewing in a small space with several individuals.
It is not limited to just a single landscape view, UPERFECT monitor can vertically search web pages or images. To change the screen to Expand View, you can give specific commands and select the orientation.
You can use single-pen standing to go into preferred landscape or portrait mode to improve usability. The screen is bright enough and shows sharp, vivid colors especially when you watch Full HD videos, and pictures or play graphic-intensive games. 
Performance
The UPERFECT portable 13.3 inches Monitor provides data transfer support for Type-C users and a capacity of 100W powered from the laptop or console.
No need for a base, easy to disassemble, optimize and make the gaming experience even better. No network, programs, or applications are needed. The UPERFECT Monitor provides a more comfortable and thrilling gameplay experience than ever before.
Unique practical port configuration compatible for all HDMI products, great use for Macbook, surface screen. Type-C attaches the cell phone that supports PD protocol and switches, plug and play.
The reverse will charge the device & mobile. If any other specifications, ODM & OEM will customize the display to suit the needs.
BUY NOW ON AMAZON
6.

SideTrak Portable Monitor for Laptop 12.5" FHD
"Stays Attached Even While Traveling"
Design
The SideTrak, by Stand Steady, is the most unique portable monitor we have come across. This 12.5 inches monitor, enclosed in a frame that is magnetically fixed to the back of a notebook, it simply becomes a part of a device even though it can be removed at will.
The frame comes in a plastic hard shell. The device, in effect, rests inside a metal frame in a rack and is connected to the rear of the laptop using four magnets inserted in the frame.
Very precisely, the magnets bind to four metal squares, which come back with a sticky tape after configuration and attach to the back of your laptop. You get two sets of four squares in the pack, and you can use two separate laptops with the SideTrak.
Display 
SideTrak Portable Monitor offers 12.5 inches Full HD 1080P IPS screen. This portable monitor filled 69.4 percent of the sRGB color space in our color-gamut tests, a very close result to both the Asus ZenScreen MB16ACE 69.7 percent and the ZenScreen Touch 69.1 percent.
just a little bit short of the Asus ZenScreen Go by 72 percent. This is smaller than the displays we've tested on other general-purpose handheld monitors. But when combined with business and general-purpose laptops the size should be a good match.
Its native resolution is representative of today's laptop-friendly portable displays and is the same as that used in the ThinkVision M14 and EliteDisplay S14, the Asus ZenScreen Go, monitors.
Performance 
The SideTrak will be used on most laptops, featuring displays from 13 inches to 17.5 inches, according to Stand Steady. However, Microsoft Surface Pro-style 2-in-1 portable devices with rear kickstands are not compatible.
The company also states that the laptop will reach at least 11.25 by 8.25 inches. If you have a 13 inches laptop before you order the SideTrak monitor make sure to check its height.
It's a smart concept a compact computer which is connected to your desktop and incorporated. It works, even though it's a little rough around the edges. The panel movement inside the frame should have been more smooth.
It has no controls or OSD; any improvements you may make must be made in your laptop's Windows or Mac OS operating system through the view menu.
BUY NOW ON AMAZON
Last update on 2023-09-12 / Affiliate links / Images from Amazon Product Advertising API