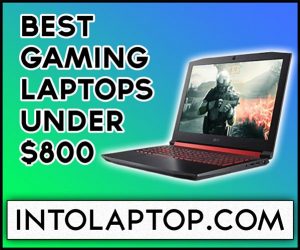 Most of us are happy to buy the Best Cheap Gaming Laptop under $800 these days for playing games. Gaming laptops were not this much popular till some years back but after people started playing games like PUBG, Fortnite, Overwatch, and Dota 2, these devices became the gamer's attraction from all over the world.
Gaming laptops allow you to game on the go while traveling, unlike desktops which you can only use in one place. Now if you are planning to buy a gaming laptop under the price tag of $800 then you've come to the right place.
We have not only compiled a list of the top 10 best gaming laptops but also we have reviewed them in detail for your convenience. If you don't have the proper knowledge of the capabilities and limitations of a gaming laptop then you should read our detailed gaming laptop reviews before choosing the best laptop. Into Laptop has also compiled a comprehensive Laptop Buying Guide to help you with the basics and advanced technical features of today's modern laptop. 
Also Read: Best Gaming Laptop Under $1000 Budget
Best Gaming Laptop under $800
Since in the market, there are a lot of manufacturers competing with each other and every one of them wants you to buy there product. 
When there are gaming laptops available at relatively lower prices that can provide you a great gaming experience that every gamer wants then there is no need of wasting thousands of bucks on a futuristic-looking gaming rig that will even not provide you that much top-notch performance.
Now the choice is yours if you want a costly laptop that only looks good or a perfect one that can provide you extreme gaming power at a way cheaper price. There are many great laptops available under the price tag of $800 capable of running heavy games at the highest setting on smooth frame rates.
You can also visit intolaptop.com for more gaming laptops that you can buy under your desired budget. Now without any further delays, let us start this post to help you find out the perfect laptop for yourself according to your needs and requirements. 
1.

ASUS Ryzen 5
"The Best Gaming Laptop Under $800"
Design
We can define the design in this way that by taking the frame of the ASUS FX504, cutting the side bezels shorter then basically we will be left with the ASUS Ryzen 5 gaming laptop.
Apart from that, the system remains the same in size, frame material, and overall feel. However, this also ensures that all of the ASUS FX504's drawbacks, including the lightweight cover and the occasional creaking of the hinges and foundation, remain in effect with ASUS Ryzen 5.
We find that it is not much better or worse than many other budget gaming laptops such as the Sabre 15 or Acer Nitro 5 AN515 and it is run of the mill as well. The width was reduced by more than 20 mm due to the narrower bezels while the thickness and length were nearly identical to the FX504 series.
Among the 15.6 inches gaming laptops, it is one of the more compact available without having to resort to higher-end models such as the Razer Blade or MSI GS65 15 that cost you more than double of this gaming rig.
Display 
With cheap TN panels, there are too many budget laptops fitted with as a result they offer poor contrast, narrow viewing angles, and shallow colors. But don't worry the ASUS Ryzen 5 has a 1080p IPS screen which is extremely good, especially for gaming.
Honestly, even a cheap IPS panel is leagues ahead of a cheap TN panel despite the fact that it is still a budget display with only average colors, response times and brightness. To indicate a budget panel, color space covers only 60 percent of sRGB.
For deeper and more accurate colors, most mainstream gaming laptops cover 90 percent of sRGB or more. However, the less color space for gaming purposes, will not have a huge impact on the experience.
More tests using an X-Rite colorimeter typically show accurate grayscale before any adjustment. For bad first impressions, most budget gaming laptops have excessively cool color temperatures, but the ASUS Ryzen 5 has luckily, breaking the pattern.
Performance Under Workload
At first, there were no other CPU or GPU options available but the Ryzen 5 3550H CPU quad-core and Radeon RX 560X GPU with ASUS Ryzen 5. However, now you can get an NVIDIA GeForce GTX 1050 as GPU if you want.
With the more powerful Ryzen 7 3750H, it is likely that Asus will add additional SKUs or launch various models in the future as well. Despite the fact that the AMD processor was running at a lower TDP envelope than the Intel such as 35 W vs. 45 W, CPU performance was comparable to CineBench benchmarks Core i5-8300H and Core i7-7700HQ.
PCMark benchmarks rate our ASUS Ryzen 5 consistently ahead of last year's FX504 has the i5-8300H CPU and the same GPU as this year's model. Much of this is probably due to the fact that the older model was outfitted with the sluggish primary HDD compared to the ASUS Ryzen 5's NVMe SSD, but it is good to see an AMD gaming laptop matching and even outscoring a rival Intel alternative.
BUY NOW ON AMAZON
2.

MSI GF63 Thin 9RCX
"Fast Performance Lightweight & Thin"
Design
In looks, the MSI GF63 Thin 9RCX is more similar to the previous model it replaced. The GF63 with smoother, flatter surfaces is more minimalist when compared to the GF62VR which had plenty of twists, slants, and accents.
For a sleeker feel overall, the exterior cover is now a flat piece of brushed aluminum. Including the Asus Zephyrus, Lenovo Legion Y530 or the Razer Blade this flat top style is popular on thin gaming laptops and introducing this same idea to a more affordable model is a good step taken by the MSI.
Ironically, contrasting with the rest of the notebook, the plastic bottom plate is intricately crafted with twists, bumps, and slants. The uneven bottom acts as feet and slightly lifts the framework for better airflow apart from aesthetic reasons. If we talk about the hinges, they are adequate when adjusting or transporting with minimal teetering. 
Display 
The screen of the MSI GF63 Thin 9RCX has a Full-HD resolution and 60 Hz, as most budget gaming laptops offer. Faster 120 or 144 Hz panels are usually only available in excess of the $1000 price tag.
The GF63 9SC's image quality mirrors that of its rivalry. The 15.6 inches screen has a respectable contrast of 1130:1, due to the relatively low black value of 0.23 cd / m2, which should please the majority of gamers.
The luminosity isn't as sweet. We calculated an average of 259 cd / m2, which should be adequate for dark indoor spaces but in brighter surroundings is not ideal. For outdoor use, we generally recommend notebooks with a minimum of 350 cd / m2.
With an sRGB coverage of 56 percent and the Adobe RGB color space coverage of 36 percent, the color space of the panel is also rather restricted. Another drawback is the response time which is not very good either. 
Performance Under Workload
The performance of the computer is very good. MSI GF63 Thin 9RCX takes second place among its rivals in the PCMark 10 with a total score of 4889 points. The Acer Nitro 5 alone achieves an even better rating.
The machine boots easily and is as quick as you would expect to be on a $1000 notebook. The GF63's noise emissions are while idling, on par with the competition. This 15.6 inches gaming laptop is smaller than the Acer Aspire Nitro 5 and the Dell G5 5590 but at the same time louder than the HP Omen 15 and the 41 to 44 dB Lenovo IdeaPad L340.
However, the gaming is fairly good at its fan noise during 3D applications. The GF63 can boast a good battery life thanks to its graphics switching capabilities. Although according to the test of our Battery Eater Reader, the 8.5 hours run time makes our unit second to last in our comparison sector with minimum brightness.
BUY NOW ON AMAZON
3.

Acer Nitro 5
"1080p FHD Gaming in Affordable Price"
Design
The Acer Nitro 5 gaming laptop offers a black casing that Acer highlights around the trackpad with several red elements including the keyboard, panel hinge, and trim. With many OEMs the red and black colored look has now become a trend, the majority of manufacturers prefer this theme for their gaming laptops too.
With Acer opting for a plastic build altogether interestingly, the Nitro 5 looks better than it feels. In the pictures, the red looks brighter than it really is since, in reality, this gaming rig looks more like burgundy.
The cover for the display has a brushed-metal effect. The battery is not removable though at the bottom of the base unit are two small maintenance hatches. The Nitro 5 seems to be well-made. The proportions of the distance are clear and no edges are overhanging.
The base unit and lid cover may be a bit steeper according to us but stability is also pretty good.
Display 
The Acer Nitro 5 matte 15.6 inches display has a native 1920×1080 pixel resolution. The brightness of the screen is too low, at 264.6 cd / m2. However, the contrast ratio of 1104:1 is fine.
The screen uses no PWM-flickering at all luckily. The color-space deviation of the DeltaE 2000 is 5.06, which is fairly decent but would be ideal below 3. The display does not have a blue cast but the Adobe RGB and sRGB color spaces can not be displayed.
We measured the sRGB coverage at 62 percent and the Adobe RGB color space at 40 percent. It is often the case that one series of notebooks has screens from various manufacturers. Acer has been equipping the Nitro 5 with a convenient viewing angle IPS screen.
This means from any position the screen is readable. Unless the sun shines very bright this notebook can only be used indoors.
Performance Under Workload
The system runs pretty fast because of the fact that Acer Nitro 5 comes loaded with a strong processor and quick SSD. The results of the PCMark are very good and show that our test device has enough capacity for challenging applications such as video and image processing and hardcore gaming at high settings.
Acer has already pushed the components to their limits so no further change in system performance. The combination of CPU and GPU by the Nitro 5 is capable of running smoothly all the current games.
You can normally play all the games in Full HD resolution and medium to high-quality environments. Some graphics-intensive games need to run smoothly with reduced resolution or quality settings, such as the Mafia 3.
You'll have to choose a different device if you do not want these restrictions to be acknowledged. We'd proposed a GTX 1060 GPU laptop. If you want resolutions higher than the Full HD, a laptop with a GTX 1070 would have been even better.
BUY NOW ON AMAZON
4.

Dell Inspiron 15 7567
"Reworked Design & Excellent Gaming Power"
Design
At first glance, the matte black case of the new Dell Inspiron 15 7567 gaming notebook appears plain and unsightly. But you got the hint of the power that sleeps inside this 15.6 inches unit when you see the big red fan grilles with a dark silver grid.
The red lattice at the front edge is a fresh and new thing amongst other competitors. It becomes obvious that Dell has removed the red border above the keyboard when the notebook is opened, which covers the touchpad and the red grid circle.
The laptop feels nice to the touch due to its many rounded sections and several rubberized surface textures. We could also only detect trifles in terms of build quality: For instance, the front sections of the left and right edges of the base unit are slightly too straight.
The surface is a fingerprint magnet as is known from most matte goods.
Display 
Our Dell Inspiron 15 7567 series test model makes use of a Full HD TN screen. Four of the Inspiron 15 7567 Gaming laptop variants feature 1080p displays with 1920×1080 pixel resolution.
This gaming laptop offers the same AU Optronics AUO38ED B156H TN panel we experienced with the brightness, contrast, and gamut at very close, subpar levels during our analysis of its higher-end sibling.
Its contrast ratio is the lowest in our comparison although the screen's brightness for a gaming laptop is average at 235 nits. Luckily, to regulate the brightness Dell does not use PWM.
Because this is a TN panel, bleeding from the backlight is not much of a concern, although when black is shown the panel does appear grayish.
Performance Under Workload
Our review unit wasn't equipped with the i7-7700HQ CPU which is very common and many many gaming systems come with it but instead features the Intel Core i5-7300HQ Processor, which is somewhat less popular but also less expensive.
The other three SKUs come with the more powerful i7 CPU while this model is one of the two bottom SKUs which are available in Dell's Online store. The gaming output for a GTX 1050 Ti laptop is mid-pack to a little under average.
When playing Witcher 3 and other games, the Gigabyte Sabre 15 with quad-core i7 CPU and the same GPU with only 2 GB of RAM performs about the same as our test laptop or slightly better.
In simple words, this laptop performs great considering the price tag. 
BUY NOW ON AMAZON
5.

Acer Aspire E5-573G
"Modern Hardware & Dedicated Graphics in Cheap Price"
Design
The Acer Aspire E5-573G laptop, like its numerous precursors, is wrapped in a plastic casing. The upper side of the display bezel and base panel uses a dark-gray color Charcoal Black, while the black color is used in the base tray and back of the lid.
Additionally, the back of the cover, base tray, and the upper side of the base unit are textured. The casing has to be opened for hardware entry since this laptop does not have a hatch for maintenance.
No major manufacturing defects are found in the casing. It would be interesting to note a slight protrusion of material on the front edge of the base unit. It seems like it has not been completely cut. The stability gives little ground for complaint. 
Display 
With a native resolution of 1920×1080 pixels, the Acer Aspire E5-573G has a matte 15.6 inches screen. Neither the contrast 381:1 nor the brightness of the screen 230,7 cd / m2 is impressive, they should have been better for a laptop of this price tag.
While the Aspire E5-573 G series is basically a low-cost laptop, we expect better prices even in this sector nowadays. The target should be a brightness of 250 cd / m2 and a contrast of 500:1 at least.
Neither the sRGB or AdobeRGB color space can be displayed on Aspire's screen. The screen has a distribution state DeltaE 2000 deviation of 10.51 which is a normal rate at the cheap price market.
And on top of this, the display has a clear bluish tint, too.
Performance Under Workload
Within its Acer Aspire E5-573 G series, Acer sells affordable all-around laptops of 15.6 inches. Our comparison sample is one of the range's highest-performing versions. It has ample computing power for everyday use and can keep games smooth.
Acer also offers models that have no dedicated central graphics. The Aspire is powered by the Core i5-5200U processor. From Intel's new Broadwell processor series, It is a mid-range CPU.
This CPU has a TDP of 15 watts. Its speed can be boosted via Turbo to 2.5 GHz on both cores and 2.7 GHz single core. However the processor clocks at a base speed of 2.2 GHz. Our tests of the CPU conducted in battery mode at their base speed of 2.2 GHz.
BUY NOW ON AMAZON
6.

Dell G3779-7934BLK-PUS
"Elegant Design & Great Gaming Performance"
Design
The Dell G3779 does not have a very high-quality feel since it is made mainly of plastic. The Dell G3779 also provides nothing to visually stand out, like the Dell G5 15 for example.
All the openings in our test unit were even and we were unable to find any sharp edges because the workmanship is good and we have nothing to worry about. The color palette of the Dell G3779 is rather restrained in black and grey with a few blue accents.
The matte black screen lid easily marks the image, because fingerprints on this surface are immediately visible. The Dell G3779 gaming laptop can be warped relatively easily although the base displays some good resistance to strain.
The panel lid can only be slightly bent with some effort since it seems pretty solid.
Display 
The Dell G3 3779 was fitted with an AU Optronics 17 inches IPS screen. 1920×1080 pixels provide a pixel density of 127 PPI at this display size. Sadly, there are no alternative displays like a 4 K panel or support for G-Sync.
Dell did nothing wrong with the built-in display, however, the matte surface prevents reflections and the average display brightness at 323 cd / m2 is quite good. The brightness distribution is also decent at 89 percent, and the contrast ratio is at the level expected from an IPS display 1042:1.
We did not expect the intense clouding on the other hand, which can even be seen regularly during normal operation in our test unit. Because of the intense clouding, you will see some significant reductions in the image when dark scenes are shown.
Performance Under Workload
The Dell G3 3779 gaming laptop has to prove itself under constant pressure in the test with the Cinebench R15 multi-loop. There was a slight drop in output after the first run, which at 40 stages turns out to be relatively small.
Continuing, the Intel Core i7-8750H Processor output remains constant at 760 points and levels out since it is after 6 core CPU. This efficiency decrease of 5 percent during constant load is quite reasonable. The Dell G3779's performance as a system is great.
Our test unit is places in the successful middle of the field, in the synthetic benchmarks. Often just a few points are the distance to the top, thereby preventing our graphics check from being better placed. In particular, the combination of SSD and HDD benefits the running system quite smoothly.
BUY NOW ON AMAZON
7.

Dell i5577-5335BLK
"Attractive Design & Advanced Features"
Design
For the Inspiron 15 5000 Series, having an all-metal premium construction was never in the card particularly at this price range, but without taking the high-cost Dell managed to create a good design for the Dell i5577 gaming laptop.
With logo and highlights the Inspiron 15 comes in a red-black body. On the lid, it has a soft finish but the body is all plastic and to prevent it from feeling cheap it has a generally durable structure.
All in all, this basic but stylish design is better than, say the Acer Aspire VX 15, which despite the solid gaming performance comes off screaming gamer and boxy.
It strikes us as being relatively slim and compact rig with the body dimensions of 1×15.7×10.42 inches and 5.7 pounds of weight, which makes it as a gaming laptop very fair.
Display
IPS display which is much better at the color and viewing angle then cheap TN panels, anti-gloss coating and FHD resolution of 1920 x 1080, the Inspiron i5577 gaming laptops 15.6 inches screen comes with all the whistles and bells.
Touch is not allowed but such a screen should at least be very good for gaming purposes. The good thing is that this display shows a decent amount of details during HD videos and gaming which you expect from an HD panel like this.
Brightness and contrast levels are also good as compared to some other similar gaming laptops available under the same price tag but with dimmer screens or dull displays. So overall Dell I5577 gaming laptop is a great option if you have a budget of $800. 
Performance Under Workload
From the Inspiron i5577 gaming laptop, you have no excuse to complain about having no more value for your money than the Intel Core i5-7300HQ CPU, 8 GB of memory, and 4 GB of the GeForce GTX 1050 from Nvidia at this price.
With more than sufficient gaming prowess, it is the prime choice for general efficiency and multitasking. We saw Intel's Kaby Lake processor and Nvidia's Pascal GPUs as the year began packed with very good performance tests in laptops and desktops.
Currently, beefier systems can be held in the same line with an edge over the Inspiron 15, but they can be more priced, after all, web browsing, word processing or photo editing at the enthusiast level is not a world of difference for daily productivity. 
BUY NOW ON AMAZON
8.

Dell Inspiron 15 7000
"Great Gaming Performance in Reasonable Price"
Design
The Dell Inspiron 15 Gaming is relatively subtle in appearance as far as the gaming laptops go. Both professionals and students can find consolation in their toned-down looks despite its edgy red and black color scheme compared to those in the Alienware lineup of Dell.
There is no sign of RGB FX customizable or a gaudy, alien mascot. Ultimately, the understated nature of the Inspiron 15 Gaming laptop works to its benefit. To make the ventilation look sophisticated and the hinge look fashionable Dell also went as far as possible, despite its proportions, an impressive feat.
In that regard, the Alienware 17 R3 should be taking a hint from the Inspiron. Over there is a power button that doubles conveniently as a functioning fingerprint reader, that gamers like.
Display 
Last year when we reviewed the predecessor of this laptop we were not much impressed by its atrocious TN display. The unit this time we got for review was equipped with 15.6 inches panel with an IPS screen but one that's decidedly mediocre.
The screen of our review unit had a dull look to it although better still than a TN panel. Undoubtedly because of the low maximum brightness level of about 230 nits, it shows.
However, as we all know that manufacturers have to cut corners in budget laptops somewhere, and in the case of Dell Inspiron 15 7000 it is the display panel that has suffered. But as compared to the results of the TN panel offered by some similar devices under the same price tag, it is still much better.
Performance Under Workload
The Dell Inspiron 15 7000 Gaming, which comes as a surprise to no one, is generally weaker than the Razer Blade Gigabyte and the Sabre Pro 15. For example, our reviews show that he Razer Blade managed a gigantic 3,559 while Gigabyte Sabre Pro scored 3,438 points in the graphically-intensive 3DMark Time Spy.
However, the Dell Inspiron 15 7000 Gaming laptop at 3.151 points demonstrated its limits. Good thing is that in virtually every category, the Max-Q version of the Dell Inspiron 15 7000 Gaming here beat the latest model.
In spite of being 0.02 inches thinner than before Inspiron 15 Gaming, it's still more strong than ever. So for gaming purposes, the Max-Q version is more suitable than the simple one. 
BUY NOW ON AMAZON
9.

ASUS TUF FX705
"Compact & Well Build Gaming Rig"
Design
The ASUS TUF FX705 is a gaming laptop that is relatively thin, powerful and well-built. It gets a thicker front of 14 mm that accommodates the camera and microphones but thin bezels of 7.2 mm around the screen and to turns the screen upwards a big chin.
Apart from that, it is smaller than most other 17 inches with a weight of 2.6 kg which makes it only a bit heavier than most 15 inches laptops of mid-range. The solid frame with reduced size and weight makes the FX705 a good gaming laptop especially for those of you lugging it in your backpack while traveling.
According to Asus, the TUF series is also rated MIL-STD-810, meaning it is certified to withstand everyday danger. Each and every laptop is supposed to do that, but honestly, this laptop does feel tougher and more reliable than the average gaming rig.
Display 
Asus provides either a 60 Hz or a 144 HZ IPS 17.3 inches screen for the ASUS TUF FX705 models, both with matte finishes. Our test unit was the latter one. This screen is a great option for gamers to be considered since it is fast with good response times, especially when GTX 1060 graphics card is paired with it so that most games can offer sustained frame rates.
In some situations, you'll still get some tearings and glitches because There's no GSync, but as compared standard 60 Hz computer they're far less distracting, or even visible.
With decent colors, black-levels and contrast but poor maximum brightness and some uniformity issues, the standard of the panel is only slightly above average. 
Performance Under Workload
Once you get past the back panel ASUS TUF FX705 gaming laptop which a handful of Philips screws are keeping in place the components are easily accessible. Inside you will find the two drives for storage and two slots for memory.
On the motherboard, the CPU and the GPU are soldered and you can not upgrade them. As far as performance is concerned, while running cool and quiet this laptop can handle everyday chores with ease. Quiet, Overboost and Balanced are the three fan profiles that Asus provides you with this TUF FX705 gaming laptop.
As the management does a good job of keeping the fans quiet with everyday use and just kick them on with more demanding loads and multitasking that's why we recommend keeping your laptop balanced.
BUY NOW ON AMAZON
10.

Dell G3
"Top-Notch Gaming Performance & Solid Build"
Design
The Dell G3 17 does not have a very high-quality feel since it is made mainly of plastic. Like the Dell G5 15, for example, the Dell G3 17 also provides nothing to visually stand out.
As all the gaps in our test unit are even and we were unable to find any sharp edges the workmanship seems good and we have nothing to complain about. The color palette of the G3 17 is rather restrained in black and grey with a few blue accents.
The matte black screen lid easily marks the image, because fingerprints on this surface are immediately visible. Due to their size, most 17 inches laptops have some problems in terms of stability.
The screen lid can only be slightly bent with some effort because it is pretty solid. As we can not see any waves forming on the panel here too the pressure test turns out to be good.
Display 
An AU Optronics 17 inches IPS screen was fitted on our Dell G3 gaming laptop. 1920×1080 pixels provide a pixel density of 127 PPI at this display size. Unfortunately, like a 4 K panel or support for G-Sync, there are no alternative screens.
You are looking at a matte-finished 1920 x 1080 IPS display as for the screen, which makes gaming in bright environments comfortable. Because of the fact that the screen doesn't really get all that bright, the matte finish is particularly important.
The screen gave us all we had to do without any real complaints during our time using this computer to play games and watch some YouTube. The Dell G3 15 looks a little out of date with its large bezels as thin bezels make their way on nearly any laptop into days era.
Performance Under Workload
You simply won't be getting a more powerful laptop for its price. The Dell G3 gaming laptop easily copped up with most of the daily tasks we threw at it in our daily use.
When we overzealously loaded Chrome tabs into the background while trying to play a graphic-intensive game only then it shows the signs of slowing down. Having said that, we were, in fact, able to play the latest games in high settings while having a good 60 frames per second consistently.
However, when we were playing Middle Earth it seems like everything got slowed down a bit. On all benchmarks, the Dell G3 gaming laptop managed to perform admirably, slowing down only when running their benchmarks while we attempted to max out the previously mentioned games.
BUY NOW ON AMAZON
Last update on 2023-09-12 / Affiliate links / Images from Amazon Product Advertising API