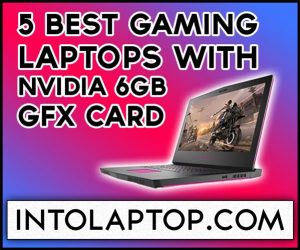 There are three most important aspects you should focus on when you are looking for the best laptop for gaming, storage, processor, and graphics card.
In the majority of gaming laptops, you can upgrade the RAM pretty easily afterward.
Now lag-free gaming immensely depends on the power of your GPU.
Investing your money in a system that offers you a good graphics unit worth every penny if you want an excellent gaming experience.
That's why in today's post we have included the top 8 best gaming laptops with intel core i7 11th Gen CPU & 6-8GB Nvidia Graphics card.
As you know that there are many gaming laptops available in the market with different GPU configurations and a person who doesn't have the proper idea of which GPU to go with can get confused pretty easily.
Also Read: Best Work From Home Laptops
Best Gaming Laptop i7 11th Gen with 6-8GB Nvidia Dedicated GPU
On top of that gaming laptops are expensive and no one would want to end up with a system that has under power graphics card. The gaming laptop equipped with the latest intel core i7 11th gen CPU & Nvidia GTX series graphics cards with at least 6-8GB of vRAM can provide you top-notch performance even during the most intensive games. 
You can play modern triple AAA titles on high settings without worrying about any kind of lags or stuttering since these graphics units are meant for hardcore gaming. 
After all, Nvidia is without a doubt a strong contender when it comes to the graphics card in the business right from decades, and honestly, these GPUs are better than a lot of competitors in the market. 
Also Read: Best Gaming Laptop under 800
So let's jump into the post without any further ado, you can also check out our Gaming Laptop Section to find out even more best gaming laptops according to your budget. 
1.

 Rock Solid Dedicated GPU Laptop Computer
Buying a gaming laptop doesn't mean that you have to spend a lot of cash and we have Acer Predator Helios 300 gaming laptop as a proof to support our point. In the previous model, Acer has used an overdone red and black color scheme.
But thankfully in this 2019 model of Helios-300 laptop, they have gone for the black and teal color combo. Which is a great improvement in the appearance of this gaming laptop because it looks better than the last year's model.
Since Acer Predator Helios 300 is equipped with an NVIDIA GeForce GTX 1660 Ti that has 6GB GDDR6 VRAM, it can handle hardcore modern games,  graphics-intensive work and day-to-day tasks like no problem.
BUY NOW ON AMAZON
2.

 Solid Build & Premium Looking
When we talk about gaming performance then we have to mention our next pick which is Dell Alienware R4 gaming laptop. This gaming beast comes in two color schemes, Epic Black and Epic Silver.
Both color combinations look great but the black one made this machine look more elegant and attractive. Now let's talk about the gaming performance of this rig, Alienware comes equipped with Nvidia GTX 1060 graphics card with the VRAM of 6GB GDDR5.
For the 60Hz display panel, the GTX 1060 is more than enough to provide high to maximum details on the Full HD panel of Alienware R4 gaming laptop. 
BUY NOW ON AMAZON
3.

 Runs Cool
Heat is the main issue for almost all of the gaming laptops but there is one which runs on optimal temperatures even under intensive gaming, the gaming beast Acer Predator 17 with extreme power and great cooling.
The Predator 17's hardware is efficient enough to seamlessly view all the titles listed in our database. You can select Full HD resolution and high-quality settings at all times if you want to experience the real gaming thanks to the NVIDIA GeForce GTX 1070, 8GB, GDDR5 GPU.
The graphics core still provides ample reserves for 4K gaming, but the corresponding external display would have to be connected.
BUY NOW ON AMAZON
4.

 Sleek, Stylish
The Lenovo Legion Y 7000 gaming laptop features an elegant, Iron Gray aluminum hood which curves down to an angled hinge with vent grills reminiscent of a sports car.
In the middle glows a white logo of the Legion on the back of the lid as if it were the source of the power of the Y7000. Under Lenovo Legion Y700's hood lies an NVIDIA GeForce GTX 1060, 6GB graphics card accompanied by 16 GB of RAM which copes up well with 40 Google Chrome tabs, a 1080p YouTube video, and Spotify, while the Tomb Raider's Shadow running at the same time during our test.
Which makes this gaming laptop one of the best systems equipped with Nvidia GTX GPU you can get in the market.
5.

Workstation to Replace Desktop
Many gamers always want a gaming laptop that is lightweight so they can travel with it conveniently but at the same time, some people want a gaming laptop as a replacement for their desktop because they always use it from a stationary place.
So if you don't travel often with your gaming laptop and weight of the rig is not a thing about which you worry then MSI GL73 gaming laptop is one of the best options for you.
This gaming laptop does not only offers you great gaming performance but also Nvidia Optimus comes standard with the integrated UHD Graphics 630 for automatic graphics switching.
Here you have out the .top 5 best gaming laptops with Nvidia GTX graphics card you can get in the year 2023
There are a lot of other laptops that offer the same GPU available in the market but we have mentioned only those gaming laptops which have shown great performance during our tests.
BUY NOW ON AMAZON
Last update on 2023-11-28 / Affiliate links / Images from Amazon Product Advertising API