Top 3 Best Intel Core i3 11th Gen Laptop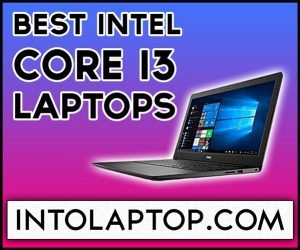 One of the most crucial items to test when buying any laptop is its hardware configuration.
And the processor is known as the computer's brain, which is the most important thing to verify in any laptop's hardware configuration as it determines overall laptop efficiency and capability.
Intel has been the biggest candidate for a very long time when it comes to computer processors.
That is why in today's post we have not only compiled a list of the top 5 best Intel Core i3 laptops but we have also reviewed them in detail for your convenience.
Because if you have a clear idea about Intel Core i3 11th generation processor performance, you can easily decide whether an Intel Core i3 processor-powered laptop is best for your daily work or not.
Also Read: Best Intel Core i5 11th Gen Laptops
Best Intel Core i3 Laptop in 2023
The point of having the best intel core i3 laptop as your new computer is not to end up with the most costly laptop packed in with an Intel Core i3 11th Gen CPU.
The real point is that for running simple tasks, low-settings games plus a few work programs quicker the best Intel Core i3 laptops out there must have the required components.
So let's begin the post without any delay, you can also explore intolaptop to find out even more laptops according to your budget, work requirements, or needs. 
1.

Lenovo Flex 14″ Convertible
"Slim & Stylish with Fingerprint Reader"
Pros
Price is Reasonable
Battery Life is Good
Backlit Keyboard
Cons
Dim Screen
Glossy Display
Design
For a 2 in 1 convertible Lenovo Flex 14″ is a very well built and compact machine, it's overall design looks good and gives you an impression of a premium level laptop.
However, this laptop can easily blend into a business environment or classroom because of its simple appearance.
The lid of the Lenovo Flex 14″ convertible is made out of plastic but feels softer to the touch but you will have to clean it every now and then since it catches fingerprints and smudges very easily.
The keyboard deck and bottom part have minimal flexibility under direct pressure which is a good thing despite the fact that they both are made out of hard plastic.
Compared to other similar laptops under the price tag of $500, the Lenovo Flex 14″ convertible feels pretty solid and well-built. We have observed that for some strange reasons the screen of this laptop feels Heavier even than the bottom part, which you have to get used to.  
Display
The Lenovo Flex convertible laptop offers a multi-touch display with a resolution of 1366 x 768, which provides an overall decent display considering the price tag.
The 600:1 contrast ratio is pretty mediocre with a low frequency of PWM 352Hz. The PWM frequency is not a thing that bothers every user.
But it made your eyes fatigued after a longer viewing period because of the sensitive flickering. With just 271 nits Lenovo Flex 14″ convertible is well below the average of 300 nits for the budget laptops.
On top of that this screen has a glossy finish and backlit keyboard. Because of that not only in outdoor conditions also the illuminated keys reflect on the display and made it difficult for you to work.
Performance Under Workload
Lenovo Flex 14″ Convertible laptop comes equipped with an 8th generation Intel Core i3-8145U processor which has a base speed of 2.10GHz but can go up to 3.90GHz with turbo boost enabled.
Apart from that, it has 4GB of RAM and 128GB of SSD storage, which really helps out in improving the overall performance of the device. Also if you want you can upgrade the RAM, since in the majority of similar laptops under the same price tag offer 8GB.
Although Lenovo Flex 14″ convertible laptop performs considerably well in general tasks, on PCMark this laptop performs even better than its rivals, you can also use this device for light photo or video editing work as well.
BUY NOW ON AMAZON
2.

 Dell Inspiron 15 3000
"Durable Build Quality & Easily Upgradable" 
Pros
Value for Money
Solid Build
Good Performance
Decent Battery Life
Cons
Low Resolution
Reflective Display
Design
Dell Inspiron 15 is not an ultrabook, we just wanted to make it clear before starting the review. If you compare it with other similar laptops under the same price tag then it would be an inch thick from them.
The laptop feels very well constructed though its entire body is made out of plastic. The lid of the Dell Inspiron 15-3000 will be difficult to clean because there are textures on it but at the same time, these considerably nice textures help you to grip the machine.
The front edges have round edge design which means you will be able to type comfortably since they will not cut into your wrists.
The only feature which makes this laptop stick out a little is its side which is made by shinny and glossy plastic.
Display  
The screen of Dell Inspiron laptop is 15.6 Inches with the resolution of 1920 x 1080, it also happens to be a touch display.
Considering the price tag you cannot complain about the nomadic TN, LCD panel. However, the side viewing angles are much better than some other laptop with similar panels, no matter from which side you watch this display is perfectly viewable.
But unfortunately, vertical viewing angles are below average, it is almost impossible to see properly from the upward or downward positions.
Another downside for this display is that because it is a touch screen panel the display is very glossy and you will struggle while working in the outdoor conditions.     
Performance Under Workload
With the 8th generation Intel Core i3-8145U Processor, which has a base clock speed of 2.10GHz and up to 3.90GHz with turbo boost Dell Inspiron 15-3000 laptop can perform daily typical work tasks perfectly without having any issues.
The good thing is that it has a 256GB SSD with 8GB of RAM, which really improves the overall performance of this machine.
You can do multi-tasking easily with this laptop, we have tested it out with multiple Chrome tabs open and 1080p Full HD video running on the YouTube, Dell Inspiron 15-3000 didn't show any sign of slowing down or lagging.
When we installed some programs on this machine we did notice delays while opening them, these programs have taken more time in getting open then we have expected.
But for that you can upgrade the ram and more speedy SSD after getting this machine, it is a problem that cannot be fixed easily.
BUY NOW ON AMAZON
3.

ASUS VivoBook 15
"Thin & lightweight Powerful Performer" 
Pros
Bright & Colorful Display
Light Weight & Thin
Good Connectivity
Stylish Design
Cons
Average Battery Life
No Dedicated GPU
Design
ASUS Vivobook 15 weighs just 1.8kh and its thickness is only 18mm, which makes it a highly portable laptop despite its 15.6 Inches screen.
The company has done a good job with the design of this laptop since getting any 15 inches screen to less than 2kg is not an easy task.
The chassis of Vivobook 15 is made out of Aluminum and available in silver, green and pink. Because of this aluminum chassis, the laptop is very sturdy and strong.
There is another cool feature in ASUS Vivobook 15 that when you open its lid the screen hinges gently tilts the key up at a slight angle for convenience of the users.
The keyboard itself is very responsive and because of the 15.6 inches size, you will get a full numeric keyboard.  
Display
ASUS VivoBook 15 offers 15.6 Inches display with 1920 x 1080p full HD resolution, the company should have to upgrade it for this size of a laptop but again under this price tag companies have to cut corners somewhere.
However, the display is very attractive that makes this device look like a premium, for displaying videos and photos it produces clear, sharp images with bold and bright colors.
The good thing is that no matter from which angle you watch the screen of Vivobook 15, it remains clearly visible.
If your work is related to designing or you share photos and videos then consider this laptop the best option under the budget of $500.
Performance Under Workload
An Intel Core i3-8145U with the clock speed of up to 3.9GHz powers up the ASUS VivoBook 15 accompanied by 8GB of RAM and 128GB of SSD Storage.
This laptop doesn't come with dedicated GPU instead it has Intel UHD integrated graphics configuration, which provides considerably decent performance in all of the related work.
ASUS VivoBook scored a decent 3535 points on PCMark 8 during our overall performance test. This simply means that this can cop up well with day to day typical work-related tasks and even light gaming is possible on ASUS VivoBook 15 especially because of its good display.
We tested it out on Excel with some number crunching tasks in which it has performed good enough, also you can do some photo and video editing work on this laptop with having any problem.
We just feel that if it has offered a dedicated graphics card the performance would have been even better.
BUY NOW ON AMAZON
4.

Acer Aspire 5 Slim Laptop
"Bright & Colorful FHD Display With Thin Bezels" 
Pros
Bright FHD Display
Strong Performance 
Budget Price Tag
Excellent Battery Life
Cons
Average Build Quality 
Poor Webcam
Design 
The Aspire 5 boasts a luxurious look with an alloy silver hood. Also, the Acer logo printed in the middle has a luxury look the emblem is silver and grows out of the cover instead of becoming a shiny plastic component hidden in the case.
At first glance, Acer Aspire 5 really looks like a flagship premium laptop. At either end, the top of the lid features two-line highlights which look a little uncomfortable.
However, what was more troubling was when we found the lid is not coordinated with the panel. The replacement we got also had the same issue. So if you are willing to get this laptop make sure you check this misalignment issue before buying it.
Besides that, the interior is a very normal silver deck and black keys. The hinge features an Aspire badge, which is cool. To top it off, the bezels on screen for a laptop this cheap are shockingly small.
On top of that, the Acer Aspire 5 laptop offers users a fair amount of ports. In the meanwhile, there is a Kensington lock slot on the right side, one USB 2.0 port, and a headphone jack as well.
About built quality especially after that misalignment issue we are not very impressed but honestly speaking this laptop provides you a lot of features and a thin-bezel display in a very cheap price tag.
After all, it is a well-known brand in the market that's why the performance is pretty decent as compared to some other rivals. 
Display 
The 15.6 inches screen of the Aspire 5 laptop is significantly bright, and unlike other budgets laptops, it features a 1080p Full HD high-resolution display. The Aspire 5 panel represented 65 percent of the sRGB color gamut according to our colorimeter.
With that, it has exceeded the 62 percent reached by both the Aspire E 15 and HP 14 laptops but at the same time, it is below the typical budget laptop 78 percent.
The Aspire 5 screen crushed it on the brightness at 276 nits, toppling the group average of 213 nits, it also has beaten the Aspire E 15 227 nits and HP 14 199 nits laptop in this regard.
As we all know many budget laptops provide you good performance and a lot of other features but they always have an issue of low brightness with a low resolution which can be annoying especially if you are used to working outdoors or under the light.
But Acer Aspire 5 is one of the few budget laptops that not only offers you performance and features but it also comes fitted with a gorgeous and colorful full bright display that has 1920 x 1080 resolution.
Not every cheap laptop offers you a Full HD resolution so display wise Acer Aspire 5 is ahead of its rivals. Its narrow bezels and the overall lock are cool factors and during our review when we watched Full HD movies and videos on it, the display does impress us with its crisp quality. 
Performance Under Workload
The Acer Aspire 5 laptop packs an Intel Core i3-8145U processor and 4 GB of RAM which enables it to hurdled through four 1080p YouTube videos and 30 Google Chrome tabs with a limited delay while Spotify was running in the background.
This performance is great, especially under this price tag. The Acer Aspire 5 scored 8,030 on the Geekbench 4.1 overall performance test, and with that, it has successfully climbed above the typical budget laptop average of 5,504.
As well as the HP 14 laptop 6,901 and the Core i3-8130U in the Aspire E 15 7,871. On our HandBrake test, the Aspire 5 took 32 minutes and 53 seconds to transcode a 4 K video into 1080p.
That is little below the Aspire E 15 31:40 and a lot slower than the average group 23:05. In 20.5 seconds, Acer's 128 GB SSD copied 4.97 GB of data, speeding past the typical budget laptop 75 MBps and translating to 248 megabytes per second.
A much slower 1 TB HDD 34 MBps slows down the Aspire E 15, and while the HP 14 has a capacity of only 85 MBps since it has a 128 GB SSD. The Acer Aspire 5 laptop scored 59,873 on the 3DMark Ice Storm Unlimited graphics test with an Intel UHD 620 GPU.
Which higher than the 37,818 budget laptop average and the 39,950 scores from the HP 14 laptop's own Intel UHD 620 GPU. For the same Cpu, though, the Aspire E 15 with 63,817 outperformed the Aspire 5.
BUY NOW ON AMAZON
5.

Dell Inspiron 14 5481
"Premium Looking 2 in 1 Convertible in Affordable Price" 
Pros
Great Performance 
Sleek Design 
Ports Selection is Excellent 
Cons
Thunder Bolt 3 is Missing 
Battery is Average 
Display Seems Slightly Dim 
Design 
For comparison to the Dell's higher-end XPS series, Inspiron 14 5481 convertible laptop's magnesium and carbon fiber components, the sleek matte silver frame is a blend of plastic and aluminum.
As a result, the device is definitely in terms of looks and sound representative in its budget-mainstream segment. Although we can not criticize the unit for what it is, we are quite saddened that when the lid is opened or closed the hinges appear to snap.
This gives the notebook a poorer impression especially because the model's capabilities are described by the 360-degree hinges. The creaking is unusual, as even if the hinges are taut and uniform with absolutely no teetering.
In fact, the lid is very sturdy for its type and resistant to side-to-side turning, beyond the hinges. The foundation flexes a little bit further while attempting to stretch on a slim budget laptop the surfaces are not at all unusual.
The casing is no stronger or worse than the rival Yoga 530 or VivoBook Flip 14 in Dell's defense, where the hinges are creaking or weaker. The construction standard on our research device is poor because the plastic cover seems to be loose on one of the hinges.
It is not serious enough to affect everyday use, but nevertheless it is undesirable. This convertible laptop is larger and heavier than any of its nearest rivals, by a few hundred grams. This can be due to its 2.5-inch SATA III secondary internal space and its thicker, sturdier lid. 
Display 
The new Dell Inspiron 145481 Convertible Laptop SKUs bear a 1080p IPS touchscreen compatible with WACOM or a 720p monitor. Our research unit uses the BOE NV14N4H IPS panel which is contained in our catalog on no other laptop.
Otherwise, many of its key features such as reaction times and gamut are identical to other IPS panels in the program. A positive light is its contrast ratio of more than 1000:1, but its average color space and color fidelity push that off.
With a shiny line, the text and the pictures are slightly grainy. It is especially apparent when black text is shown on a white backdrop, as in a NotePad script. The average luminosity under 200 nits is low.
The rival Yoga 530 and VivoBook Flip 14 are brighter at about 50 nits each. In fact, pulse-width modulation is available on nearly all brightness rates and can affect a limited number of users who are prone to flickering on-screen.
Bleeding from the backlight is present on our test unit but limited. We may detect pulse-width modulation at all brightness rates up to 98 percent and so users who are prone to flickering on-screen may want to avoid this pattern.
The results are comparable with other convertible budgets. Find the Yoga C930 or Asus Zenbook Flip 14 for consumers who may like darker colors. The AdobeRGB and sRGB standards clearly indicate that it is a budget laptop's screen panel since color space is limited to only 38 percent, and 58 percent, respectively.
Performance Under Workload 
The new Inspiron design uses the newest Intel Whiskey Lake-U CPU to support the series Kaby Lake-R. Such as the Asus Zenbook UX433 on our platform the Core i3-8145U can also be used on pricier Ultrabooks.
Although space on the motherboard tends to be sufficient for one there are currently no dedicated GPU options available. The PCMark tests are similar if not marginally better than other convertible laptops.
Like on our latest Core i3 XPS 15 from the same Manufacturer, we have encountered no software or hardware issues with the test device during our review. Over the years, the Intel UHD Graphics design has grown little and this remains true for the Whiskey Lake-U system.
The Inspiron UHD Graphics 620 is operating right where we want it to be. Users upgrading from passively-cooled laptops or Atom-based systems would only see around 60 percent improvement in GPU capacity.
The solution for cooling consists of a single 45 mm ventilator and a heat pump. During very low processor loads the fan remains idle but we can still report a noise of 29.4 dB against a backdrop of 28.2 dB due to some electrical noise from our test unit.
If you run compatible games then you can hear 36dB, as compared to the surface laptop under similar conditions which simply means that Dell Inspiron 14 5481 convertible laptop is much quieter. 
BUY NOW ON AMAZON
Conclusion
The best Intel core i3 11th gen CPU laptop is the latest generation.
They all have almost the same output as long as you keep away from its m3 series if you want to run more than simple apps and throw a few heavy multitasking.
The way to go is to cap out on RAM and never choose anything less than 4GB of RAM.
If you can find one with 8 GB RAM, then catch one as soon as possible, or if possible upgrade yours.
By doing that you will never fall behind with other apps and your laptop will even be able to run some good games with the right settings.
One important thing worth mentioning here is that going for 16 GB RAM is useless because you will not be able to take advantage of all that RAM by an intel core i3 11th gen CPU. 
The budget will be best spent on buying an SSD that will give you a big boost all over.
Don't forget to check out Laptops by CPU section at IntoLaptop to explore more laptops. Also there you will find a fully detailed Laptop Buying Guide.
That will help you in deciding which laptop configuration is best for you according to your work requirements.
LAPTOP BUYING GUIDE 2023
Laptop Brand: Which Brand's Laptop is your priority?
Display Size: Which Screen Size will you prefer?
Performance: Which CPU will you need?
Graphics Card: Which GPU will you like to have? 
RAM & Storage: How much RAM & Storage is needed?
Operating System: Which Operating System you want to have?
Battery Life: How much battery life do you expect?
Work Purpose: Know the purpose and buy a Laptop tailored for your work purpose.
Budget: Find the Laptop within your budget.
Last update on 2023-09-12 / Affiliate links / Images from Amazon Product Advertising API