Top 3 Best Intel Core i5 11th Gen Laptop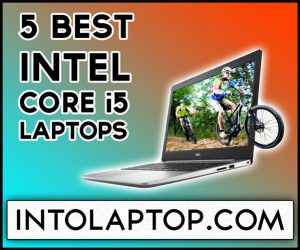 For a very long time, Intel is serving the laptop industry, with its strong line of processors. Despite the fact that Intel CPU's are the best in business they're still budget-friendly.
Honestly speaking as compared to the Intel's other processors, Intel Core i5 11th Gen CPU laptops are the best and affordable high-performance computers that will allow you to perform almost all tasks.
We have compiled a list of the top 5 best Intel Core i5 laptops you can get in the year 2022 with their detailed review for your convenience. Among our list, you will find notebooks, 2-in-1 convertibles, and gaming laptops as well.
Also Read: 5 Best Intel Core i7 11th Gen Laptop
Best Intel Core i5 Laptop in 2022
Once it comes to electronic devices, technology has taken massive strides. The systems were first designed to the scale of a huge room, and are basically intended to minimize human effort.
Size, however, is one key element that has been dramatically reduced. The size-stripping has now resulted in the laptops of the present generation that are fundamentally small but reversely efficient.
The processor is one of the most important things to test before buying a new laptop since the power is mainly due to the processor of the laptop. So if you've wanted to buy a laptop powered by the Intel Core i5 CPU, you'll find our top choices from a wide variety of options available below.
Also, you should explore intolaptop.com to find out even more options, details about the different processors and their capabilities and limitations.
1.

Lenovo ThinkPad T480
"Excellent Work Machine with Good Battery Life"
Design
Standard raven black chassis and a soft graceful lid, these aesthetics made Lenovo Thinkpad T480 laptop stand with one of the few machines which were designed with functionality in mind rather than look or appearance.
The overall design is almost the same as its predecessors,  so at first glance, you can not tell which machine is this.
Thinkpad T480 weighs almost 3.58 pounds and its dimensions are 13.25 x 9.15 x 0.78 inches. If you want you can have a high capacity battery but it will increase the overall weight pf the laptop to 3.98 pounds. 
Display 
Lenovo Thinkpad T480 offers a no-touch 1920 x 1080 HD screen, which is great for productivity. The image appears sharp with solid viewing angles, brightness and colors are not very good but decent.
In HD videos it really shows up minute details and accurate quality. Another excellent thing about this laptop is that the screen doesn't reflect that much because of its matte surface at the bay.
Which is a good thing since Thinkpad T480's maximum level of brightness is measured to be 269 nits. That's why You will not have any problem using it even in the outdoors.
Performance Under Workload
Lenovo Thinkpad T480 is more than fast enough to handle any typical work you require because under the hood it has an Intel Core i5-8350U CPU with 256 GB SSD and 8GB of Ram.
During our test, we did a video conference with at least a dozen Google Chrome tabs opened, the laptop performed great. We didn't experience any kind of lag or other problems.
On Geekbench 4 Thinkpad T480 scored a strong figure of 12,047. To measure overall performance we did a synthetic test, in which Thinkpad T480 scored a massive 12,140.
Which is way ahead than the premium laptop category average of 9,724. To match 6500 names with their addresses in Excel, Lenovo Thinkpad T480 took only 11 seconds.
With that, this laptop has again performed far batter then the category average which is 1:42.
BUY NOW ON AMAZON
2.

HP Elitebook 840 G5
"Most Stylish Laptop with Powerful Performance"
Design
If you want to work in style then you must choose HP Elitebook 840 G5 laptop. Under $1000 budget it is without a doubt the most stylish laptop you can get.
The overall exterior is made by Aluminum with silver finish, HP logo sits in the middle of the lid. The design of the Elitebook 840 is quite neat and simple.
The angle on which hinges have been placed gives this laptop an attractive look as compared to the other machines in the same budget.
Inside the lid, there is a very classic looking, backlit keyboard with pointing stick in the middle of it.
Display 
HP Elitebook 840 G5 laptop has a 14-inch IPS LED display with 1920 x 1080 resolution. One problem is that the display is too dim, which can trouble you while working or watching and HD movie.
In HD videos the display shows kind of bluish tint that is really annoying. However, because of the 1920 x 1080 configuration the integrated privacy screen shows vibrant and bright images.
The maximum brightness level which Elitebook 840 G5 laptop can show is 214 nits, which is far below 375 nits average of this budget laptops. 
Performance Under Workload
HP Elitebook 840 G5 can run your daily work with even more than 30 Google Chrome tabs open and playing HD videos in the background. which is pretty amazing.
This machine offers UHD Graphics 620, which are more than enough to fulfill your multitasking requirements.
Elitebook 840 G5 scored an excellent 12,253 on Geekbench 4 in our overall performance test. With that, it has successfully passed the 10,483 premium laptops average.
In our Handbrake test, Elitebook 840 G5 transcoded a 4K video to 1080 in almost 15 minutes and 50 seconds.
This performance is amazing since its competitors have done that the same task in 21 minutes 35-sec average. Elitebook 840 G5 only took 10 seconds to copy 5 GB data thanks to its 512 GB NVMe SSD.
BUY NOW ON AMAZON
3.

 Lenovo ThinkPad T470
"The Mix of Classic Design with New Features"
Design
Under the lid, Lenovo ThinkPad T470 has an eraser shaped red track point thankfully on the right spot where it needs to be. Were as the exterior surface is soft in matte charcoal grey color.
The weight is around 3.74 pounds and the dimensions are 0.79 x 13.25 x 9.15 inches. Lenovo Thinkpad T470 offers a standard three-cell battery, you can get a 6 cell battery if you want but it will increase the overall weight of the machine 4.15 pounds.
This laptop is not thin or lightweight but at the same time not very bulky either, it is kind of in the middle.
Display
Lenovo's Thinkpad T470 has a 14-inch anti-glare non-touch display, because of the slightly dim brightness it does reflect especially if you are working outdoors.
Its full HD 1920 x 1080 resolution performs great, the only problem is again the brightness which is only 220 nits.
This figure is okay for doing office work but not much if you wanted to work on Adobe Photoshop or video editing software.
Overall you can not say that display wise this laptop is average, though it will depend on the work which you wanted to do.
Performance Under Workload
The Thinkpad T470 is certainly powerful enough to do any kind of office-related work. If you want to get this machine for business use then it is the best choice you can have under this budget.
You will be amazed that on a single charge this laptop can provide you almost 17.5 hours of battery life. Which is great if you want this laptop for doing longer tasks.
The price is very reasonable as compared to the specs. You can do more than light gaming on this rig but the purpose of the laptop is mainly not gaming.
From every angle, Lenovo's Thinkpad T470 suits business work. Due to its top-notch performance in our tests, we will have to rank this laptop in one of the best in the business class category despite one drawback. Thinkpad T470 is slightly heavier than its rivals.
BUY NOW ON AMAZON
4.

Dell Inspiron 15 5000
"Simple Business Work Machine Which Provides Great Performance"
Design
Dell Inspiron 15-5000 laptop is made out of plastic from top to bottom unlike the premium series laptop of Dell which are all aluminum.
Obviously, under a $700 price tag, you cannot expect more than that. The surfaces of Dell Inspiron 15-5000 are kind of rough uniform and if you go for the grey colored finish then it can resist better against fingerprints then metal, which is a good thing.
Chassis is strong enough though whenever you open or close the lid you can hear an audible cracking noise, which kind of puts you in doubts about the build quality.
We found that down the center lid is considerably more flexible, which means you should be careful while putting any kind of pressure on that particular area.  
Display 
With Dell Inspiron 15-5000 you will get a 1080p 15.6 inches IPS display, you can choose between touch and non-touch configuration according to your requirements.
Regarding the price response time, the colors and brightness of the display are decent but not extraordinarily good. 
The contrast ratio, however, is about 1000:1 which is good. But the colors are slightly shallow and it gives the display an overall budget device look, which it is.
Dell 15-5000 laptop is not designed to be used outdoors on a frequent basis since brightness is dim and under the overhead lightning working on it could become problematic. 
Performance Under Workload
The best thing about Dell Inspiron 15-5000 is that it comes equipped with the same processor which manufacturers used in their premium level devices.
As a result, this laptop can do day to day tasks, typical office work, and other normal things with ease without having any issue.
You can upgrade RAM in Inspiron 15-5000 up to 32GB and if you do that our recommendation is that you should go for dual-channel configuration if possible.
Dell Inspiron 15-5000 performs considerably well in our Benchmark test by scoring solid 5584, which is more than enough daily usage.
Moreover, we didn't encounter any issues regarding performance during our tests accept while editing video it shows signs of slowing down.
Which is obvious since Inspiron 15-5000 does not come with dedicated GPU, otherwise it performed better than other laptops you can buy in this budget. 
BUY NOW ON AMAZON
5.

Acer Chromebook Spin 13
"Most Stylish & Premium Looking Chromebook"
Design
After Google, Acer also has adopted the aspect ratio of 3:2 for the display of Acer Chromebook spin 13.
This laptop weighs almost 1.5kg with a footprint of 310 x 246mm and 18mm of thickness. These factors make Acer Chromebook a relatively big laptop.
The good thing is that this laptop offers all those aspects which you usually expect from a premium level machine.
Such as diamond-cut edges, Gorilla glass for the touch screen and touchpad, and an anodized aluminum chassis.
Acer Chromebook spin 13 really looks like a high-end laptop from its appearance. The lid has two hinges for support for either side of the deck.
The material which was used for building this laptop does catch fingerprints even if you just hold it to examine.
On the right side, you've got a volume rocker, status light, USB Type-C connector, and a power button.
Whereas on the left side there is a headphone jack, USB 3.0 port a Micro SD card slot and another Type-C connector.
Display 
Acer Chromebook spin 13 offers 13.5 inches 2k 10 point multi-touch screen, which shows bright and color full display.
The resolution of 2256 x 1504 is rather unique, not only for a chrome book but for any laptop.
However, we didn't have any complaints with the display of Chromebook spin 13, in fact, this is one of the best touch displays you can have under the budget of $700.
It provides detail in HD videos, the best experience is to use it in the tablet mode. The screen is very responsive to the touch and the touch pen you got with it works pretty smooth.
In simple words, this laptop has most of the premium specs and features but in budget price.
Performance Under Workload
Acer has tried best to make Chromebook Spin 13 perfect from every aspect whether its design, display or hardware.
This laptop offers the best you can get from a budget laptop. Chromebook spin 13 powered by an Intel Core i5 8250U processor which has four hyperthreaded cores.
With that, it gets 1.6GHz base speed and 3.4GHz of turbo peak. On top of that 8GB of RAM, 128GB SSD and Intel integrated graphics provide this machine enough power to run through daily typical work and day to day tasks.
Yes, the 128GB SSD is not enough for storage that's why Acer Chromebook Spin 13 offers 100GB more of cloud-based storage where you can store some things up.
BUY NOW ON AMAZON
Last update on 2022-12-11 / Affiliate links / Images from Amazon Product Advertising API