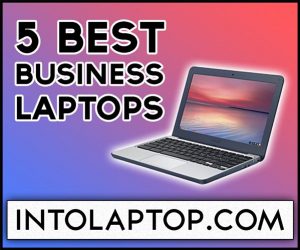 No matter if you're buying a laptop for your office job or just searching for a new productivity device for yourself, you'll want a robust, compact, and easy-to-use business laptop that can provide you enough power for your daily tasks.
Every year we review hundreds of business laptops and the models that make up our top list of business laptops provide a combination of functionality, productivity, and battery capacity.
Don't worry about privacy and security since enterprise notebooks are usually fitted with fingerprint scanners, IR cameras, and protection modules, and many have durability on a military standard.
Best Business Laptops for Presentations in 2023
Today we have compiled a list of top 5 best business laptops for presentations you can get in 2023.
You should also visit intolaptop.com where you will find a lot of other options according to your work requirements, begets or even personal preference.
So without wasting any time let's jump into the post to let you choose the best laptop you want for your business presentations. 
1.

Powerful Performance & Long Battery Life
Our today's first pick for the top 5 best laptops for business presentations is the Samsung Chromebook Plus v2. It has a very minimalist design, the chassis is made out of aluminum though it not as wide if you compare to other notebooks under the same price tag.
Pros
Stylus Included
Performance is Great
Excellent Display
Slim & Lightweight
Cons
Keyboard is Cramped
Android Apps Need Work
It is a very simple looking laptop, apart from the monochromatic Samsung and Chrome branding on the lid is very plain with rounded edges. This laptop is one of the rare systems in which you can get good display and performance both otherwise under a certain budget this combination is very hard to find.
2.

Best Budget Business Chromebook
The next best laptop in our list is Acer Chromebook R13 Convertible, It is a skinny and lightweight laptop that has a frame made out of plastic but with metal accents.
Pros
Decent Display
Thin & Sleek
Excellent Battery Life
Portable
Cons
Keyboard Feels Cheap
Performs Better Only on Google's Apps
Not Very Suitable for Work
Considering the price tag, Acer R13 Convertible's display is excellent with good viewing angles, near-ideal color temperatures and a decent level of contrast. On top of that, it offers you the Full HD resolution of 1920 x 1080.
The good thing is that overall performance is very good even when we played 4K videos and zoom in to High-resolution photos, we didn't experience any kind of sluggishness, instability or stuttering. 
3.

Premium Design Laptop
Acer Chromebook Spin 13 is another strong contender for this category, it offers the aspect ratio of 3:2 for the display. The amazing thing is that this laptop offers all those aspects which you usually expect from a premium level device.
Pros
1080p Display
2 in 1 Flexible Design
Price is Very Reasonable
Good Speakers
Cons
Battery Life is Average
Keyboard is Shallow
Brightness is Slightly Dim
Such as diamond-cut edges, Gorilla glass for the touch screen and touchpad, and an anodized aluminum chassis. Whether it is designed, display or performance ACER has made sure that Chromebook Spin 13 provides the best experience to the consumers.
The hardware is pretty beefy which provides this laptop amazing power so you can get top-notch performance.
4.

Slim Aesthetics
It seems like, with HP Chromebook 14 laptop, HP has shown other brands how to design a budget Chromebook. Even some more costly laptops design looks outdated in front of this Chromebook.
Pros
Long Battery Life
Strong Build 
Storage is Good 
Attractive Looks 
Cons
Average Performance 
Display is Less Vibrant
If you want a cheap Chromebook to do tasks like Business presentations, browsing the web, sending emails or watching YouTube videos, the Chromebook 14 is a good choice then.
However, the performance is not as good as some similarly priced laptops mentioned above. But again in the price tag with it has been launched you can not complain much.  
5.

Durable Strong Build
Despite the fact that Asus Chromebook C202 is a very small laptop, it seems pretty strong and well-build. This laptop has a rubberized plastic ring across the bottom side and on the dotted plastic lid.
Pros
Durable & Easy to Repair
Battery Life is Good
Comfortable Keyboard
Cons
Slightly Heavy 
Average Performance 
6.

Best for Office Work
The Lenovo ThinkPad X1 Extreme is a 15 inch sleek, thin and lightweight business laptop, its over all build including chassis is made out luxurious materials. The sophisticated soft-touch finish is supported by the svelte clam-shell laptop's matte black carbon fiber chassis.
Pros
Performs Great with Any Given Task
Design is Luxurious
Light Weight & Slim
Keyboard is Very Comfortable
Whenever it comes to performance, The Lenovo ThinkPad X1 Extreme Business Notebook lives up to its name. During the workload, this laptop was blazing fast.
You can run multiple YouTube HD videos and open up to 15 tabs in Google Chrome at the same time, the X1 will not even shutter. In an overall performance test, Lenovo ThinkPad was able to achieve a high score of 22,021 on Geekbench 4.1.
7.

Portable Design
Although the DELL XPS 13 9380's design is exactly the same as the previous models of this series still this machine looks finely crafted machine with elegant aesthetics.
Its Andolized aluminum lid, carbon fiber deck, and sleek design gives this laptop a premium look and feel. XPS 13 9380 laptop has razor-thin bezels which make its display look extremely gorgeous and reduce the footprint.
Pros
Outstanding Performance
Compact, Stylish & Slim Design
Bright 4K Display
With the 10th Gen Comet Lake processor, Dell XPS 13 provides you enough power to easily do your typical office work. Its performance on different task during our test was considered good enough that we can suggest you this laptop.
It can keep its cool during intensive work and lite gaming for a decent amount of time. After that, it is not like this laptop starts heating up badly but you do start feeling the touchpad and the center portion is getting warm.
Conclusion
Here you have our list of top 5 Best Business Laptops for Presentations in 2023.
We bring each laptop into intensive benchmark testing, simulated as well as real-world before we recommend it to you guys.
We only include them in our list after we got satisfied by their performance under workloads.
We cover each and every important aspect during our reviews like performance, battery life, display, speakers, and heat management. 
These results are complemented by thorough hands-on reviews by our analysts who are skeptical of everything from the components of the laptop to the design of the device.
You can check out the detailed reviews of laptops mentioned above and many others at IntoLaptop.com. Also before buying a new laptop, you should give a read to our fully detailed Laptop Buying Guide that will help you in choosing the best laptop for your self.
LAPTOP BUYING GUIDE 2023
Laptop Brand: Which Brand's Laptop is your priority?
Display Size: Which Screen Size will you prefer?
Performance: Which CPU will you need?
Graphics Card: Which GPU will you like to have? 
RAM & Storage: How much RAM & Storage is needed?
Operating System: Which Operating System you want to have?
Battery Life: How much battery life do you expect?
Work Purpose: Know the purpose and buy a Laptop tailored for your work purpose.
Budget: Find the Laptop within your budget.
Last update on 2023-09-12 / Affiliate links / Images from Amazon Product Advertising API