Top 3 Best Cheap Laptop under $300 Picks in 2023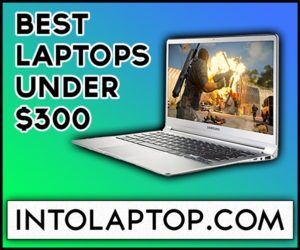 The tighter budget makes the already complicated decision of buying a good laptop even trickier and more difficult. Especially for those users who do not have a proper idea of the components and hardware which deliver better performance.
IntoLaptop's Laptop Buying Guide is crafted to make you learn about key features, that you should know, before making the decision to buy the best laptop according to your needs.
So if you have a budget of 300 dollars and you are struggling in choosing the laptop suitable for you then worry not.
Because for your convenience we have not only listed the top 10 best-performing laptops under $300.
Also Read: Best Laptop Under $500 Budget
Best Cheap Laptop Under $300 Budget
Also Read: Best Laptop under 1000 Dollars
But also IntoLaptop has reviewed them in detail to provide you a proper idea of their capabilities and limitations. So you can get the best experience out of them.
By reading IntoLaptop's reviews you will get a better understanding of the features and hardware inside the laptop that will ultimately help you in finding the correct machine according to your needs and requirements.
After all, getting good performance from a laptop doesn't mean you need to spend a lot of money, all you need is know-how about the machine and its components.
That's why you must read IntoLaptop's complete reviews before making any decision because after every few weeks, many companies introduce their new laptops.
And each company wants you to buy their Laptops. Don't forget to check out Budget Laptop Series by IntoLaptop, so that you can get your dream laptop in every budget.
What is Actually the Best Laptop Under $300?
There are many different factors that define the $300 laptops and a few of them are listed below for you to gain a clear idea of what actually you're aiming to buy.
Low Budget
Laptops under $300 fall under the cheap category of laptops.
This means you are to have an entry-level laptop that is not that powerful or that weak to handle stuff.
In fact, a $300 price tag doesn't mean that you are going to have a laptop that takes years to load programs.
But the point is that you need to have the basic programs of your needs on these laptops and the best part is that they won't leave a hole in your pocket.
Processor
Most of these machines are packed with Intel processors.
Now as for this low budget, these companies did a clever job to meet the budget requirements for these laptops by sporting them with the entry-level CPUs that ultimately deliver a processing speed of 1.6Ghz and higher.
That is fully acceptable to some extent if the aim is not to bombard a $300 laptop with heavy programs.
RAM
Memory is a crucial part of almost any electronic device whether it's a laptop, PC, or any other machine. It must be high. if not so, at least it should be decent.
Thankfully, the best laptops under 300 dollars pack in decent RAM of 4GB, and on a few of the laptops, the memory is also replaceable which is a good thing.
But if that is the case, I would strongly recommend going a little further with the best laptops under $500 which offer memory and other components a little better.
Storage
You might have heard of SSDs and HDDs. If so, sadly here, you don't have these options provided on these best laptops for under 300.
Instead, the storage is replaced with the eMMC Flash Memory on most of these machines.
Whereas, the capacity is also low which ensures that you must use the storage carefully so that you don't run out of space.
Battery Life
Unlike the flagship laptops that have the most powerful hardware components that obviously consume much power, the best laptops under 300 offer a battery life that can survive longer.
You can use such a laptop all day long without getting bothered about plugging in the charger.
1.

ASUS VivoBook L203MA
"Best Work Laptop Under $300"
Design 
Asus has used plastic to create the VivoBook E203MA case and decorates a honeycomb pattern on top of the lid. The inner side surfaces are dark gray and give a strong build impression.
In general, the Asus VivoBook laptop L203MA looks very stable due to its compact dimensions. Nevertheless, when a bit of pressure is applied the lid yields and when the laptop is placed against it, the bottom right corner still creaks.
Asus E203MA's keyboard is not designed for big hands. The keys are very low, close together, offering a soft point of pressure. However, typing works well after some time to adapt.
Only the keys to the arrow and function are not available intuitively. Users can use a ClickPad as a replacement for the mouse, which is suitably sized for an 11-inch laptop.
When the left and right mouse buttons are released, this provides a crisp input. Moreover, it reacts reliably to our input at every point.
After loosening some screws you can easily open the bottom part of the ASUS  VivoBook L203MA laptop but there is almost no room for future upgrades. 
Display
The Asus VivoBook L203MA screen offers a maximum resolution of 1366 x 720 pixels and it is consists of a TN LED panel of 11.6 inches.
The luminosity is just enough with an average brightness of 235 cd / m2, for the spot in the lower middle of our range of comparative tools.
Nonetheless, 93 percent of the illumination is graded as very strong. During our measurements, the display characteristics of Asus L203MA show a medium-contrast ratio of 534:1 and a higher than usual black level of 0.44 cd / m2. But this laptop has an excessively low redpoint.
A calibration can compensate for this, but as a result, you will face a slightly higher level of blue. In addition, the coverage of color space in the sRGB color gamut is only 54 percent on average, but for regular users, it is more than enough.
But, if you want to use the Asus VivoBook L203MA laptop in the outdoors then it will not be going to be a very good experience. The reflective panel is not enough to show image content readable and on top of that brightness levels are also low.
This is possible in shady areas, but in the long run, it is very exhausting to the eyes. 
Performance Under Workload
An Intel Celeron N4000 powers up the ASUS VivoBook L203MA accompanied by 4GB of RAM which makes it capable of delivering fluid overall performance.
It has 4GB Intel's UHD Graphics 600 integrated unit which provides good enough performance considering the price tag. For the operating system and data storage, a 64 GB eMMC flash memory is available.
According to the specs, the ASUS VivoBook L203MA is perfectly suitable for you if you want to do web surfing, typical office work, and basic image editing.
The Asus VivoBook L203MA reached second place in our comparison list in the PCMark versions 8 and 10 benchmarks. Coming back to the GPU as we have mentioned that Intel's UHD Graphics 600 integrated graphics unit is responsible for displaying image content in the ASUS VivoBook L203MA.
This GPU is only good for those applications where high graphics performance is not required. That's why it can cope up well with basic image editing, Although more complex work like 3D graphics surpasses the available possibilities.
The Intel UHD Graphics 600 meets our expectations in the 3DMark 11 benchmarking test and in our comparison list, it finishes second. If you are interested in doing some lite gaming then sadly ASUS VivoBook L203MA is not suitable for games at all.
Because even very old ones are only running smoothly at low setting levels.
BUY NOW ON AMAZON
2.

Lenovo IdeaPad 330
"15.6 Inches HD Screen & 500GB Storage"  
Design 
Looks-wise the Lenovo IdeaPad 330 appears to be a standard laptop. It's a rounded corner rectangle with a silver lid in one corner with a Chrome logo.
The chassis of the IdeaPad is neither thick nor thin, and the silver lid and dark-gray undercarriage of the laptop are made of hard plastic. The laptop's interior is just as uninspired, thick bezels framing a low-resolution display will remind you of the embarrassing GI glasses.
However, on the positive side, the chassis aluminum could easily be mistaken for the brushed-metal finish on the deck as well as the dark-gray keyboard keys contrast well with the appearance.
Lenovo IdeaPad 330 weighs almost 4.85 pounds and its body dimensions are 0.9 x 10.2 x 14.9 Inches. You can carry around this laptop very easily since it is small, lightweight and portable even when compared to the similar machines of other brands.
Lenovo has focused more on the performance of IdeaPad 330 rather than on its looks and appearance which seems correct since the productivity of the machine matters more for consumers. 
Display 
Since IdeaPad 330 by Lenovo is a budget laptop so from that aspect its 15.6 Inches 720p Screen can be considered decent, it is considerably bright and a perfect pick for the laptop of this price range.
However, at the same time maybe some of you will not like it at all because of its low resolution 1366 x 768 TN Panel. There are some other similar machines that come with a Full HD resolution of 1920 x 1080 under almost the same price tag.
As we all know that manufacturers have to cut corners somewhere in the budget laptops category and now you will understand why Lenovo IdeaPad 330 is available at a cheaper price as compared to the rival brands.
Its low resolution, which is better than other budget notebooks with washed-out displays in the same category, may not be easily realized. At first, before you get a spot that doesn't wash out, you'll do some fishing.
Although for $300 it is not great but definitely not the worst either. You have to give some credit to Lenovo who has added on the screen an anti-glare coating to minimize the reflections, with that IdeaPad 330 emerges out as the perfect choice for a sub-HD media machine, as long as you can view the screen from the right angle though.
So if you want a laptop that can perform well despite its low-resolution screen then IdeaPad 330 is a great option for you to be considered.  
Performance Under Workload
Lenovo IdeaPad 330 comes equipped with an Intel Celeron N Processor, 4GB of DDR4 RAM and 500GB HDD. With these specs, you can only do daily typical office tasks, sending emails and some browsing on the laptop.
With just four Google Chrome tabs pulled up, It took almost a minute to load the IntoLaptop.com website, the IdeaPad 330 slowed to a halt if any other tabs were open.
Luckily, after a webpage finishes rendering, with a few seconds delay we were able to toggle through different pages. Whenever you play any 1080p video on YouTube it takes time to get loaded.
On our performance benchmarks, the IdeaPad 330 landed right in the middle of the budget laptop pack. On the Geekbench 4.1 scale with a score of 5,234, Lenovo has just barely passed the average 5,184 scores of the budget category.
The sluggish hard drive is the main reason for the underpower performance of the IdeaPad 330. If you are thinking of playing games then keep one thing clear in your mind that it will only be able to run only Windows store games.
Because on even light PC games it only provided us 3 to 14 FPS and which were not playable at all. Now battery timing is not very good but decent, during our battery test it IdeaPad lasted almost 6 hours before shutting down.
There are some other laptops under the same price tag which can provide you considerably better battery timing.  
BUY NOW ON AMAZON
3.

HP Chromebook 14
"Gorgeous Looks & Slim Design"
Design
In simple words, HP has shown other brands how to design a budget Chromebook in the shape of this laptop. Chromebook 14 has attractive athletics with fresh white color, which makes it stand out as compared to other similar machines.
The glossy HP logo has been placed in the center of the lid and it has a rough texture. Under the lid, everything including the keyboard, deck and even display bezels are in fresh white color like outside it.
Which looks gorgeous as compared to the previous models of HP Chromebook and some other similar machines, looks-wise Chromebook 14 gives you the impression of a premium machine.
Overall plastic has been used in its build but there are textures, which give you a pretty roughed feel.
The best thing is that as compared to a lot of similar Chromebooks this HP laptop is pretty strong and can survive if fell down on the hard floor.
HP Chromebook 14 is 3.3 pounds and it is 0.7 inches thick, you can easily travel with it because of the slim aesthetics and less weight.
Display 
Chromebook 14 by HP is probably one of the very few laptops which offer a Full HD 1080p display in a way cheaper price tag.
However, its 14 Inches screen is not considered very vivid or bright but certainly, it is far better than its competitors especially which came with 1366 x 768 panels under the same budget of $300. 
The Chromebook 14 covers 71 percent of the sRGB color gamut, according to our colorimeter. Now selecting a budget laptop you always have to make some compromises, so if you want a better-looking Chromebook with an HD panel then HP Chromebook 14  is a great option.
Otherwise, its screen is not very bright since the maximum brightness level is 221 nits. It is not the worst but definitely not the best for sure. Although when you watch HD videos the display of Chromebook 14 provides you good results and for work, the slightly low brightness is not a problem at all.
Unless you want to work outdoors where the light can give you some trouble. 
Performance Under Workload
HP Chromebook 14 comes loaded with am AMD A4-9120 dual-core processor with a clock speed of 2.2GHz accompanied by 4GB of DDR4 RAM.
With these specs Chromebook, 14 can easily cope up with the day-to-day typical kind of tasks but make one thing clear in your mind no power-intensive kind of Apps can run on this machine.
During our review, we tested Chromebook 14 with Google Chrome's 13 tabs open, two of which were playing 1080p YouTube videos while we were streaming video games on Twitch as well at the same time.
At first, everything was going very well but then, for several minutes, some tabs stuck on the spinning wheel and the cursor started lagging.
To render photos and ads, Chromebook 14 took particularly long, while videos buffered for a few seconds before we could see them.
Only the Chromebook 14's underside reached high temperatures after we watched a full-screen 15-minute trailer on YouTube.
The bottom panel, peaking at 108 degrees Fahrenheit, breached our comfort threshold of 95 degrees.
If you want a cheap Chromebook to do simple tasks like browsing the web, sending emails, or watching YouTube videos, the Chromebook 14 is a good choice then.
However, the performance is not as good as some similarly priced laptops.
BUY NOW ON AMAZON
4.

Lenovo Flex 11
"Powerful & Speedy Work Machine" 
Design 
Lenovo Flex 11 2 in 1 convertible laptop's chassis is two-tone black colored and it has a sleek design with a silver-colored accent. The Lenovo logo sits at the top-left corner of the lid neatly engraved, and there is a slight gleam on the double, 360-degree aluminum hinges.
These two hinges are not just for show; they enable the system to turn into tablets, tent and presentation modes from a traditional laptop.
Despite the fact that these different modes are considerably useful, they aren't always pleasing the most aesthetically. For example, the top and bottom of the chassis don't fit well in tablet mode, which creates a void.
I also found the lid a bit annoying to open because on the seams with there's lack of curvature. When you open it up, It greets you with a smooth base leading to the smoother touchpad and the fancy-looking island keyboard.
The right side has an HDMI port, one USB 3.0 with always-on charging, a Type-C USB port and the power button for the LEDs. On the left side, you will get a USB 2.0 slot, a 4-in-1 card reader and a headphone jack. 
Display 
The Lenovo Flex 11 offers an 11-inch screen with an uncomfortably thick bezel. This is not the worst part, however. Its 1366 x 768 screen is plagued by haze and suffers from muted colors.
The Flex 11 reproduced a low 71 percent of the sRGB color gamut as expected, well below the average budget laptop at 90 percent. And while Flex 11 beats the VivoBook 58 percent, the Spin 1, 129 percent eclipses it.
The display on the Flex 11 recorded 206 nits of brightness, falling behind the average category of 225-nit. Although there are some laptops you can buy in the same price tag which offers better brightness.
When you watch HD videos on this display it feels the scenes that should be shown as sharper colors became kind of dull. Despite the fact that Lenovo Flex 11 is a 2 in 1 convertible laptop the display went considerably dark when turning the machine upside down.
Which can disappoint users who want this laptop for the purpose of watching videos or movies.
Where for doing typical day-to-day work this display will not bother you too much. 
Performance Under Workload
Considering the Price tag Lenovo Flex 11 offers good enough performance with an Intel N5000 processor, 4GB of RAM, and 64GB eMMC storage capacity. It comes loaded with an integrated Intel UHD 600 graphics card which is sufficient for the daily general proposes.
While opening some programs we have noticed a slight lag but no major slowdowns. However, when we ran a pc game with 13 Google Chrome tabs and an HD video running on YouTube in the background, it does start lagging.
This is, by the way, better performance as compared to some of its rivals sine this machine didn't mean for gaming at all accept some lite ones that you can get from the Windows store.
Lenovo Flex 11 scored decently in the overall performance test on the Geekbench 4. With that, it has successfully topped the category average of 2939.
In our  Excel sheet test, Flex 11 performance was great, in only 5 minutes and 56 seconds, it manages to match 65000 names and addresses. If you want this laptop to do office work then it will not at all disappoint you. 
BUY NOW ON AMAZON
5.

Acer Aspire 1
"Attractive Design & Slim Lightweight Aesthetics"
Design
To be honest, we were not expecting Acer Aspire 1 to be this sleek, as compared to other rival machines this laptop offers slim and stylish looks with lightweight chassis. Even some other more expensive laptops don't come with this kind of premium-looking aesthetics.
Acer Aspire 1 weighs only 3.3 pounds and its body dimensions are 13.3 x 8.9 x 0.7 inches, which makes this laptop a lot more compact than any other machine in this price range.
Apart from the company logo on the lid and white font on the keyboard, the entire laptop is in black color though few laptops look this gorgeous in black color.
But on the lid and deck, brushed texture enhances this machine's already attractive looks. Now if we talk about the build quality of Aspire 1 then its smooth plastic lid kind of flexes under the pressure.
Despite the fact that the display of Aspire 1 is not a touch screen, it can still rotate back to 180 degrees. This means you can fold it to the backside of the keyboard but without a touch panel, you can not use it in that position. 
Display 
Acer Aspire 1 laptop offers 14 Inches Full HD display with the resolution of 1920 x 1080, not a lot of laptops under this budget comes with this resolution. However, the quality is not very good but decent, images look kind of washed out but this display provides enough details.
71 percent of the sRGB color gamut can be reproduced by the Acer Aspire 1. By most standards, that's not colorful, but at least a good result for a laptop which you can get under $300.
The Aspire 1's overall brightness of 206 nits is impressive, but this laptop was unable to meet the average laptop safe figure of 239 nits. Yet laptops usually have even dimmer displays at this size, so with that in mind, it is good enough.
When you watch HD videos the color really pops on the display of Acer Aspire 1.
That is a good thing for people who want this laptop for multimedia purposes.
Otherwise for normal typical office work and day-to-day run, you don't have to worry about the display's brightness as long as you are not working outdoors where reflections can bother you. 
Performance Under Workload
Acer Aspire 1 packs an Intel Celeron N4000, 4GB of RAM, and 64GB of eMMC storage, the problem is that this laptop struggles with even day-to-day multitasking work.
We noticed sluggishness when we opened 10 Google Chrome pages at once, but after the pages got loaded then the performance starts improving.
Even with a 1080p YouTube video and a Twitch stream running in the background, we visited additional pages without issue. Nevertheless, the Aspire 1 does not have the capability to cope with more demanding websites.
We got stuck with an underpower performance when we were conducting the typing test and the Aspire 1's CPU failed to keep pace with the typing speed.
In the Geekbench 4 overall performance test, the Acer Aspire 1 scored 3,349, a much better score than the HP Stream 14's 1,817 but it fells behind the average budget laptop category of 3,622.
The 64 GB eMMC flash storage of Acer Aspire 1's performed fantastically on the Laptop Mag File Transfer check by transferring 4.97 GB of mixed media files in just 1 minute and 2 seconds.
BUY NOW ON AMAZON
6.

Lenovo Chromebook C330
"Convertible 2 in 1 With HDMI Port"
Design
The Lenovo Chromebook C330 is entirely made out of plastic material, it offers an off white color scheme that looks pretty neat. The bezels around the display are pretty thick, glossy, and chunky especially the bottom one.
With a weight of almost 2.8 pounds, Chromebook C330 is slightly heavier than some of its rivals in the market but at the same time, it is only 0.8 inches thick at its thickest point.
The Chromebook C330 can look a bit cheap, but there are no stability issues with its design, staying in place throughout the regular four convertible modes which are laptop, tablet, monitor, and stand.
On its 360 degrees hinges, the display panel rotates very smoothly into your desired position. Do remember that also converting between modes is the Dell Chromebook 5190 and HP Chromebook x360 11 G1, while the Acer Chromebook is a standard clamshell laptop.
The durability of the Lenovo Chromebook C330 is, however, a question mark. Because it does feel flimsy and we don't think that it can survive a drop if it accidentally from your hand to the hard floor.
Display 
The display of the Lenovo Chromebook C330 may well score for a Chromebook, but if you ask us then the display should have been more vibrant. 
The Lenovo Chromebook C330 produces 75 percent of the sRGB color gamut According to our testing, which is close to the average of 80 percent for Chromebook.
The Chromebook C330 shows up a maximum brightness level of 250 nits, barely peaking at the 233-nit average band. The touch screen of the C330 accurately registered the taps and gestures as we were navigating the Chrome desktop and web, It permits smooth scrolling as well.
Lenovo Chromebook is a great option for you if you want a good convertible 2-in-1 laptop with a considerably cheaper price tag. This display will not affect you while working on typical day-to-day tasks but if you want to watch HD video and movies then it might slightly disappoint you.
Since the display of Chromebook C330 offers a resolution of 1366 x 768 it will not be able to provide good performance for Full HD videos. 
Performance Under Workload  
In the Chromebook C330, you don't get a lot of multitasking prowess from the MediaTek MT8173C processor Accompanied by 4 GB of RAM. Because when we split its screen between a 1080p video and five Chrome tabs we heard an audio stutter.
On the Geekbench 4 general benchmark, this poor performance leads to a mediocre score of 2,934, slipping below the Chromebook average of 4,536.
The Lenovo Chromebook C330 received a 31.32 on the Jetstream 2 check, which tests Javascript performance online, which is less than the average of 52.6 Chromebooks.
On the WebGL Aquarium test by rendering 500 fish at 25 frames per second, The Chromebook C330 again failed. This rate is slower than the 54 fps of the average Chromebook score.
With battery life slightly better than we would expect from a Chromebook, the Lenovo Chromebook C330 can last longer than an average working day.
On a positive note, the Lenovo Chromebook C330 is on the cooler side. Our heat gun registered the temperatures on its touchpad 75.5 degrees Fahrenheit, G&H keys 79 degrees and the underside 82 degrees after we streamed 15 minutes of HD video on the notebook.
BUY NOW ON AMAZON
7.

Acer Chromebook 14
"Excellent Battery Life & Full HD Display"
Design
Like Acer's Spin 11, the Chromebook 14 is not capable of transforming into a tablet, however, its simple but sleek design is still worth appreciation particularly considering the low price tag.
This laptop has a hint of Apple MacBook stylings, though you can get it way cheaper than a Macbook. On the lid a brushed metal finish makes it feel more polished and sturdy throughout this aluminum alloy frame.
This is definitely one of the larger Chromebooks that we've reviewed, though it doesn't quite meet the weight and bulk of the Chromebook 15.6 inches.
You will not have any problem carrying this laptop in your backpack for traveling. Surprisingly connectivity is tight, despite how much space there is along the sides.
You have only dual 3.0 connections as far as USB ports are concerned, both of which are on the left side. This becomes particularly awkward when you need to simultaneously connect both a bulky USB key and a mouse.
You're banging out of luck if you're expecting a Type-C port on this laptop.
Display 
When you open the lid, you will find a bright, crisp, and evenly lit 1920 x 1080, 14 inches IPS display panel. This resolution normally didn't come in cheap Chromebooks.
The matte finish eliminates glare but can make it a little harder to read the screen in sunlight. Overall, color and contrast are strong, but some colors seem slightly dull, like shades of pink.
Although high contrast from the monitor can make photos pop up, on the other hand, darker pictures and video areas will get lost. One downside of this display is that text appears to be smaller then you would expect from a 14 Inches display size.
The hinge opens a complete 180 degrees, as a result, it allows you to freely and easily change the screen position but at the same time, it seems a little lost. Also sending the screen back when you pick up the notebook doesn't take much jarring.
You can consider buying Acer Chromebook 14 if you want a laptop with an FHD display that can show vibrant colors and sharp quality while watching videos, pictures, or movies. 
Performance Under Workload
The Acer Chromebook feels exceedingly responsive in everyday usage such as streaming music, browsing the web, watching YouTube videos, and typical day-to-day work. Although by modern PC standards, its 1.6GHz Intel Celeron N3160 is not actually a powerhouse.
While watching 1080p HD video, we noticed stuttering and dropping frames that's why video playback is normal since we have noticed that issue in some similar Chromebooks of different brands as well.
The results of the benchmark put the Acer Chromebook 14 right there with other lower-end Chromebooks that come with Celeron. The 3958 milli-second Kraken benchmark score can hardly be considered acceptable.
You should be quite pleased about the battery life of the Acer Chromebook 14 if you're not a crazy demanding kind of user.
The Acer Chromebook 14 achieved a runtime of about 9 hours and 2 minutes screen was set at 50 percent brightness in the Chromebook battery check while we play an HD video continuously until the battery calls it quits.
BUY NOW ON AMAZON
8.

ASUS Chromebook C202SA-YS02
"Strong, Durable Build & Easy to Maintain"
Design
Despite the fact that Asus Chromebook C202 is a very small laptop, it seems pretty strong and well builds. As we all know that a lot of school children use Chromebooks and when kids are using something there is a huge possibility that it will be smashed on the floor pretty regularly.
Amazingly ASUS  has already thought of this possibility that's why this laptop has a rubberized plastic ring across the bottom side and on the dotted plastic lid.
That works as armor if the laptop fell on the hard floor and you can not get this in any other similar Chromebook of any brand. You will see a silver plastic deck with a black, chiclet-style keyboard with blue lettering when you open the lid.
The panel is 11.6-inch, 1366 x 768, framed by a chunky, navy-blue bezel. The C202 is heavier and thicker than its competitors because of its rugged exterior, weighing 2.6 pounds with body dimensions of 11.5 x 7.9 x 0.88 inches.
Display 
On the ASUS Chromebook C202 the 11.6 inches, 1366 x 768 screen is not very sharp, but at this resolution, it's as crisp as you can expect from a Chromebook. Obviously from this priced budget laptop you cant expect a vast array of colors after all.
On our light meter, the screen showed 250 nits of brightness, which is better than some similar machines but still dimmer than the 305 nits average of the ultraportable laptop group.
On our checks, the C202 panel represented only 58 percent of the sRGB color gamut the same as the Chromebook Lenovo 100S.
The display registered a 2.8 (closer to 0, better) Delta-E color accuracy score, beating the Chromebook 100S (4.6) The J4 Plus had a very precise screen, with an almost perfect score of 0.4.
On the sides of the C202, there are only a few ports, but they are all the things that students will need in classrooms.
Performance Under Workload
You can not consider the ASUS C202 with a 1.6-GHz Intel Celeron N3060 processor and 4GB of RAM a very powerful machine but it has enough juice for manipulating spreadsheets or writing books reports.
The ASUS Chromebook C202 took 725.4 milliseconds to finish the SunSpider JavaScript check. The ASUS C202 scored 48.85 on JetStream, a newer JavaScript benchmark, this score is more than good enough for daily typical usage.
We measure the performance by displaying a large number of fishes in a tank and measuring frame rates in WebGL Aquarium, our go-to graphics test.
In this benchmark, the C202 did well by showing 50 fish at a smooth 60 frames per second but it started to lag at 1000 fish.
BUY NOW ON AMAZON
9.

Samsung Chromebook 3
"Superb Display in Extremely Affordable Price"
Design
The build quality of the Chromebook 3 is surprisingly good for an under $300 laptop, However the entire built consist of plastic material. For any environment, the textured metallic black looks classy enough.
To comfortably keep your wrists the chassis includes a silky-smooth palm rest, as well as a gently rounded lip. The slight pattern around the panel helps to reduce the reflections of the shiny bezel.
Due to the strong and flexible Hinge, you can tilt the screen to 180 degrees. The keyboard has almost no flexing which is, by the way, a common problem among the laptops of this price range.
There's a battery indicator on the left side and the Chromebook 3 comes with all the ports you need. Also a slim jack for the AC adapter, a USB 2.0 port, a full-size HDMI port, and a microSD card slot.
On the opposite side though, you'll find a USB 3.0 port, as well as a combination of audio and microphone jack.
Display 
The Samsung Chromebook 3's real plus point is its outstanding display. The 1366 x 768 LED display in the Chromebook 3 is sharper at 259 nits than its competitors.
On the display of Chromebook 3 from about 45 degrees on each viewing side, angles are good as you can clearly see on the screen all the colors.
The Chromebook 3 colors are very bright as compared to all other budget laptops. The Samsung Chromebook delivered warmer tones that look more genuine and informative whereas as most other panels make all skew blue and cold in this class.
The accurate hues of the Chromebook 3 are due partly to its near-perfect ranking of 0.2 Delta-E. By contrast. The Samsung laptop has the bunch's most limited color spectrum on the flip side, Which reproduces just 63.1 percent of the sRGB gamut.
But overall this display performs far better than any other similar machine under the budget of $300.
Performance Under Workload
Chromebook 3 has the performance you need to handle Web surfing and word processing with a 1.6-GHz Intel Celeron N3060 processor, Intel HD Graphics 400, 4 GB of RAM and 32GB of eMMc flash storage.
The Chromebook 3 scored 49.7 in the JetStream JavaScript benchmark, beating rivals like the Stream 11 and the Inspiron 14 3000 respectively.
The Samsung laptop completely trounced its rivals in the WebGL Aquarium graphics test, making 2,000 fish in the tank at 23 frames per second.
The Chromebook 3 can handle some casual web-based and app games, such as Cut the Rope, with its integrated Intel HD Graphics 400, but the Web Quake 3D first-person shooter slowed down to a crawl in the middle of gameplay.
On a price, the Samsung Chromebook 3 can comfortably last an entire working day. On the Laptop Mag Battery Check, it clocked 9 hours and 44 minutes.
BUY NOW ON AMAZON
10.

Dell Inspiron 15 3000
"Big Screen & Good Storage Space"
Design
With a rather boring scheme of colors, the design of the Inspiron 15 3000 has an interesting texture. To build the back lid the Company has used textured black plastic but despite being flexible the keyboard deck and base feel smooth to the touch.
Where the two materials meet there are some rough edges whereas the lid and the base have a glossy black casing, breaking up the design. Inspiron 15 3000 weighs 4.88 pounds and its body dimensions are 14.96 x 10.25 x 0.99 Inches.
There is a charging port on the left side of the laptop whereas the indicator light for charging is on the front edge, an HDMI connector, an exhaust vent, an SD card slot, and USB 3.0 port.
On the right, a combo CD / DVD drive, two USB 2.0 ports, and a headphone jack are available. So connectivity wise this laptop is great and you can connect anything which you want with it. 
Display 
The Inspiron 15 3000 laptop offers 15.6 inches display with a resolution of just 1366 x 768, so the lack of screen space or graininess will not shock you.
For writing documents and browsing websites, the display panel is good enough for other work which demands high clarity levels like photo editing will not go pretty well on this machine.
During our testing, the display panel of Dell Inspiron 15 3000 reached a brightness level of 170 nits, this figure is considerably lower than the budget level of average 215 nits.
71.4 percent of the color gamut was reproduced by the Dell Inspiron 15 3000 display, which is better than other similar laptops you can get under the same price tag.
In this group of laptops we compared, the Inspiron 15 3000 received a Delta-E precision score of 2.87 (0 is best), which only surpasses the Ideapad's 3.85.
Performance Under Workload
The Dell Inspiron 15 3000 review configuration wasn't especially fast since it is equipped with an Intel Celeron N3050 processor, 4 GB of RAM, and a 500 GB hard drive.
While browsing the web and scrolling through documents, we noticed plodding startup times and random stutters. You're going to be fine if you stick at a time to just a few applications but you will face performance hiccups if you try to push any further.
The Inspiron 15 3000 scored 3,509 on Geekbench 3, which tests overall performance, which is higher than some of its competitors. It wasn't surprising that it was running our file copy test at a sluggish 26 MBps because there is a 500 GB, 5,400-rpm hard drive onboard for storage.
The Inspiron 15 3000 offers a pretty good battery life but some other systems last even longer for this price range. On the Laptop Mag Battery Check, which includes constant web surfing over Wi-Fi, the system's 40-watt-hour battery ran at 7 hours and 15 minutes.
BUY NOW ON AMAZON
Some More Best Cheap Laptop Under $300 Picks in 2023
Last update on 2023-11-27 / Affiliate links / Images from Amazon Product Advertising API