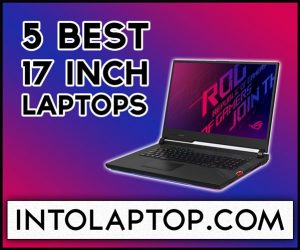 A 17 inches laptop is the best option if you require a portable system to go for serious real estate. With their massive air vents and hulking designs, these notebooks tend to stand out from the pack, some even claiming to look like a sports car, because of the fact that many 17 inches laptops are designed for gaming it seems somewhat suitable.
It's no surprise that these laptops are typically gaming laptops with their massive displays and bigger chassis to fit in a more powerful engine.
It is the fact that in terms of performance some gaming PCs out there can compete with the best 17 inches laptops on the market. Because of that for intensive creative work such as video editing and 3D design those laptops are great.
Best 17 Inch Laptop in 2022
To helps shed some weight and millimeters on such portables Nvidia's Max-Q technology is there, Some of these laptops even boast slim form factors.
To help you in finding the best 17 inches laptop we have not only listed the top 5 best 17 inches laptops that you can get in 2022 but also we have reviewed them in detail for your convenience.
If you want to know more about laptops by sizes then you can explore Into Laptop. Now without wasting any time let's jump into the post.  
1.

ASUS ROG Zephyrus S GX701 
The Slimmest 17 inch Laptop Under $2500
Pros
Light Weight & Slim Design
Powerful Performance
Decent Battery Timing
Convenient to Carry
Cons
Thunderbolt 3.0 is Missing
Bottom lid is Very Flimsy
Design 
ROG Zephyrus S GX701 laptop makes its bigger, bulkier competitors look positively dated by comparison.
Since all the laptops from this series of Asus are specifically designed to be as thin and light as possible.
According to the company Asus, ROG Zephyrus S GX701 is the most compact 17-inch" gaming laptop ever made.
The Asus ROG Zephyrus S GX701 body dimensions are more akin to those which found on a 15-inch laptop, yet amazingly it comes with a 17-inch display.
It is around 23% smaller and 40% thinner than average 17-inch" gaming laptops With the dimensions of 399 x 272 x 18.7mm.
The Zephyrus S GX701's dimensions are only slightly larger if you compare it with an older generation Zephyrus laptop GX501, which has a 15.6-inch screen.
Considering the larger screen of GX701, this fact feels pretty impressive. The incredibly narrow bezels that surround the screen has made possible the smaller size and larger screen configuration of Zephyrus S GX701.
These bezels are just 6.9mm thick, which means there's very little wasted space since the top and side bezels allow for an 81% screen to body ratio.
The company has ditched the built-in webcam from above the screen to achieve this small top bezel.
Display 
When buying a powerful laptop like the Asus ROG Zephyrus S GX701, the most important considerations are the components that power the machine.
Good thing is that company Asus has put a lot of attention and care while designing the screen. As we have said before that this is the slimmest laptop in the league of the 17-inch display's yet, which means it is pretty large.
This machine comes with G Sync technology so there's no screen tearing. The display has a 144Hz refresh rate to ensure that users will get smooth and fluid quality, during 4k videos or graphic-intensive gameplays.
Performance Under Workload 
Asus has included the very latest gaming hardware into this slim and light designed laptop.
Zephyrus S GX701 laptop comes loaded with an 8th generation Intel Core i7 8750H six-core processor, which has a turbo clock speed of 4.1GHz along with Nvidia GeForce RTX graphics that has Max Q design.
The ram can be up to 24 GB, it mainly depends on you that how much you want. It is worth mentioning that this laptop is configurable up to an RTX 2080.
Which includes 8GB of GDDR6 VRAM. ROG Zephyrus S GX701 laptop has proved that a gaming laptop can be lightweight and thin instead of being big and bulky.
BUY NOW ON AMAZON
2.

 Lenovo Legion Y740
The Laptop With Most Simple Design Under $2500
Pros
Overall Performance is Good
Excellent Keyboard & Track pad
Physical Buttons  for Gaming
Simple & Minimalist Design
Cons
Rear Facing Ports
Battery Timing is Not Good
Design 
Legion Y740 carries over the same look as its the previous models since Lenovo has just only  refreshed the aesthetic with this specific laptop.
It has a flat gray lid and sleek overall design. Lenovo Legion Y740's measurements are 14.2 x 10.5 x 0.88 inches and it weighs almost exactly 5 pounds, which makes it nice and portable but obviously not razer blade thin. However, if you want a decently compact gaming laptop then Legion Y740 is the perfect option.
You can consider Lenovo's this machine a perfect business laptop which happens to be capable of showing good performance on gaming.
Display 
Lenovo Legion Y740h offers a 15.6-inch display with a refresh rate of 144Hz, but the most important feature about this display is the G-Sync capabilities.
No doubt that these specs of Legion Y740 sound good but they come with some drawbacks. Like a lot of people are not a big fan of this laptop's screen, the reason is that it does not supports HDR.
1,000 nits are required for HDR and Lenovo Legion Y740's screen shows a maximum peak of only 300 nits, which is far below.
The color reproduction isn't good either, so display wise this laptop is not that good. However, to watch HDR-enabled content, you can attach an external monitor.
Performance Under Workload
With Intel Core i7-8750H processor, Nvidia GeForce RTX 2070 and 16GB of RAM, the Legion Y740 proves itself a pretty powerful machine.
It can easily cope up with multiple tabs open and HD 1080p videos playing on YouTube, while graphic intensive game running in the background at the same time.
On the Geekbench for overall performance test the Lenovo Legion Y740 laptop was able to post a strong 21,629 score, with that Legion has beaten the 20,844 mainstream gaming laptop average but there are some other laptops with the similar price tag that performs even better.
During browsing or editing files Lenovo Legion Y740 is very fast and you can feel how snappy it is even when doing your specific work or tasks.
While launching Microsoft Word, for instance, you will hardly ever saw the splash screen. Skipping any program's loading screen, Legion Y740 is quick enough to jump directly into the software.
This performance goes the same for most of the other first-party software including the Microsoft Office Apps.
Apart from that in the benchmark tests Lenovo Legion Y740  hold good performance which you will expect from any other similar laptop of its league.
BUY NOW ON AMAZON
3.

 ASUS VivoBook Pro 17
Portable Design With Capable Hardware in Reasonable Price
Design 
Sheets of brushed aluminum covering can be seen on the palm rest and display lid of Asus Vivobook Pro 14 however, the frame itself is made out of plastic.
The lid and interior of this laptop are very solid because there is virtually no flexibility. Though you could feel where on the side aluminum sheets and plastic cover met without any noticeable inconsistencies and prominent producing edges.
The overly tightened hinges hold the lid of Asus VivoBook Pro 17 pretty stable considering the fact that they are made out of plastic.
Because of that, you can not open the lid of this machine with one hand, it is practically impossible.
Vivo Pro Book 17 certainly is a 17 inches portable laptop, with 20mm thickness and weight of almost 2.1kg.
This laptop beats all of its competitors by offering the working space of 17 inches with the portability of 15 inches.
Asus Vivo Pro Book is very easier to carry, you can take it with you where ever you want conveniently.
It also has one of the best keyboards offering nice and clicky low profile keys and discreet LED illumination.
Display
With the resolution of 1920 x 1080, Asus Vivobook Pro 17 shows very natural quality on the display. Brightness, color rendition or sharpness, on the other hand, is not great but reasonable.
However, the difference became considerably noticeable when you switch back from the higher resolution screen.
Asus Viviobook Pro 17 lacks a considerable amount of brightness from the bottom, top, and sides. So the off-angle performance is not very good.
Although colors are pretty stable, in our review we didn't notice any unsightly color shift.
Performance Under Workload
VivoBook Pro 17 is a great daily driver loaded with a well-rounded selection of capable hardware. This laptop performs great across multimedia, you can do any typical work and light gaming without facing any problem.
In PCMark 10 test Asus Vivobook 17 Pro was able to score a respectable 7,785 because of the powerful graphics card and intelligent processor.
Gaming performance was reasonable on slightly older triple-A games. Despite the fact that Vivo 17 Pro comes equipped with the powerful GPU, its 1080p display struggles to push pixels on the screen.
Pros
Great specs
Good Cooling System
Price is Reasonable
Performance is Good
Cons
The display is not so Good
Battery Life is Short
BUY NOW ON AMAZON
4.

 ASUS ROG Strix Scar 
Design
Asus Rog Strix Scar Gaming Laptop has a typical notebook looks but with aggressive and unique looking design.
The best thing about this laptop is that it has been designed especially for FPS games. According to the Company, the slashes carved across the lid and on the right palm rest of the keyboard imitate the trajectory of a bullet.
The area around the keyboard boasts a woven Kevlar design with a gunmetal grey finish of its lid, giving you the impression of an assault rifle.
There is no other gaming laptop available with this much attention to detail. On top of that, for a more immersive gaming experience, you can even personalize the keyboard backlight according to your taste.
There is only one issue with that woven Kevlar design that it is very glossy. This means there will be a lot of fingerprints marks after every game session, which honestly looks pretty bad.
It seems like trackpad is made out of really cheap materials, you have to press it hard even in scrolling.
This Rog Strix Scar weighs only 2.6kg, you can take it with you in your backpack while traveling easily.
Display
Rog Strix Scar offers 1080p, IPS display powered by the Nvidia GeForce GTX 1070 with a 144Hz refresh rate for smoother gameplay.
There is no lagging during the intensive gameplays of FPS games, which is amazing for a machine that is not a PC.
Gaming on this fast screen with GSync enabled is an experience that cannot be defined in words. With above-average brightness, colors and contrast this laptop in only fast, it is overall pretty good.
However, for professional work there are some better options then Asus Rog Strix Scar.
Performance Under Workload
To make gaming experience good Asus has included a three-way cooling system in the Rog Strix Scar Gaming laptop.
With three fans throwing air this machine hardly gets to the very hot temperatures. As we have mentioned that this Laptop has been specially designed for gaming in mind especially FPS games.
So obviously you can play any latest heavy graphics games on this laptop without worrying about lag.
Three fans auto-detects that how much load is on CPU and GPU to adjust their speed accordingly.
Pros
Build Quality is Excellent
Gaming Performance is Great
Good Cooling System
Portable & Light Weight
Cons
Short Battery Life
The Mousepad is Not Very Good
BUY NOW ON AMAZON
5.

 LG gram Thin and Light Laptop
Most Thin & Lightweight Laptop with 17 inches Screen
Design
The LG Gram 17 is a pretty unique laptop, it is one of the bigger screen laptops but at amazingly lightweight and thin.
That seems like to opposite things but LG somehow has figured out the trick. With its appearance, it looks like a very heavy machine but you pick it up, its lack of density makes you say wow. However, there are also some downsides to this ultra-thin design.
The center of the lid has a lot of flex especially you press on the center of the lid. Which durability wise not a very good sign.
The carbon and magnesium chassis feels cheap to the touch even though it might be sturdier than plastic.
The medium-gray color scheme is just drab. LG Gram 17 is one of the beautiful looking laptops but build wise there are a lot of flaws.
If you drop this thing to a hard floor which considering its size seems possible. Then there is a 99% chance that your purchase will be wasted.
Whereas there are other laptops with the same screen size but more durable and stronger than LG Gram 17.
Display 
LG Gram 17 is a 17-inches laptop inside a 15-inch laptop frame, so the stress level is already high. It is 15 inches wide and 10.5 inches long. in each dimension, the LG Gram 17 footprint is about an inch larger than a 15 inches MacBook.
It offers a 17 inch IPS display with 2560 x 1600 resolution. The screen has considerably thinner bezels accept the bottom one is pretty thicker.
Honestly display this laptop is in the middle of good and average, though in HD videos you can watch details on the screen.
Performance Under Workload
LG Gram 17 comes with a massive 72Wh battery, which provides it a good runtime. It looks pretty satisfying when you don't have the charger while working and the Windows estimating over 9 hours of battery life.
We don't know the battery timing company is claiming is true or not but one thing is sure that this laptop can easily run a whole on a single charge.
Do keep in mind that these battery figures also depend on the work which you are doing, so they fluctuate according to the load machine is consuming. 
Pros
Bigger Screen
Thin & Light Weight
Decent Battery Life
Easy to Carry
Cons
Build is Flexible
Display is Average
BUY NOW ON AMAZON
Conclusion
Here you have our list of Top 8 Best 17 inch Laptops you can get in 2022 with their detailed reviews. We've checked and analyzed each one of the above laptops before including them in this list, so you can get the best value for your money, no matter which one of the above you select.
To test out the capabilities and limitations of a laptop we run different high standard benchmarks and use them in real-world working scenarios. Form CPU and GPU power to battery timing we focus on each important aspect during our testing.
So you can get the best experience and top-notch performance out of your new laptop. And if for some reason the above list is not enough for you or you are still unable to decide which laptop you should choose then you must visit Into Laptop.
There you will not only find even more options according to your budget, needs, and requirements but you will also get a detailed laptop buying guide that will help you in getting the perfect laptop you are looking for. 
LAPTOP BUYING GUIDE 2022
Laptop Brand: Which Brand's Laptop is your priority?
Display Size: Which Screen Size will you prefer?
Performance: Which CPU will you need?
Graphics Card: Which GPU will you like to have? 
RAM & Storage: How much RAM & Storage is needed?
Operating System: Which Operating System you want to have?
Battery Life: How much battery life do you expect?
Work Purpose: Know the purpose and buy a Laptop tailored for your work purpose.
Budget: Find the Laptop within your budget.