Top 3 Best Intel Core i7 12th Gen Laptops in 2023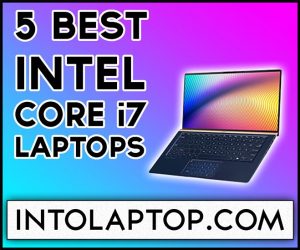 Looking for 2023's Best Intel Core i7 12th Generation Laptops? Then you have just clicked on the right post.
The main reason for purchasing a laptop is to have the greatest portability but that doesn't mean you're going to have to lose productivity.
An Intel Core i7 CPU-powered laptop not only allows users to do a great deal of work on the go but you can also experience the modern and innovative technology on a laptop of your choice.
The latest generation Intel Core i7 12th Gen processors are more powerful as compared to the previous generations but at the same time, they are marginally more costly than the Intel Core i7 – 11th Gen CPUs.
Also Read: 10 Best Intel Core i9 8th – 12th Gen CPU Laptop
Top 3 Best Intel Core i7 11th Gen Laptops in 2023
Best Intel Core i7 Laptops 7th – 9th Gen
However, at the end of the day, all of these processors are top versions.
These CPU's are capable of providing the utmost strength to your computers, making it easy for you to access several Excel sheets, Photoshop, or other taxing applications to complete projects.
Laptops have been essential over the last decade.
We began focusing on feature-loaded laptops rather than the good old desktops due to the simplicity of which they can be taken around whether it's for students, professionals, or for home use.
They deliver greater durability and improved portability without compromising accessibility or functions.
That is why we have compiled a list of the top 10 best Intel Core i7 laptops you can buy in 2023 with their detailed review for your ease.
Also, you can explore intolaptop.com to find out plenty of more laptops that come with different processors. 
1.

Lenovo ThinkPad X1 Extreme Business Notebook
The Best Business Intel Core i7 Laptop
Design
The Lenovo ThinkPad X1 Extreme is a 15-inch sleek, thin, and lightweight business laptop, its overall build including the chassis is made out of luxurious materials.
The sophisticated soft-touch finish is supported by the svelte clamshell laptop's matte black carbon fiber chassis.
Placed on the right top corner of the lid and deck is a black ThinkPad logo, with a glowing red dot. At the bottom corner of the lid Another logo, a stylish red and gray X1 can be seen. 
The Lenovo ThinkPad X1 Extreme Business Notebook laptop's overall footprint has been reduced because of the thin bezels around the display.
It is a very compact laptop with dimensions of 14.2 x 9.7 x 0.7 inches, it weighs only 3.8 pounds. With that and the slim design, ThinkPad X1 becomes very easier to carry as a laptop.
Don't get fooled by its slim size, since it carries more ports than some of the other bulky laptops. There are enough USB 3.1 ports, an SD card reader, an optional Smart Card reader, and a Kensington lock.
Display 
You can go for the X1 Extreme's phenomenal 4K HDR 3840×2160 touch-screen display over the 1080p matte option If battery life is not a big concern for you.
Without a doubt, this detailed and bursting with saturated and vivid colors is one of the best 15.6-inch business laptops on a consumer-grade.
You can see the tiniest details in 4k ultra HD videos and the exceptionally vibrant colors on the HDR panel leap off the screen.
However, the color saturation sometimes gets exaggerated to the point of being lurid while the white balance seems accurate.
Performance Under Workload 
Whenever it comes to performance, The Lenovo ThinkPad X1 Extreme Business Notebook lives up to its name. During the workload, this laptop was blazing fast.
You can run multiple YouTube HD videos and open up to 15 tabs in Google Chrome at the same time, the X1 will not even shutter. In an overall performance test, Lenovo ThinkPad was able to achieve a high score of 22,021 on Geekbench 4.1.
Lenovo's ThinkPad X1 Extreme has proved itself more powerful than the average premium laptops, again with this score.
BUY NOW ON AMAZON
2.

Dell XPS 9370 13.3 Inches
The Most Favorite Business Laptop According to Consumers
Design
The last few generations of Dell's XPS series are so similar in looks that you hardly can differentiate them unless you watch on the deck where the CPU Sticker is. However, Dell's XPS 13 has emerged as one of the most favorite laptops according to consumers.
Maybe because of that Dell has added a new gold and white color scheme in their latest XPS 9370 laptop. Despite the same physic like previous models, it has a slightly slimmer and lighter overall profile.
But if you want you can get 9370 in the traditional silver and black aesthetics of Dell's XPS series.
Display
With the Infinity Edge display and 13.3 inches screen, the XPS 13 9370 laptop has 23 percent thinner bezels as compared to the previous XPS series model.
Images on the screen just seem to pop up because, at the top and sides of the screen, there is virtually no frame.
There are two variants available on this laptop. One offers a 3840×2160 4k ultra HD touch screen whereas the other one has a 1920×1080 non-touch screen.
Although the 4k touchscreen is noticeably better both of the resolutions provide impressive color quality, sharpness, and brightness. 
Performance Under Workload
Dell's XPS 13 9370 comes loaded with two different configurations known as high-end and mainstream. Both can handle anything you threw at them without a hiccup including web surfing, working, and light gaming.
The Dell XPS 13 9370 is capable of performing better on long tasks like running a benchmark test again and again or compressing a 4k video.
The main reason for that is the new cooling system added by the company.  Most laptops slow down their CPU to cool down during long tasks, but XPS 13 9370 laptop works differently.
During the compressing test of 4k video, the 9370 increased the power of the CPU. Because of that, this task was completed only in 16 minutes, which means the cooling system works great on this machine.
But in any case, where you experience warmer temperatures on XPS 13, by using Dell's power management App you can configure the ultra-performance for thermal cooling.
According to our review, we recommend that you can get the best performance with balanced temperatures by configuring the optimized mode, especially during longer tasks.
BUY NOW ON AMAZON
3.

 Asus ZenBook 13
"Premium Looking Machine with Excellent Performance"
Display
Asus ZenBook 13 contains a gold color glossy logo at the center of the lid which does give it a classy look. The overall build is aluminum and the lid is in a royal blue shade.
They do look really mesmerizing but can be covered in fingerprints after holding it. The edge of the hinge and font of the keyboard are leathered in rose gold color.
Asus ZenBook 13 weighs almost 2.7 pounds and has dimensions of 11.9 x 7.4 x 0.7 inches however it is slightly thicker than its rivals in this league.
Despite being thin and lightweight ZenBook 13 offers USB Type-A ports and even an HDMI slot, which is pretty amazing.
Whereas Thunderbolt 3.0 is missing which is kind of disappointing since this laptop has a complete selection of ports.
Display
Asus ZenBook 13 offers an almost bezel-free screen which is 13.3 inches. This glossy but rather dim panel offers 1920 x 1080 resolution.
The maximum brightness level you can get on Zenbook 13's display is 225 nits, it is below the average but not too bad while using outdoors in direct overhead lighting.
The 13-inch panel of ZenBook 13 almost covers 115 percent of the sRGB spectrum which is not much but slightly below the premium laptop average of 117 percent.
On HD videos this display does perform well enough apart from the dim brightness issue. 
Performance Under Workload
Asus ZenBook 13 offers an Intel Core i5 8th Generation processor accompanied by 8GB of RAM. Because of these handsome specs, Zenbook 13 can handle 40 Google tabs and HD 1080p videos running at the same time without any lag.
In our overall performance test, ZenBook 13 scored an excellent 15,110 on GeekBench 4. It also transcoded 13 minutes 4K video to 1080p in just 20 minutes 48 seconds.
With that, it has successfully topped the premium laptops' average of 21:51. So performance-wise ZenBook 13 has proven itself a worthy option under a $1000 budget.
BUY NOW ON AMAZON
4.

 Omen by HP

Most Well Build Laptop Under $2500
Design
The Omen 15 by HP is considerably heavy and it feels pretty sturdy. According to the official details this gaming machine weighs about 2.23 kg and its thickest point it is 20mm.
Though Omen 15 is made out of a combination of Aluminium and plastic, this laptop is pretty well built.
Hp finally has said goodbye to the dual-hinge design, because the lid of Omen 15 has been attached to the chassis from the center.
This laptop is very attractive due to the angular cut design on the top and the matte black dual-tone finish on the metal.
Display 
The HP Omen 15 has a Full HD 1920×1080 resolution, 15.6-inch display. For a smoother gameplay experience, its IPS screen offers a refresh rate of 144Hz, whereas the bezels remain the same as the last year's model.
The top and bottom bezels are irregularly sized though the side bezels are thin and narrow. On the top bezel there is a wide-vision HD camera and on the center of the bottom bezel Silver colored Omen logo has been placed.
In this price range, Hp Omen 15 delivers the best-looking visuals while the game plays, in simple words its display will not going to disappoint you.
Performance Under Workload
To ensure a smooth gameplay experience with Omen 15, HP has brought together a combination of Nvidia RTX 2070 Max-Q design with a powerful chipset.
With features like real-time Ray Tracing, AI-based optimizations, programmable shaders, and support for DirectX 12, and RTX graphics take this gaming laptop a notch up against its competitors.
Without any apparent frame drops, the RTX graphics work together with a high refresh rate screen to ensure an experience of blur-free gaming. Even in regular use, there are no performance-related issues with Omen 15.
No matter which game, program or App you threw at Hp Omen 15, it blazed right past it with no problem.
The only downside of this laptop is the poor thermal cooling. Despite the fact that it packs three ventilation shafts as a thermal solution, it picks up temperatures very rather quickly.
These hot temperatures can affect the performance of Hp Omen 15 in the long run, considering the price tag of this machine it is really disappointing.
The company has to solve this issue since build and performance-wise this Omen 15 laptop is pretty good.
BUY NOW ON AMAZON
5.

Acer Aspire
"Simple Design With Power Performance & Good Battery Life" 
Design
The Acer Aspire is good-looking, its deck is made out of chunky plastic and a brushed metal finish their kind of gives this laptop a premium look.
But the thing is that Aspire 15 is exactly what you would expect to be from an under $700 budget laptop.
So the manufacturers have to focus more on the hardware and practicality of this machine instead of its looks and appearance.
All over the design of Acer Aspire is pretty simple and straightforward forward accepting the chrome trim around the touchpad.
Its dimensions are 15 x 10.2 x 1.2 whereas it weighs almost 5 pounds, which means carrying this laptop in your backpack for the whole day is definitely not a good idea.
However, Aspire 15 is a machine that is loaded with a lot of ports, there is a USB 2.0, a DVD double-layer drive, a headphone jack, and a power connector on the right side.
On the left, it got a USB 3.1 Type-C port, an Ethernet port, VGA input, an HDMI port, two USB 3.0 ports, a Kensington lock, and last but not least a card reader.  
Display 
The 15-inch non-touchscreen version of Acer Aspire 15 shows a sharp but not much colorful display.
However, the 1920 x 1080p resolution is capable enough to let you experience the details in HD videos or movies. Aspire only reproduces 62.3% of the sRGB color gamut though previous models of this same series were capable of reproducing double the Aspire 15 figures.
Its maximum brightness level is 227 nits, which is good enough considering that it is a budget laptop.
Despite the fact that Acer Aspire 15's predecessors were always got liked because of their display quality and this laptop's display is not as good, still, Aspire 15 is a great option under $700. 
Performance Under Workload
Acer Aspire provides an excellent price-to-performance ratio since it is powered by an Intel Core i7 processor, 52,00 RPM 1TB hard drive, and 16GB of Ram.
You can easily do multi-tasking on Aspire, daily typical office work is not an issue for this laptop either.
For entertainment purposes yes you can do light gaming on this machine because it offers a good cooling system with a powerful GPU. In our overall performance test Aspire, 15 scored a decent figure of 7,871.
The Core i3 variant of this laptop performed even better and scored a solid 8,543 in Geekbench 4.
BUY NOW ON AMAZON
Last update on 2023-11-27 / Affiliate links / Images from Amazon Product Advertising API