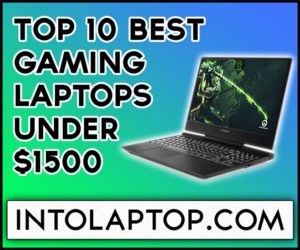 If you have a budget of $1500 to buy a laptop then you can get yourself a really powerful gaming laptop under this price tag.
As we have all always mentioned that when you look for a laptop under a specific budget then you have to compromise a few things.
But under the price tag of $1500 you only have to do that on one or a maximum two things, especially if you are going for a gaming laptop.
$1500 is a budget that enables you to find a perfect laptop with the attractive display, high-resolution screen, up to 8GB of graphics memory (vRAM / GPU) and powerful processors.
Also Read: Best High-End Gaming Laptop Under $2500 Budget
Best Gaming Laptop Under $1500 Budget
Having this kind of powerful specs makes your laptop performs great while you do your typical office work or while using any power-intensive software or program. Don't forget to check the IntoLaptop's Exclusive yet Best Laptop Buying Guide for all technical details, you should know, before making a purchase decision for a gaming laptop.
If you are a gamer then you can play the latest titles even in ultra-graphics settings if you want. That's why Into Laptop has brought you the detailed, top 10 best gaming laptops review under $1500 budget.
However for us compiling this top 10 list wasn't an easy task since we only have mentioned those machine which performs great during our test, having said that let's start the countdown.
1.

 Acer Predator Helios 300
"Best Gaming Laptop Under The Price Tag of  $1500"  
Design 
If you talk about the main design of Acer Predator 300 then there isn't much to mention since it is not a premium-looking machine.
But at the same time for the $1500 price tag, this machine is physically pretty solid and visually restrained.
In the previous model, Acer has used an overdone red and black color scheme. But thankfully in this 2019 model of Helios-300 laptop, they have gone for the black and teal color combo.
Which is a great improvement in the appearance of this machine because it looks better than the last year's model.
On the center of the lid of Helios 3000 laptop, there is a rather attractive Predator logo, which tells us that this is not an ordinary machine.
The blues colored light strips on both sides of the logo, which provides this laptop the aggressive look which a gaming machine requires.
The weight of Acer Predator Helios 300 is 5.1 one pounds and its body dimensions are 0.9 x 14.2 x 10. 
Display 
Acer Predator Helios-300 laptop offers 15.6 Inches screen with the Full HD resolution of 1920 x 1080p.
The 144Hz refresh rate of this laptop's panel and 3ms response time with overdrive is quite impressive if you want to take advantage of its gaming capabilities.
With the fine colors and sharpness if not remarkable the performance of Helios 300 laptop display panel is at least good enough.
However, the matt finish on deck reflects on the screen which can annoy you while working in the outdoors or under the direct over the head lighting.
Having said that display wise Acer Predator Helios 300 is far better than its rivals under the same price tag.
So if you are okay with a slight reflection of the deck on the screen then you can consider this laptop under $1500.
Performance Under Workload
During the PCMark 10 test, Acer Predator Helios 300 laptop impressed with better than expected results.
It scored an impressive 5,189 figure which is even better than some of those more expensive machines which share the same processor.
Since this machine happens to be a gaming laptop meaning it can handle graphics-intensive work, typical office work and day-to-day tasks like no problem.
You can work on power-intensive programs like photoshop pretty easily, it can perfectly handle any work you through at it.
Because of an Intel Core i7 and SSD storage drive, it doesn't lag while playing the latest games on even ultra settings.
Although the battery timing of this laptop is decent if not amazing considering the price tag. As we all know that usually, gaming laptops from even premium category provides you just okay kind of battery timing. 
BUY NOW ON AMAZON
2.

Eluktronics MECH-17 G1Rx
"Loaded With Amazing Specs for Extreme Performance" 
Design 
Eluktronics has introduced a number of laptops in the PC gaming market, the plus point of these machines is that they come loaded with the premium but under reasonable price tags.
We have included this detail for those of you who are not familiar with the Eluktronics brand at all.
Now if talk about the design of the MECH-17 G1Rx gaming laptop then it is pretty simple and minimalist.
In fact, most of the other machines by Eluktronics offers a similar aesthetics. The lid of MECH-17 G1Rx is tamed but in the keyboard area, you will get some bling which other gaming laptops usually offer.
You will get the customizable RGB and mechanical per-key backlit keyboard. This is awesome since last year's model came with a single lit keyboard only. 
Display 
It is a fact that in the majority of cases the display is usually responsible for making or breaking the deal despite the fact that laptop's other specs could be great.
So coming back to the main point, the MECH-17 G1Rx offers 17.3 Inches full HD, 1080 x 1920 resolution screen with anti-glare and IPS technology like most other gaming laptops.
The display is amazing especially if you compare it with the price tag and other components it offers.
As we all know that including a 4K display panel in a $1500 price tag is not at all an easy task for any manufacturer.
The screen refresh rate is 144Hz, which is a great thing because for modern triple AAA games refresh rate matters a lot.
It enables you to enjoy a lag and stutter-free gameplay and butter-smooth frame rates while playing the graphics-intensive games.     
Performance Under Workload
We can define MECH-17 G1Rx laptop in this way that when a comparatively newer manufacturer tries to compete with brands that are ruling the market, then they usually go for the decent enuff specs which can provide users better than expected kind of performance.
This is why Eluktronics is offering 9th generation Core i7, 16GB of RAM and 512GB SSD in their MECH-17 G1Rx gaming laptop.
since no other company can provide you these powerful specs in a similar price tag. So under the $1500 price tag, the overall performance is great.
During our tests, the MECH-17 G1Rx gaming laptop has provided a minimum of  60fps gameplay on most of the AAA titles.
So if you want a perfect gaming laptop and you have a $1500 budget then you can consider this laptop as an option.
And not only for gaming, but this laptop can also be used for work and other purposes since appearance wise it also looks like a business-class laptop. Unless you notice the Full RGB backlit keyboard. 
BUY NOW ON AMAZON
3.

Dell Alienware R4
"Powerful Gaming Performance With Great Display"
Design  
The Dell Alienware R4 comes in two color schemes, Epic Black and Epic Silver. Both color combinations look great but the black one made this machine look more elegant and attractive.
Dell has used colored strip lights on more 13 places which include the sides of the deck and lid. Talking about the lid, it is all aluminum with a triangular lines pattern and the Alienware logo is placed on the upper center part.
The best thing is that apart from the logo lightning all other lights including keyboard are customizable, you can even put a light show by enabling them all.
However, like the rest of the Alienware series, this laptop is also pretty heavy with a weight of 7.8 pounds.
Body dimensions of the Alienware R4 gaming laptop are 15.3 x 12 x 1 Inch, the display bezels are pretty thick especially the bottom one. 
Display 
With 15.6 Inches screen and 1080 x 1920 full HD display, Dell Alienware R4 delivers plenty of brightness and vivid colors.
On the light meter, Dell Alienware R4 shows an average of 311 nits. with that, it has zoom passed the 282 nits premium average for gaming laptops.
It is one of the few brightest displays you can find under the price tag of $1500. Which is a great thing because there are some laptops even in the premium category which ruins the user's gaming experience with there comparatively dim screens.
Dell Alienware R4 comes with two screen configurations 60Hz IPS panel and 120Hz TN panel, which means you can get it either  Full HD or Ultra HD resolution.
It is worth mentioning that with this Intel Core i7 variant you can also get an FHD IPS display which is kind of an additional option. 
Performance Under Workload
In the system benchmark tests, Dell Alienware scored comparatively well. Alienware R4 scored a strong 6,008 points in PC Mark 10 and it became the second-fastest device in our reviews.
We recommend you to run Windows 10 from the SSD rather than from the HDD since it really helps to improve the overall performance of  Dell Alienware R4 gaming laptop.
Now let's talk about the gaming performance of this rig, Alienware comes equipped with Nvidia GTX 1060 6GB GDDR5.
For the 60Hz display panel, the GTX 1060 is more than enough to provide high to maximum details on the Full HD panel of Alienware R4.
But if you have decided to go for 120Hz configuration then you should choose the GTX 1070 variant of this machine. 
The good thing is that in our tests Alienware R4 was able to run Modern Triple AAA titles with 100 FPS at maximum settings, which means it can cope up with any game easily.
BUY NOW ON AMAZON
4.

Acer Predator 17
"Runs Cool Under Intensive Gaming"
Design
The most used color scheme among gaming laptops by manufacturers is the combination of black and red.
The same goes for Predator 17 since Acer has chosen to go with the same color scheme. But to be honest it looks great on this gaming rig.
There is an Acer logo on the center at the back of the lid which obviously glows. Predator 17 is a premium and attractive looking gaming laptop with decently aggressive kind of aesthetics especially the fan grills with red color.
However, this gaming laptop is pretty heavy weighing almost 8.2 pounds with body measurements of 15.4 x 11.8 x 1.5 Inches.
Maybe because of the fact that Acer predator 17 gaming laptop meant to replace the desktop. You cannot carry this machine all day in your backpack unless you don't love you back.
The interior of Acer's Predator 17 gaming laptop feels pretty soft to touch so the palm rest area on the deck. Another plus point is that it offers plenty of ports so connectivity is not a problem at all. 
Display 
Acer Predator is an ideal example for Matte doesn't mean dull. Despite what might be expected, the 17.3 Inches, 1920 x 1080 board conveyed heaps of intense shades.
During our test we have estimated for its shading propagation abilities, the Predator 17 easily reached 110 percent of the sRGB shading array.
The Predator 17 found the middle value of 268 nits on our brightness test, simply missing the 269 classifications by inches. Although for playing triple modern AAA titles in high settings this screen is just perfect.
The Predator 17 has a matte IPS panel that provides good contrast and reasonable brightness value. This display panel also supports G-Since and provides you 60Hz of refresh rate. 
Performance Under Workload
The Predator 17's hardware is efficient enough to seamlessly view all the titles listed in our database.
You can select Full HD resolution and high-quality settings at all times if you want to experience the real gaming.
The graphics core still provides ample reserves for 4K gaming, but the corresponding external display would have to be connected.
The Acer Predator 17 gaming laptop mainly includes the Kabylake processor upgrade. The four-core, Core i7-7700 HQ processor offers only a slight performance advantage over the predecessor Skylake.
The built-in hardware of Acer Predator 17 fluidly brings all the latest titles to the screen with average to medium quality settings in full HD resolution. 
BUY NOW ON AMAZON
5.

HP OMEN 15
"Smooth Gameplay & USB Type-C Charging"
Design
You will feel a lot of weight and pretty strong build the moment you will Bring the HP Omen 15 out of the box.
This gaming laptop is 20 mm thick at its thickest point and weighs 2.23 kgs according to the official numbers we have found. With the combination of plastic and aluminum Omen, 15's overall body and the frame is well constructed.
The lid of this gaming laptop has a dual-hinge configuration that connects it to the pretty heavy frame of the deck.
There are still dual-tone textures on the backside of the lid. But last year's carbon fiber finish has been replaced with a matte finish though the other half has a brushed metal finish.
The emblem of HP Omen is embossed on the lid in silver but is not RGB-lit whereas the word OMEN makes its way to the bottom of the hinge.
Display 
HP Omen 15 gaming laptop offers a full HD resolution display of 15.6-inch 1920 x 1080 pixels. It uses an IPS screen for a smooth gameplay experience that has a refresh rate of 144Hz.
In contrast, the Omen 15 is in the same bezel reduction category as other laptop manufacturers. Narrow bezels protect the laptop's left and right sides while the top and bottom ones are wider and irregularly shaped, flush in the bottom center with an Omen emblem in silver.
The top bezel and dual-array microphones are home to an HP wide-vision HD camera. Good thing is that HP has somehow managed to keep an affordable price tag for Omen 15 without bugging the display down.
With flashing colors and vivid graphics, its Full HD display really looks brilliant. Even when viewed from an angle, the graphics don't seem to get much of a hit, which enables you to watch a movie on this laptop from any angle.
Performance Under Workload 
First of all, we should mention that HP's Omen 15 is a gaming notebook that can run all of the current games on its internal display smoothly.
Due to its powerful CPU, a fast NVMe SSD, and a solid mid-range GPU, the Omen 15 by HP is certainly more than powerful enough for gaming and everyday use.
By adding a second RAM module, a slight boost can be made which will allow dual-channel. The Omen 15 comes with a single memory module and therefore a single-channel RAM mode configuration through default.
The special combination of CPU and GPU was able to run all games smoothly on the Omen 15 during our tests, most frequently in FHD resolution and with medium to high details.
BUY NOW ON AMAZON
6.

ASUS ROG 15.6
"Lightweight & Portable Gaming Machine" 
Design
The Asus ROG Strix G is this year's most affordable ROG laptop, but you might disagree if you look at it.
With the rigged style theme as seen on the other ROG laptops, the Strix G gets the same thick and solid metal plastic mix casing.
It even holds on its edges with a wraparound RGB LED light strip. The design is done by studios of ASUS but at the same time, it looks beautiful and aggressive.
Unfortunately, the brushed aluminum lid's ROG logo doesn't shine. Having said that, the laptop is heavier and considerably thick which makes it ideal for all the critical parts you'd find in a gaming laptop.
There are many places where the ROG Strix G gets its right, to be honest as compared to other similar gaming machines under the same price tag. 
Display 
The display performance has always been highly impressed by most of the ASUS ROG laptops we have reviewed yet.
But sadly that's not the case with the ASUS ROG Stix G. There's a Full HD IPS LCD screen on paper, which looks great.
The screen produced sharp images, but the colors are not as vibrant as you would expect from a gaming laptop under this price tag.
For this machine, Asus should have provided from the premium ROG models, the Pantone validated panel.
Since games and HD videos look kind of dull on this ROG Strix G display. Although the resolution is Full HD 1920 x 1080, it looks less colorful. Instead of putting RGB lights this much if ASUS has included a better display panel in this rig then it would have been so much better.   
Performance Under Workload  
Despite the dull display, Asus has focused on performance seriously and there's no exception to the ROG Strix G in that regard, which is a good thing.
The base models will provide you with Core i5 processors and the lower-end GTX graphics card from Nvidia.
But if you want great gaming performance from this beast then you should go for the variant that offers an Intel Core i7-9750H processor along with the Nvidia GTX 1650 graphics card and 16 GB of RAM.
Which we have reviewed and it is, by the way, top of the line model. So as we have expected by the specs, the performance was flawless.
The 256 GB SSD and 1 TB SSHD really helped to boost up the overall speed of this gaming rig. As a result, the loading times were significantly faster than the HDD storage base models.
The Asus Strix G offers effortless performance even for regular use with considerably good battery life for a gaming laptop. 
BUY NOW ON AMAZON
7.

ASUS ROG Zephyrus S
"The Most Compact Gaming Machine Under $1500"
Design
ASUS has claimed that this ROG Zephyrus S gaming laptop is the most compact 15.6 Inches gaming laptop ever made.
The reason behind this is that despite the 15.6 inches display the body dimensions of Asus ROG Zephyrus S are lesser than other similar laptops under the same price tag.
It is about 23 percent smaller and 40 percent thinner than average same size gaming laptop with dimensions of 399 x 272 x 18.7 mm.
Because of the incredibly narrow bezels that surround the frame, this smaller size and the larger screen are made possible.
The top and side bezels at a thickness of just 6.9 mm allow for a screen-to-body ratio of 81 percent, which means that there is very little wasted space.
Asus no longer includes an integrated camera above the screen to achieve such a small top bezel. It will seem like a valuable trade-off for such a slimline tool for many people.
Display
The good thing is that ASUS has obviously put a great deal of care and attention on the display of  ROG Zephyrus S gaming laptop.
As we mentioned earlier as a 15.6 inches laptop it looks slimmer and thinner when compared to the rivals.
The display comes with a refresh rate of 144Hz, which simply means that games will feel smooth and fluid, while G-Sync technology ensures that there is no screen tearing as well.
The display ROG Zephyrus S also comes calibrated by the factory, and it is validated by Pantone with a color gamut of 100% sRGB.
In fact, the display looks fantastic right out of the box, you can not only use this laptop for gaming but it also can be used for viable digital artistic purposes.
Such as photographers and video editors can use this machine where color accuracy is of paramount importance.
Performance Under Workload 
The ASUS ROG Zephyrus S GX701 is one of the best gaming laptops on sale today, thanks to some of the latest and most powerful gaming technology.
Along with an impressively thin and light design as well. Including a GTX 1070 graphics card and beefy Intel processor means that you can play the latest games with their high whacked graphics settings.
The 1080p screen is nice and big, although the full HD resolution will not cause too much trouble for the GPU.
However, it's not perfect, the Ethernet port's lack is a deception, and battery life is very low. Also, there's no denying that this laptop is kind of overpriced.
At the same time if you want to get the Asus ROG Zephyrus S then you will certainly love the laptop performance-wise. 
BUY NOW ON AMAZON
8.

MSI GL73 9SDK-219
"Powerful Gaming Workstation with Great Specs" 
Design
The MSI GL73 9SDK-219 gaming laptop is the GL72's relatively small redesign version. While there has been no change in its overall appearance and chassis material, there are now more ventilation grills than before and the integrated optical drive has been dropped.
It makes us believe that when MSI developed the successor to the GL72, cooling was a high priority.
The dimensions of the chassis are almost identical to the last generation GL72 and, depending on the installed storage, are significantly lighter by about 200 g to 300 g.
Nevertheless, the MSI GL73 in its budget category is still thicker than many competitors. The GL73's thick and unsightly display bezels do no favors either.
Display 
Surprisingly, the MSI GL73 uses the same high-quality panel of Chi Mei N173HHE-G32 TN as used on the MSI GE73 Raider.
The response time of black & white fast 5 ms eliminates ghosting whereas a buttery-smooth Windows experience is guaranteed by the native refresh rate of 144 Hz.
There are no major problems with graininess on the matt panel. However It is not as crisp as a full-on glossy display, but on some Clevo systems, it's nowhere near as grainy as you can experience on them.
In order to satisfy most digital artists, color space covers sRGB in its entirety and about 76 percent of AdobeRGB.
In many budget-mainstream gaming laptops, colors are deeper and more vibrant. For example, the AUO panel on the Dell G3 17 covers only 58% of AdobeRGB.
Performance Under Workload
First of all MSI G73 has gotten the Intel Core i7-9750H processor as a major upgrade from last year's model.
The Core i5-8300H and i7-9750H are common to enthusiasts of gaming laptops on the budget as well.
For instance, the biggest difference is the GeForce GTX 1660 Ti Turing GPU to replace the last version of GeForce GTX 1060 Pascal GPU used on most yesteryear's mainstream gaming laptops.
Nvidia Optimus comes standard with the integrated UHD Graphics 630 for automatic graphics switching.
Therefore, on the GL73, G-Sync is not an option.  Exactly as we have expected by 3DMark, while RTX-specific features such as ray tracing and DLSS are off.
Real-world performance in games is very similar to the GTX 1070 Max-Q. Based on the model, the performance boost over a GTX1660Ti can be even higher at up to 50 percent.
For a total of 7, the newer GL73 has almost double the heat pipes while keeping the same 50 mm twin fans as before.
BUY NOW ON AMAZON
9.

Lenovo Legion Y7000
"Sleek & Stylish Perfect Gaming Machine"
Design
The Lenovo Legion Y 7000 gaming laptop features an elegant, Iron Gray aluminum hood which curves down to an angled hinge with vent grills reminiscent of a sports car.
In the middle glows a white logo of the Legion on the back of the lid as if it were the source of the power of the Y7000.
Its interior of ABS plastic is lathered in black and the standard keyboard of Lenovo illuminates the keys with white backlight.
The bezels of the Y7000 are famously thin, but this comes at a cost to the webcam that is mounted on the bottom bezel.
The hinge is connected to the middle by one solid piece, which creates a slim gap on either side of the deck.
The Legion Y7000 is lighter and thinner at 5.3 pounds and 14.2 x 10.5 x 1.0-0.9 inches body dimensions as compared to the Acer Predator Helios 300 Special Edition.
Display 
The 15.6-inch, 1920 x 1080p screen of the Lenovo Legion Y7000 is remarkably colorful and vivid, but it might be brighter.
153 percent of the sRGB color spectrum was used by the Legion Y7000. The result blows away the average of the 111 standard laptop gaming that is amazing for this cheap laptop.
The Helios 300's 113% and the TUF FX705 123% were also destroyed by Lenovo. The Legion Y7000 beats the average category 273 nits and the score of the TUF FX705's 270 nits at 277 nits despite appearing rather dim in real-world testing.
It couldn't beat the luminous 312 nits of the Helios 300, though. The display of Lenovo Legion Y 7000 is, however, good enough for gaming and video and photo editing work.  
Performance Under Workload
Under Lenovo Legion Y700's hood lies a 2.2-GHz Intel Core i7-8750H processor accompanied by 16 GB of RAM which copes up well with 40 Google Chrome tabs, a 1080p YouTube video, and Spotify, while the Tomb Raider's Shadow running at the same time during our test.
The Legion Y7000 nailed 22,474 on the Geekbench 4.3 performance test, leaving the mainstream gaming average laptop 20,748 and the Helios 300's 20,595 far behind.
In our Excel test, the Legion Y7000 took 38 seconds to match 65,000 names and addresses, which means that this gaming machine is a few seconds faster than the average 0:42 group and the Helios 300's 0:45.
The Legion Y7000 transcoded a 4 K video to 1080p on the HandBrake benchmark in just 9 minutes and 24 seconds, with that it has topped the average category 11:10, the time of the Helios 300 10:30 and the mark of the TUF FX705 which is 10:45.
BUY NOW ON AMAZON
10.

Alienware Gaming AW17R5
"Aggressive Aesthetics with Top Notch Gaming Performance" 
Design 
The concept of the Dell Alienware 17 R5 remains unsurprisingly unchanged since the last overhaul of its chassis back in 2016.
Although Alienware's hinge forward design is approaching its second birthday, it is still new and unique in the world of laptops.
We were impressed at the same time that there was no need for this 17-inch laptop to get any thicker to accommodate the two extra processor cores inside the system.
The 17-inch gaming laptop of Alienware maintains the same dimensions of 16.7 x 13.1 x 1.18 inches and 9.74 pounds weight like the last year's R4 model.
This gaming rig is of course by no means small and light. The weight of almost 10 pounds makes it very difficult to carry, and its square-shaped proportions make finding a suitable laptop bag awkward.
After all, this is far more of a desktop replacement system than a gaming laptop you're going to want to lug around.
Display 
The 17.3 inches QHD panel is a major part of the package of this desktop replacement Dell Alienware 17 R5 gaming laptop.
The TN-panel can sound misleading on paper, but this display's color depth and black levels are nearly as good as an IPS monitor.
The 120Hz frequency of this display enables you to enjoy 60Fps while playing triple AAA graphic-intensive games.
When you enjoy the fact that the Alienware 17 R5 is so overpowered that it can actually push games at a higher resolution of 1440p and still find the wiggle room for even more frames per second, the spectacle becomes even happier.
For every pro gamer, this machine is the best choice under the $1500 budget but only if you are okay with the weight and size. 
Performance Under Workload
The Alienware 17 R5 is an incredibly powerful laptop if you want to cope up with wads of cash for a high-end system like this.
If you want you can go for a cheaper setup and still get a great experience out of it. But we are thoroughly impressed by what Alienware has on offer here as far as our baller system goes.
A new level of graphical and gaming performance for notebooks has been enabled by combining Intel Core i7 technology with a factory overclocked Nvidia GTX 1080.
The Alienware 17 R5 tends to be the most balanced between performance and daily usability in terms of Intel Core i7 gaming laptops we've tested so far.
BUY NOW ON AMAZON
Last update on 2022-12-11 / Affiliate links / Images from Amazon Product Advertising API