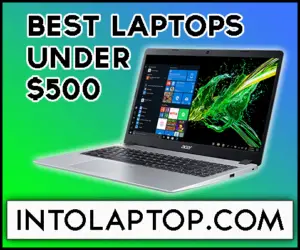 We generally review and compile laptops in a certain list according to the budget, since these top-of-the-line machines are getting expensive.
Many people want the best laptop with decent performance and features under their budget that can cope with their needs and requirements without having any problems or issues.
During our research we found out that a lot of people wanted to know about the best laptop under $500 budget, it is the most common budget among the users.
Now it was a very difficult task to filter out capable laptops under this budget not because there aren't many.
The reason is that there are a lot of laptops that fall under this price tag but very few have enough power and good specs to run the day-to-day tasks, typical workload, and light gaming.
So if you are in search of a laptop under $500 then your search is over, just read our post and get the machine according to your needs and requirements since we have reviewed all the laptops mentioned below in detail. 
Also Read: Best Laptop Under $700 Budget
Best Laptop Under $500 Budget in 2024
Also Read: Best Laptop under 1000 Dollars
1.

 Dell Inspiron 15 i5558-5718SLV
"Top-Notch Performance & Decent Battery Life"  
Design
Dell Inspiron 15-i5558 laptop is entirely made out of plastic, this design is not new for users since Dell has used it in some of the other models.
Although there are some differences or changes that can be found on the surface and in colors, otherwise the overall look is almost the same.
Silver color has been used on the sides of the base unit with a dark grey rubber finish on the upper side. Whereas the lid of Inspiron 15-i5558 is black with some structured patterns on the back.
The overall build quality of this machine is decent despite the use of plastic but if you put pressure on some specific areas, they kind of bend which is not a good sign.
The same goes for the upper lid, by pressing some areas from the back image distortions happen on the screen.
Display
Dell Inspiron 15-i5558 offers 15.6 Inches screen with 1920 x 1080 native FHD resolution but another variant of this same machine is also available in 1366 x 768p configuration.
The contrast aspect ratio and the black level of this display are excellent however it has the same drawback of having dim brightness which a lot of other budget laptops came with.
Also, the screen cannot reproduce either of the Adobe RGB and sRGB color spaces as well, which kind of disappoint some of the users.
On the good note, the screen of Inspiron 15-i5558 does not show any bluish tint and the quality it shows is decent enough, only if the brightness level is little higher this would be an amazing display under the price tag of $500.
Dell has furnished this laptop with viewing angle stable IPS screen that why you can view the screen from every position but outdoor use could be problematic because of the low brightness.
Performance Under Workload      
Because of the fact that Dell Inspiron 15-i5558 comes loaded with a Core i5 processor with 8GB of RAM and Intel HD Graphics 4400, it does have enough computing power for day to day typical tasks or work and light gaming as well.
However, this laptop comes with 1TB HDD, not SSD, that why hard disk performance is just ok which will not bother you if you want to use this laptop for office work or daily use purposes.
During our tests the system runs smooth and it cop up well with every task which we have thrown at him, we didn't face any problem.
So performance-wise this laptop is a great option if you want to buy a laptop under the price tag of $500. 
BUY NOW ON AMAZON
2.

 Acer Aspire 5 Slim Laptop
"Good Specs Under Thin, Slim & Lightweight Design"
Design
Acer Aspire series laptops are always lighter in size slim and sleek design and this particular Aspire 5 model continues the same aesthetics.
The Acer Aspire 5 slim and thin laptop weighs only about 4.25 pounds, it is 0.7 Inches thin with the footprint of 14.3 x 9.9 Inch.
For a budget laptop, Acer Aspire 5 looks fairly stylish because of the slim aluminum lid and tempered shell.
Under the lid, there is a 15.6 Inch display supported by svelte left and right bezels. Aspire logo has been placed near the hinge and by the black keyboard, there is a silver-colored offset.
With the lid open you can lay down the Acer Aspire 5 completely flat since it can bend down, even more, the 180 degrees.
At the back near the large cooling vent, there is a pair of speaker grills when turning the Acer Aspire 5  upside down.
There is also an extra hard drive bracket if you want to upgrade the storage for whatever reasons.  
Display
Acer Aspire 15 offers 15.6 Inches IPS screen with the resolution of 1920 x 1080. The best thing about this display is that it is completely viewable from every angle.
It also looks really bright and colorful, the comfy view design really minimizes the glare and reflection.
How ever the main downside is that this display is considerably dim with only 201 nits measured during our test.
Which is well below the 250 nits average of budget laptops, its brightness starts to fade the moment you take it outdoors especially under the direct over the head lighting.
Apart from that the display of Acer Aspire is very good. When you watch videos or pictures on its full HD screen the colors really seem to pop up correctly and even minor details became visible. 
Performance Under Workload
If you read the specs of Acer Aspire 5 on paper, they really seem decent for a laptop of $500 price tag.
Having said that Aspire 5 performed very well in our benchmark and daily productivity tests. Which means it can do day to day daily typical task and office work with no issues.
You can also do light video and photo editing on this machine if you want. Because of the fact that Acer Aspire 5 has a quad-core processor, it cops up well during our Handbrake test.
By converting 40 GB video files to an Android compatible format in 4,973 minutes. Which is a very good score considering the size of the video and much better than many other similar laptops under this budget we have tested. 
BUY NOW ON AMAZON
3.

Lenovo Flex 14″ Convertible 
"Slim & Stylish with Finger Print Reader"
Design
For a 2 in 1 convertible Lenovo Flex 14″ is a very well built and compact machine, it's overall design looks good and gives you an impression of a premium level laptop.
However, this laptop can easily blend into a business environment or classroom because of its simple appearance.
The lid of Lenovo Flex 14″ convertible is made out of plastic but feels softer to touch but you will have to clean it every now and then since it catches fingerprints and smudges very easily.
The keyboard deck and bottom part have minimal flexibility under direct pressure which is a good thing despite the fact that they both are made out of hard plastic.
Compared to other similar laptops under the price tag of $500, the Lenovo Flex 14″ convertible feels pretty solid and well built. We have observed that for some strange reasons the screen of this laptop feels Heavier even then the bottom part, which you have to get used to.  
Display
The Lenovo Flex convertible laptop offers a multi-touch display with a resolution of 1366 x 768, which provides an overall decent display considering the price tag.
The 600:1 contrast ratio is pretty mediocre with a low frequency of PWM 352Hz. The PWM frequency is not a thing that bothers every user.
But it made your eyes fatigued after a longer viewing period because of the sensitive flickering. With just 271 nits Lenovo Flex 14″ convertible is well below the average of 300 nits for the budget laptops.
On top of that this screen has a glossy finish and backlit keyboard. Because of that not only in outdoors conditions also the illuminated keys reflect on the display and made it difficult for you to work.
Performance Under Workload
Lenovo Flex 14″ Convertible laptop comes equipped with an 8th generation Intel Core i3-8145U processor which has a base speed of 2.10GHz but can go up to 3.90GHz with turbo boost enabled.
Apart from that, it has 4GB of RAM and 128GB of SSD storage, which really helps out in improving the overall performance of the device. Also if you want you can upgrade the RAM, since in the majority of similar laptops under the same price tag offer 8GB.
Although Lenovo Flex 14″ convertible laptop performs considerably well in general tasks, on PCMark this laptop performs even better than its rivals, you can also use this device for light photo or video editing work as well.
BUY NOW ON AMAZON
4.

Samsung Chromebook Plus V2
"Great Display & Long Battery life 2 in 1 Convertible"
Design
The Samsung Chromebook Plus V2 has a very minimalist design, the chassis is made out of aluminum though it not as wide if you compare to other notebooks under the same price tag.
It is a very simple looking laptop, apart from the monochromatic Samsung and Chrome brandings the lid is very plain with rounded edges.
Under the lid of Chromebook Plus V2, you will get a full island-style Keyboard and trackpad but due to the screen's size and shape, there is very little on the sides of the chassis.
The weight of the Samsung Chromebook Plus V2 is 2.4 pounds and its dimensions are 11.1 x 8.7 x 0.6 inches, which makes it a machine that can be used on the go while traveling easily.
Display 
Samsung Chromebook Plus V2 offers 12.2 Inches display with 1900 x 1200p max screen resolution.
This screen is very colorful and sharp, in fact, it is one of the best Chromebook displays we have ever reviewed.
The colors this screen shows fair and accurate, which is surprising because even in some of the higher price Chromebooks you don't find this level of accuracy.
The maximum brightness of the Samsung Chromebook Plus V2 display is measured at 376 nits, which makes it far more luminous than its rivals. Instead of the typical 16:9 ratio.
This display uses a 3:2 ratio which is just perfect especially for the tablet mode or if you frequently use a touch screen rather than a keyboard and trackpad.
Performance Under Workload
Samsung Chromebook Plus V2 got powered by an Intel Celeron 1.5 GHz processor with 4GB of LPDDR3 RAM and Intel HD Graphics 615.
The built-in memory is 64GB but you can add up to 400GB with a Micro SD Card. With that this device has more than enough power for doing multitasking, you can open multiple Google Chrome tabs and run a full HD 1080p video on YouTube at the same time easily.
It will not show any sign of slowing down or lagging. You can do your day to day typical work on Samsung Chromebook Plus V2 without having any problem.
Light gaming is also possible but not recommended since in our test light games run pretty smooth but there were one or two spots that got bit choppy.
This laptop is one of the rare machines in which you can get good display and performance both otherwise under a certain budget this combination is very hard to find.
BUY NOW ON AMAZON
5.

 ASUS 10.1" Transformer Mini T102HA-D4-GR
"Sleek 2 in 1 Convertible Touch Screen Laptop"
Design
ASUS 10.1″ Transformer Mini laptop is not a premium device unlike many of its 2 in 1 competitor that's why it features a brightly colored case which doubles up as physical track-pad and keyboard but in the closed position it protects the screen as well.
We have found that this case of ASUS 10.1″ Transformer Mini laptop is very strong and against minor bumps, knocks and drops it can protect the screen well enough.
Though the keyboard looks small since it has been designed to protect the 10.1″ screen of Transformer Mini but at the same time while working it feels nice and comfortable.
Keys obviously feels plasticky but under this price tag, you cannot complain because the overall build quality is great. The track-pad does feel little flimsy but the mouse movement is accurate and smooth.
The only downside for this trackpad is that it lacks multi-touch capabilities although you can use its touch screen for those kinds of tasks.
Display  
ASUS 10.1″ Transformer Mini convertible laptop offers 1280 x 800 display which does not strain graphics too hard but this display could be a disappointment for some people since it is considered low resolution.
But it does have its own benefits like it helps to improve battery life and Windows 10 and things don't look too bad scaled on the screen.
However, in budget laptops, you have to compromise a few things, apart from the low resolution this screen is decent from every angle.
During typical work, it will not trouble you in anyways but obviously, while playing videos and multimedia stuff it can bother you.
Performance
First of all, you have to keep your expectations check about ASUS 10.1" Transformer Mini laptop according to its price tag.
If you talk about the company's verdict about this machine then you can consider the Transformer Mini laptop a decent machine but not very powerful as some of its rivals.
During our tests, ASUS 10.1″ Transformer Mini laptop did well but on someplace it did remind us of being an under power machine, which can be a frustrating experience for some of the users.
When you open the start menu and various tabs especially in windows 10, it opens with a slight delay.
You cannot say that performance is bad but it definitely not as good as some other similar 2 in 1 convertible laptop offer but with a higher price tag.
BUY NOW ON AMAZON
6.

 Dell Inspiron 15 3000
"Durable Build Quality & Easily Upgradable" 
Design
Dell Inspiron 15 is not an ultrabook, we just wanted to make it clear before starting the review. If you compare it with other similar laptops under the same price tag then it would be an inch thick from them.
The laptop feels very well constructed though its entire body is made out of plastic. The lid of the Dell Inspiron 15-3000 will be difficult to clean because there are textures on it but at the same time, these considerably nice textures help you to grip the machine.
The front edges have round edge design which means you will be able to type comfortably since they will not cut into your wrists.
The only feature which makes this laptop stick out a little is its side which is made by shinny and glossy plastic.
Display  
The screen of Dell Inspiron laptop is 15.6 Inches with the resolution of 1920 x 1080, it also happens to be a touch display.
Considering the price tag you cannot complain about the nomadic TN, LCD panel. However, the side viewing angles are much better than some other laptop with similar panels, no matter from which side you watch this display is perfectly viewable.
But unfortunately, vertical viewing angles are below average, it is almost impossible to see properly from the upward or downward positions.
Another downside for this display is that because it is a touch screen panel the display is very glossy and you will struggle while working in the outdoor conditions.     
Performance Under Workload
With the 8th generation Intel Core i3-8145U Processor, which has a base clock speed of 2.10GHz and up to 3.90GHz with turbo boost Dell Inspiron 15-3000 laptop can perform daily typical work tasks perfectly without having any issues.
The good thing is that it has a 256GB SSD with 8GB of RAM, which really improves the overall performance of this machine.
You can do multi-tasking easily with this laptop, we have tested it out with multiple Chrome tabs open and 1080p Full HD video running on the YouTube, Dell Inspiron 15-3000 didn't show any sign of slowing down or lagging.
When we installed some programs on this machine it did noticeable delays while opening them, these programs have taken more time in getting open then we have expected.
But for that you can upgrade the ram and more speedy SSD after getting this machine, it is a problem that cannot be fixed easily.
BUY NOW ON AMAZON
7.

Lenovo 15.6'' HD LED Signature Laptop
"Powerful Processor & Excellent Speakers" 
Design
The exterior of Lenovo 15.6″ Signature laptop is entirely made out of black colored plastic but with finding nubby textures.
This is good because the laptop is pretty heavy and unwieldy and these textures kind of help you to get a stronger grip on the machine.
Under the lid, the palm rest area and keyboard tray are made out of black brushed aluminum which gives this laptop a rather premium look as compared to the other similar laptops under the same price tag.
The bezels supporting the display and even display itself are very glossy, they almost gave the impression of looking into the mirror.  Which is not a good sign for the people who work outdoors frequently.
Display
Lenovo Signature Laptop offers 15.6 Inches non-touch, 1366 x 768 HD LED display that has its own benefits and disadvantages.
Starting with the positive note you can read icons and menus on the resolution pretty clearly and it is far enough bright for doing your typical office work.
But if you are thinking of watching full HD 1080p videos on this display then it will not be a very good experience. Instead, you can watch 720p videos with decent enough quality that you can enjoy a movie in your free time.
If you watch this display from different angles it kind turns into photo negative print maybe because of that TN panel that shows narrow views.
Performance Under Workload
Lenovo 15.6″ Signature Laptop got powered up by an AMD FX-7500 processor which has a clock speed of 2.1 GHz but can get to 3.3 GHz with a turbo boost easily.
You will also get AMD Radeon R7 integrated graphics that according to the company is 10-core APU. Mainly because Radeon R7 has four computing cores and six graphic cores, it is joined by 8GB of DDR3 RAM and a 1TB 5400rpm hard drive.
It is a fact that AMD FX-7500 is far better than Intel's Celeron and i3 processors, you can consider it equivalent to i5 processors in terms of power.
In our overall performance test of PCMark Lenovo's 15.6″ Signature, Laptop scored the figure of 2200, considering the price tag is good enough for using programs like Word, Powerpoint or Excel. But below the average score of 3000 for the work laptops.
Light gaming is possible on this laptop however if there was an SSD instead of an HDD, it would have been a lot faster.
BUY NOW ON AMAZON
8.

Dell Inspiron 13.3" FHD
"Convertible With Solid Build & Good Performance"
Design
The Dell Inspiron 13.3″ FHD laptop is made entirely out of plastic but the grey color and finish made it look like a premium device.
The lid is simple and blank accept the center where the silver Dell logo is placed, other than that it looks like an empty slab of plastic.
However, this laptop not only looks solid the build quality is really top-notch. The keyboard of Dell Inspiron 13.3″ FHD laptop is nice, responsive and clicky, which can provide you pretty comfortable typing experience.
Also, the touchpad is smooth and works perfectly with Windows precision gestures like using three fingers to reveal all open windows.
Although the weight of this laptop is 3.6 pounds which is slightly Heavier for the 13.6 Inch machine.
Apart from that on the right side of Dell Inspiron 13.3″ FHD laptop you have a USB 2.0 port, SD card reader, volume toggle and a power button. On the left, you will find HDMI port, pair of USB 3.0 and a jack for headphone/microphone.
Display
Dell Inspiron convertible laptop offers 13.3 Inches, 1080p display, which is unfortunately dim and bland. This display is far behind the ultraportable average of 99 percent because the screen covers only 71% of the sRGB color gamut.
Whereas the response of the touch screen is good enough as compared to some other similar devices under the price tag of $500.
If you work on Dell Inspiron 13.3″ laptop there are two most annoying issues which you have to face, first as we have mentioned the brightness of the screen is dim.
Because of that under the direct sunlight it kind of went. Secondly, the screen is considerably glossy which reflects a lot.
Performance Under Workload
Dell Inspiron 13.3″ convertible comes loaded with an Intel Core i5-7200U CPU, 8GB of RAM and a 1TB, 5400rpm hard drive.
This machine can handle multi-tasking pretty well, during the test we open 30 Google Chrome tabs with 1080p FHD video running on YouTube.
The laptop didn't slow down, we only experienced a minor split-second lag while switching between the tabs.
In the Geekbench 4 overall performance test Inspiron 13.3″ scored 6759, which is decent enough considering the price tag but slightly below the average score of Ultraportable laptops which is 7121. All these factors made Dell Inspiron 13.3" laptop a good option under the budget of $500.
BUY NOW ON AMAZON
9.

ASUS VivoBook 15
"Thin & lightweight Powerful Performer" 
Design
ASUS Vivobook 15 weighs just 1.8kh and its thickness is only 18mm, which makes it a highly portable laptop despite its 15.6 Inches screen.
The company has done a good job with the design of this laptop since getting any 15 inches screen to less than 2kg is not an easy task.
The chassis of Vivobook 15 is made out of Aluminum and available in silver, green and pink. Because of this aluminum chassis, the laptop is very sturdy and strong.
There is another cool feature in ASUS Vivobook 15 that when you open its lid the screen hinges gently tilts the key up at a slight angle for convenience of the users.
The keyboard itself is very responsive and because of the 15.6 inches size, you will get a full numeric keyboard.  
Display
ASUS VivoBook 15 offers 15.6 Inches display with 1920 x 1080p full HD resolution, the company should have to upgrade it for this size of a laptop but again under this price tag companies have to cut corners somewhere.
However, the display is very attractive that makes this device look like a premium, for displaying videos and photos it produces clear, sharp images with bold and bright colors.
The good thing is that no matter from which angle you watch the screen of Vivobook 15, it remains clearly visible.
If your work is related to designing or you share photos and videos then consider this laptop the best option under the budget of $500.
Performance Under Workload
An Intel Core i3-8145U with the clock speed of up to 3.9GHz powers up the ASUS VivoBook 15 accompanied by 8GB of RAM and 128GB of SSD Storage.
This laptop doesn't come with dedicated GPU instead it has Intel UHD integrated graphics configuration, which provides considerably decent performance in all of the related work.
ASUS VivoBook scored a decent 3535 points on PCMark 8 during our overall performance test. This simply means that this can cop up well with day to day typical work-related tasks and even light gaming is possible on ASUS VivoBook 15 especially because of its good display.
We tested it out on Excel with some number crunching tasks in which it has performed good enough, also you can do some photo and video editing work on this laptop with having any problem.
We just feel that if it has offered a dedicated graphics card the performance would have been even better.
BUY NOW ON AMAZON
10.

Acer Chromebook R13 Convertible 
"Best Chromebook for Students & Typical Related Tasks"
Design
Acer Chromebook R13 Convertible is a skinny and lightweight laptop that has a frame made out of plastic but with metal accents.
This kind of build is very common among the other similar convertible Chromebooks, you can find a lot of them under the same price tag with these aesthetics.
You will see a metal finish under and top of the Chromebook R13 convertible which provides it a stronger appearance and premium kind of look.
The plastic under this metal skin is however less premium looking grey colored. The dimensions of Acer Chromebook R13 Convertible are 15 x 326x 228mm, whereas it weighs around 1.5kg.
On the left, you will get a USB-A, USB-C, HDMI and a Micro SD card slot. On the right side, there is a 3.5mm headphone/microphone combined jack.
The Acer Chromebook R13 Convertible is not a very heavy machine but as compared to other similar Chromebooks its weight is slightly higher.
Display
For under $500 budget Chromebook, Acer R13 Convertible's display is excellent with good viewing angles, near-ideal color temperatures and a decent level of contrast.
Its 13.3 Inches display offers 1920 x 1080p full HD resolution, but if you want you can crank it up to 2400 x 850.
However, we wouldn't recommend increasing the resolution more than its 1920 x 1080, because with that it's getting impossible to read out the text.
One more plus point of the display of Acer Chromebook R13 Convertible is that it is IPS, that means you can watch it from any angle you want, it will be viewable from every side.
Performance Under Workload
You should know before making the decision of getting Acer Chromebook R13 Convertible laptop that it is a Chrome OS machine, which means it mainly revolves around Google's free office suite like Google Docs, Gmail, and other similar applications.
A MediaTek M8173C Quad-Core CPU powers up the Acer Chromebook R13 Convertible with a 1MB of cache and 4GB of RAM.
This configuration will provide more than enough power for the kind of work Chromebooks usually are designed for.
The good thing is that overall performance is very good even when we played 4k videos and zoom in to High-resolution photos, we didn't experience any kind of sluggishness, instability or stuttering.
BUY NOW ON AMAZON
Last update on 2023-11-27 / Affiliate links / Images from Amazon Product Advertising API