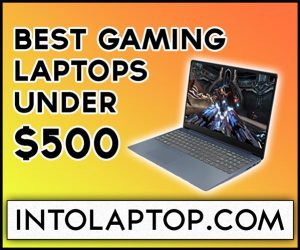 We will start with a reality check, yes it is tough to find the best cheap gaming laptop under a budget of $500.
But at the same time not impossible if you know about the specs you should look for.
Usually, budget laptops are not only made for typical web surfing and film watching since manufacturers also introduce low-cost laptops for gaming as well every now and then.
Again you only have to have the proper knowledge of different hardware components and their capabilities which is the hardest part by the way.
But do not worry we have done the research part for you guys already.
Into Laptop offers a very detailed Laptop Buying Guide to help you with the basics and advanced technical features of today's modern laptops.
Also Read: Best Cheap Gaming Laptops Under $600 Budget
Best Cheap Gaming Laptop Under $500
Below we have mentioned the top 10 best cheap gaming laptop that you can get in 2023 with their detailed review.
Another important thing worth mentioning here is that you will be able to play the latest triple-A games on playable FPS but not on the highest setting which is a reality about any gaming laptop below $500.
So you should raise your budget a little if you require better gaming performance. You can choose a gaming laptop between $600 and $800 which will provide you better gaming experience.
By saying that we don't mean that with $500 in your hands, you can not find a good gaming laptop.
Manufacturers have placed chipsets that allow some decent gaming at a low price on the market for entry-level gaming, which means that you can run the latest triple-A titles but on medium to low settings.
It varies on how much power and the graphic-intensive game you are playing.
Having said that let's jump into the post to get you the Best Cheap Gaming Laptop under $500. 
1.

ASUS VivoBook S
"The Best Laptop Under $500"
ASUS VivoBook S is one of the best and cheap gaming laptop which you should not miss.
Design
The VivoBook S clearly takes its marks from the same manufacturer's more expensive ZenBook series, with its rounded corners and wedge-shaped unibody appearance.
It is decorated here with a classic modest brushed-metal finish with the regular Asus silver logo in the middle instead of the condensed style at the back of the traditional ZenBook case cover.
The metal case can only be obtained in Champagne or Gold color, the manufacturer says. The base top is surrounded by an edge, which seems too sharp but there are users like it since it depends on personal preference.
The main reason for a notable smaller footprint is its small bezels nano edge display. To twist the base slightly which provides a good grip you don't need much force. To our attempts, the S15 replied with a few creaking noises.
The case slightly gives way under pressure in the region of left palm rest and under space key area. Fairly durable case cover, which is not pressure resistant which is very thin, with one hand can barely be opened and can bounce in response to vibrations for up to two seconds.
In the case, we didn't find any poor workmanship, from just a few pieces that were assembled cleanly. The structure nevertheless gives a solid overall impression despite its thinness.
The low weight of just around 1.7 kg is also impressive, in addition to the thinness. There is no way the rivals can keep up with that.
Display 
For VivoBook S Asus has gone for a matte, 141 PPI Full HD IPS screen. With an average brightness of 275 cd / m2, the VivoBook S15 like some of the other competitors in this league lacks a really good value of 300 cd / m2 or higher.
From the notebooks in the price range which is expected. The 86 percent measured distribution of brightness also seems unexciting. In regular display content, this is not very visible though.
There are also versions in this series which have a 768p TN panel. Our VivoBook S still achieves a very good contrast of 1172:1 despite its minimal brightness, the main reason for that is its surprisingly low black values of 0.25 cd / m2.
Considering that the competitors' black values their prices are even less, Acer and HP's slightly darker models can even surpass this rating. In normal light conditions, a black image appears pretty saturated.
The smooth sharpness of the picture gives no cause for complaint. The AU Optronics screen shows colors in the delivery state to a large extent accurately and it also subjectively appears free of any tint.
The Delta-E values are almost within the ideal Delta-E range with the values of 3.81 and 2.66. In the test, the other rivals, who also represent colors fairly accurately, can not quite hold to this.
Our Asus VivoBook has had to tackle the autumn afternoon sun in the outdoor study. Given the not-really-exceptional brightness, thanks to the matte panel, you can still work fairly well in the shadow.
Performance Under Workload
Our ASUS Vivobook S gaming laptop was equipped with the commonly used Intel Core i5-8250U which is a hyperthreaded dual-core ULV processor. The CPU is also quite good for especially small and compact laptops thanks to its low TDP of 15 watts.
The Turbo dual-core is 3.1 GHz and the base clock speed is 2.5 GHz. It's not shocking that our test device gets the average results of our PCMark 8 competition, given the different hardware configurations, While the scores in the less-demanding Work test are very similar together.
The perceived contradictions, however, should remain within limits in practice. Although the VivoBook doesn't work as fast as a quad-core gaming notebook, the process still feels smooth, and the OS and programs start with no delays worth mentioning.
You can only listen from a close distance to the fan in a quiet single office with a working PC, that is running constantly even without a load. The same goes for hardware components.
Although the fan may even be boosted by some temporary loads, the laptop still remains pretty quite. The case does not hit any high temperatures worth mentioning when idling.
We measured up to 49 °C at the bottom under constant maximum load, which in practice during gaming does not even occur and on the lap this could become uncomfortable.
BUY NOW ON AMAZON
2.

Dell Inspiron 15.6
"Good Allround Performance & HD Display"
Dell Inspiron 15.6 is one of the best-selling and cheap gaming laptop available for sale.
Design 
The 2-in-1 Dell Inspiron 15.6 inches laptop's biggest point of sale is at odds with harsh reality. A 15.6 inches HD screen one of the most notable features of this laptop, making it one of the crispest and most vivid pictures you'll find today on a consumer-grade notebook.
As the device struggles to keep up with the demands of its HD screen, graphics and scrolling are kinds of choppy but in some applications. This means using this laptop at its full resolution comes with a trade-off.
But again this is a budget gaming laptop so you will have to compromise on a few things. However, the style looks elegant in aluminum and the keyboard is extremely comfortable to type on.
Still, sometimes the sluggish interface can make those benefits more difficult to appreciate. The Dell Inspiron 15.6 inches gaming laptop of is relatively well designed.
It is loaded with an Intel Core i5-7200U processor, Intel HD Graphics 620, 8GB DDR4 RAM accompanied by 256GB SSD. Dell included an HDMI slot, a USB-C port, a MicroSD card slot, and a DC charging port on the left side.
It would have been better to have an external USB-C port instead of proprietary charging but via the USB-C port if you supply your own adapter you can charge it in a pinch as well.
The laptop has a pair of USB-A 3.1 ports on the right side and a hybrid headphone/microphone jack. A camera is located at the top edge of the laptop screen bezel.
Display
Let us start with the positive points, under the right condition the screen of the Dell Inspiron 15.6 inches gaming laptop looks magnificent. The picture could remind you of what you'd be getting on a high-end premium device if you dim the lights and throw at a Netflix or Youtube HD video.
But the right conditions aren't always so easy to come across. In real-world testing, we were able to measure 263 nits if brightness, which is just an average for a 15.6 inches laptop however Dell has advertised a maximum brightness of 300 nits.
Particularly with that crisp display the screen still looks great in normal lighting, but without more brightness, it's harder to distinguish the benefits of HD resolution.
Not every device behaves in this way in fairness. For example, Chrome handled HD 60 fps videos without a problem and Microsoft Word and Edge both provided buttery-smooth scrolling and Edge.
Who or what is to blame here is unclear, but we checked a second review device and found exactly the same problems. Using specific applications to achieve smooth performance is not a huge deal to make on a gaming laptop worth $500 but ultimately it will going to affect your experience as a user.
So if you are ok with these little drawbacks then Dell Inspiron 15.6 inches gaming laptop is a great option under this budget to be considered.  
Performance Under Workload
Although benchmarks do not tell the entire story about the efficiency of a laptop at the same time they do provide some hard data that we see in actual use to back up.
For example, with the Dell Inspiron 15.6 inches gaming laptop we can see some evidence on how the company has caused sacrifices in performance which is not shocking since it is a budget laptop.
PCMark results are not very impressive since in this test of general productivity tasks Dell's laptop is on the low end. Although Dell's Inspiron's 13 inches version also did poorly the HP Spectre x360 15 inches touch, which even features a 4 K display, turned into equally lackluster results.
During our battery life check, which includes looping a video at about 250 nits brightness the Dell Inspiron 15.6 Inches laptop has struggled to be honest. As the 4-cell, 68WHr battery in Dell's laptop for a 15-inch notebook is on the little side that's partially a result of the battery size, but it also has to do with HD resolution.
The Dell Inspiron 15.6 inches gaming laptop was near the top of the pack for both single and multi-thread output at Cinebench, which tests the CPU in short bursts. Furthermore, putting the Intel Core i5-7200U laptop to work has yielded even better performance.
While using the free HandBrake tool to encode a large video file the Dell Inspiron 15.6 inches gaming laptop also trounced several other laptops with the same CPU and RAM.
BUY NOW ON AMAZON
3.

ASUS VivoBook F510UA
"Slimline Design & Strong Overall Build"
Design
A wedge-shaped case with a display lid that has a polished look of aluminum happens to be the signature feature of the VivoBook series.
Initially, all the visuals of ASUS VivoBook F510UA gaming laptop provide an image of high quality.
Certainly, ASUS VivoBook F510UA is one of the best and cheap gaming laptop.
At first glance, the case seems to be uni-body metal because of the rounded edges and corners. Nevertheless, this appearance is deceptive, and only plastic parts make up the 2 kg case.
This is a major difference from the VivoBook S15, which is made entirely from metal. The little bezel screen, called NanoEdge, has remained unchanged. The top of the foundation and the back of the panel appears to be easily pushed flat despite the different material options.
One good news is that the creaking noises we heard in the palm rest area of the previous model of the VivoBook do not exist anymore in this model. The display wobbles only slightly but its hinges are easy to move which means you can comfortably adjust the display on your desired angle.
The plastic case of the ASUS VivoBook F510UA gaming laptop makes a decent impression overall and the workmanship standard is good as well especially if we compare it to the similar laptops of rival brands under the price tag of $500.
Although battery will sadly not be replaced without a certain amount of work since the bottom of the shell, which is fastened with 10 screws, must be removed to take a look inside. 
Display 
The images appear on an LG-made Full HD IPS screen fitted in the ASUS VivoBook F510UA gaming laptop. You will get an average brightness of 250 cd / m2 on this matte display.
Considering the competitors chosen this happens to be an average figure overall. However, it seems like the brightness should have been a little bit higher if we compare this gaming laptop with all the multimedia notebooks we've previously tested.
On the other hand, the VivoBook creates a relatively saturated black color, which is particularly noticeable in dark film sequences and pictures. The strong blue tint in the distribution environment, however, is disagreeable.
With more than 6 Delta-E variations in the grayscales and about 5.31 in the colors, the CalMAN test confirms this as well. In our tests, the screen shows good response times, though for competitive gamers it could feel too sluggish.
11 percent of all devices are better in contrast to all measured devices range from 0.8 minimum to 240. This simply means that considering the average of all devices tested 24.9 ms the response time of the display of ASUS VivoBook F510UA gaming laptop is better.
You should avoid direct sunlight and midday heat if you want this 15 inches gaming laptop to use it in the outdoors should. The matte display can, however, be used in slightly overcast conditions without any problems.
Performance Under Workload
If you want a sufficiently powerful system that is designed for all the normal areas of operation then you can certainly go for the ASUS VivoBook F510UA gaming laptop.
Nevertheless, the slower loading of the hard drive creates a bottleneck that is especially noticeable during general usage. In the PCMark 8 Home system benchmark, we test this critically.
But the VivoBook suddenly comes out at the level of the competitors who are fitted with SSD capacity. However, we should bear in mind here that in our comparison, we have found a significant performance advantage of the CPU.
This performance advantage will likely not be completely used due to the slower storage and single-channel working memory. Current games can often be played smoothly in low settings only since the ASUS VivoBook F510UA gaming laptop has been fitted with the integrated graphic card unit by Intel.
You have to employ slightly older games to increase the graphics settings and the amount of FPS if you want. You will hardly hear any kind of noise as long as your ASUS VivoBook F510UA gaming laptop does not move into the Windows High-Performance Profile and remains idle.
You just can sense a faint whirling HDD however the noise of the notebook becomes noticeable as soon as you demand more output from it.
BUY NOW ON AMAZON
4.

Acer Aspire A315
"Great Performance & Easy to Upgrade" 
Design
The Acer Aspire A315 gaming laptop case is made of plain, brushed plastic.
The design doesn't feel cheap and its color Obsidian Black further enhances the looks. No creaking sounds or large gaps were present and the base unit appears to be very robust. Acer Aspire A315 gaming laptop is one of the best and cheap gaming laptop.
Although the display cover is rather thin and made of light plastic it is also well-crafted, which makes it easy to warp. The Notebook has two servicing hatches at the bottom.
The bigger one occupies a drive bay whereas the smaller one leads to a free RAM slot. This bay could be empty in some units, which provides room for a 2.5 inches drive. All repair hatches are fastened by one screw each.
To take off the bottom cover, which is additionally fixed with plastic clips, a few more screws so they are 17 in total and they must be removed. Meaning when removing the cover you should be pretty careful.
All Aspire A315 gaming laptop's components can be accessed once you open the bottom cover. The SSD and cooling fan are accessible freely. Because of the fact that battery is not really fixed in the case you need to be especially careful while opening the base unit.
When the bottom cover is unscrewed, the screws which keep the battery in place are removed.
Display 
Our Acer test unit was equipped with a 1920 x 1080p resolution TN LED screen. With a resolution of 1920 x 1080p, there is also a better version of the display in the Acer Aspire A315 available but with a slightly higher price tag.
However, even in the HD version, we didn't find viewing angles to be very good. Display brightness and response times are slightly above average as compared to its competition.
Especially the similarly inexpensive Fujitsu LifeBook A557 laptop has noticeable differences and our test unit can even stand up against more expensive devices for comparison.
We have not tested any flickering by PWM. From the desired average the black value has a divergence of about 50 percent. Many other similar devices by the rival brands offering the same size perform significantly better.
Another thing which Acer should have improved is the color space coverage. Both the AdobeRGB 34 percent and the sRGB color space 54 percent are ahead of the competition.
The Aspire A315 gaming laptop screen has a blue tint, though with our optimized profile this can be minimized. From a viewing angle of 45 degrees, the material begins to be unstable. How unstable it is, depends on where you look. On the left and right, the viewing angle is more stable than it is from above and below.
Performance Under Workload
Our comparison unit features an Intel Core i5-7200U CPU that clocks up to 3.1 GHz. The Aspire 3 can perform even more challenging tasks in conjunction with the integrated HD Graphics 620 and 6 GB RAM.
The Acer Aspire A315 gaming laptop is currently available with the fastest Intel Core i5 CPU. Other versions all the way down to Intel's Celeron N3450 have different processors.
The storage capacity also varies, as does RAM size. Acer also sells two AMD processors on the Aspire 3-the AMD A6-9220 and the AMD A9-9420. The PCMark 3 benchmark results put the Aspire 3 right between the other devices for comparison.
Our test unit operated rapidly and smoothly as expected and subjectively, its efficiency. The programs started fast and we didn't feel any limitations during the regular usage.
Acer has added a Micron 1100 SSD to the Acer Aspire A315 gaming laptop. It offers enough space for programs, files, and operating systems since it has a capacity of 256 GB.
However, if you require you can also mount an additional drive inside the empty drive bay so you will get even more storage space. Acer also markets ex-works models with 2 drives.
BUY NOW ON AMAZON
5.

Lenovo IdeaPad 330
"Premium Looking Design & Strong Build"
Design
The Lenovo IdeaPad 330S gaming laptop's case consists of polished aluminum, therefore it looks very luxurious.  It is also very rigid, and without any crackling noise, it can be held with one side.
And please be informed Lenovo IdeaPad 330 is one of the best and cheap gaming laptop.
Even the top of the screen cover is made of aluminum. Due to the thin bezels, the display lid is pretty easy to bend or twist. The lid won't twist or bend when you just open or close it, though.
After all of the underside, screws are undone you can easily remove the bottom cover of the Lenovo IdeaPad 330 gaming laptop. users can clean the interiors or do some light maintenance work comfortably by removing the bottom cover.
As compared to other 15 inches notebooks the Lenovo 330S gaming laptop's dimensions are slightly smaller. Lenovo shrank the bezels to achieve a smaller size but that process eliminated a variety of ports.
The Lenovo IdeaPad 330 takes a spot in the middle of our comparison group, with a weight of about 1.8 kilograms. This laptop is pretty good for routine work and normal usage. 
Display
You have an option between a 1920 x 1080 resolution Full HD IPS panel and a 1366 x 768 resolution HD TN panel to chose if you are interested in buying the Lenovo IdeaPad 330 gaming laptop.
Although the review unit we have tested was fitted with an HD panel. It is competitive with other competing devices since it has an average 252 cd / m2 screen brightness.
However, just 75 percent of the brightness range is somewhat below normal. The IdeaPad 330S computer has a subpar contrast ratio of 449:1 and an elevated black value of 0.63 cd / m2 according to our CalMAN scales.
Therefore the blacks appear grayish and the shades are difficult to tell apart. The screen content looks very soft in daily usage, especially in the blue part of the spectrum which can be attributed to a low volume of color.
The Lenovo IdeaPad 330 gaming laptop only occupies 58 percent of the color space is sRGB and 38 percent of the color space in AdobeRGB. Those values are common in this price range for notebooks.
Only in the shade or on cloudy days the IdeaPad 330 laptop can be used outdoors since in strong light the brightness of the display is barely enough to make the content of the screen readable.
Performance Under Workload
The Lenovo IdeaPad 330 gaming laptop achieves average results in the PCMark 8 benchmark, in this price range which is equivalent to what you could expect from other similar notebooks.
By almost all of its rivals, the Lenovo IdeaPad 330 gaming laptop is beaten in the Home section of the benchmark. Although the IdeaPad 330 is very responsive to day-to-day use.
It does not experience any long loading times or lags during usage.  The IdeaPad 330 gaming laptop offers Intel UHD Graphics 620 that can run older and casual games smoothly, but only on low resolutions and low settings.
The main reason is that to run the latest triple-A titles this GPU's output is not even sufficient. Laptops with dedicated GPUs have substantially more performance here.
The IdeaPad 330 gaming laptop stays virtually quiet during daily usage. The main reason for the fan to stay quiet most of the time is that simple office programs and Internet browsing are not too much of a problem for the CPU.
The fan often drowned out by ambient noise and it remains very quiet in demanding applications as well.
BUY NOW ON AMAZON
6.

Dell Inspiron i5575
"Sturdy Chassis & Premium Looks"
Design 
Dell chose not to install an optical drive and gave an aluminum finish to the 5000 series. The silver surface of the Dell Inspiron i5575  gaming laptop is matte and the back of the screen is no longer polished.
The 7000 series high-quality look has been added to the 5000 series as well. And please be informed Dell Inspiron i5575 is one of the best and cheap gaming laptop out there.
The unit generally gives a good quality impression but at the same time, it seems a little hollow.
The structure may be a little bent under pressure, but we haven't heard any creaks. The back of the screen maybe a little more resistant because the back pressure on the screen is visible.
It can also be very strongly distorted which causes minor changes in brightness. The single hinge is very secure and if you want to open it with one hand you'll need to give the system a little bit of a jolt.
Dell has connected three Type-A USB ports to the notebook, 2x USB 3.1 Gen 1, 1x USB 2.0. However, the Type-C port is missing. HDMI is the only way if you want to connect an external screen with this gaming laptop.
We don't know whether this happened with only our review unit but we were unable to connect the Dell Inspiron i5575 gaming laptop to an external HDD through any of the USB ports that were available. In no other laptop has this problem ever occurred.
Display 
The Innolux 15.6 inches display in Dell Inspiron i5575 could have come straight out of laptops stone age. Its resolution of 1366 x 768 pixels (100 PPI) cannot be considered as up to date in any way.
The viewing angle is narrow because it happens to be TN LED panel. Although, even in 2020, many entry-level devices are still fitted with those low-quality panels. The disadvantages that we are pointing out to you now as a buyer you should be aware of them.
The only advantage this panel can offer you is that it is non-reflective which means you can work on Dell Inspiron i5575 even in outdoors comfortably unlike many other similarly priced laptops.
To minimize brightness the screen uses low-frequency PWM (250 Hz). Even for the users who are less sensitive this is not safe and can cause eye problems. PWM might not be a concern on the other hand since the 195 cd / m2 brightness is so low that most users will always have the display set to full indoor brightness.
In addition, the screen has low response times (50/24) even for devices at the entry-level which are rare, 40/14 is the average. Sadly, the illumination isn't particularly even and we registered a 78 percent brightness distribution. 
Performance Under Workload
The Dell Inspiron i5575 gaming laptop is driven by an AMD Ryzen 5-2500U APU. This is a version of the Ryzen processors released in early 2018, which are available for both mobile devices and desktop.
We've tested the Ryzen 5 and 7 in several samples already. The SoC is intended for low-end and entry-level laptops. Bad news for system performance is the combination of a decent APU with a noisy hard drive and a single-channel RAM running.
It can take some time to turn on the computer and load programs while the hard drive slowly begins to work. In PCMark 10 test, the downside of Dell is even greater at 17 percent.
The system output could be improved by adding a second RAM module which would at least allow it to run in a dual-channel configuration. All speakers are mounted underneath the wrist rest at the front.
They emit a sound to the floor, meaning the sound is mirrored by the surface on which the system stands. If that surface is soft, the quality of sound will be significantly reduced. 
BUY NOW ON AMAZON
7.

Lenovo Ideapad 320
"Portable, Lightweight & Aggressively Priced"
Display: 15.6″, HD, 1366 x 768
Processor: AMD A12-9720P, 2.7GHz, Quad-Core 
Graphics Card: AMD Radeon R7 
RAM & Storage: 8GB DDR4, 256 GB SSD
Operating System: Windows 10
Design
The IdeaPad 320 as a cheap gaming laptop looks fine as far as sub-$500 laptops are heading. The glossy Lenovo logo in the top left corner is the only feature that calls attention to the cover.
The frame, with a silver rim, has an uncomfortable, two-tone look. At first sight, it seems like aluminum but when you touch it or look closely then you realize it is not.
Also, the darker gray underneath shows the plastic frame's cheapness. The entire deck and the interior features a silver faux-aluminum design. The keyboard lies on the deck to show it, without any dip or highly stylized accents.
For a budget laptop, that's not out of the norm but it certainly worth mentioning that the bezels are annoyingly thick. The IdeaPad 320 is slimmer and lighter than the Acer Aspire 5 pounds, 1.2 inches, at 4.5 pounds and 14.9 x 10.2 x 0.9 inches.
As we all know that you cannot expect a budget gaming laptop like Lenovo Ideapad 320 to be made out of premium materials anyways. 
Display 
To find the 15.6 inches screen of the Lenovo IdeaPad 320 uncomfortable to look at is an understatement. There's no reason the resolution on that large panel should be 1366 x 768.
On top of that, this display is deceptively dim too. Our colorimeter shows that 67 percent of the sRGB color gamut was protected by the IdeaPad's panel, falling short of the 77 percent typical mainstream laptop.
It is not shocking that the color reproduction of the IdeaPad is that small since the Aspire E 15 with 62%, VivoBook Flip 14 with 69% and Swift 1 with 66% landed in almost the same scale.
However, seeing the panel average at a dismal 194 nits of brightness was frustrating, particularly when the segment standard is 246 nits. Even the Aspire E 15 with 227 nits, VivoBook Flip 14 with 221 nits, and Swift 1 with 218 nits broke beyond the 200 nits started budget gaming laptop level.
Performance Under Workload 
The Lenovo IdeaPad 320s AMD Quad-Core A12-9720P APU processor 8 GB of RAM could only handle 20 Google Chrome tabs and a 1080p YouTube video before it started showing signs of a slowdown.
Even the Windows 10 search bar lagged when I tried to pull the device manager up. The IdeaPad 320 reached a poor score of 5,314 on the Geekbench 4 overall performance test, which is nearly half the standard laptop average 9,001.
The Aspire E 15 7,871, the VivoBook Flip 14 5,696, and the Swift 1 5,527 had shown better scores. To match 65,000 names and addresses on our Excel test the IdeaPad 320 took 3 minutes and 18 seconds which is pretty slower than the Aspire E 15 2:12 and the average 2:22 category both.
But the Lenovo Ideapad 320 gaming laptop did beat the VivoBook Flip 14 3:35 and Swift 1 3:34, respectively. The 720p Lenovo webcam is not bad indeed.
It showed decently good picture quality during our test, although the colors in the photo were a bit darker.
BUY NOW ON AMAZON
8.

Acer Aspire 5
"Bright Colorful FHD Display & Strong Performance"
Design 
The Aspire 5 boasts a luxurious look with an aluminum silver hood but still it is one of the cheap gaming laptop.
Even the Acer logo printed in the middle has a luxury look — the emblem is shiny and rises out of the cover instead of being a flat plastic piece embedded in the case.
At each end, the top of the lid features two-line highlights that look a bit weird. However, what was more troubling was when we discovered that the lid was not coordinated with the deck.
We called in a replacement but had the same issue. The interior is quite standard with the silver floor, black keyboard, etc. The hinge features an Aspire emblem, which is cool.
To top it off, for a laptop this cheap bezels around the display are shockingly thin. At 3.8 pounds and 14.3 x 9.9 x 0.7 inches, the Aspire 5 is thinner than its 14-inch competitor, the HP 14 Laptop (DF0023CL), which weighs in at 3.1 pounds and measures 12.8 x 8.9 x 0.8 inches.
The Aspire 5 is 3.8 pounds lighter and 14.3 x 9.9 x 0.7 inches thinner than its 14 inches competitor, the HP 14 Laptop's body dimensions are measuring 12.8 x 8.9 x 0.8 inches and it weighs almost 3.1 pounds.
Display
The Aspire 5's 15.6 inches screen boasts a complete 1080p resolution and it is considerably bright, unlike many budget laptops. The Aspire 5 panel displayed 65 percent of the sRGB color gamut according to our colorimeter.
Which is below the average budget laptop 78 percent, but as compared to Aspire E 15 and HP 14 both laptops it has beaten the 62 percent average.
The Aspire 5 panel has impressed us with 276 nits of brightness, it has tops the average group 213 nits)as well as the HP 14 Laptop 199 nits and the Aspire E 15 227 nits.
So display wise this Acer Aspire 5 gaming laptop can provide you the quality which even some more expensive laptops can not, only with premium laptops you can get a similar experience.
Especially if you are a gamer and want to buy this laptop for playing games only then you will be pretty happy with the colorful and sharp Full HD display of Acer Aspire 5 gaming laptop. 
Performance Under Workload 
The Aspire 5 gaming laptop packs an Intel Core i5-8265U processor and 8 GB RAM that hurdled through 30 Google Chrome tabs and four 1080p YouTube videos with minimal slowdown while Spotify was running in the background under the price tag of $500.
The Aspire 5 scored 8,030 on the Geekbench 4.1 overall efficiency test, climbing above the budget laptop average 5,504 as well as the Core i3-8130U in the HP 14 laptop 6,901 and the Aspire E 15 7,871.
To transcode a 4K video to 1080p on our HandBrake benchmark, the Aspire 5 took 32 minutes and 53 seconds. That slightly behind the Aspire E 15 31:40 and slower than the average group 23:05.
The Aspire 5 scored 59,873 on the 3DMark Ice Storm Unlimited graphics benchmark with an Intel UHD 620 GPU which is better than the budget laptop average of 37,818. 
BUY NOW ON AMAZON
9.

Lenovo Ideapad 330s
"Slim & Sleek Design with Attractive Asthetics"
Lenovo Ideapad 330s is one of the best and cheap gaming laptop which you would love using it.
Design 
With the Ideapad 330 gaming laptop, Lenovo did a good job by imitating the luxurious look and feel of pricier Ultrabooks while keeping its costs low. However, the main shell is uninspired to the point of being bland.
We only wish the company should have taken some chances with the chassis of the IdeaPad 330 gaming laptop. If you open the lid, the matte silver finish on the cover and the underside of the IdeaPad 330S becomes tiring, just to find more of the deck coating material.
A soft-gray Lenovo tag at the corner of the lid and a darker gray keyboard provide the only respite.  There should have been some paint or even the chrome trim that we see on some mid-range laptops, to make things lively.
The design shortcomings of IdeaPad 330S have excused thanks to a robust case. Actually, the laptop's lid is made out of aluminum and the solid plastic underside fooled you into believing it was metal too.
Display 
We believe that laptops that cost more than $400 displays with a resolution of 1366 x 786 should no longer exist. But unfortunately, you will be disappointed by the low resolution this gaming laptop offers.
Choosing only HD resolution for 15.6 inches to display the size of IdeaPad 330 seems not a very good idea. It's hard to see that this display will cover 106.4% of the sRGB spectrum, making this panel more vibrant on paper than those on the Aspire 5 65%, Inspiron 15 5000 67% and Aspire E 15 62%.
The IdeaPad 330 is even 79 percent top of the average group. Although poor visibility holds back those colors. The IdeaPad 330S peaked at a brightness of only 215 nits, short of the Aspire E 15 score 227 nits and the standard laptop average 244 nits.
Much dimmer are the Aspire 5 209 nits and Inspiron 15 5000 175 nits. Again if only this laptop came equipped with at least a Full HD resolution then this display would have been one of the best.
Performance Under Workload
Without a doubt, the Lenovo IdeaPad 330S provides a good value for the money ratio. The Intel Core i5-8250U CPU and 4 GB DDR3 RAM with Intel Optane 16 GB memory this gaming laptop provides sufficient power for multitasking every day.
When we loaded 16 web pages in Google Chrome, we found some brief pauses but without major stoppages, the IdeaPad 330 powered and finished rendering each page.
Even while I streamed two 1080p videos on Twitch and another pair on YouTube, the laptop kept a steady pace. Because of the fact that this laptop's hard disk drive is painfully slow so go with an SSD if you want the fastest speeds.
On the Geekbench the IdeaPad 330 scored a 12,307 overall performance rating 4.1, with it has narrowly topped the average. Placed on the thin bezel above the IdeaPad 330 gaming laptop's display, the 720p webcam captures good images. 
BUY NOW ON AMAZON
10.

Samsung Chromebook Plus v2
"Sleek Convertible with Bright & Sharp Display"
Samsung Chromebook Plus v2 is one of the best and cheap gaming laptop on the market.
Design
Exactly the same streamlined and sleek design has been followed in the Samsung Chromebook Plus and Pro both. The aluminum frame on most notebooks isn't as big as you would expect and it will take you a while to get used to the design.
Except for a monochromatic Chrome logo and Samsung branding, the lid is very plain, with rounded edges and no adornments. Our Plus V2 sample unit was a pre-production model in silver and black color scheme though it will be fully black in the final version.
The Plus which is now on sale comes out in silver. When you open the lid there is a distinctly special 12.3 inches, 2400 x 1600 touch screen. Samsung's Chromebooks use a 3:2 ratio instead of the regular 16:9 width-to-height display that most laptops use.
Which is a little weird for a notebook but works great as a tablet. Despite the fact that they're crammed into a case on the side with very little room you will still get a full island-style keyboard and a trackpad.
Display 
On the Samsung Chromebook Plus V2 the 12.3 inches, 2400 x 1600 screen is among the crispest and most vibrant we have seen so far. We have measured 118 percent of the sRGB color gamut reproduced by the Chromebook Pro and Plus display.
Beating the ultraportable average of 99 percent, and the Chromebook Flip scores 76 percent and R 13 64 percent. Those colors, too, are fair, precise. The screen registered a 1.0 Delta-E score, which is better than the average 2.2 and the Flip 1.6 and R 13 1.1 display.
As compared to the competition at 376 nits the display of the Chromebook Pro is much brighter. The average is 304 nits, while 292 nits were calculated in the Flip and 244 nits in the output R 13. Instead of a standard 16:9, the display uses a ratio of 3:2 which in laptop mode was difficult to adjust.
It is however great for a tablet, especially one with a touch panel that is uber-responsive.
Performance Under Workload
The Samsung Chromebook Plus V2 laptop features an Intel Celeron 1.5 GHz processor with 4 GB of RAM and 32 GB of eMMC storage. That's more than enough for Multitasking performance.
With one streaming a 1080p YouTube video, we had 16 tabs open in Google Chrome, without any delay. As I opened the Android applications for Twitter and HipChat, a split second of delay occurred when I switched between browser tabs.
The Pro earned a score of 126.6 on the JetStream JavaScript benchmark, falling just short of the Asus Flip Core m3-6Y30, 127.3 but handily beating the Acer R 13 MediaTek MT8173C ARM CPU, 58.7.
The Plus notched a score of 54.7 and the ultraportable category average is 164.5. Except for one or two spots that got a bit choppy the games were generally smooth and playable otherwise on the Pro when we were playing Asphalt 8.
BUY NOW ON AMAZON
Also Read: Budget Gaming Laptops
Last update on 2023-11-27 / Affiliate links / Images from Amazon Product Advertising API