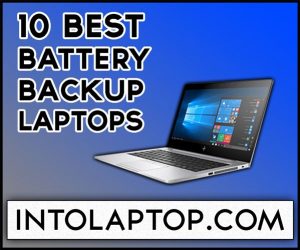 One of the most critical factors for laptop customers is how long a laptop runs on its internal battery. Business customers and students are frequently at the mercy of the available battery from their devices.
Because too many meetings rooms, flights, and schools are unbelievably low of available power outlets. Those recent advancements in laptop battery life are more power-efficient than ever thanks to the low power consuming CPUs and other components.
It is not just modern battery innovations that earn glory. With Intel's 8th and 9th Generation Core Processors that's especially true. Since they currently drive most of the longest-lasting versions out there in the market.
Though the crown was only taken by a 10th Generation edition. There are the latest laptops that can last up to 8 hours on a single charge but don't get too impressed by these battery timings.
Best Long Battery Life Laptop in 2022
Since some convertible 2 in 1 laptop offers straight 17-hour battery life, which means you can do your work or watch movies in longer flights without worrying about charging.
That is why we have compiled today's list of top 10 best long battery life laptops you can get in 2022. And for your convenience, we have reviewed them in detail as well.
So without wasting any time lets jump into the post, don't forget to check out intolaptop.com, where you will find even more options. 
1.

Lenovo ThinkPad T480
"Excellent Work Machine with Good Battery Life"
Design
Standard raven black chassis and a soft graceful lid, these aesthetics made Lenovo Thinkpad T480 laptop stand with one of the few machines which were designed with functionality in mind rather than look or appearance.
The overall design is almost the same as its predecessors,  so at first glance, you can not tell which machine is this.
Thinkpad T480 weighs almost 3.58 pounds and its dimensions are 13.25 x 9.15 x 0.78 inches. If you want you can have a high capacity battery but it will increase the overall weight pf the laptop to 3.98 pounds. 
Display 
Lenovo Thinkpad T480 offers a no-touch 1920 x 1080 HD screen, which is great for productivity. The image appears sharp with solid viewing angles, brightness and colors are not very good but decent.
In HD videos it really shows up minute details and accurate quality. Another excellent thing about this laptop is that the screen doesn't reflect that much because of its matte surface at the bay.
Which is a good thing since Thinkpad T480's maximum level of brightness is measured to be 269 nits. That's why You will not have any problem using it even in the outdoors.
Performance Under Workload
Lenovo Thinkpad T480 is more than fast enough to handle any typical work you require because under the hood it has an Intel Core i5-8350U CPU with 256 GB SSD and 8GB of Ram.
During our test, we did a video conference with at least a dozen Google Chrome tabs opened, the laptop performed great. We didn't experience any kind of lag or other problems.
On Geekbench 4 Thinkpad T480 scored a strong figure of 12,047. To measure overall performance we did a synthetic test, in which Thinkpad T480 scored a massive 12,140.
Which is way ahead than the premium laptop category average of 9,724. To match 6500 names with their addresses in Excel, Lenovo Thinkpad T480 took only 11 seconds.
With that, this laptop has again performed far better than the category average which is 1:42.
BUY NOW ON AMAZON
2.

 Asus ZenBook 13
"Premium Looking Machine with Excellent Performance"
Display
Asus ZenBook 13 contains a gold color glossy logo at the center of the lid which does give it a classy look. The overall build is aluminum and the lid is in royal blue shade.
Which do look really mesmerizing but can be covered in fingerprints after holding it. The edge of the hinge and font of the keyboard are leathered in rose gold color.
Asus ZenBook 13 weighs almost 2.7 pounds and has dimensions of 11.9 x 7.4 x 0.7 inches however it is slightly thicker than its rivals in this league.
Despite being thin and lightweight ZenBook 13 offers USB Type-A ports and even an HDMI slot, which is pretty amazing.
Whereas Thunderbolt 3.0 is missing which is kind of disappointing since this laptop has a complete selection of ports.
Display
Asus ZenBook 13 offers an almost bezel-free screen which is 13.3 inches. This glossy but rather dim panel offers 1920 x 1080 resolution.
The maximum brightness level you can get on Zenbook 13's display is 225 nits, it is below the average but not too bad while using outdoors in direct overhead lighting.
The 13-inch panel of ZenBook 13 almost covers 115 percent of the sRGB spectrum which is not much but slightly below the premium laptop average of 117 percent.
On HD videos this display does performs well enough apart from the dim brightness issue. 
Performance Under Workload
Asus ZenBook 13 offers an Intel Core i5 8th Generation processor accompanied by 8GB of Ram. Because of these handsome specs, Zenbook 13 can handle 40 Google tabs and HD 1080p videos running at the same time without any lag.
In our overall performance test, ZenBook 13 has scored excellent 15,110 on GeekBench 4. It also transcoded 13 minutes 4K video to 1080p in just 20 minutes 48 seconds.
With that, it has successfully topped the premium laptops' average of 21:51. So performance-wise ZenBook 13 has proven itself a worthy option under $1000 budget.
BUY NOW ON AMAZON
3.

Dell XPS 9370 13.3 Inches
The Most Favorite Business Laptop According to Consumers
Design
The last few generations of Dell's XPS series are so similar in looks that you hardly can differentiate them unless you watch on the deck where the CPU Sticker is. However, Dell's XPS 13 has emerged as one of the most favorite laptops according to the consumers.
Maybe because of that Dell has added a new gold and white color scheme in their latest XPS 9370 laptop. Despite the same physic like previous models, it has a slightly slimmer and lighter overall profile.
But if you want you can get 9370 in the traditional silver and black aesthetics of Dell's XPS series.
Display
With the Infinity Edge display and 13.3 inches screen, the XPS 13 9370 laptop has 23 percent thinner bezels as compared to the previous XPS series model.
Images on the screen just seem to pop up because at the top and sides of the screen there is virtually no frame.
There are two variants available on this laptop. One offers 3840×2160 4k ultra HD touch screen whereas the other one has a 1920×1080 non-touch screen.
Although the 4k touch screen is noticeably better both of the resolutions provide impressive color quality, sharpness, and brightness. 
Performance Under Workload
Dell's XPS 13 9370 comes loaded with two different configurations known as high end and mainstream. Both can handle anything you threw at them without a hiccup including web surfing, working, and light gaming.
The Dell XPS 13 9370 is capable of performing better on long tasks like running a benchmark test again and again or compressing a 4k video.
The main reason for that is the new cooling system added by the company.  Most laptops slow down there CPU to cool down during long tasks, but XPS 13 9370 laptop works differently.
During the compressing test of 4k video, the 9370 increased the power of CPU. Because of that, this task was completed only in 16 minutes, which means the cooling system works great on this machine.
But in any case where you experience warmer temperatures on XPS 13, by using Dell's power management App you can configure the ultra-performance for thermal cooling.
According to our review, we recommend that you can get the best performance with balanced temperatures by configuring the optimized mode, especially during longer tasks.
BUY NOW ON AMAZON
4.

 HP – Spectre x360 2 in 1
Stunning & Beautiful Laptop with 360 Degree Turning Radius
Design
The Spectre X360 series of HP is a laptop which always been considered as a thing of beauty, no doubt this laptop looks really gorgeous. But this time with Spectre x360 2 in 1 laptop HP has really stepped up the game.
It is also a lot thinner then the previous model, usually in thinner laptops the space for keyboard and trackpad got cramped up.
But this is definitely not the case with HP Spectre x360 series since these laptops always come with the best keyboards.
That's why in this new Spectre x360 2 in 1 the keyboard is even better than before.
Display 
The HP Spectre x360 2 in 1 has a 90% screen to body ratio, which is simply unbelievable. Its large OLED panel can distract you from anything around you easily because it is very bright and colorful.
If you are used to watching TV shows and movies frequently on the go then nothing can be a better option but this display.
Spectre x360 2 in 1 laptop is available with two different display options, you can have a 4k panel or an FHD panel.
Both of the screens are pretty reflective and the reason for that is the protective layer of Gorilla Glass Coating.
The 13.3-inches FHD display turns out to be a great decision by the company since with that you can avoid facing any scaling issues.
The only downside of this display is that it contains a maximum brightness of 300 nits, which is not enough as we have mentioned above that the screen is pretty reflective.
So it can trouble you outdoors, however, the overall impression it provides you is pretty good. In our review, we observed a flickering when the brightness level was 99% or below, whereas in the above brightness settings there was no flickering detected.
Performance Under Power
HP Spectre x360 2 in 1 laptop got powered by an Intel Core i7-1065G7 processor with the combination of 16GB ram and 1TB lightning-fast SSD drive.
It has Intel's Graphics, which will enable you to do light gaming as well as some graphic work. Because of the Ice Lake processor, this laptop can provide you decent battery life while traveling.
According to HP, Spectre x360 can last almost 22 hours on a single charge, on top of that you can carry it very easily with you.
The price tag for the top of the line variant, however, seems too much, considering the specs.
BUY NOW ON AMAZON
5.

 LG gram Thin and Light Laptop
Most Thin & Lightweight Laptop with 17 inches Screen
Design
The LG Gram 17 is a pretty unique laptop, it is one of the bigger screen laptops but at amazingly lightweight and thin.
That seems like to opposite things but LG somehow has figured out the trick. With its appearance, it looks like a very heavy machine but you pick it up, its lack of density makes you say wow. However, there are also some downsides to this ultra-thin design.
The center of the lid has a lot of flex especially you press on the center of the lid. Which durability wise not a very good sign.
The carbon and magnesium chassis feels cheap to the touch even though it might be sturdier than plastic.
The medium-gray color scheme is just drab. LG Gram 17 is one of the beautiful looking laptops but build wise there are a lot of flaws.
If you drop this thing to a hard floor which considering its size seems possible. Then there is a 99% chance that your purchase will be wasted.
Whereas there are other laptops with the same screen size but more durable and stronger than LG Gram 17.
Display 
LG Gram 17 is a 17-inches laptop inside a 15-inch laptop frame, so the stress level is already high. It is 15 inches wide and 10.5 inches long. in each dimension, the LG Gram 17 footprint is about an inch larger than a 15 inches MacBook.
It offers a 17 inch IPS display with 2560 x 1600 resolution. The screen has considerably thinner bezels accept the bottom one is pretty thicker.
Honestly display this laptop is in the middle of good and average, though in HD videos you can watch details on the screen.
Performance Under Workload
LG Gram 17 comes with a massive 72Wh battery, which provides it a good runtime. It looks pretty satisfying when you don't have the charger while working and the Windows estimating over 9 hours of battery life.
We don't know the battery timing company is claiming is true or not but one thing is sure that this laptop can easily run a whole on a single charge.
Do keep in mind that these battery figures also depend on the work which you are doing, so they fluctuate according to the load machine is consuming. 
BUY NOW ON AMAZON
6.

 

Lenovo ThinkPad P52s Mobile Workstation Ultrabook
A Powerful Workstation With Classic Looking Design
Design 
All the Lenovo's Thinkpad laptops have a minimal, classic looking design, so do the P52s Mobile Workstation Ultrabook.
Glass fiber reinforced plastic has been used in its rather smooth black colored interior. With the traditional illuminated dot above a steel-colored Thinkpad, the logo has been placed in the top left corner,  Lenovo emblem is in the bottom right corner.
Under the lid, there is an island-style decent looking keyboard, which has a very bright backlight. A thin red-colored line can be shown under the mouse pad buttons.
Display
Lenovo's Thinkpad P52 offers 3840×2160 LED-backlit 15.6 inches display, which shows excellent details and good brightness.
In the color comparison with other work stations honestly, it is just okay. Thinkpad P52,s panel covers 117% of the sRGB color gamut according to the colorimeter, which is below the average of 153 but it is decent enough.
Thinkpad 52 is not far behind the 318 nit workstations average for brightness with 293 nits. In simple words display wise this laptop is decently okay as compared to its rival in the category of workstations. 
Performance Under Workload
Lenovo Thinkpad P52 packs 1.9-GHz Intel Core i7-8650U processor with vPro, 16GB of RAM, 1TB of SSD storage and Nvidia Quadro P500 2GB GPU.
This means you can play HD videos on YouTube with multiple tabs of Google Chrome opened and a high-end game running in the background at the same time.
Graphical performance wise it is not excellent but good, during our tests we have noticed some lacks.
In the Geekbench performance test, Thinkpad P52 was able to score 13,146, which considering a workstation is acceptable.
However, there are other workstations that have performed better scores on the same test. During typical tasks like copying multimedia files of almost 5GB Thinkpad P52 workstation only has only consumed 14 seconds.
With that, it became the only machine that has achieved the workstation average of 506 MBps. In the Handbrake test, the Thinkpad P52 took 18 minutes for transcoding a 4k video of 1080p, again it has crushed the category average of 21 minutes.
It also tops the Excel test with the time of  1:11 against 1:31 average.
BUY NOW ON AMAZON
7.

 Microsoft Surface Pro 6
"The Best Laptop You Can Get Under $1000"
Design
Microsoft Surface Pro 6 has an elegant black color scheme overall,  the material from which the body is build feels good when touched.
However, the design is the same as the previous model. Surface Pro laptop weighs just 1.7 pounds and the thickness of this machine is only 0.33 inches, which is not new since the last model has the same measurements and weight.
Also including the type cover, all the ports are exactly the same as the last year. This is good since the type of cover is excellent and loved by the people who are users of Microsoft Surface Pro 6.
The thing is that this laptop offers USB 3.1 instead of USB 3.0, which comes standard in all 2019 models.
Now you will be able to transfer your data almost double the speed of the previous models. 
Display 
Although the display of Microsoft Surface Pro 6 is the same as last year's machine, the company does have improved its one specific property.
The contrast ratio has been improved 1,300:1 to 1,500:1 as compared to its predecessor, which is pretty strong.
The company has done that especially for those people who are content creators. They can now make more superb looking movies with deeper black and vibrant colors. 
For content creators, this change will make media editing more accurate and easier than ever before. It will benefit the consumer as well. 
Performance Under Workload
In terms of daily typical work and media streaming, Microsoft Surface Pro 6 will not disappoint you at all. It can handle any kind of task you threw at it.
If you want a laptop for work as well as entertainment like streaming HD movies then this laptop is one of the best.
You can also consider this laptop for editing videos because it can handle that work pretty smoothly.
Lite gaming is possible on Surface Pro 6 though we will not recommend that. Because in our tests it gaming performance of this laptop was pretty average.
BUY NOW ON AMAZON
8.

 Lenovo ThinkPad X1 Carbon 7th Generation Ultrabook
Sleek & Slim Laptop with Attractive Design
Design
If you want a laptop that should be slim, attractive, lightweight and durable then Lenovo ThinkPad X1 Carbon 7th Generation Ultrabook is the best option you can get under $1500.
Its ultra-portable chassis is made out of magnesium and carbon fiber, which gives this laptop a stunning look.
It seems like Lenovo lays focus more on the power rather than on look especially in the case of Thinkpad since the X1 ultrabook follows the same minimalist aesthetic as the previous model. The carbon fiber touch gives this laptop a very attractive appearance.
On the back of the lid, you will find the Thinkpad emblem and stylish X1 logo, Thinkpad emblem glows in red color as well.
When you open it, there are two speakers on the deck. accompanied by curved keys and a sticking point.
Touchpad buttons are in red paint and the power button has been moved to the right side, so you can easily operate it even the laptop is docked with the lid closed.
But in normal position, this new location of the power button on X1 Carbon is less accessible. The traditional black lid of Thinkpad is more scratch-proof then the carbon fiber one.
Display 
Lenovo's Thinkpad X1 Carbon has 1080 or 4k display options, the screen size is 14 inches. The 1080p version panel is quite sharp and colors turn out to be vibrant, which is great.
But the 4k display version is even better and notably brighter. However, the 4k screen considerably reflects in brighter conditions, since it is very glossy.
With 1080p measured around (336 nits) and 4K at (432 nits), the ThinkPad X1's both displays are bright enough.
The measurements of both displays fall in the average of premium laptops, which is amazing considering the price tag.
Performance Under Workload
Currently, all the variants of Thinkpad X1 Carbon laptops are powered by 8th Generation CPU's but in the coming year, Lenovo is expected to bring Intel's new 10th Generation CPU in these machines.
Thinkpad X1 carbon can cope with typical extreme workloads easily. However, if you are a multi-tasker then we recommend you should go for 16Gb Ram configuration.
During our tests on Geekbench 4, Thinkpad X1 Carbon was able to score solid 16,545, these results are better than the last year's model. X1 carbon can convert 4.97GB of multimedia files in seconds.
BUY NOW ON AMAZON
9.

HP Elitebook 840 G5
"Most Stylish Laptop with Powerful Performance"
Design
If you want to work in style then you must choose HP Elitebook 840 G5 laptop. Under $1000 budget it is without a doubt the most stylish laptop you can get.
The overall exterior is made by Aluminum with silver finish, HP logo sits in the middle of the lid. The design of the Elitebook 840 is quite neat and simple.
The angle on which hinges have been placed gives this laptop an attractive look as compared to the other machines in the same budget.
Inside the lid, there is a very classic looking, backlit keyboard with pointing stick in the middle of it.
Display 
HP Elitebook 840 G5 laptop has a 14-inch IPS LED display with 1920 x 1080 resolution. One problem is that the display is too dim, which can trouble you while working or watching and HD movie.
In HD videos the display shows kind of bluish tint that is really annoying. However, because of the 1920 x 1080 configuration the integrated privacy screen shows vibrant and bright images.
The maximum brightness level which Elitebook 840 G5 laptop can show is 214 nits, which is far below 375 nits average of this budget laptops. 
Performance Under Workload
HP Elitebook 840 G5 can run your daily work with even more than 30 Google Chrome tabs open and playing HD videos in the background. which is pretty amazing.
This machine offers UHD Graphics 620, which are more than enough to fulfill your multitasking requirements.
Elitebook 840 G5 scored an excellent 12,253 on Geekbench 4 in our overall performance test. With that, it has successfully passed the 10,483 premium laptops average.
In our Handbrake test, Elitebook 840 G5 transcoded a 4K video to 1080 in almost 15 minutes and 50 seconds.
This performance is amazing since its competitors have done that the same task in 21 minutes 35-sec average. Elitebook 840 G5 only took 10 seconds to copy 5 GB data thanks to its 512 GB NVMe SSD.
BUY NOW ON AMAZON
10.

 Dell XPS 9570
Slim Laptop with Good Specs Purely Meant for Performance 
Design
Despite the fact that Dell has launched XPS 15 9570 with the same old design finally, the webcam has been moved back to its rightful position once again in the top bezel.
Apart from that, the XPS 9750 has continued the same aesthetics as the previous one to two models. Below the keyboard, there is a black carbon fiber palm rest.
The lid, base, and chassis are made out of Aluminum clad. Honestly, this design is really started to look old especially when compared with other laptops that have the same specs and price tag.
The Dell XPS 15 9570 sleek profile and lightweight design are the plus point, you can very easily carry this laptop in your backpack all day long. 14.1 x 9.3 x 0.5-0.7 inches measurements and 4.2-pound weight make XPS 15 one of the slimmer laptops in the notebook segment.
And being slim doesn't mean this laptop lacks ports, on the right side it has a USB 3.0, SD card reader and a Noble lock slot.
While a port for an AC adapter, Thunderbolt 3.0, HDMI 2.0 and a headphone jack are available on the left side of the laptop.
Display 
Dell XPS 15 9570 offers two display options, a 1080p non-touch screen, and a 4K Ultra HD touch screen.
Both have the same resolution of 1920 x 1080, which can produce sharp details and rich colors. The size of the display is 15.6 inches, which is enough to show the details in videos and gameplays.
In the brightness test Dell XPS 15 averages at 371 nits, which is a bit better than last year's score. The 4K panels of this laptop top the category average with 322 nits but as compared to its rivals it is less illuminated, which is kind of disappointing.
Performance Under Workload
The top of the line Dell XPS 15 9570 comes loaded with an Intel Core i8-8750H processor and 16 gigs of Ram.
You can easily do multitasking on this machine, it can do typical work and some light gaming without showing any issues. On Geekbench 4 XPS 9570 was able to score solid 19,775.
It was able to pair 65,000 and addresses in just 44 seconds during our Excel productivity test, beating the 1:32 category average.
This laptop purely meant performance, it will not let you slow down in any kind of work which you will throw at it.
BUY NOW ON AMAZON
Last update on 2022-12-11 / Affiliate links / Images from Amazon Product Advertising API