Top 3 Best Intel Core i7 11th Gen Laptop
EXPLORE LATEST INTEL CORE i7 LAPTOPS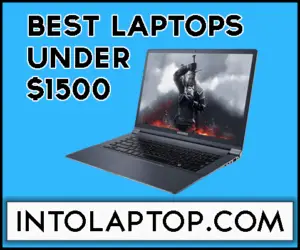 We have entered an era where laptops have emerged as must-have gadgets for us, whereas at the beginning they were initially only meant for assisting humans. 
In today's post, we are going to share with you the 10 best intel core i7 11th-gen laptops that you can get for under $1500.
There are a lot of people who wanted a machine under this budget since laptops are getting more expensive day by day.
IntoLaptop has covered a detailed Laptop Buying Guide for your ease, don't forget to check it out.
We have recently covered Best Intel Core i7 12th Gen Latest Laptops in 2023
All of us have different requirements regarding a laptop, some people need it for their work, some wanted to play games and some people just wanted a machine for only browsing or watching movies.
So let's jump in without any further ado.
Also Read: Best Laptop Under $2500 Budget
Best Intel Core i7 Laptops Under $1500 Budget
1.

Dell XPS 9370 13.3 Inches
The Most Favorite Business Laptop According to Consumers
Design
The last few generations of Dell's XPS series are so similar in looks that you hardly can differentiate them unless you watch on the deck where the CPU Sticker is.
However, Dell's XPS 13 has emerged as one of the most favorite laptops according to consumers.
Maybe because of that Dell has added a new gold and white color scheme in their latest XPS 9370 laptop.
Despite the same physic like previous models, it has a slightly slimmer and lighter overall profile.
But if you want you can get 9370 in the traditional silver and black aesthetics of Dell's XPS series.
Display
With the Infinity Edge display and 13.3 inches screen, the XPS 13 9370 laptop has 23 percent thinner bezels as compared to the previous XPS series model.
Images on the screen just seem to pop up because at the top and sides of the screen there is virtually no frame.
There are two variants available on this laptop. One offers 3840×2160 4k ultra HD touch screen whereas the other one has a 1920×1080 non-touch screen.
Although the 4k touch screen is noticeably better both of the resolutions provide impressive color quality, sharpness, and brightness. 
Performance Under Workload
Dell's XPS 13 9370 comes loaded with two different configurations known as high end and mainstream. Both can handle anything you threw at them without a hiccup including web surfing, working, and light gaming.
The Dell XPS 13 9370 is capable of performing better on long tasks like running a benchmark test again and again or compressing a 4k video.
The main reason for that is the new cooling system added by the company.  Most laptops slow down there CPU to cool down during long tasks, but XPS 13 9370 laptop works differently.
During the compressing test of 4k video, the 9370 increased the power of CPU. Because of that, this task was completed only in 16 minutes, which means the cooling system works great on this machine.
But in any case where you experience warmer temperatures on XPS 13, by using Dell's power management App you can configure the ultra-performance for thermal cooling.
According to our review, we recommend that you can get the best performance with balanced temperatures by configuring the optimized mode, especially during longer tasks.
BUY NOW ON AMAZON
2.

 Lenovo ThinkPad X1 Carbon 7th Generation Ultrabook
Sleek & Slim Laptop with Attractive Design
Design
If you want a laptop that should be slim, attractive, lightweight, and durable then Lenovo ThinkPad X1 Carbon 7th Generation Ultrabook is the best option you can get under $1500.
Its ultra-portable chassis is made out of magnesium and carbon fiber, which gives this laptop a stunning look.
It seems like Lenovo lays focus more on the power rather than on look especially in the case of Thinkpad since the X1 ultrabook follows the same minimalist aesthetic as the previous model. The carbon fiber touch gives this laptop a very attractive appearance.
On the back of the lid, you will find the Thinkpad emblem and stylish X1 logo, Thinkpad emblem glows in red color as well.
When you open it, there are two speakers on the deck. accompanied by curved keys and a sticking point.
Touchpad buttons are in red paint and the power button has been moved to the right side, so you can easily operate it even if the laptop is docked with the lid closed.
But in a normal position, this new location of the power button on X1 Carbon is less accessible. The traditional black lid of the Thinkpad is more scratch-proof than the carbon fiber one.
Display 
Lenovo's Thinkpad X1 Carbon has 1080 or 4k display options, the screen size is 14 inches. The 1080p version panel is quite sharp and colors turn out to be vibrant, which is great.
But the 4k display version is even better and notably brighter. However, the 4k screen considerably reflects in brighter conditions, since it is very glossy.
With 1080p measured around (336 nits) and 4K at (432 nits), the ThinkPad X1's both displays are bright enough.
The measurements of both displays fall in the average of premium laptops, which is amazing considering the price tag.
Performance Under Workload
Currently, all the variants of Thinkpad X1 Carbon laptops are powered by 8th Generation CPU's but in the coming year, Lenovo is expected to bring Intel's new 10th Generation CPU in these machines.
Thinkpad X1 carbon can cope with typical extreme workloads easily. However, if you are a multi-tasker then we recommend you should go for 16Gb Ram configuration.
During our tests on Geekbench 4, Thinkpad X1 Carbon was able to score a solid 16,545, these results are better than the last year's model. X1 Carbon can convert 4.97GB of multimedia files in seconds.
BUY NOW ON AMAZON
3.

 HP – Spectre x360 2 in 1
Stunning & Beautiful Laptop with 360 Degree Turning Radius
Design
The Spectre X360 series of HP is a laptop which always been considered as a thing of beauty, no doubt this laptop looks really gorgeous. But this time with Spectre x360 2 in 1 laptop HP has really stepped up the game.
It is also a lot thinner than the previous model, usually in thinner laptops the space for the keyboard and trackpad got cramped up.
But this is definitely not the case with the HP Spectre x360 series since these laptops always come with the best keyboards.
That's why in this new Spectre x360 2 in 1 the keyboard is even better than before.
Display 
The HP Spectre x360 2 in 1 has a 90% screen to body ratio, which is simply unbelievable. Its large OLED panel can distract you from anything around you easily because it is very bright and colorful.
If you are used to watching TV shows and movies frequently on the go then nothing can be a better option but this display.
Spectre x360 2 in 1 laptop is available with two different display options, you can have a 4k panel or an FHD panel.
Both of the screens are pretty reflective and the reason for that is the protective layer of Gorilla Glass Coating.
The 13.3-inches FHD display turns out to be a great decision by the company since with that you can avoid facing any scaling issues.
The only downside of this display is that it contains a maximum brightness of 300 nits, which is not enough as we have mentioned above that the screen is pretty reflective.
So it can trouble you outdoors, however, the overall impression it provides you is pretty good. In our review, we observed a flickering when the brightness level was 99% or below, whereas in the above brightness settings there was no flickering detected.
Performance Under Power
HP Spectre x360 2 in 1 laptop got powered by an Intel Core i7-1065G7 processor with the combination of 16GB ram and 1TB lightning-fast SSD drive.
It has Intel's Graphics, which will enable you to do light gaming as well as some graphic work. Because of the Ice Lake processor, this laptop can provide you with decent battery life while traveling.
According to HP, Spectre x360 can last almost 22 hours on a single charge, on top of that you can carry it very easily with you.
The price tag for the top of the line variant, however, seems too much, considering the specs.
BUY NOW ON AMAZON
4.

 

Lenovo ThinkPad P52s Mobile Workstation Ultrabook
A Powerful Workstation With Classic Looking Design
Design 
All Lenovo's Thinkpad laptops have a minimal, classic looking design, so do the P52s Mobile Workstation Ultrabook.
Glass fiber reinforced plastic has been used in its rather smooth black colored interior. With the traditional illuminated dot above a steel-colored Thinkpad, the logo has been placed in the top left corner,  Lenovo emblem is in the bottom right corner.
Under the lid, there is an island-style decent looking keyboard, which has a very bright backlight. A thin red-colored line can be shown under the mouse pad buttons.
Display
Lenovo's Thinkpad P52 offers 3840×2160 LED-backlit 15.6 inches display, which shows excellent details and good brightness.
In the color comparison with other workstations honestly, it is just okay. Thinkpad P52,s panel covers 117% of the sRGB color gamut according to the colorimeter, which is below the average of 153 but it is decent enough.
Thinkpad 52 is not far behind the 318 nit workstations average for brightness with 293 nits. In simple words display wise this laptop is decently okay as compared to its rival in the category of workstations. 
Performance Under Workload
Lenovo Thinkpad P52 packs 1.9-GHz Intel Core i7-8650U processor with vPro, 16GB of RAM, 1TB of SSD storage and Nvidia Quadro P500 2GB GPU.
This means you can play HD videos on YouTube with multiple tabs of Google Chrome opened and a high-end game running in the background at the same time.
Graphical performance wise it is not excellent but good, during our tests we have noticed some lacks.
In the Geekbench performance test, Thinkpad P52 was able to score 13,146, which considering a workstation is acceptable.
However, there are other workstations that have performed better scores on the same test. During typical tasks like copying multimedia files of almost 5GB Thinkpad P52 workstation only has only consumed 14 seconds.
With that, it became the only machine that has achieved the workstation average of 506 MBps. In the Handbrake test, the Thinkpad P52 took 18 minutes for transcoding a 4k video of 1080p, again it has crushed the category average of 21 minutes.
It also tops the Excel test with the time of  1:11 against 1:31 average.
BUY NOW ON AMAZON
5.

 Dell XPS 9570
Slim Laptop with Good Specs Purely Meant for Performance 
Design
Despite the fact that Dell has launched XPS 15 9570 with the same old design finally, the webcam has been moved back to its rightful position once again in the top bezel.
Apart from that, the XPS 9750 has continued the same aesthetics as the previous one to two models. Below the keyboard, there is a black carbon fiber palm rest.
The lid, base, and chassis are made out of Aluminum clad. Honestly, this design is really started to look old especially when compared with other laptops that have the same specs and price tag.
The Dell XPS 15 9570 sleek profile and lightweight design are the plus point, you can very easily carry this laptop in your backpack all day long. 14.1 x 9.3 x 0.5-0.7 inches measurements and 4.2-pound weight make XPS 15 one of the slimmer laptops in the notebook segment.
And being slim doesn't mean this laptop lacks ports, on the right side it has a USB 3.0, SD card reader, and a Noble lock slot.
While a port for an AC adapter, Thunderbolt 3.0, HDMI 2.0, and a headphone jack are available on the left side of the laptop.
Display 
Dell XPS 15 9570 offers two display options, a 1080p non-touch screen, and a 4K Ultra HD touch screen.
Both have the same resolution of 1920 x 1080, which can produce sharp details and rich colors. The size of the display is 15.6 inches, which is enough to show the details in videos and gameplays.
In the brightness test Dell XPS 15 averages at 371 nits, which is a bit better than last year's score. The 4K panels of this laptop top the category average with 322 nits but as compared to its rivals it is less illuminated, which is kind of disappointing.
Performance Under Workload
The top of the line Dell XPS 15 9570 comes loaded with an Intel Core i7-8750H processor and 16 gigs of Ram.
You can easily do multitasking on this machine, it can do typical work and some light gaming without showing any issues. On Geekbench 4 XPS 9570 was able to score solid 19,775.
It was able to pair 65,000 and addresses in just 44 seconds during our Excel productivity test, beating the 1:32 category average.
This laptop purely meant performance, it will not let you slow down in any kind of work which you will throw at it.
BUY NOW ON AMAZON
6.

 ASUS VivoBook Pro 17
Portable Design With Capable Hardware at Reasonable Price
Design 
Sheets of brushed aluminum covering can be seen on the palm rest and display lid of Asus Vivobook Pro 14 however, the frame itself is made out of plastic.
The lid and interior of this laptop are very solid because there is virtually no flexibility. Though you could feel where on the side aluminum sheets and plastic cover met without any noticeable inconsistencies and prominent producing edges.
The overly tightened hinges hold the lid of Asus VivoBook Pro 17 pretty stable considering the fact that they are made out of plastic.
Because of that, you can not open the lid of this machine with one hand, it is practically impossible.
Vivo Pro Book 17 certainly is a 17 inches portable laptop, with 20mm thickness and weight of almost 2.1kg.
This laptop beats all of its competitors by offering a working space of 17 inches with a portability of 15 inches.
Asus Vivo Pro Book is very easier to carry, you can take it with you where ever you want conveniently.
It also has one of the best keyboards offering nice and clicky low profile keys and discreet LED illumination.
Display
With the resolution of 1920 x 1080, Asus Vivobook Pro 17 shows very natural quality on the display. Brightness, color rendition or sharpness, on the other hand, is not great but reasonable.
However, the difference became considerably noticeable when you switch back from the higher resolution screen.
Asus Vivobook Pro 17 lacks a considerable amount of brightness from the bottom, top, and sides. So the off-angle performance is not very good.
Although colors are pretty stable, in our review we didn't notice any unsightly color shift.
Performance Under Workload
VivoBook Pro 17 is a great daily driver loaded with a well-rounded selection of capable hardware. This laptop performs great across multimedia, you can do any typical work and light gaming without facing any problem.
In the PCMark 10 test Asus Vivobook 17 Pro was able to score a respectable 7,785 because of the powerful graphics card and intelligent processor.
Gaming performance was reasonable on slightly older triple-A games. Despite the fact that Vivo 17 Pro comes equipped with a powerful GPU, its 1080p display struggles to push pixels on the screen.
BUY NOW ON AMAZON
7.

 Prostar NH58RDQ
Cheapest Gaming Machine Available with Good Specs
Design 
As compared to most of the high-end gaming laptops, Prostar Clevo NH58RDQ design considerably less Appealing.
Prostar has a pretty modest design though gaming laptops usually come with an aggressive design and bright colored details.
On the other hand, this simple design of Prostar NH58RDQ can be an advantage if you want to use the laptop for work purposes as well.
Don't get fooled by its corporate looks, this Laptop is as powerful as any other gaming machine from a well-known brand. It offers some really amazing specs under the hood.
Display 
You can get Prostar NH58RDQ with different screen sizes from 13 inches to 17 inches with full HD resolution, according to the official website.
The display is quite good, It shows even the minor details of an HD video or any triple-A game.
Performance Under Workload
For people who wanted to buy a budget gaming laptop, Prostar NH58RDQ is the best option.
This laptop is the best value for money gaming machine available with an Intel Core i-7700HQ processor. You will also get NVidia GTX 1050 GPU to run all the high graphics games you want.
This GPU is the part of Nvidia 10 Series, it provides up to the notch performance on most of the latest games.
Though the 8GB DDR4 ram is certainly not enough for the best performance, at least 16GB should have been offered. Apart from that gaming performance-wise this Laptop is fine. 
BUY NOW ON AMAZON
8.

 ASUS ROG Strix Scar 
Design
Asus Rog Strix Scar Gaming Laptop has a typical notebook looks but with aggressive and unique looking design.
The best thing about this laptop is that it has been designed especially for FPS games. According to the Company, the slashes carved across the lid and on the right palm rest of the keyboard imitate the trajectory of a bullet.
The area around the keyboard boasts a woven Kevlar design with a gunmetal grey finish of its lid, giving you the impression of an assault rifle.
There is no other gaming laptop available with this much attention to detail. On top of that, for a more immersive gaming experience, you can even personalize the keyboard backlight according to your taste.
There is only one issue with that woven Kevlar design that it is very glossy. This means there will be a lot of fingerprint marks after every game session, which honestly looks pretty bad.
It seems like the trackpad is made out of really cheap materials, you have to press it hard even in scrolling.
This Rog Strix Scar weighs only 2.6kg, you can take it with you in your backpack while traveling easily.
Display
Rog Strix Scar offers 1080p, IPS display powered by the Nvidia GeForce GTX 1070 with a 144Hz refresh rate for smoother gameplay.
There is no lagging during the intensive gameplays of FPS games, which is amazing for a machine that is not a PC.
Gaming on this fast screen with GSync enabled is an experience that cannot be defined in words. With above-average brightness, colors and contrast this laptop in only fast, it is overall pretty good.
However, for professional work there are some better options then Asus Rog Strix Scar.
Performance Under Workload
To make gaming experience good Asus has included a three-way cooling system in the Rog Strix Scar Gaming laptop.
With three fans throwing air this machine hardly gets to the very hot temperatures. As we have mentioned that this Laptop has been specially designed for gaming in mind especially FPS games.
So obviously you can play any latest heavy graphics games on this laptop without worrying about lag.
Three fans auto-detects that how much load is on CPU and GPU to adjust their speed accordingly.
BUY NOW ON AMAZON
9.

 Sager NP7856
One of the Best Gaming Machine in Lower Price Tag
Design
The Sager NP7856 a clean minimalist lid design includes strategically beveled edges with black, brushed metal finish to the exterior.
Despite the simple design, it features an unmistakably gamer aesthetic. There are some other brands that use brushed metal as well, but those models became very glossier.
Whereas the NP7856's finish is much better, so you don't have to worry about fingerprints and smudges. keeping the surface clean is much easier for this laptop.
At last the Clevo-based chassis company has moved its logo in the center.
Display
With excellent viewing angles the Sager NP7856 offers a 1920×1080 Full HD IPS matte display, this display also has G-Sync.
With its HDMI port and two mini display ports, the NP7856 can support three additional displays.
This display, by the way, is not the best in the market, but it does it's pretty decently while gaming.
Color seems to pop up on the screen and you can see even the minute detail around. The same goes for HD Videos, the only disappointing thing is the brightness level, which remains pretty dim even on the maximum.
Performance Under Workload 
The Sager NP7856 comes loaded with an Intel Core i7-7700HQ processor with 6GB Nvidia GeForce GTX 1060, 256GB M.2 SSD and 16GB of DDR4 2400Hz memory.
Around this price range 1TB, 7200RPM HDD comes standard on all laptops. Unfortunately in Sager NP7856, this configuration doesn't come.
You only get 256GB, there will be storage issues pretty quickly if you're the type of gamer who has your entire Steam library installed.
In that case, you have to upgrade the storage instantly after buying a new gaming laptop.
The performance of Sager NP7856 on gaming is outstanding but for professional work, this machine is not that good.
So id your only requirement is playing games then this laptop is one of the best gaming machines you can get.
The cooling system also works great by balancing the temperatures on the cooler side however these fans are pretty noisy.
It is a fact that Sager NP7856 is not very attractive like some other gaming laptops of this price tag but performance-wise it is a very good option.
The price seems very reasonable as compared to the specs too.
BUY NOW ON AMAZON
10.

 LG gram Thin and Light Laptop
Most Thin & Lightweight Laptop with 17 inches Screen
Design
The LG Gram 17 is a pretty unique laptop, it is one of the bigger screen laptops but at amazingly lightweight and thin.
That seems like to opposite things but LG somehow has figured out the trick. With its appearance, it looks like a very heavy machine but you pick it up, its lack of density makes you say wow. However, there are also some downsides to this ultra-thin design.
The center of the lid has a lot of flex especially you press on the center of the lid. Which durability wise not a very good sign.
The carbon and magnesium chassis feels cheap to the touch even though it might be sturdier than plastic.
The medium-gray color scheme is just drab. LG Gram 17 is one of the beautiful-looking laptops but build wise there are a lot of flaws.
If you drop this thing to a hard floor which considering its size seems possible. Then there is a 99% chance that your purchase will be wasted.
Whereas there are other laptops with the same screen size but more durable and stronger than LG Gram 17.
Display 
LG Gram 17 is a 17-inches laptop inside a 15-inch laptop frame, so the stress level is already high. It is 15 inches wide and 10.5 inches long. in each dimension, the LG Gram 17 footprint is about an inch larger than a 15 inches MacBook.
It offers a 17-inch IPS display with 2560 x 1600 resolution. The screen has considerably thinner bezels except the bottom one is pretty thicker.
Honestly display this laptop is in the middle of good and average, though in HD videos you can watch details on the screen.
Performance Under Workload
LG Gram 17 comes with a massive 72Wh battery, which provides it a good runtime.
It looks pretty satisfying when you don't have the charger while working and the Windows estimates over 9 hours of battery life.
We don't know if the battery timing company is claiming is true or not but one thing is sure this laptop can easily run a whole on a single charge.
Do keep in mind that these battery figures also depend on the work which you are doing, so they fluctuate according to the load machine is consuming. 
BUY NOW ON AMAZON
Some More Intel Core i7 11th Gen Laptops
Last update on 2023-09-12 / Affiliate links / Images from Amazon Product Advertising API