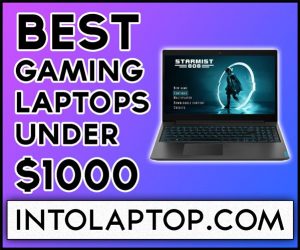 Want the Best Gaming Laptops under 1000 dollars? $1000 is a pretty decent budget to buy a gaming laptop because you will not need to compromise a lot of features and components.
Gaming laptops not only provide great performance but can also help you to transform them into an office work laptop which will enable you to work on the go or a laptop that can do both work and gaming.
Under this budget, you can find a lot of options to be considered according to your needs, work requirements, or personal preference.
But only if you know the capability and limitations of the components of the gaming laptop. IntoLaptop has crafted a Laptop Buying Guide to make you aware of the technical aspects of gaming laptops before you finalize the best gaming laptop for yourself.
Also Read: Best Gaming Laptop Under $1500 Budget
Best Gaming Laptops under 1000 US Dollars
That is why below we have listed and reviewed in detail the top 10 best gaming laptops under 1000 US dollars price tag.
We ran industrial-level benchmarks and real-world tests to confirm whether a laptop is worth spending your money on.
Also to measure processing power and battery life we perform custom testing if a device performs at least decent in all those scenarios only then we include it in our top 10 list.
Because nobody likes to deal with problems and under-power performance after getting a new laptop.
Also Read: Best Gaming Laptop under 800
1.

Acer Predator Helios 300
"Best Gaming Laptop Under $1000"
Design
There are a lot of gamers who either don't have a very big budget to buy a premium gaming laptop or they just don't want to spend too much money on these machines. There is a misconception that powerful gaming laptops always have a higher price tag.
Since this is not simply the case with Acer Predator Helios 300 gaming laptop. It is a comparatively sleek gaming machine with a trademark design of the predator series. It's red and black colored theme gives it a rather aggressive kind of look.
This time Acer has decided to leave the fancy lighting around the touchpad area, we have noticed that the red-colored area around it does not illuminate when you start the machine. Basically, the built material used for Acer Predator Helios 300 is mainly plastic except the chassis which is made out of aluminum. 
The black surface of this beautiful machine looks classy but it can be covered in fingerprints even if you only lift it to have a closer look. Overall the build quality is great, Helios 300 seems to be a pretty solid and strong gaming laptop.  
Display 
Acer Predator Helios 300 laptop offers Full HD 1920 x 1080 IPS 15.6 Inches display with a refresh rate of 144Hz, the 4K screen has not been offered by the company for this model yet.
A good average brightness of 373 cd / m2 was achieved by this matte panel, only the screen of the Gigabyte P57X is brighter at 408 cd / m2. Nonetheless, on a completely black screen, a little clouding is visible.
That was most visible in the corners in our case. For the regulation of brightness, we also noticed some PWM-flickering but it should not be a problem even for sensitive users since the 119,000 Hz frequency is very high.
Despite the small shortcomings, the picture quality is indeed good. During our tests, we have found out that the values were a bit too high as DeltaE 2000 results showed, it seems like Acer didn't calibrate the panel before shipping the machine.
After calibration, we measured considerably lower color space deviation from the sRGB color space. However while gaming this display is good enough to show details and sharpness better than any machine under this budget. 
Performance Under Workload 
The Acer Predator Helios 300 that we have tested comes loaded with a very fast Intel Core i7-8750H which in combination with the Nvidia GeForce GTX 1060 ensures top-notch gaming performance.
The Helios 300 is also available with an Nvidia GeForce GTX 1050 Ti and an Intel Core i5-7300HQ if you are looking for a slightly cheaper option of the same model. In terms of performance, the GeForce GTX 1050 Ti is about one-third below the Nvidia GeForce GTX 1060 and needs a reduction in the specifics to ensure smooth play.
We'd suggest using a GeForce GTX 1060 variant if you're buying this computer mainly with gaming in mind. One of the benefits of getting an Acer Predator Helios 300 gaming laptop is that you can upgrade it pretty easily as compared to other similar gaming machines under the same price tag.
Compared to other components RAM and storage devices can be easily extended. The DDR4 RAM 16 GB is fine as a standard configuration but you can expand it to 32 GB if you want. The 512-GB M.2 SSD storage in our test unit can be expanded with an additional 2.5 inches SSD or HDD.
BUY NOW ON AMAZON
2.

MSI GF63 Thin 9SC-066
"Fast Gaming Performance & Powerful Specs"
Design
The first-ever thing we have noticed after taking the MSI GH63 Thin 9SC-066  gaming laptop out of the box is that you will need a microfiber cloth with you everywhere if you are planning to buy this machine.
The reason for that is its shinny surface easily takes fingerprints and smudges even if you only touch it. We only take it out and placed it on the table and in the meanwhile, its plastic lid and deck were covered in fingerprints all over them.
Apart from that MSI GF63 Thin gaming laptop's fairy red logo on the back of the lid and stealthy black brushed aluminum finish looks pretty impressive. On the deck, these same aesthetics continues with a red-colored trim around each key of the black keyboard which made this laptop look even more attractive.
Despite the fact that this gaming machine lacks the RGB lights that is a bummer for the gamers who really like the colorful lightning around them while gaming.  The weight of MSI GF63 Thin gaming laptop is 4.5 pounds and its body dimensions are 14.1 x 10 x 0.85 Inches.
Display 
It would have been much better if the display of MSI GF6 thin gaming laptop was slightly brighter and colorful. Although the GF63 display is detailed at 15.6-Inches and 1080p Full HD Display.
During our tests, we played some HD movies and unfortunately, this panel suffers from a lack of contrast issue. Colors were not vivid enough as we have expected and in dark scenes, details were hard to make out.
On top of that as we have mentioned the display of MSI GF6 thin gaming laptop is dim, so using it outdoors or under the sunlight can trouble you. We tested out the gameplay of tomb raider and as expected the rather dim screen and lack of contrast made it hard for us as our character walked around a dark forest searching for supplies to identify items.
On a positive note thanks to the detailed picture of the MSI GF63, we could still enjoy the beautiful landscape at one of the most beautiful games of the year. However, the screen of the MSI GF63 unfortunately only occupies 73 percent of the gamut of sRGB colors. 
Performance Under Workload 
In terms of power, the MSI GF63 thin gaming laptop comes well equipped. An Intel Core i7-9750H CPU and 16 GB of RAM are the sources of its excellent performance.
Once we loaded 25 Microsoft Edge browser tabs, four of which played 1080p YouTube videos while two watched HD Twitch streams, the MSI GF63 didn't break a sweat thanks to those high-end components.
The MSI GF63 thin gaming laptop matched 65,000 names with their corresponding addresses in just 41 seconds during our Excel macro test, with that it had become one of the fastest performing machines we have eve tested out.
One of the main reasons for the top-notch performance of the MSI GF63 thing gaming laptop is that it offers a 512GB NVMe SSD. Duplicating 4.97 GB of mixed media files at a rate of 318 megabytes per second took the GF63 just 16 seconds.
This is impressive considering its price tag because of the fact that even some higher-priced laptops fail to provide users this much power with similar components. 
BUY NOW ON AMAZON
3.

LG Gram Laptop
"The Most Lightweight & Portable Laptop"
Design
LG gram Laptop color scheme may mother some of you since it is a very dull kind of gray and the exterior is very simple and plain. The only thing which will capture your attention is the LG monogram at the center of the lid.
Although the chassis of the LG gram Laptop is made out of metal alloy which consists of nanocarbon and magnesium. The build quality doesn't seem satisfactory because if you put slight pressure on the lid, it bent in a way that nobody will like.
On top of that, the hinges which connect the lid with the deck fail to provide the required resistance to it. As a result even with slight movement or touch the display wobbles and to be honest that pretty annoying especially when you are in the middle work.
Now on the positive side, this laptop is almost Bezel-less, due to that the content on the display looks great and pops up. Another good thing is that despite the extremely thin bezels LG has still managed to put a webcam in the top one.
LG gram laptop is the lightest and thinnest 15.6 Inches laptop among its rival with the weight of just 2.2 pounds and body dimensions of 12.7 x 8.3 x 0.6 Inches.
Display 
The 15.6 Inches Full HD 1920 x 1080 IPS display of LG Gram Laptop is pretty colorful and bright, the panel is glossy but it does reflect too much glare.
The LG Gram's panel covered a good 128 percent of the sRGB color gamut according to our colorimeter, with that this display gets lead over the 112 percent premium laptop average and 111 percent over the Spectre 13.
The LG Gram just climbed over the 305-nit average at 307 nits of brightness and crushed the Spectre 13's 247 nits average once more. In fact, this display is one of the best we have reviewed ever, the gameplays look amazing and it shows you even minimal details in HD video and movies. 
LG gram is displayed wise the best laptop you can get under the budget of $1000. It is even better than some expensive machines which include a dim and dull display. 
Performance Under Workload
From handling more than 30 tabs in Google Chrome to blasting Queen in Overwatch while stomping on a few fools, the LG Gram can handle all your needs.
If you want a laptop that can be used for both work and gaming with portability at the same time then you can not find any better option for the LG gram thin and lightweight laptop.
This is all possible thanks to the 1.6 GHz Intel Core i5 8250U CPU, 8 GB RAM, 256 GB SSD storage and an Intel UHD 620 graphics card of the LG Gram. The LG Gram scored a respectable 10,549 on the Geekbench 4 overall performance test, just below the premium-laptop average of 10,791.
Yet with the same processor, the MateBook X Pro 12,913, Spectre 13 13,388, and XPS 13 14,180 all did much better. And also there build quality is much better than the LG gram Laptop but at the same time, they are more expensive as well.
BUY NOW ON AMAZON
4.

Dell G5 5587
"Attractive Design & Solid Build Quality"
Design
Design and lookwise the Dell G5 5587 is exactly the same as the Inspiron 15 7000, it seems like instead of a new one Dell wanted to bring back the there already tried and trusted design.
This means that you will get all the advantages and disadvantages of this design with the G5 5587 gaming notebook as well. Though most of the disadvantages are related to the display and they are very minimal.
Fingerprints on the smooth surfaces easily become apparent, and the front edges are quite sharp. That's the full extent of our complaints, however. Of course, the design is a matter of taste and probably not everyone will be pleased with it.
On the other hand, it's also what separates the Dell G5 15 from the hordes of budget gaming notebooks. The laptop can be ordered in color black or red (Beijing Red). Keep one thing clear in mind that with a weight of 2.85 Kg this gaming machine is on the heavier side and its dimensions are 38.9 x 27.47.
Display 
Dell G5 15 5587 LG display is identical to that of the Dell Inspiron 15 7000. The IPS panel offers 1920×1080 pixels with a diagonal of 15.5 inches which correspond to a pixel density of 141 PPI.
Dell also sells the G5 15 with a 4 K display, as an alternative to the Full HD screen. Unfortunately, our test unit display has only 224 cd / m2 of low display brightness. The Acer Nitro 5 Spin offers by far the brightest display in our comparison, with an average of 332 cd / m2.
As the black value at 0.28 is not especially high the reason the contrast ratio of 818:1 suffers from the too-low brightness.
Whereas the distribution of brightness is strong in our test unit, and we did not notice any shadings given our measurement of 87 percent. However, with a completely black image, the display has some slight problems, wherein the bottom left corner some clouding can be seen.
Performance Under Workload
Dell has equipped the G5 15 gaming laptop with the Intel Core i7-8750H that is a solid and fast quad-core CPU, which together with the Nvidia GTX 1050Ti makes sure that you will get good frame rates.
According to the benchmarks we tested the Dell G5 15 5587 laptops prove itself a worthy powerful gaming machine. The smooth running of this system gets possible because of the combination of SSD and HDD.
While there would undoubtedly be some concerns about the RAM, the test shows that the 8 GB DDR4-RAM is adequate for the moment. The notebook ran fast during our test period and without any stutters.
The Dell G5 15 5587 offers a 256 GB SSD for storage, as well as a conventional 1 TB hard drive. Unfortunately, SK Hynix's SSD only runs at SATA speeds, compared to devices equipped with fast PCIe SSD's which is a clear drawback.
BUY NOW ON AMAZON
5.

OMEN by HP 15.6
"Great Stylish Yet Powerful Gaming Machine Under Affordable Price"
Design
Despite the many similarities, the case has been redesigned quite a bit with its predecessor. The display bezels were significantly reduced and the overall footprint was reduced to only 14 x 10.4 x 10.9 inches.
The majority of available ports have been moved to the device's rear, and the new model features two distinct separate hinges instead of a single hinge. The revamped keyboard was what impressed us most.
The designers have not only changed the layout and configurable zones somewhat to update the formerly uniform red backlight but also HP has removed the hard to read red lettering and replace it with conventional white letters.
The overall construction quality and rigidity of the structure are considered good but the lid is flexible, that is a common issue with many notebooks nowadays. 
Display 
The 15.6-inch Omen Display runs at a 1920×1080 native resolution, it has a quite decent contrast ratio of 1,476:1, whereas maximum brightness level, is anything but 231.7 nits.
However, even dimmer was the battery indicator on the HP Omen 15 which capped out a maximum of 216 nits. It would have been great if it offers the brightness level of at least 300 nits as some of its rivals offers under the same price tag. From the box, we observed a 6.2 color deviation of DeltaE 2000.
You want less than 3 of this, Ideally. We also have observed a very small bleu tint too on the display f Omen 15. We were able to improve both characteristics by calibration and not only succeeded in improving the grayscale balance ut also lowering DeltaE to 4.8 and eliminating all but the blue tint.
Performance Under Workload
HP's Omen 15 can easily run all of the current games on its internal display since it is a pretty powerful 15.6 Inches gaming notebook. For everyday use he HP Omen is certainly more than powerful enough because of its powerful CPU, a solid mid-range GPU that enables it to run all current games on its internal display smoothly and a fast NVMe SSD.
Unsurprisingly, the results of its PC Mark benchmark have also been decent. By adding a second RAM module, a slight boost may be possible, allowing for dual-channel mode.
The Omen 15 by default, comes with a single-channel RAM mode configuration, single memory module. On the Omen 15, the particular combination of CPU and GPU has been able to run all games smoothly in our database, most commonly with medium to high details and in FHD resolution. 
BUY NOW ON AMAZON
6.

Asus ZenBook 14
"Ultra Slim Nano Edge Bezel FHD Display"
Design
Thanks to the angled rear lid and narrow bezels along the bottom of the screen, the Asus ZenBook 14 gaming laptop design is visually striking and distinct as compared to other Ultrabooks.
Unlike on the XPS 13, the screen is small on all four sides without having to change the webcam location. Asus claims a very high screen to body ratio of 92 percent, compared to Dell's only 80.7 percent.
Though factually the angled rear lid is not new since on the older HP Pavilion 15 Power In fairness, however, the angled rear lid is not new as it can also be found on the older HP Pavilion 15 Power it can be seen as well. In addition, Asus succeeded in making the bottom bezel look smaller than it is by covering a large portion of it when the lid is opened behind the base.
It's a smart strategy because when the lid is opened users see a bottom bezel that is only 3.3 mm thick.
Display 
In order to run a native Full HD resolution of 1920 x 1080 as its siblings, the Asus ZenBook 14 offers a glossy 14 inches IPS display. The maximum level of average brightness which we were able to achieve during our review was about 285.1 cd / m2, which is on par as compared to the other models of this same series.
The Asus ZenBook 14 offers a slightly brighter display if you compare it with the other model UX433FN of the ZenBook series, though both of the devices are equipped with the same panels by ASUS.
If we talk about the contrast ratio our review unit was able to achieve an average of 1,435:1 and 0.23 cd / m2 of black value, which is as great since the values in the same tests were produced by our comparative devices.
In short, the brightness level of the display of Asus ZenBook 14 is far better than many other similar laptops and it shows enough details during gaming however, the colors should have been more vibrant. 
Performance Under Workload 
Nevertheless, The Asus ZenBook 14 gaming laptop provides solid overall system performance with the combination of NVMe SSD, a crippled Core i7 CPU, and dual-channel RAM. During our tests, we experienced no issues and for all office and internet-based applications, we threw at it our analysis unit provides more than enough processing power.
Despite its hamstrung CPU performance, its dedicated GPU also helps it achieve comparably good results in the PCMark benchmark. Under continuous load, the Asus ZenBook 14 gaming laptop does get very noisy but usually runs quietly in general tasks such as web browsing or word processing.
During our stress test, which is on par with many other modern compact laptops, the fan occasionally reached a maximum of 30.7 dB(A) when idle, and 39.3 dB(A) under load. So for gaming in budget purpose, the Asus Zenbook 14 is without a doubt great option with enough power to run modern triple-A games smoothly. 
BUY NOW ON AMAZON
7.

Dell G5 15
"Great Gaming Performance with Excellent Bright Display" 
Design
To give the G5 15 a sleeker, more modern look Dell has decided to bring back the previous model's gamer aesthetic. The plastic lid we praised on the last Gen G7 15 has been replaced with the black and red color scheme in the 2019 version whereas the special edition we reviewed includes the same Arctic White lid.
You will find a deep Space Black finish on the non-special edition machine. The white lid of our unit gives the laptop a certain allure that is missing in the black and red laptops overcrowded group at the same time it looks more eye-catching.
Depending on how the light strikes a matching blue keyboard font, touchpad trim and the Dell logo centered on the lid shifts from indigo to chartreuse There is also a silver hinge on the lid, with a G5 logo embossed. Also,  the fan intakes look aggressive like a gaming machine in its color scheme.
Display  
The 15.6-inch, 1080p display of the latest G5 15 SE is sharp, vibrant and relatively light, which happens to be a huge improvement over the disappointing screen of the previous model.
Although Dell also offers a 144-Hz screen that will sharpen the appearance of quick-moving objects, our review unit came equipped with the regular 60-Hz screen. The screen is also quite light, up to 270 nits, which is about the average of 271 nits for standard gaming laptops.
The G5 15 display panel is nearly three times more vibrant than last year's model display because it occupies 154 percent of the sRGB color gamut. A rich neon blue glowed with the blue ChemLight hanging off Lara Croft's belt loop, illuminating a dark cave with a sedate aura When we tested out Rise of the Tomb Raider on this rig.
Performance Under Workload
The Dell G5 15 has enough power to run anything but the most demanding tasks, it comes loaded with an Intel Core i7-8750H CPU and 16 GB of RAM. For a day we replaced our work machine with the G5 15 even when we streamed the Overwatch game and the World Cup group stage match simultaneously, it didn't run into any performance hiccups.
There was no lag either when during playing four 10 hours, we loaded 20 Google Chrome web pages. If you happen to be a videographer, photographer who often transfers large files, then do not even think of getting this machine.
The reason being though is that G5 15 at a misleading pace of 130.1 megabytes per second took 39 seconds to complete our file transfer test of duplicating 4.97 GB of mixed-media files. That's because despite having a 256 GB M.2 PCIe NVMe SSD it also contains a slow 1 TB 5,400-rpm HDD. 
BUY NOW ON AMAZON
8.

MSI GV62 8RD-276
"Sleek & Stylish Power Packed Gaming Laptop"
Design
While MSI's GV62 offers a minimal exterior that looks pretty beautiful, it is not as flashy as other gaming notebooks. We do have some questions about the build quality of this laptop, however.
The plastic, black colored chassis with IMR paint is soft to the touch and elegantly hair-brushed. On top just below where the curves meet to form a stylish arrow, shines a black, engraved MSI logo.
The shiny dragon shield from MSI is protruding from the case below that. We spotted trendy red highlights all along with the vent grill as we made our way down to the hinge. Unfortunately, when the lid is open, the bottom portion of the lid flexes, if you even apply slight pressure.
Despite being a high pried machine one of the trade-offs should not be that flexing lid. With bold red and black paint and red LED lights on the GV62, the keyboard is quite traditional.
Display 
The 15.6-inch MSI GV62's, 1920 x 1080, matt IPS screen provides fairly broad viewing angles and it is decently bright. but this panel is simply not very colorful. The panel of the GV62 recorded only 72 percent of the sRGB color gamut on our laboratory tests, well below the average of 102 percent in the group.
The MSI was edged out by the Lenovo Legion Y720, with 73 percent whereas Acer Predator Helios scored a much higher 81 percent when compared. With just 68 percent, the HP Pavilion Power 15 t did even worse. 
The MSI GV62 was not too far behind the average category of 260-nit at 240 nits of brightness. The overall performance of this display on gaming is pretty impressive even better than some of the premium devices. In fact, this display shows you even minute details from every angle even under the dark backgrounds. 
Performance Under Workload
Shadow of War ran silky smoothly with the MSI GV62, while with 30 Google Chrome tabs open in the background and Childish Gambino's This Is America running at the same time. The MSI GV62 seems like quite the steal at $1,049 between its powerful 8th Gen Intel Core processor and its fairly powerful Nvidia GTX 1050 ti graphics.
The sleek construction, outstanding keyboard support and powerful speakers makes it a great option under the budget of $1000. Yet the experience is marred by the flexing lid, painfully loud fan and slender show.
There is no such thing as a perfect gaming laptop that exists since you have to compromise on something at the end. If you want an excellent performing laptop then consider MSI GV62 a great option. 
BUY NOW ON AMAZON
9.

Lenovo IdeaPad L340
"Powerful GPU & Full HD 1080p Gaming"
Design 
The Lenovo IdeaPad L340 Gaming laptop body is totally made out of plastic which is finished with a smooth surface and simulates the polished material feel. The edges are smooth and even and there is excellent workmanship.
The base weight lets you open the lid with one hand. The display is enclosed by narrow bezels In comparison and the opening angle of the panel is 180.° The only problem is that IdeaPad L340 catches fingerprints and smudges very easily all over it even if you just lift it in your hands to have a closer look. 
The IdeaPad L340-15IRH Gaming is one of the lightest gaming machines in our test area, with a weight of only 2.1 kg. However, the dimensions rather equate to a medium size, whereby the Lenovo laptop finds its position between the Asus ROG Zephyrus G GA502DU and HP Omen 15.
Display 
The IdeaPad L340 Gaming screen consists of a 15.6-inch IPS panel which provides 1920×1080 pixel Full HD resolution. In the midfield of our chosen comparison devices, the brightness lies average at 253 cd / m2.
The same goes for 83 percent brightness distribution. According to our measurements, the Lenovo laptop display only starts to flicker at a brightness value below 20 percent with a 25,910Hz very high frequency.
Buyers can also order the IdeaPad L340-15IRH Gaming with a TN panel beside the panel which is used here. It also sports a resolution of 1920×1080 pixels and a brightness of 220 cd / m2, according to the datasheet.
Our measurements show that the L340 has a very good 1528:1 contrast ratio, and also a very good 0.18 d / m2 black color ratio. Hence colors look well apart from each other, and deep and rich black tones. With these values, the Lenovo gaming laptop will lead our test area. 
Performance Under Workload 
The performance tests on the device show completely different results. The Lenovo IdeaPad L340-15IRH Gaming, in the PCMark 8 and 10 benchmarks, in our test area only manages to occupy one of the lower positions.
A slight outlier has been shown by the single value of PCMark 10 "Digital Content Development, here the Ideapad L340 able to capture the third position. The IdeaPad L340 achieves surface temperatures on idle use of up to 27.9 °C according to our measurements and a maximum load temperature of 58.1°C.
Under the power connector at the bottom on the rear left is the warmest point observed during out tests. The case feels very warm at nearly 60 ° C (~140 ° F) and the laptop, for example, can no longer be easily used on the lap. This means you will not have suffered the overheating issue if you are planning to buy this gaming machine.
BUY NOW ON AMAZON
10.

ASUS TUF
"Solid Gaming Performance & Excellent Display"
Design
There is good news that at last Asus has finally changed the TUF Gaming FX504 last year's ugly red lighting bolts that sparkled from the corners.
Despite their absence, the only bit of flair on the lid are indents that run from each corner down to the middle of the cover. An Asus chrome logo embellishes the smooth, gray metal surface of the cover.
Opening the laptop on the bottom-right corner reveals a black plastic deck with a TUF Gaming logo. The outer edges seem like they are clashing with a vertical pattern whereas horizontal brushed texture coats the center of the deck. A TUF Gaming logo and a power button in parallelogram form are on the deck as well.
Display 
For smooth, blur-free gameplay the TUF Gaming FX705's 1080p expansive display produces a rich, detailed picture, and a 144-Hz refresh rate. The display of the FX705 covers 123 percent of the gamut of sRGB colors.
To be honest this display of the Asus TUF gaming laptop is one of the most gorgeous especially for a gaming laptop that we have ever reviewed. The flora and fauna in the dangerous Peruvian jungle looked nearly lifelike with graphics set to Ultra in the shadow of the tomb raider gameplay. we could see individual leaves of trees hanging high above us and the plants were a rich, bold green.
Performance Under Workload
Our TUF Gaming RX705 review unit tackled everything I threw at it with an AMD Ryzen 7 R7-3750H CPU and a whopping 16 GB RAM. Even after I loaded 20 Google Chrome tabs, four of which were playing 1080p videos, two on YouTube and another pair streaming Apex Legends on Twitch, the laptop didn't stutter once during everyday use.
The graphics performance and smooth gameplay of shadow of the tomb raider blew us away with its smooth gameplay. For anyone wanting a big, midrange gaming laptop, the TUF Gaming FX705 is a great choice. The 17.3-inch, 144-Hz display of the FX705 is vibrant and sharp, and its CPU and GPU combined offer excellent all-around gaming performance.
BUY NOW ON AMAZON
Last update on 2023-11-27 / Affiliate links / Images from Amazon Product Advertising API