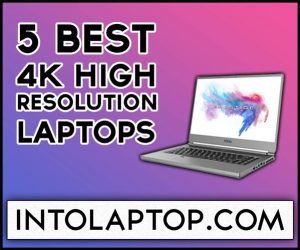 4K high-resolution laptops will stun you with there beautiful picture quality, resolution, and crisp colors. If you want to play games, watch videos or movies, design graphics and video content at 4K resolution that is  3840 x 2160 pixels or 4096 x 2160 pixels, then 4K High-Resolution Laptops are the best choice.
4K resolution is four times the pixel resolution, or twice the line resolution (2160p), of 1080p (1920 x 1080 pixels). The other high definition resolutions in use are 720p and 1080i.
Also, you can experience a whole new level of gaming with gaming laptops that offer 4k resolution screens. In the current market, you can find 4K laptops in almost every segment such as gaming laptops, 2 in 1 convertible laptop, and even in mobile workstations.
Also Read: 5 Best Laptops for Watching Videos & Movies
Best 4K Laptops in 2021
You should go for a 4K high-resolution laptop especially if you want to do video or photo editing related work. However, if you want to buy a 4K high-resolution laptop then keep one thing clear in your mind that you will need to compromise battery timing.
Since these laptops do not offer very good battery timing. Do check out intolaptop.com for even more options according to your needs, now let's jump into the post.
1.

 Asus ZenBook Pro Duo UX581
"The Best 4K High Resolution Laptop"
Asus ZenBook Pro Duo UX581 15.6" 4K UHD NanoEdge Bezel...
Display: 15.6″ 4K UHD NanoEdge, 14″ 4K Matte Touchscreen
Processor: Intel Core i9-9980HK, Quad Core, 5.0 Ghz
Graphics Card: NVIDIA GeForce RTX 2060, 6GB GDDR5
RAM & Storage: 32GB DDR4, 1TB PCIe NVMe SSD
Operating System: Windows 10
Pros
Dual 4K Display 
Over All Great Performance 
Runs Cool While Gaming
Fast SSD
Cons
Short Battery Life 
Heavy & Chunky 
Design-wise the Asus ZenBook Pro Duo is no different as compared to the ZenBook series laptops since they are all aluminum. The smooth surfaces, spun-metal outer lid finish, and the iconic Celestial Blue color brings you a familiar feel and look.
When applying moderate pressure on the keyboard keys the base is even stronger with no creaking and only minor depressions and the lid, in particular, is firmer than expected with almost no twisting.
This laptop happens to be the most well made in its family for such a heavy ZenBook. However, the weight and thickness is an easily noticeable drawback on the UX581.
The system, while being nearly as thick as Asus own Strix III G531 gaming laptop, is 500 g heavier than the latest XPS 15 7590. 
The main screen is a glossy 4K UHD OLED display which is manufactured by Samsung. While the exact name of the panel can not be identified by HWiNFO, to indicate a very similar visual experience between these enthusiastic laptops the SDCA029 controller is the same as the one used on the Dell XPS 15 OLED, Razer Blade 15 OLED and Eurocom Nightsky RX15 OLED.
It seems like Asus clearly aims to the ZenBook Pro Duo UX581 enthusiasts. Secondary ScreenPad Plus touchscreen, GeForce RTX 2060 GPU, and the main 4K UHD OLED touch screen are all set across each SKU.
ASUS provides the user's choice to go for the hexacore, Core i7-9750H or the unlocked octa-core Core i9-9980HK with 16 GB to 32 GB of soldered DDR4-2666 RAM.
BUY NOW ON AMAZON
2.

 HP – Spectre x360 2 in 1
Stunning & Beautiful Laptop with 360 Degree Turning Radius
Sale
Pros
Stunning Design & Looks
Amazing Display
Good Specs
Long Battery Life
The HP Spectre series always got admired by the consumers since it just simply looks gorgeous and beautiful but with HP – Spectre x360 2 in 1 laptop now you will get a 4K Ultra HD display that enhances its productivity.
This laptop is unbelievably slim and lightweight since the screen to body ratio is 90 percent. This laptop is one of the best options with 4K display if you always watch TV shows and movies apart from working.
Brightness wise this laptop's display is slightly on the less brightness side but still, it is one of the best screens you can get under this price range.
On top of that HP – Spectre x360 2 in 1 laptop also offers great overall performance and excellent keyboard among all other similar systems. 
BUY NOW ON AMAZON
3.

Dell XPS 15 9570
"Work Machine With Long Battery Life"
Pros
Great Graphics 
Excellent performance 
Runs Cool Under Load
Long Battery Life 
Cons
Webcam position is Awkward 
Dated Design 
As we have mentioned above that design-wise all the laptops from the Dell XPS series look pretty identical, however, the real difference is between specs they offer you.
Like this Dell XPS 15-9570 laptop offers you a 4K Ultra HD display with a powerful processor and a dedicated graphics unit. This means you can enjoy crisp picture quality while doing intensive work, watching movies, or playing graphics-intensive games.
This display also supports touch, which becomes a handy feature for doing designing related work. Dell XPS 15 9570 laptop's 4K display shows you amazing details and vivid colors as well as stunning performance.
No matter for which purpose you want to buy this laptop, it will not disappoint you in any way. 
BUY NOW ON AMAZON
4.

MSI P65 Creator-1084
"Full-Fledged Gaming Beast & Video Editing Workstation in Reasonable Price" 
Pros
Solid Performance
Can be Used for Gaming
Portable Design
Built for Intensive Work 
Cons
Speakers are Average 
Starting Price is High 
This MSI P65 Creator-1084 laptop does not only comes loaded with hardcore specs and powerful performance, but it also offers you a stunning 4K Ultra HD display that shows amazing picture quality.
It is bright and colorful especially when you watch 4K videos and movies but the best thing is that you can even play graphics-intensive games on this beast as they meant to be played.
If you do graphics designing or photo/video editing related work then you should go for this laptop. The contrast levels are excellent and the images look incredibly sharp.
In fact, this 4K Ultra HD display is one of the best we have ever reviewed, this laptop is best suited for those people who work for long sessions. 
BUY NOW ON AMAZON
5.

 Dell XPS 9370 13.3 Inches
The Most Favorite Business Laptop According to Consumers
Pros
Performance is Excellent
Slim & Light Weight
Good Cooling System
Great Display
Cons
Basic Looks
Build Wise Normal
XPS series laptops by Dell are pretty similar in main design that some times without looking at the CPU sticker on the deck you can not differentiate them.
But this Dell XPS 9370 13.3 Inches laptop has one feature apart from the hardware specs that makes it one of the best and that is the 4k High-resolution display panel.
This screen also offers infinity-edge technology with one of the thinnest bezels. That is why some times while playing 4K Ultra HD videos or movies it tricked you in believing that it doesn't have any frame around the display.
The 4K Ultra HD display of Dell XPS 9370 13.3 Inches laptop provides you impressive sharpness, brightness, and great color quantity as compared to rivals under the same price tag. 
BUY NOW ON AMAZON
Conclusion
Here you have our list and reviews of the Top 5 Best 4K High-Resolution Laptops you can get in the year 2020. Through measuring the brightness nits and the amount of sRGB coverage through their displays we determined which were the best 4K laptops.
In the above list, we have placed the laptops according to how good their displays are. You can choose any of the above laptops and according to your work requirements and needs.
Also if this list is not enough for your then you should explore intolaptop.com to find out even more great laptops. The purpose for which you want the laptop is one of the most important aspects to consider while choosing the 4K laptop of your choice.
That is why we will recommend you read this detailed Laptop Purchasing Guide we have crafted for you before finalizing your preferred laptop. 
Things You Must Know Before Buying a Laptop
Laptop Brand: Which Brand's Laptop is your priority?
Display Size: Which Screen Size will you prefer?
Performance: Which CPU will you need?
Graphics Card: Which GPU will you like to have? 
RAM & Storage: How much RAM & Storage is needed?
Operating System: Which Operating System you want to have?
Battery Life: How much battery life do you expect?
Work Purpose: Know the purpose and buy a Laptop tailored for your work purpose.
Budget: Find the Laptop within your budget.