Top 3 Best Laptop under $1000 in 2023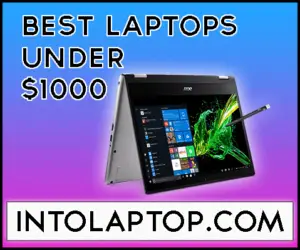 Nowadays the field doesn't matter to which you are related, the laptop is a requirement for everyone. It is a fact that we prefer a laptop instead of a desktop for our work, entertainment, and business purposes, due to the fact that this machine is portable. 
But buying a laptop can be a troublesome task since the prices fluctuate depending upon the specs.
That's why in today's article we have compiled a list of laptops with good specs that fall under the rather tight budget of $1000.
A lot of manufacturers are competing with each other in the laptop market because of the continued growing demand. To attract people, brands always try to put a lower price tag on laptop models so they can dominate the market.   
Below we have filtered the 10 best laptops under $1000 category, which perform great and never let you down under workload.
Also Read: Best Laptop Under $1500 Budget
Best Laptop Under $1000 Budget
1.

 Microsoft Surface Pro 6
"The Best Laptop You Can Get Under $1000"
Design
Microsoft Surface Pro 6 has an elegant black color scheme overall,  the material from which the body is build feels good when touched.
However, the design is the same as the previous model. Surface Pro laptop weighs just 1.7 pounds and the thickness of this machine is only 0.33 inches, which is not new since the last model has the same measurements and weight.
Also including the type cover, all the ports are exactly the same as the last year. This is good since the type of cover is excellent and loved by the people who are users of Microsoft Surface Pro 6.
The thing is that this laptop offers USB 3.1 instead of USB 3.0, which comes standard in all 2019 models.
Now you will be able to transfer your data almost double the speed of the previous models. 
Display 
Although the display of Microsoft Surface Pro 6 is the same as last year's machine, the company does have improved its one specific property.
The contrast ratio has been improved 1,300:1 to 1,500:1 as compared to its predecessor, which is pretty strong.
The company has done that especially for those people who are content creators. They can now make more superb looking movies with deeper black and vibrant colors. 
For content creators, this change will make media editing more accurate and easier than ever before. It will benefit the consumer as well. 
Performance Under Workload
In terms of daily typical work and media streaming, Microsoft Surface Pro 6 will not disappoint you at all. It can handle any kind of task you threw at it.
If you want a laptop for work as well as entertainment like streaming HD movies then this laptop is one of the best.
You can also consider this laptop for editing videos because it can handle that work pretty smoothly.
Lite gaming is possible on Surface Pro 6 though we will not recommend that. Because in our tests it gaming performance of this laptop was pretty average.
BUY NOW ON AMAZON
2.

 Asus ZenBook 13
"Premium Looking Machine with Excellent Performance"
Display
Asus ZenBook 13 contains a gold color glossy logo at the center of the lid which does give it a classy look. The overall build is aluminum and the lid is in royal blue shade.
Which do look really mesmerizing but can be covered in fingerprints after holding it. The edge of the hinge and font of the keyboard are leathered in rose gold color.
Asus ZenBook 13 weighs almost 2.7 pounds and has dimensions of 11.9 x 7.4 x 0.7 inches however it is slightly thicker than its rivals in this league.
Despite being thin and lightweight ZenBook 13 offers USB Type-A ports and even an HDMI slot, which is pretty amazing.
Whereas Thunderbolt 3.0 is missing which is kind of disappointing since this laptop has a complete selection of ports.
Display
Asus ZenBook 13 offers an almost bezel-free screen which is 13.3 inches. This glossy but rather dim panel offers 1920 x 1080 resolution.
The maximum brightness level you can get on Zenbook 13's display is 225 nits, it is below the average but not too bad while using outdoors in direct overhead lighting.
The 13-inch panel of ZenBook 13 almost covers 115 percent of the sRGB spectrum which is not much but slightly below the premium laptop average of 117 percent.
On HD videos this display does performs well enough apart from the dim brightness issue. 
Performance Under Workload
Asus ZenBook 13 offers an Intel Core i5 8th Generation processor accompanied by 8GB of Ram. Because of these handsome specs, Zenbook 13 can handle 40 Google tabs and HD 1080p videos running at the same time without any lag.
In our overall performance test, ZenBook 13 has scored excellent 15,110 on GeekBench 4. It also transcoded 13 minutes 4K video to 1080p in just 20 minutes 48 seconds.
With that, it has successfully topped the premium laptops' average of 21:51. So performance-wise ZenBook 13 has proven itself a worthy option under $1000 budget.
BUY NOW ON AMAZON
3.

 Acer Spin 3 Convertible Laptop
"Flexible 2 in 1 Design with Responsive Touch Screen"
Design
Acer Spin 3 Convertible laptop has rather unique aesthetics, it is quite light but not like other similar machines.
It is a decently thin and portable machine which you can carry with you conveniently. The body is all made out of plastic which honestly looks cheap, on the other hand, the gunmetal silver on the bottom crosshatched chassis looks very classy.
On the bottom, there is also a pleasant soft-touch finish. The Acer logo is on the center of the lid and the spin name is written on the speaker grill at the base.
It has the 2 in 1 design so you can flip the lid 360 degrees to use it in Tab mode.
Display
Thankfully the Display quality of the Spin 3 convertible laptop has not been compromised by the Company Acer in order to reduce the price.
Its display consists of a super glossy 14-inches IPS panel which has the resolution of 1920 x 1080. Because of that, you see more content on a single page.
You can find this on any other laptop under the budget of $1000 since most laptops under this budget contains a lower resolution screen.
Fairly vibrant color and a deep black level of contrast will amaze you by showing minute details in Ultra HD videos and movies.
The brightness level of Acer Spin 3 is 226 nits, which more than enough for this size display. However, working outdoors under bright light can be slightly problematic because of the screen reflection. 
Performance Under Workload
Acer Spin 3 convertible comes equipped with an Intel Core i7 processor with 512GB SSD hard drive and 16Gb of RAM. With that, it can run the day to day task without having any problem.
In our test it only slows down when we opened the twitch stream otherwise, it performed great. Spin 3 Convertible laptop has a 10 figure touch-sensitive display so when you use this laptop in 360-degree tablet mode.
Its display is quick enough to react to gestures and swipes like pinch to zoom. This laptop can handle gaming pretty well however the purpose of this machine is daily typical work.
BUY NOW ON AMAZON
4.

Lenovo ThinkPad T480
"Excellent Work Machine with Good Battery Life"
Design
Standard raven black chassis and a soft graceful lid, these aesthetics made Lenovo Thinkpad T480 laptop stand with one of the few machines which were designed with functionality in mind rather than look or appearance.
The overall design is almost the same as its predecessors,  so at first glance, you can not tell which machine is this.
Thinkpad T480 weighs almost 3.58 pounds and its dimensions are 13.25 x 9.15 x 0.78 inches. If you want you can have a high capacity battery but it will increase the overall weight pf the laptop to 3.98 pounds. 
Display 
Lenovo Thinkpad T480 offers a no-touch 1920 x 1080 HD screen, which is great for productivity. The image appears sharp with solid viewing angles, brightness and colors are not very good but decent.
In HD videos it really shows up minute details and accurate quality. Another excellent thing about this laptop is that the screen doesn't reflect that much because of its matte surface at the bay.
Which is a good thing since Thinkpad T480's maximum level of brightness is measured to be 269 nits. That's why You will not have any problem using it even in the outdoors.
Performance Under Workload
Lenovo Thinkpad T480 is more than fast enough to handle any typical work you require because under the hood it has an Intel Core i5-8350U CPU with 256 GB SSD and 8GB of Ram.
During our test, we did a video conference with at least a dozen Google Chrome tabs opened, the laptop performed great. We didn't experience any kind of lag or other problems.
On Geekbench Thinkpad T480 scored a strong figure of 15,041. To measure overall performance we did a synthetic test, in which Thinkpad T480 scored a massive 12,140.
Which is way ahead than the premium laptop category average of 9,724. To match 6500 names with their addresses in Excel, Lenovo Thinkpad T480 took only 11 seconds.
With that, this laptop has again performed far batter then the category average which is 1:42.
BUY NOW ON AMAZON
5.

 Dell Inspiron 15 7000
"360 Degree Tab Mode & well Equipped" 
Design
Dell Inspiron 15 7000 offers 4K laptop with 15.6-inch touch panel, you can rotate it 360 degrees to use it in the Tablet mode.
There is a fingerprint sensor built into its power button, which is a great security feature. Inspiron 15 7000 is a very slim laptop with a decent amount of ports.
Two USB-A 3.1 ports and a combo jack for the use of headphones or microphones are on the right side.
Whereas on the left side there is a USB-C port, DC charging port, an HDMI slot, and a Micro SD card slot. Without a doubt, Inspiron 15 7000 laptop is fairly well equipped with good specs.
Display
The display of Dell Inspiron 15 7000 is excellent if you watch 4k video on its screen under the right conditions.
It will provide you the quality of high-end TV because of the HDR feature. From the right conditions we mean to say that you have to dim the lights around you since this laptop's maximum brightness is not very much.
Dell has claimed that Inspiron 15 7000 laptop offers a maximum brightness of 300 nits but in world testing, you will only get a maximum of 263 nits, for a 15-inch laptop that is just an average.
However, in normal lightning screen looks stunning because of the 4K laptop panel. By default Inspiron 15 7000 will only show HDR while plugged in.
But you can change the setting if you want to enjoy that feature on Battery power.
Performance Under Workload
Overall performance-wise Dell Inspiron 15 7000 is a pretty decent machine, it all depends on what purpose you want to use it. Benchmark tests can only provide you an idea about the capabilities of the machine.
In our general productivity test, this laptop wasn't very impressive whereas in the Cinebench test CPU performs very well.
This means for daily typical office work  Inspiron 15 7000 is powerful enough. This laptop is equipped with an Nvidia MX250 GPU, so any kind of graphical work and light gaming is not a problem.
BUY NOW ON AMAZON
6.

HP Elitebook 840 G5
"Most Stylish Laptop with Powerful Performance"
Design
If you want to work in style then you must choose HP Elitebook 840 G5 laptop. Under $1000 budget it is without a doubt the most stylish laptop you can get.
The overall exterior is made by Aluminum with silver finish, HP logo sits in the middle of the lid. The design of the Elitebook 840 is quite neat and simple.
The angle on which hinges have been placed gives this laptop an attractive look as compared to the other machines in the same budget.
Inside the lid, there is a very classic looking, backlit keyboard with pointing stick in the middle of it.
Display 
HP Elitebook 840 G5 laptop has a 14-inch IPS LED display with 1920 x 1080 resolution. One problem is that the display is too dim, which can trouble you while working or watching and HD movie.
In HD videos the display shows kind of bluish tint that is really annoying. However, because of the 1920 x 1080 configuration the integrated privacy screen shows vibrant and bright images.
The maximum brightness level that Elitebook 840 G5 laptop can show is 214 nits, which is far below 375 nits average of this budget laptops. 
Performance Under Workload
HP Elitebook 840 G5 can run your daily work with even more than 30 Google Chrome tabs opened and playing HD videos in the background. which is pretty amazing.
This machine offers UHD Graphics 620, which is more than enough to fulfill your multitasking requirements.
Elitebook 840 G5 scored an excellent 12,253 on Geekbenh 4 in our overall performance test. With that, it has successfully passed the 10,483 premium laptops average.
In our Handbrake test, Elitebook 840 G5 transcoded a 4K video to 1080 in almost 15 minutes and 50 seconds.
This performance is amazing since its competitors have done that the same task in 21 minutes 35-sec average. Elitebook 840 G5 only took 10 seconds to copy 5 GB data thanks to its 512 GB NVMe SSD.
BUY NOW ON AMAZON
7.

Dell XPS 13 9380
"Sleek & Slim Aesthetics with Portable Design"
Design
Although the XPS 13 9380's design is exactly the same as the previous models of this series still this machine looks finely crafted machine with elegant aesthetics.
Its Andolized aluminum lid, carbon fiber deck, and sleek design gives this laptop a premium look and feel. XPS 13 9380 laptop has razor-thin bezels which make its display look extremely gorgeous and reduce the footprint.
The infamous nose came has been replaced with a tiny looking one place in the top bezel. To give XPS 13  a stealthy appearance Dell has added carbon fiber with a plush soft touch on the deck.
Dell XPS 13 9380 has 1.9 x 7.8 x 0.5 inches dimensions and it weighs almost 2.7 pounds. Which makes this a portable lightweight and easy to carry machine.
XPS 13 9380 is more compact than any of the other laptops under this budget.
Display 
Dell XPS 13 9380 offers 13.3 inches non-touch display with 1080p 4K resolution.  In our test, we were impressed by this laptop's richly saturated, bright panel.
If you want to use this laptop outdoors then you must choose the matte panel configuration since the 4K display is very glossy.
The maximum brightness of Dell XPS measured at 382 nits, more than enough for the laptop of this size and specs.
For watching HD 4K movies and videos the display of Dell XPS 13 in one of the best, only the reflection of the screen can be bothering.
Performance Under Workload
With the 10th Gen Comet Lake processor, Dell XPS 13 provides you enough power to easily do your typical office work.
Its performance on different task during our test was considered good enough that we can suggest you this laptop.
It can keep its cool during intensive work and lite gaming for a decent amount of time. After that, it is not like this laptop starts heating up badly but you do start feeling the touchpad and the center portion is getting warm.
We continuously did web surfing and at 150 nits during our battery test, Dell XPS 13 lasted almost 8 hours before giving the battery low notification.
BUY NOW ON AMAZON
8.

Lenovo Flex 5
"The Most Lightweight & Easier to Carry Convertible"
Design
Lenovo Flex 5 laptop has a reasonably rigid chassis because of the budget price tag. Including the lid overall build is pretty strong since there is very minimal flexing around the palm rest.
However down the center of outer lid wrapping is pretty visible, which seems like the weakest spot of this machine.
In daily work, it can not affect the laptop at all, but in case it fell on that weak spot then there is an extreme chance of damage.
Lenovo Flex 5 in one and the convertible under the budget of $1000 which feels lightweight as compared to its rivals.
Display
Lenovo Flex 5 has a 1080p IPS touch screen which does provide you a good experience if not excellent.
But due to its dim brightness, you could have a problem in using it under over the head lightning. Unfortunately, with an average of just 185 nits, Flex 5's display is the dimmest among the machines we have tested yet.
On top of that during our test, we also do experience some flickering while an HD video was running.
As we have mentioned above dim backlight is the downs side of this laptop, whereas one good thing about this display is that viewing angles extremely good.
Performance Under Workload
You can get Lenovo Flex 5 in either Core i5 8th Gen or Core i7 Ninth Gen processor configuration. And for GPU you can choose between UHD Graphics 620 or GeForce MX130.
However, you have to go with the same IPS FHD touchscreen, which is not good at all. It seems like Lenovo wanted to sell this laptop as an alternative to Dell XPS 15 but realistically it is impossible.
Because in Dell XPS 15 one of the main selling features is its display. On the other hand, Lenovo has totally messed up the display part.
The overall performance of the CPU is decent but if you compare it with the other similar machine under the same price tag, it feels under power.
However, Lenovo Flex 5 has scored a decent 388 points in our CineBench test with 571 average.
BUY NOW ON AMAZON
9.

 Lenovo ThinkPad T470
"The Mix of Classic Design with New Features"
Design
Under the lid, Lenovo ThinkPad T470 has an eraser-shaped red track point thankfully on the right spot where it needs to be. Were as the exterior surface is soft in matte charcoal grey color.
The weight is around 3.74 pounds and the dimensions are 0.79 x 13.25 x 9.15 inches. Lenovo Thinkpad T470 offers a standard three-cell battery, you can get a 6 cell battery if you want but it will increase the overall weight of the machine 4.15 pounds.
This laptop is not thin or lightweight but at the same time not very bulky either, it is kind of in the middle.
Display
Lenovo's Thinkpad T470 has a 14-inch anti-glare non-touch display, because of the slightly dim brightness it does reflect especially if you are working outdoors.
Its full HD 1920 x 1080 resolution performs great, the only problem is again the brightness which is only 220 nits.
This figure is okay for doing office work but not much if you wanted to work on Adobe Photoshop or video editing software.
Overall you can not say that display wise this laptop is average, though it will depend on the work which you wanted to do.
Performance Under Workload
The Thinkpad T470 is certainly powerful enough to do any kind of office-related work. If you want to get this machine for business use then it is the best choice you can have under this budget.
You will be amazed that on a single charge, this laptop can provide you with almost 17.5 hours of battery life. Which is great if you want this laptop for doing longer tasks.
The price is very reasonable compared to the specs. You can do more than light gaming on this rig but the purpose of the laptop is mainly not gaming.
From every angle, Lenovo's Thinkpad T470 suits business work. Due to its top-notch performance in our tests, we will have to rank this laptop in one of the best in the business class category despite one drawback. Thinkpad T470 is slightly heavier than its rivals.
BUY NOW ON AMAZON
10.

Samsung Notebook 9 Pro
"Long Battery life with Great Performance in Affordable Price"
Design
A Samsung logo is placed behind the lid of the Notebook 9 Pro NP940X5N-X01US, whereas the chassis is made out of Aluminium with a silver shade.
It does have a premium appearance while the design is very simple. Although Samsung has tried to make chassis edges Notebook 9 Pro looks like diamond cuts but unfortunately, they haven't got any success in doing that.
The interior of Notebook 9 Pro has a strong resemblance to the Macbook keyboard, the black colored keyboard with rounded keys.
However, Samsung has focused on perfectionism while designing the Notebook 9 Pro, since its lid gets completely aligned with the back when folded into the tablet position.
Though bezels are slim the Company has managed to place a tiny cam inside the top one.
Display 
Don't know the reason but why every time in a good performance laptop there is a dim brightness issue? Now Samsung Notebook 9 Pro has a 13.3-inches glossy panel with a resolution of 1920 x 1080. But with the good old issue of dim brightness.
The drawback of this display is that in videos dark scenes are difficult to catch and if you are working outdoors under the direct sunlight then you have to deal with it.
Notebook 9 Pro's maximum brightness level is 254 nits, with that it falls well below the 328- nit category average. This is really disappointing since Notebook 9 is a pretty capable machine.
Performance Under Workload
Samsung Notebook 9 Pro has an Intel Core i7 8th generation processor with 8GB of RAM, which means you can do multitasking with ease and convenience.
During our test, we opened 40 Google tabs with 1080p HD youtube videos running in the background, this laptop didn't show any sign of lagging or stuttering.
Notebook 9 Pro comes with Intel UHD 620 GPU, that why in our Graphics Benchmark test this laptop was only able to score 61,662 on 3DMark Ice Storm Unlimited. Which is below the average premium laptop score of 87,638.
BUY NOW ON AMAZON
Last update on 2023-09-12 / Affiliate links / Images from Amazon Product Advertising API