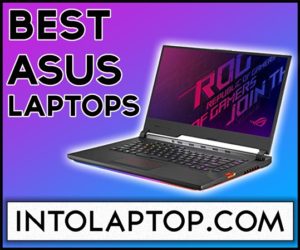 In our top 10 best laptops under the specific budget series, you must have seen various ASUS machines, if not then you can explore Laptops by Budget on IntoLaptop right now to find out.
The main reason for that is the affordability regarding the price tag and impressive innovation which ASUS brings in almost every laptop.
There are many other reasons as well which will force you to buy an ASUS machine like they have introduced some notebooks that have been liked all around the world among the consumers. 
Now it is always a difficult task to choose the laptop according to your needs and work requirements, especially if you don't have much knowledge about these machines.
That's why below we have mentioned detailed reviews of the Best ASUS Laptops for your convenience.
So you can easily decide which ASUS machine can best fulfill the purpose which you require.
Best ASUS Gaming Laptop Review in 2023
In this list of Top 5 Best ASUS Gaming Laptops in 2023 we have picked up the machines on the basis of their performance during our review in categories like typical office work, editing, day-to-day use, and gaming. 
1.

ASUS ROG Zephyrus S GX701
"The Slimmest 17 inch Laptop By ASUS"
Design 
ROG Zephyrus S GX701 laptop makes its bigger, bulkier competitors look positively dated by comparison.
Since all the laptops from this series of Asus are specifically designed to be as thin and light as possible.
According to the company Asus, ROG Zephyrus S GX701 is the most compact 17-inch" gaming laptop ever made.
The Asus ROG Zephyrus S GX701 body dimensions are more akin to those which found on a 15-inch laptop, yet amazingly it comes with a 17-inch display.
It is around 23% smaller and 40% thinner than average 17-inch" gaming laptops With the dimensions of 399 x 272 x 18.7mm.
The Zephyrus S GX701's dimensions are only slightly larger if you compare it with an older generation Zephyrus laptop GX501, which has a 15.6-inch screen.
Considering the larger screen of GX701, this fact feels pretty impressive. The incredibly narrow bezels that surround the screen has made possible the smaller size and larger screen configuration of Zephyrus S GX701.
These bezels are just 6.9mm thick, which means there's very little wasted space since the top and side bezels allow for an 81% screen-to-body ratio.
The company has ditched the built-in webcam from above the screen to achieve this small top bezel.
Display
When buying a powerful laptop like the Asus ROG Zephyrus S GX701, the most important considerations are the components that power the machine.
Good thing is that company Asus has put a lot of attention and care while designing the screen. As we have said before that this is the slimmest laptop in the league of the 17-inch display's yet, which means it is pretty large.
This machine comes with G Sync technology so there's no screen tearing. The display has a 144Hz refresh rate to ensure that users will get smooth and fluid quality, during 4k videos or graphic-intensive gameplay.
Performance Under Workload
Asus has included the very latest gaming hardware in this slim and light-designed laptop.
Zephyrus S GX701 laptop comes loaded with an 8th generation Intel Core i7 8750H six-core processor, which has a turbo clock speed of 4.1GHz along with Nvidia GeForce RTX graphics that has Max Q design.
The ram can be up to 24 GB, it mainly depends on you that how much you want. It is worth mentioning that this laptop is configurable up to an RTX 2080.
Which includes 8GB of GDDR6 VRAM. ROG Zephyrus S GX701 laptop has proved that a gaming laptop can be lightweight and thin instead of being big and bulky.
BUY NOW ON AMAZON
2.

ASUS ROG Strix Scar III
"Power House Laptop By ASUS"
Design 
The Asus ROG Strix Scar III is one of the very slim gaming laptops and the main reason for that is Nvidia's Max-Q GPU, however, it almost weighs about 2.57kg.
Because of its weight, it is not the kind of machine that is preferable to carry in a backpack for the whole day, even the power brick you will get with it is pretty heavy.
At the same time if you want a super-powerful gaming machine then consider ROG Strix Scar III your best option under the price tag of $2500.
The company has tried to reduce its weight by making most of its body out of Plastic, which honestly was not a good idea.
Even people who like a lot of RGB lighting will say that in the ROG Strix Scar III laptop Asus has put too much of it.
But Through the Aura Sync control panel, per-key RGB keyboard lighting can be customized or if required turned off including the glowing ROG logo on the back lid.
Because the company has ditched the camera again in this laptop to make the top and side bezels thin, though they have provided an optional clip-on camera.
which is okay in the sense that a built-in camera is not the requirement of every gamer and the slim bezels at the sides and top of the screen look classy.
Display
The Asus ROG Strix Scar III offers a 15.6″ Full HD 1920 x 1080 IPS panel, It has a matte finish which you can see even under bright overhead lighting perfectly.
It has little low maximum luminance of 278cd/m2, which is enough for gaming in any indoor environment.
The contrast ratio of ROG Strix Scar III is 972:1 which is lower than a typical gaming laptop, on the other hand, color reproduction is excellent.
With the outstanding delta E of 0.94-, the color accuracy is even better. On top of that Refresh rate of 240HZ ensures the smoothest gameplay as compared to any other laptop.
Performance Under Workload 
In the 4K benchmark test, Asus ROG Strix Scar III was able to achieve a massive 210, only a few of the other gaming laptops have ever shown this great results.
So in terms of performance, ROG Strix Scar III has no other match. With a multi-core speed of 27,778 in the GeekBench 4 test,  this laptop has proven itself again a worthy machine.
It requires a lot of power to drive the screen even closer to 240HZ, and the ROG Strix Scar III gaming laptop can do that very easily.
As compared to the previous generations of ROG  series this laptop is a step up.
BUY NOW ON AMAZON
3.

ASUS ROG Strix Scar
"Premium Gaming Laptop by ASUS"
Design
Asus Rog Strix Scar Gaming Laptop has a typical notebook looks but with aggressive and unique looking design.
The best thing about this laptop is that it has been designed especially for FPS games. According to the Company, the slashes carved across the lid and on the right palm rest of the keyboard imitate the trajectory of a bullet.
The area around the keyboard boasts a woven Kevlar design with a gunmetal grey finish of its lid, giving you the impression of an assault rifle.
There is no other gaming laptop available with this much attention to detail. On top of that, for a more immersive gaming experience, you can even personalize the keyboard backlight according to your taste.
There is only one issue with that woven Kevlar design that it is very glossy. This means there will be a lot of fingerprint marks after every game session, which honestly looks pretty bad.
It seems like the trackpad is made out of really cheap materials, you have to press it hard even in scrolling.
This Rog Strix Scar weighs only 2.6kg, you can take it with you in your backpack while traveling easily.
Display
Rog Strix Scar offers a 1080p, IPS display powered by the Nvidia GeForce GTX 1070 with a 144Hz refresh rate for smoother gameplay.
There is no lagging during the intensive gameplays of FPS games, which is amazing for a machine that is not a PC.
Gaming on this fast screen with GSync enabled is an experience that cannot be defined in words. With above-average brightness, colors, and contrast this laptop in only fast, it is overall pretty good.
However, for professional work, there are some better options than the Asus Rog Strix Scar.
Performance Under Workload
To make the gaming experience good Asus has included a three-way cooling system in the Rog Strix Scar Gaming laptop.
With three fans throwing air this machine hardly gets to the very hot temperatures. As we have mentioned that this Laptop has been specially designed for gaming in mind, especially FPS games.
So obviously you can play any latest heavy graphics games on this laptop without worrying about lag.
Three fans auto-detect how much load is on the CPU and GPU to adjust their speed accordingly.
BUY NOW ON AMAZON
4.

ASUS ZenBook 13
"Premium Looking ASUS Laptop with Excellent Performance"
Display
Asus ZenBook 13 contains a gold color glossy logo at the center of the lid which does give it a classy look. The overall build is aluminum and the lid is in royal blue shade.
Which do look really mesmerizing but can be covered in fingerprints after holding it. The edge of the hinge and font of the keyboard are leathered in rose gold color.
Asus ZenBook 13 weighs almost 2.7 pounds and has dimensions of 11.9 x 7.4 x 0.7 inches however it is slightly thicker than its rivals in this league.
Despite being thin and lightweight ZenBook 13 offers USB Type-A ports and even an HDMI slot, which is pretty amazing.
Whereas Thunderbolt 3.0 is missing which is kind of disappointing since this laptop has a complete selection of ports.
Display
Asus ZenBook 13 offers an almost bezel-free screen which is 13.3 inches. This glossy but rather dim panel offers 1920 x 1080 resolution.
The maximum brightness level you can get on Zenbook 13's display is 225 nits, it is below the average but not too bad while using outdoors in direct overhead lighting.
The 13-inch panel of ZenBook 13 almost covers 115 percent of the sRGB spectrum which is not much but slightly below the premium laptop average of 117 percent.
On HD videos this display does perform well enough apart from the dim brightness issue. 
Performance Under Workload
Asus ZenBook 13 offers an Intel Core i5 8th Generation processor accompanied by 8GB of Ram. Because of these handsome specs, Zenbook 13 can handle 40 Google tabs and HD 1080p videos running at the same time without any lag.
In our overall performance test, ZenBook 13 scored an excellent 15,110 on GeekBench 4. It also transcoded 13 minutes of 4K video to 1080p in just 20 minutes and 48 seconds.
With that, it has successfully topped the premium laptops' average of 21:51. So performance-wise ZenBook 13 has proven itself a worthy option under a $1000 budget.
BUY NOW ON AMAZON
5.

 ASUS VivoBook 15
"Thin & lightweight Powerful Performer Laptop by ASUS" 
Design
ASUS Vivobook 15 weighs just 1.8kh and its thickness is only 18mm, which makes it a highly portable laptop despite its 15.6 Inches screen.
The company has done a good job with the design of this laptop since getting any 15 inches screen to less than 2kg is not an easy task.
The chassis of Vivobook 15 is made out of Aluminum and available in silver, green and pink. Because of this aluminum chassis, the laptop is very sturdy and strong.
There is another cool feature in ASUS Vivobook 15 when you open its lid the screen hinges gently tilts the key up at a slight angle for the convenience of the users.
The keyboard itself is very responsive and because of the 15.6 inches size, you will get a full numeric keyboard.  
Display
ASUS VivoBook 15 offers 15.6 Inches display with 1920 x 1080p full HD resolution, the company should have to upgrade it for this size of a laptop but again under this price tag companies have to cut corners somewhere.
However, the display is very attractive that makes this device look like a premium, for displaying videos and photos it produces clear, sharp images with bold and bright colors.
The good thing is that no matter from which angle you watch the screen of Vivobook 15, it remains clearly visible.
If your work is related to designing or you share photos and videos then consider this laptop the best option under the budget of $500.
Performance Under Workload
An Intel Core i3-8145U with a clock speed of up to 3.9GHz powers up the ASUS VivoBook 15 accompanied by 8GB of RAM and 128GB of SSD Storage.
This laptop doesn't come with a dedicated GPU instead it has an Intel UHD integrated graphics configuration, which provides considerably decent performance in all of the related work.
ASUS VivoBook scored a decent 3535 points on PCMark 8 during our overall performance test. This simply means that this can cop up well with day-to-day typical work-related tasks and even light gaming is possible on ASUS VivoBook 15 especially because of its good display.
We tested it out on Excel with some number crunching tasks which it has performed well enough, also you can do some photo and video editing work on this laptop without having any problem.
We just feel that if it has offered a dedicated graphics card the performance would have been even better.
BUY NOW ON AMAZON
Some More Latest ASUS Laptops
Last update on 2023-11-28 / Affiliate links / Images from Amazon Product Advertising API