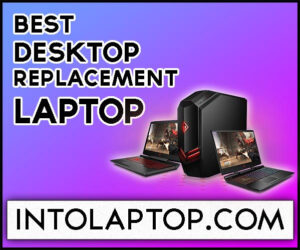 The year 2021 comes with advanced technological problems and you have to find their solutions by sitting at home 24/7. As the COVID-19 hit the world, working from home has become a new thing.
For that, you need a best desktop replacement laptop for your needs that can help you in keeping pace with your daily office assignments, without compromising a bit. Fortunately, we have tons of amazing high performance laptops available in the market that you can have.
So here we have listed the top 8 Best Desktop Replacement Laptops in 2021 that can fit your needs and requirements effortlessly.
Also Read: 10 Best Intel Core i9 HK CPU Laptop
Best Desktop Replacement Laptop in May 2023
Finding an efficient laptop that works just like your desktop isn't difficult. We are surrounded by several tech giants that pack multiple amazing features under a portable hood. All you need is to look for the right specs according to your needs and requirements.
Whether you are looking for a  desktop replacement laptop that can handle your gaming needs or a desktop-class processor, we have you covered. We are going to review the top 8 best desktop replacement laptops for your PC that can help you with just about anything you want.
Also, you can explore intolaptop.com to find out plenty of more laptops that come with different processors. 
1.

Dell XPS 15 Laptop

Pushing Innovation To The Edge

This 15.6″ InfinityEdge anti-reflective touch IPS is a sleek replacement for your PC that will draw you right in with its impressive graphics. If you are just anything like us, who are greatly impressed by the design and sleekness of a laptop, then you will feel the same. The screen of this masterpiece is quite beautiful with almost invisible bezels.
Not only this laptop has impressive graphics, but it also packs powerful performance that will make just about anything a breeze.
This laptop has a killer wireless performance that offers less buffering and more entertainment on the go. Its Bluetooth service is quite full and rich. The battery life is also quite impressive.
The only drawback that we faced while using this laptop is Windows 10 isn't activated out of the box. The product license has been provided but it doesn't work on the first few go-s.
In addition to that, the laptop is quite on the heavier side when it comes to its weight. This is surely not the laptop that you can hold for a day long. But that's our opinion.
Other than that, this machine is just fine for almost every task that one want to do on a computer.
BUY NOW ON AMAZON
2.

MSI GV72 8RE-007

Thin & Light Gaming Laptop

MSI laptops have been a big thing for a time now. These laptops are specifically made to improve your gaming performance. That is the best thing about these laptops. Although the MSI GV72 8RE-007 heats a little while gaming, it is not sluggish at all.
You might notice that the graphics of this laptop are quite vivid as it uses NVIDIA's cutting-edge GTX 1060 graphics to provide you with the next-level gaming experience.
When compared to the previous generations, this laptop whoops a 20% better performance. That's great, isn't it?
Now coming to the bad part, the keyboard isn't what a gamer wants. Although it is quite responsive, but the keys are bit of sticky. The Led lights of the keyboard doesn't change and remains Red. Well, that's the official color of MSI laptops. But if that doesn't bother you, it is agreat value for your money.
BUY NOW ON AMAZON
3.

MacBook Pro

The Best for the Brightest

If you have been a fan of MacOS, you will definitely be waiting for a product from Apple in this list and here we are. This MacBook Pro is one of the finest replacements to your desktop computer as the company addressed all the concerns of the Apple community in this laptop.
With the stunning design, beautiful Retina Display, this MacBook Pro offers almost zero bezels that even make it gorgeous. The Keyboard is perfect in size, keys hardly require any pressure, and is quite comfortable to use.
The performance in this machine has also been seen to improve as compared to its predecessors since the company worked on its airflow and switched the heatsinks with larger ones.
The graphics card offers an incredible leap in performance. It offers seamless playback that offers a next-level gaming experience to the gamers out there.
As far as the battery life of this beast is concerned, this generation of MacBook Pro packs the highest capacity battery under the hood, offering up to 11 hours of wireless browsing and video playback.
All in all, this laptop is of great option if you want to invest in some good laptop for longer run.
BUY NOW ON AMAZON
4.

HP Envy 17T

Designed So You Can Multitask

If you are a student and want a replacement for your multitasking PC, then HP Envy 17T might be the best fit for you. Laptops from HP never fail to impress us and this one comes with no exception.
This laptop has been packed with a lightweight design with every important spec in-need. The size of this laptop is exactly capable of replacing the desktop, but this one comes with almost no bezels.
The graphics are pretty impressive and the graphic card that this beast packs also perform a pretty good job. The keyboard of this generation is also full-sized that can be quite comfortable while writing and doing assignments.
Since it is a very student-friendly machine, it offers quite an impressive storage and memory that is more than enough for everyday tasks and assignments.
BUY NOW ON AMAZON
5.

LG Gram

Ultra Light Laptop

LG Gram – the name says all. It is one of the lightest laptops available in the market. We have listed laptops from top-notch laptop-producing companies, but this is the only laptop that has actually been successful in producing ultra-light laptops.
In addition to being extra light, LG has done a great job in providing a modern-looking laptop with almost no bezels, a beautiful screen, and design. The keyboard is very comfortable with zero typing sound.
The battery life of this laptop has been claimed to be 19.5 hours that si quite unrealistic, but you can expect it to be all day long. the only drawback this laptop has is its speakers are not good enough. A lot can be done with speakers to make it an outstanding choice for every being in need for a replacement to their heavier desktops.
BUY NOW ON AMAZON
6. Lenovo Ideapad L340 Gaming Laptop
It is Game Ready. Are You?
This one is basically a gaming laptop that can be your replacement if you are looking for one. This laptop is built great with top-notch features that might fit your needs and your pocket size. 
Lenovo reduced the price in RAM allocation, which is one of the biggest drawbacks of this machine. If you are a person that is used to use RAM-hungry applications, then this might not be a good option for you.
However, if you are only looking for a laptop for day-to-day desktop assignments, then this is the best, pocket-friendly option you can have.
Coming to the design and display, Lenovo has done a pretty good job in that. the keyboard is also good, that retains its gaming friendly tag. The battery of this laptop is not that good, especially when you are a gamer. You can expect a battery life of around 8 hours that is quite disappointing.
BUY NOW ON AMAZON
7. ASUS ZenBook Pro 15
Unleash For Creative Power

It is one of the portable laptops available that can be a great replacement for your desktop. This laptop from ASUS offers everything top-notch, from its processor to its body, from its features to its build.
The whole package comes with impressive touch support, an amazing display, and game grading ability. The performance of this laptop is also quite impressive that makes it one of the best productive laptops as well.
Keyboard of this laptop is also pretty comfortable to use and is back-lit that offers comfortable typing experience to the users. Besides being budget unfriendly, this laptop has some heating issues that might not work for you, if you want 24/7 productivity.
BUY NOW ON AMAZON
8. Omen 15 Gaming Laptop
Ultra-Thin. Ultra-Settings. Anywhere.

The Omen 15 by HP is the last one on the list but is quite a good option for those who are looking to invest in a laptop suited for a better gaming experience. This gadget is versatile and powerful at the same time.
It packs a beautiful display with powerful features under the hood. The keyboard of this laptop is backlit and it gives a proper replacement to the desktop PC that you might be wanting. Extremely enough memory, high-performance graphic card, and powerful processor.
Battery capacity of this laptop isn't up to the mark that is quite astonishing considering the powerful processor and full HD display panel.
BUY NOW ON AMAZON
Last update on 2022-12-11 / Affiliate links / Images from Amazon Product Advertising API