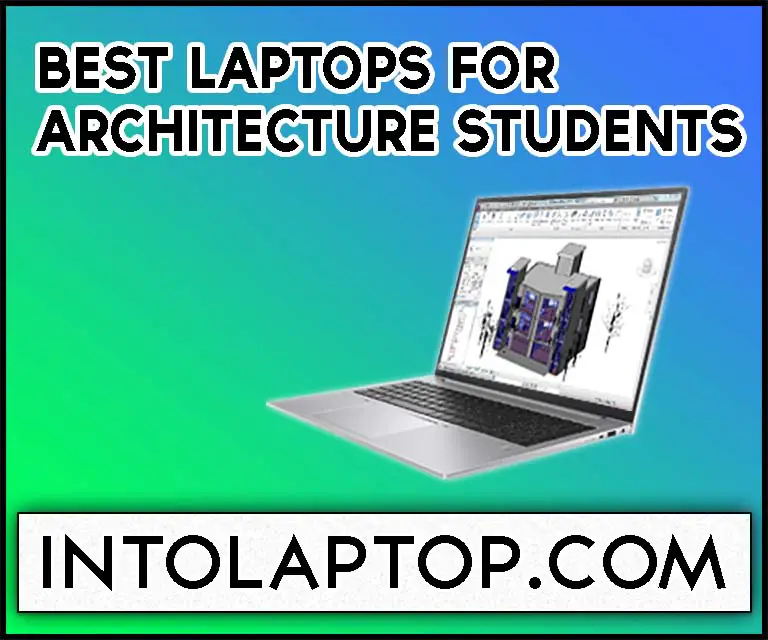 Architecture students have to put their focus even on the smallest details while designing blueprints and buildings so they should have one of the Best Laptops for Architecture Students to do their job at ease.
For an outsider, it could look simple but in reality, it requires a lot of hard work and skills.
That is the reason for a profession like this you have to acquire the best of the technology available currently out there in the market.
Obviously the most important to for this profession is a computer. Not every laptop can handle the intensive workload and while searching for the perfect device you have to understand many important requirements.
Although there are many laptops available from various brands which can deliver the kind of performance you want. However, while compiling this list we were well aware of the fact that as a student budget matter a lot.
12 Best Laptop for Architecture Students in 2023
And that is why not only we have included the premium flagship devices but also affordable and budget-friendly laptops as well.
This makes this article equally beneficial for architecture students and professionals as well. For your convenience and to save you time and energy we have compiled this list of the Best Laptop for Architecture Students in 2023 with their detailed reviews and test results.
Also, you can explore intolaptop.com to find out plenty of more laptops that come with different processors. 
1.

HP ZBook Firefly

"Well-Built Device"

When we first heard about the HP Zbook Firefly G9, we thought the manufacturer would have an entirely different style in mind.
But as soon as we took it out of the package, we were shocked to see that, certainly from the outside, it perfectly resembles an HP Envy.
But instead of the manufacturer's emblem, there is a Z written on the back of the display. It offers a deeper color scheme than the HP Envy range, which is another distinction we saw.
On the contrary, we were happy to discover that this item is built of aluminum after testing it out. Additionally, this laptop looks even more luxurious and gorgeous due to its sharp edges and very slim and streamlined design.
Even if the device weighs a little more due to its metal construction, you can still travel with it. In fact, you may take it with you anywhere you go with ease. Furthermore, this device's battery life is quite good for its size.
Despite having an Intel-integrated graphics chip, it nevertheless manages to provide excellent performance to Architecture students. Particularly when you take into account the price that the company is offering this laptop in.
BUY NOW ON AMAZON
2.

Lenovo ThinkPad T16
"Reliable & Productive"

The Lenovo ThinkPad T16 is a powerful device that blends modern technology with an extended tradition of durability and reliability.
This stylish and configurable device provides an outstanding user experience and was created with professionalism and performance in mind.
The ThinkPad T16 is a fantastic option for Architecture Students looking for a solid workhorse owing to its outstanding performance, strong security features, and variety of connectivity options.
The ThinkPad T16 has a modern, polished appearance that oozes class and functionality. The laptop's strong magnesium-alloy chassis, which was meticulously manufactured, ensures longevity without sacrificing mobility.
Even during prolonged work times, the legendary ThinkPad keyboard's superb tactile feedback enables pleasant and accurate typing. 
The ThinkPad T16 offers exceptional performance for a variety of applications thanks to its advanced Intel Core processor.
This laptop easily supports multitasking with numerous programs or running software that requires considerable resources.
Fast data access and responsiveness are guaranteed by the quick solid-state drive and a lot of RAM options. The integrated GPU improves tasks that require lots of graphics by offering a fluid visual appeal. 
The ThinkPad T16 is equipped with an outstanding display that mesmerizes with vivid colors and fine details.
BUY NOW ON AMAZON
3.

 ASUS ZenBook Pro Duo

"Innovative Dual-Display"

Since all of the laptops in the ZenBook range are made of aluminum, the Asus ZenBook Pro Duo is identical to them in terms of design.
The familiar look and feel are provided by the flat surfaces, metal external lid finish, and elegant color scheme. While all of the laptops in the ZenBook series are always incredibly thin, the Asus ZenBook Pro Duo is considerably more substantial and bulky than we've been comfortable with.
The unit seems heavy, which contributes to the chassis' solid feeling. The foundation of the keyboard is stronger than expected with no creaking and just slight depressions when moderate pressure is applied to the keys.
The lid, especially, is sturdier than anticipated with nearly no twist. Samsung's glossy 4 K OLED panel serves as the device's primary display.
The SDCA029 sensor appears to be the same as that which is used on a few similar OLED panel-equipped devices. Despite the fact that HWiNFO is unable to determine the precise name of the panel.
This indicates a very comparable visual experience among these notebooks. However, the secondary display which also happens to touch makes it an ideal option for architecture students.
BUY NOW ON AMAZON
4.

 Microsoft Surface Laptop

"Flagship Professional NoteBook"

One of the most premium convertible notebooks on the market right now is the Microsoft Surface edition. In fact, the build quality is so excellent that it is your best choice among two-in-one convertible computers for those who want a laptop with a MacBook-like quality of construction.
Although the design is nearly comparable to that of the previous generation, the location of the connectivity ports has changed slightly.
Due to the updated hardware configurations, this new model is still extremely portable but a bit heavier than the one that preceded it.
And together these features make it an excellent option for Architecture Students under this price range. Unlike the pro variants, the Microsoft Surface laptop feels more like a computer instead of a tablet which is a good thing.
Although the keyboard is still not the best but at the same time at least now you get connectivity options in the base unit instead of the display itself. On top of that it is required with a powerful latest Generation Intel processor.
Which provides more than enough power for any intensive work-related task. The battery backup is also an exception and you can easily work while traveling without worrying about recharging it.
BUY NOW ON AMAZON
5.

 Acer Predator Helios 300

"Bright Big Display"

You can tell right away that the Acer Predator Helios 300 is a laptop designed for gaming because of its numerous distinguishing features that indicate its performance status.
This performance device is beautifully constructed the display borders are somewhat curved, and all of it, including the chassis, is made of aluminum.
You'll see that the Acer Predator Helios 300 is comparably lightweight and compact when compared to other gaming laptops of a similar size.
While adding some design, Acer didn't go overboard with the glitz. Every model in the Helios series features vents at the back to disperse hot air in fact, this is a distinguishing feature of the Helios series style.
This feature also made Acer Predator an ideal choice for architecture students. The Helios logo, which illuminates when the device is turned on, is located between a pair of lines in each of the corners on the rear of the display lid.
The number pad is included on the keyboard, which is full-sized including the num pad, and is reasonably comfortable when typing on.
On the other hand, the trackpad is really large, despite being slightly to the left of the keyboard rather than in the center. 
BUY NOW ON AMAZON
6.

MSI Thin GF63

"Streamlined Design With Power"

One of the first things we observed after pulling the MSI GH63 Thin dual-purpose gaming laptop out of its packaging is that if you decide to purchase this device, you will need to carry a cloth made of microfiber with you wherever you go.
The reason for this is that even if you simply touch it, its shiny surface readily accepts smudges and fingerprints. The moment we pulled it out and set it down on the table, fingerprints were all over the plastic lid and deck.
Aside from that, the sleek black brushed aluminum surface and fairy red emblem on the back of the MSI GF63 Thin appear outstanding. The absence of RGB lights on this gaming system is unfortunate for Architecture Students who enjoy having colorful lighting around them while working. 
The MSI GF63 Thin gaming notebook has a relatively low weight and streamlined body proportions. The MSI GF6 minimal gaming laptop's display might have been much brighter and more colorful.
Even so, the GF63's 15.6-inch, Full HD display is vivid. We watched some HD movies during our tests, and sadly, this panel has the absence of a contrast problem. 
BUY NOW ON AMAZON
7.

 Razer Blade

"Compact, Portable & Powerful"

The 14-inch Razer Blade gaming laptop is composed of metal and feels quite luxurious. The construction is excellent, and everything is carefully put together.
It is one of the lightest gaming laptops available on the market for those who value portability but with high performance. The Razer Blade 14-inch laptop has the same basic design as the previous edition, and it is really a terrific, compact layout that is well-liked by users.
Because of this, the manufacturer decided to improve the hardware rather than alter the already excellent design, making this laptop one of the best ones available for Architecture Students.
The AMD Ryzen 9 series offers a potent processor with a total of 8 Cores and is a part of the Razer Blade. NVIDIA GeForce RTX dedicated GPU serves as the graphics processor.
These specifications are sufficient to guarantee a smooth and quick output of the display to an external 4K monitor. The Razer Blade 14-inch gaming laptop also has a 14-inch QHD display with excellent brightness levels.
The keyboard has the sensation of an ultrabook and is also incredibly comfortable to type on. On the other side, the mousepad is very sensitive and, more significantly, enormous. 
BUY NOW ON AMAZON
8.

MSI Katana

"Powerhouse Meant For Performance"

Although a graphics card with adequate horsepower is not necessary for Architecture Students. But at the same time, it is a major positive if a dual-purpose gaming notebook offers an RTX series Ray tracing GPU.
The dual-purpose MSI Katana high-performance notebook is made for those who look for an efficient work laptop. Naturally, the Nvidia RTX graphics card is the main feature of the MSI Katana gaming notebook.
You also receive a powerful latest generation i7, which can easily manage any office-related task, in addition to that. The fact that it is a dual-purpose gaming device has prevented MSI from over-styling it with excessive RGB lighting and intimidating air vents.
On the contrary, it features a very simple yet sophisticated style with a few aesthetic details scattered around. Despite being constructed of plastic, the construction is of the very best quality, and everything seems to be carefully put together.
The only fancy feature on the rear of the display lid is the company's trademark mark logo; there are no textures or other decorative elements. Given that it is a 15.6-inch laptop, it is not particularly heavy compared to other similar devices. 
BUY NOW ON AMAZON
9.

Dell Inspiron 7620
"Excellent Connectivity Options"

The Dell Inspiron 7620 Convertible has a strikingly attractive, contemporary style. It is incredibly portable because of its lightweight design and minimal form, making it easy to carry around.
The laptop's sturdy construction gives off an air of durability and sturdiness that ensures it can resist the demands of regular use.
The Dell Inspiron Convertible's flexible design, which seamlessly converts from a laptop to a tablet, is its best feature. The laptop could be used as a notebook, tent, stand, or tablet owing to the 360-degree hinge's seamless rotation.
This adaptability is especially helpful for activities that require touch engagement, including many many tasks which Architecture Students require.
The bright and responsive display of the Dell Inspiron Convertible makes content come to appear more crisp. The touchscreen improves the general experience for users by providing simple navigation and accurate touch control.
The high-definition display guarantees clear graphics and true colors whether you're surfing the web, engaged in gaming, or using innovative applications.
The Dell Inspiron Convertible's strong processors and plenty of RAM enable it to provide dependable performance for routine computer chores.
Additionally, the laptop has enough capacity for multitasking, enabling you to run several programs simultaneously without compromising speed. 
BUY NOW ON AMAZON
10.

HP Spectre X360

"Gorgeous Premium Device"

The HP Spectre X360 range of laptops has long been known to be a thing of luxury. This laptop is undeniably stunning. However this time, HP has really upped their level with the Spectre x360 2-in-1 notebook.
It is also significantly thinner than the previous model, which is unusual because narrower laptops typically have a smaller keyboard and trackpad.
Yet with the HP Spectre x360 succession, this is unquestionably not the case because these notebooks frequently come with excellent keyboards.
Because of this, the keyboard on the latest Spectre x360 2-in-1 is significantly better than previous models. The HP Spectre x360 2 in 1 laptop is powered by an Intel latest generation multi-core processor coupled with a spacious lightning-fast SSD and 16GB of memory.
You can do some architecture student-related visual work and light gaming on it easily although it comes with integrated graphics.
This notebook will offer you a respectable amount of battery life while traveling owing to the energy-efficient cpu.  With this notebook you don't have to worry about recharging it since the battery backup as we have mentioned is pretty decent.
And it is also incredibly portable however, given the specifications, the top-tier variant's price appears excessive.
BUY NOW ON AMAZON
Last update on 2023-09-12 / Affiliate links / Images from Amazon Product Advertising API