Top 3 Best Lenovo Laptop Picks in 2023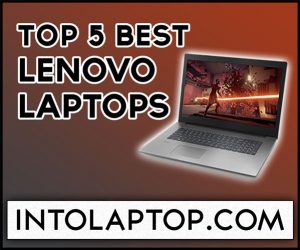 Under your specific budget choosing the right brand while buying a laptop is a cumbersome task since there are a lot of brands out there in the market and every one of them wants you to buy their product.
There are hundreds of laptops available under every price range by various manufacturers.
And among them is Lenovo which sells its best laptops all around the world.
Make sure to watch and read the Best Laptop Buying Guide exclusively created by IntoLaptop.com.
Top 8 Best Lenovo Laptop Reviews in 2023
You will find every type of laptop from this brand out there even touchscreen gaming machines.
Thinkpad workstations and laptops are the most popular products of this brand and they are known for their reliability, productivity, and excellent performance.
Consumers use Thinkpad Laptops by Lenovo mostly for business purposes but this Company also made some powerhouse gaming laptops as well.
That's why in this post we have compiled a list of Top 5 Best Lenovo Laptops in 2023 with their detailed review for your convenience.
So you can easily make the decision of which laptop is best for you according to your needs and requirements.
1.

 Lenovo Legion Y740
"The Best Lenovo Gaming & Multimedia Laptop With Most Simple Design"
Design 
Legion Y740 carries over the same look as its previous models since Lenovo has just only refreshed the aesthetic with this specific laptop.
It has a flat gray lid and a sleek overall design. Lenovo Legion Y740's measurements are 14.2 x 10.5 x 0.88 inches and it weighs almost exactly 5 pounds, which makes it nice and portable but obviously not razer blade thin. However, if you want a decently compact gaming laptop then Legion Y740 is the perfect option.
You can consider Lenovo's this machine a perfect business laptop which happens to be capable of showing good performance on gaming.
Display 
Lenovo Legion Y740h offers a 15.6-inch display with a refresh rate of 144Hz, but the most important feature about this display is the G-Sync capabilities.
No doubt that these specs of Legion Y740 sound good but they come with some drawbacks.
A lot of people are not a big fan of this laptop's screen, the reason is that it does not support HDR.
1,000 nits are required for HDR and Lenovo Legion Y740's screen shows a maximum peak of only 300 nits, which is far below.
The color reproduction isn't good either, so display wise this laptop is not that good. However, to watch HDR-enabled content, you can attach an external monitor.
Performance Under Workload
With Intel Core i7-8750H processor, Nvidia GeForce RTX 2080 and 16GB of RAM, the Legion Y740 proves itself a pretty powerful machine.
It can easily cope with multiple tabs open and HD 1080p videos playing on YouTube, while a graphic intensive game runs in the background at the same time.
On the Geekbench for overall performance test, the Lenovo Legion Y740 laptop was able to post a strong 21,629 score, with that Legion has beaten the 20,844 mainstream gaming laptop average but there are some other laptops with a similar price tag that performs even better.
During browsing or editing files Lenovo Legion Y740 is very fast and you can feel how snappy it is even when doing your specific work or tasks.
While launching Microsoft Word, for instance, you will hardly ever saw the splash screen. Skipping any program's loading screen, Legion Y740 is quick enough to jump directly into the software.
This performance goes the same for most of the other first-party software including the Microsoft Office Apps.
Apart from that in the benchmark tests Lenovo Legion Y740  hold good performance which you will expect from any other similar laptop of its league.
BUY NOW ON AMAZON
2.

Lenovo ThinkPad X1
"The Best Business Laptop Under $2500"
Design
The Lenovo ThinkPad X1 Extreme is a 15 inch sleek, thin and lightweight business laptop, its over all build including chassis is made out luxurious materials.
The sophisticated soft-touch finish is supported by the svelte clamshell laptop's matte black carbon fiber chassis.
Placed on the right top corner of the lid and deck is a black ThinkPad logo, with a glowing red dot. At the bottom corner of the lid Another logo, a stylish red and gray X1 can be seen. 
The Lenovo ThinkPad X1 Extreme Business Notebook laptop's overall footprint has been reduced because of the thin bezels around the display.
It is a very compact laptop with the dimensions of 14.2 x 9.7 x 0.7 inches, it weighs only 3.8 pounds. With that and the slim design, ThinkPad X1 becomes very easier to carry a laptop.
Don't get fooled by its slim size, since it carries more ports than some of the other bulky laptops. There are enough USB 3.1 ports, an SD card reader, an optional Smart Card reader, and a Kensington lock.
Display 
You can go for the X1 Extreme's phenomenal 4K HDR 3840×2160 touch-screen display over the 1080p matte option If battery life is not a big concern for you.
Without a doubt, this detailed and bursting with saturated and vivid colors is one of the best 15.6-inch business laptops on a consumer-grade.
You can see the tiniest details in 4k ultra HD videos and the exceptionally vibrant colors on the HDR panel leap off the screen.
However, the color saturation sometimes gets exaggerated to the point of being lurid while the white balance seems accurate.
Performance Under Workload 
Whenever it comes to performance, The Lenovo ThinkPad X1 Extreme Business Notebook lives up to its name. During the workload, this laptop was blazing fast.
You can run multiple YouTube HD videos and open up to 15 tabs in Google Chrome at the same time, the X1 will not even shutter. In an overall performance test, Lenovo ThinkPad was able to achieve a high score of 22,021 on Geekbench 4.1.
Lenovo's ThinkPad X1 Extreme has proved itself more powerful than the average premium laptops, again with this score.
BUY NOW ON AMAZON
3.

Lenovo ThinkPad X1 Carbon
"Sleek & Slim Laptop with Attractive Design"
Design
If you want a laptop that should be slim, attractive, lightweight and durable then Lenovo ThinkPad X1 Carbon 7th Generation Ultrabook is the best option you can get under $1500.
Its ultra-portable chassis is made out of magnesium and carbon fiber, which gives this laptop a stunning look.
It seems like Lenovo lays focus more on the power rather than on look especially in the case of Thinkpad since the X1 ultrabook follows the same minimalist aesthetic as the previous model. The carbon fiber touch gives this laptop a very attractive appearance.
On the back of the lid, you will find the Thinkpad emblem and stylish X1 logo, Thinkpad emblem glows in red color as well.
When you open it, there are two speakers on the deck. accompanied by curved keys and a sticking point.
Touchpad buttons are in red paint and the power button has been moved to the right side, so you can easily operate it even the laptop is docked with the lid closed.
But in normal position, this new location of the power button on X1 Carbon is less accessible. The traditional black lid of Thinkpad is more scratch-proof then the carbon fiber one.
Display 
Lenovo's Thinkpad X1 Carbon has 1080 or 4k display options, the screen size is 14 inches. The 1080p version panel is quite sharp and colors turn out to be vibrant, which is great.
But the 4k display version is even better and notably brighter. However, the 4k screen considerably reflects in brighter conditions, since it is very glossy.
With 1080p measured around (336 nits) and 4K at (432 nits), the ThinkPad X1's both displays are bright enough.
The measurements of both displays fall in the average of premium laptops, which is amazing considering the price tag.
Performance Under Workload
Currently, all the variants of Thinkpad X1 Carbon laptops are powered by 8th Generation CPU's but in the coming year, Lenovo is expected to bring Intel's new 10th Generation CPU in these machines.
Thinkpad X1 carbon can cope with typical extreme workloads easily. However, if you are a multi-tasker then we recommend you should go for 16Gb Ram configuration.
During our tests on Geekbench 4, Thinkpad X1 Carbon was able to score solid 16,545, these results are better than the last year's model. X1 carbon can convert 4.97GB of multimedia files in seconds.
BUY NOW ON AMAZON
4.

 

Lenovo ThinkPad P52s
"A Powerful Workstation With Classic Looking Design"
Design 
All the Lenovo's Thinkpad laptops have a minimal, classic looking design, so do the P52s Mobile Workstation Ultrabook.
Glass fiber reinforced plastic has been used in its rather smooth black colored interior. With the traditional illuminated dot above a steel-colored Thinkpad, the logo has been placed in the top left corner,  Lenovo emblem is in the bottom right corner.
Under the lid, there is an island-style decent looking keyboard, which has a very bright backlight. A thin red-colored line can be shown under the mouse pad buttons.
Display
Lenovo's Thinkpad P52 offers 3840×2160 LED-backlit 15.6 inches display, which shows excellent details and good brightness.
In the color comparison with other work stations honestly, it is just okay. Thinkpad P52,s panel covers 117% of the sRGB color gamut according to the colorimeter, which is below the average of 153 but it is decent enough.
Thinkpad 52 is not far behind the 318 nit workstations average for brightness with 293 nits. In simple words display wise this laptop is decently okay as compared to its rival in the category of workstations. 
Performance Under Workload
Lenovo Thinkpad P52 packs 1.9-GHz Intel Core i7-8650U processor with vPro, 16GB of RAM, 1TB of SSD storage and Nvidia Quadro P500 2GB GPU.
This means you can play HD videos on YouTube with multiple tabs of Google Chrome opened and a high-end game running in the background at the same time.
Graphical performance wise it is not excellent but good, during our tests we have noticed some lacks.
In the Geekbench performance test, Thinkpad P52 was able to score 13,146, which considering a workstation is acceptable.
However, there are other workstations that have performed better scores on the same test. During typical tasks like copying multimedia files of almost 5GB Thinkpad P52 workstation only has only consumed 14 seconds.
With that, it became the only machine that has achieved the workstation average of 506 MBps. In the Handbrake test, the Thinkpad P52 took 18 minutes for transcoding a 4k video of 1080p, again it has crushed the category average of 21 minutes.
It also tops the Excel test with the time of  1:11 against 1:31 average.
BUY NOW ON AMAZON
5.

Lenovo ThinkPad T480
"Excellent Work Machine with Good Battery Life"
Design
Standard raven black chassis and a soft graceful lid, these aesthetics made Lenovo Thinkpad T480 laptop stand with one of the few machines which were designed with functionality in mind rather than look or appearance.
The overall design is almost the same as its predecessors,  so at first glance, you can not tell which machine is this.
Thinkpad T480 weighs almost 3.58 pounds and its dimensions are 13.25 x 9.15 x 0.78 inches. If you want you can have a high-capacity battery but it will increase the overall weight pf the laptop to 3.98 pounds. 
Display 
Lenovo Thinkpad T480 offers a no-touch 1920 x 1080 HD screen, which is great for productivity. The image appears sharp with solid viewing angles, brightness and colors are not very good but decent.
In HD videos it really shows up minute details and accurate quality. Another excellent thing about this laptop is that the screen doesn't reflect that much because of its matte surface at the bay.
Which is a good thing since Thinkpad T480's maximum level of brightness is measured to be 269 nits. That's why You will not have any problem using it even in the outdoors.
Performance Under Workload
Lenovo Thinkpad T480 is more than fast enough to handle any typical work you require because under the hood it has an Intel Core i5-8350U CPU with 256 GB SSD and 8GB of Ram.
During our test, we did a video conference with at least a dozen Google Chrome tabs opened, the laptop performed great. We didn't experience any kind of lag or other problems.
On Geekbench 4 Thinkpad T480 scored a strong figure of 12,047. To measure overall performance we did a synthetic test, in which Thinkpad T480 scored a massive 12,140.
Which is way ahead than the premium laptop category average of 9,724. To match 6500 names with their addresses in Excel, Lenovo Thinkpad T480 took only 11 seconds.
With that, this laptop has again performed far better than the category average which is 1:42.
BUY NOW ON AMAZON
Some More Latest Lenovo Laptops
Last update on 2023-09-15 / Affiliate links / Images from Amazon Product Advertising API