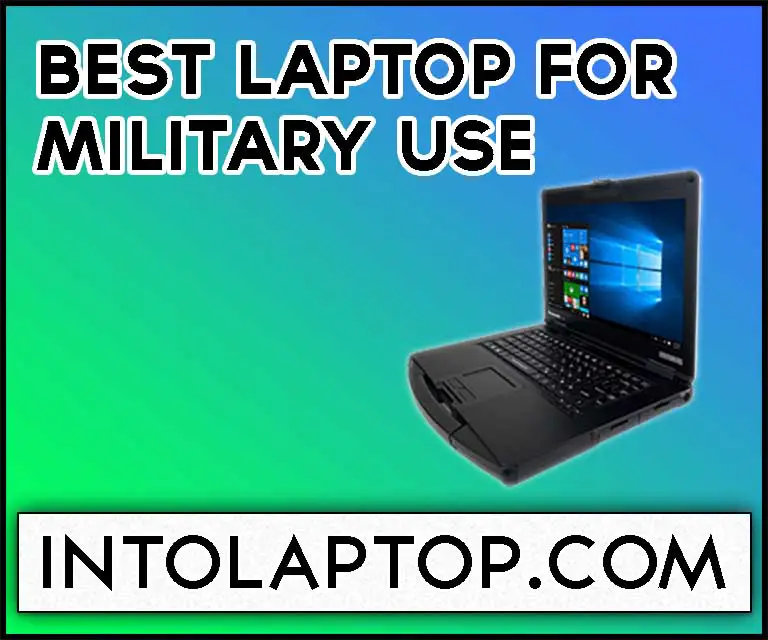 Laptops that have been tested to survive in harsh conditions are designated as Military Grade laptops.
They have been designed for the use of military personnel even in war zones. However, if you want you can also get a military laptop as a civilian.
Although aesthetically these laptops almost look like a heavy and bulky briefcase.
But on the other hand, they are designed to be as practical and easy to maintain as possible.
You use them in high temperatures and wet weather conditions since they are water, shock, and vibration-proof devices.
Not only Military personnel use these laptops but also professionals like firefighters, police officers, and construction workers use them in rough environmental conditions.
11 Best Laptop for Military Use in 2023
Almost all of the well-known brands assemble military-grade laptops but Panasonic is especially famous because the US military is using their laptops for decades now.
Now the question is should you buy yourself a military-grade laptop? It entirely depends on your professional needs however one can buy a military laptop if they have enough budget.
Because of the fact that they are equipped with extra safety features and are built out of solid materials, the price is higher as compared to normal laptops.
At the same time, the kind of features they offer completely justifies the price tag. You don't even need a backpack for a military laptop since they are designed like a briefcase as we have mentioned above.
In this article, you will find a list of the 11 Best Laptop for Military Use in 2023 with their detailed reviews and test results. Also, you can explore intolaptop.com to find out plenty of more laptops that come with different configurations. 
1.

 Lenovo ThinkPad T420s

"Responsive & Precise TrackPad"
You can consider Lenovo T420s the more refined version of the other variant T420. It also happens to be slimmer as opposed to the T420 but pretty bulky when you compare it with normal laptops.
Which is completely fine in fact it is supposed to be like that because of the fact that it is a military-grade laptop. At the same time, Lenovo has done a great job by maintaining the Thinkpad core design.
Although the body is made out of plastic it is reinforced by carbon fiber and magnesium alloy. Which makes it very robust and rugged, it can survive any falls from your hands with no problem.
Under this price tag, Lenovo is offering a great option with enough powerful hardware for any office-related tasks. To open the display lid you have to apply high force since the hinges which hold the display in place are very made out of aluminum and that's why they are really strong.
The display it is equipped with is a full HD panel in a clam shell design which also protects it from dust and any foreign objects. It is loaded with tons of connectivity options enabling you to connect all of your essential devices.
On the other hand, like always Lenovo has equipped it with a very comfortable keyboard offering clear pressure points and agreeably shaped keys.
Having said that we really loved the trackpad it offers because it is very responsive and almost as accurate as an external Mouse.
BUY NOW ON AMAZON
2.

 Dell Latitude 7424

"Professional Military Grade Touch Laptop"

Although the Dell Latitude 7424 is made out of plastic but in a few places the manufacturer has used metal as well. On the other hand, the display lid and corners of the base unit are covered in rubberized material.
The reason for that is this rubberized material can absorb the shock in case of any impact. And as a result, the laptop and its internal components will be protected.
This configuration also provides the laptop water resistance and you can use it in any kind of atmospheric conditions. At the first glance, this laptop just looks like a rather balky and heavy Briefcase.
The thing is this device is not meant to look good but it is intended for professionals who work in Harsh conditions like firefighters, policemen, and army personnel.
We haven't noticed any flex either in the display lid or the base unit which makes it one of the most rugged and robust laptops.
The Hinges which hold the display in place are solid but not too tight however they hold the display pretty well. Furthermore, the display it is featured with is not only Full HD but also offers touch capabilities.
It even comes with a stylus touch pen which can be stored in a compartment provided in the laptop itself. The keyboard is also dust and waterproof so you don't have to worry about dirt anymore.
In the top display border, you will find a rather big but high-resolution integrated web camera.
BUY NOW ON AMAZON
3.

 HP ProBook x360

"Touch Device With Stylus Pen"
HP has a different approach towards military-grade laptops when it comes to main design and build quality. When you compare the HP ProBook with other similar laptops then it stands out to be more compact and elegant but robust at the same time.
At the display lid and base unit, the plastic is softer so it can absorb the shock in case of an impact. And also the softer material in the deck area enables your palms to rest comfortably while you type.
Despite the size of the laptop it still offers excellent connectivity options. Which are more than for you to connect all of your devices.
Another important thing worth mentioning here is that at the back of the display Lid and around the keyboard including the numeric pad, there is a carbon fiber-like texture.
Which In all honesty enhances the elegant look of this compact military-grade laptop. It is a two-in-one convertible laptop you can rotate the display lid all the way to 360 degrees.
HP is also offering a stylus pen with the laptop which can be stored in a compartment integrated into the laptop. The manufacturer has not only made this laptop compact but also tries their best to keep it lightweight at least compared with a similar device.
This HP ProBook offers an excellent keyboard however the up-down arrow keys are narrow. On the other hand, the trackpad performs reasonable code and the clicks are accurate and precise.
BUY NOW ON AMAZON
4.

MobileDemand Flex 10B

"Robust Device Offering Detachable Keyboard"

The Mobile Demand Flex 10B could be a brand for you that you have never heard of but when we see the laptop for the first time we have to admit that they have done a great job.
The looks like it can survive an apocalypse with those giant protected corners and metal plate-looking display lid. On top of that, it happens to be at two in one convertible laptop which means you can detach the keyboard to use it as a Windows Tablet.
But on the other hand, it simply means that all the connectivity ports, battery, and hardware components are squeezed into the display lid itself.
Also, the detachable keyboard kind of gives us the impression that it is intended more to be used as a Windows Tablet than a laptop.
However it is what it is, you don't get a stylus included in the package just like some similar convertible military-grade laptops offer.
So if you want to use the stylus touch pen you have to buy it separately. That display is decently bright and the maximum resolution it offers is WXGA.
For a convertible laptop of this size, this resolution is more than enough and far better than what the majority of similar laptops offer.
As we have mentioned that connectivity options are also integrated into the display lid and because there is not much space there the number of ports is pretty much limited.
BUY NOW ON AMAZON
5.

 Acer Enduro N3

"Attractive & Modern Design"

As compared to other rugged military-grade laptops the Acer Urban N3 is notably compact and portable. In fact the keyboard layout and the core design especially the deck area looks very much inspired by the MacBook.
As you would expect from a robust laptop this Acer Urban N3 is not only dust and waterproof but also shockproof. The back of the display lid is entirely protected under a rubberized material so, in case of impact, it can absorb the shock.
On both sides of the laptop, you will find all the necessary connectivity options but they have an air-tight protective cover on them. You can easily connect all of your essential devices with it without having any problems.
The base unit corners are also protected with the same rubberized material you find on the display lid. There is a single but rather big air vent at the center of the base unit just below the display lid which throws the hot air out and keeps the temperatures optimal.
As we have mentioned about the keyboard the area looks familiar with the MacBook and in a good way. The keyboard offers white backlit and it is integrated into the deck instead of being a separate panel.
That trackpad on the other hand of physical click buttons which are by the way always a better option as opposed to touch click buttons.
The Acer Urban is a great option to fulfill your day-to-day office work needs since the battery backup is excellent.
BUY NOW ON AMAZON
6.

 GPD MicroPC

"Micro Military Grade Laptop"

Normally military-grade laptops are always bulky and heavy and they are not very convenient when it comes to traveling with them.
However, GPD is a brand that has changed this trend by introducing its new Micro PC laptop. In overall dimensions, it is almost the size of a calculator but at the same time, it works exactly like a professional laptop.
In fact, GPD has even introduced a gaming laptop that comes with integrated joysticks and trigger buttons. Having said that the build quality of this micro laptop is excellent and it is very robust in terms of durability.
When you open the display lid you will find that it offers a qwerty keyboard just like some of the 90s and early 2000s smartphones.
The placement of the trackpad is very unusual and the main reason for that is the compact space of this laptop. You will find the trackpad at the top right corner of the deck area instead of the traditional under-the-keyboard placement.
On the other hand, the trackpad is very responsive and the unusual placement of the trackpad enables you to use it with a thumb as well.
We were astonished to find out that despite being a Micro PC this laptop still offers better connectivity options than many normal notebooks.
Do remember that the variant we have reviewed was not equipped with the touch display configuration.
BUY NOW ON AMAZON
7.

 GIGABYTE AERO

"Thin Yet Rugged Gaming Device"

Although Gigabyte Aero 15 is a dual-purpose gaming laptop the build quality makes this laptop worth mentioning in this list of military-grade laptops.
Despite being a robust device it is still pretty compact and thin especially when you compare it with other similar laptops. Instead of equipping this laptop with two Hinges to hold the display with the base unit like the traditional way.
The manufacturer has offered a single huge Hinge that almost covers the full length of the deck area. In fact for a rugged laptop like this configuration is more suitable since it provides the required sturdiness.
When we talk about military-grade laptops we have mentioned that for these devices looks don't matter. They are more practical devices meant for professionals to use in any atmospheric condition.
However, this Gigabyte Aero also provides you attractive design with a full RGB keyboard that also includes a numeric pad.  Speaking of the keyboard it is very spacious and offers a comfortable typing experience.
The only thing with looks old school in this device is the bottom display border which is comparatively huge. Under the bottom display border at the center of the single Hinge, you will find the integrated web camera.
We found this place for a webcam unusual because, in the majority of laptops, the web camera is always housed in the top display border. On the other hand, the display feature is Full HD with a refresh rate of 144 Hertz.
BUY NOW ON AMAZON
8.

 Bmax Laptop

"Elegant & Robust Touch Device"

BMax laptop looks just like that traditional 2 in 1 convertible laptop with two Hinges on both sides. Enabling you to use it as a Windows Tablet by rotating the screen to full 360 degrees.
Basically, this design was introduced almost a decade ago by Lenovo in their first Yoga laptop. As we have mentioned above it may look like the traditional two-in-one convertible laptop but at the same time, it also offers you rugged build quality.
It is entirely made out of aluminum alloy including the chassis. On the other hand, it is still a lightweight and slim laptop especially when you compare it with other military-grade laptops.
Having said that the keyboard layout and display configuration seems to be inspired by the MacBook. Our review unit was in space grey color with a brush metal finish making it look more elegant and stylish.
Another important thing worth mentioning here is that just like the latest MacBook Air the BMax convertible laptop doesn't have any air vents.
The main reason for that is it is powered by Intel's low-power-consuming processor. And the entire laptop works as a heat sink to throw the hot air out.
You can easily maintain or upgrade the internal components like memory and storage without any hassle. On the other hand, It features a Full HD IPS touch display and since it is a glossy glass it catches fingerprints and is pretty easy.
BUY NOW ON AMAZON
9.

 TOPOSH 2 in 1

"Robust, Leight Weihgt & Well Buit"

If you are in search of a rugged military-grade laptop but also want it to be lightweight at the same time. Then this TOPOSH 2 in 1 convertible laptop could be a great option for you.
It not only offers you robust build quality but also enables you to travel with it conveniently as compared to other similar laptops.
On top of that the TOPOSH 2 in 1 convertible laptop is also equipped with a full HD touch display panel and an integrated stylus pen.
It is possible that you may not have heard this brand name before but with this laptop, TOPOSH has gained a lot of popularity.
Mainly because this touch laptop offers premium quality, attractive design, and powerful performance. Speaking of the design this laptop kind of looks like a mix of MacBook and HP Pavilion but in a good way.
The keyboard layout is pretty clean and straightforward with backlit. Is also very comfortable to use since the keys have clear pressure points and decent travel distances.
Considering the fact that it is a compact and portable laptop the trackpad it offers is not huge but decently sized and responsive.
And also you can use the touch display instead directly or with the stylus pen. Despite being a comparatively slim and thin laptop it still offers great connectivity options.
It offers all the necessary ports to connect all of your essential devices easily. The only drawback is the not-so-good battery backup of this convertible laptop.
BUY NOW ON AMAZON
Last update on 2022-12-11 / Affiliate links / Images from Amazon Product Advertising API