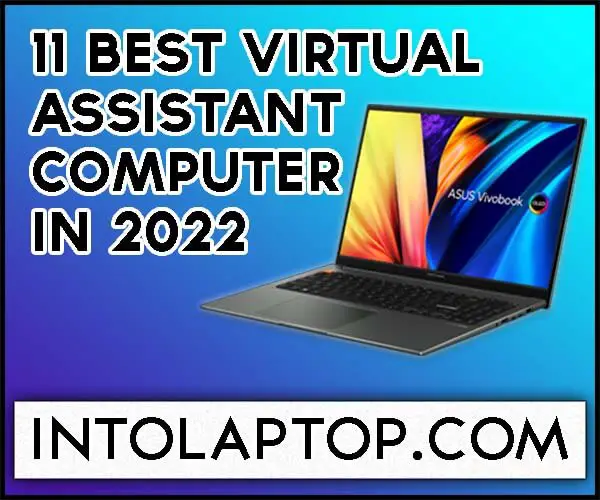 As a virtual assistant, you might be looking for one of the best computer for virtual assistant in 2022 to invest in to make your life easier. Flexibility, choice, control, and freedom are the main benefits of working as a virtual assistant.
Just like any other field these days online environment is extremely competitive. That is the reason only the right mindset is not enough for success, the right tools are required as well. Choosing the best computer for virtual assistant work is the main goal if you want maximum productivity.
The good thing is for your ease we have compiled a list of the 11 best computers for a virtual assistant in this article. You can choose any of them as per your budget and requirements.
All the laptops mentioned in this article have shown great performance in all the virtual assistant-related tasks.
Into Laptop has drafted a detailed Laptop Buying Guide to help you with the basics and advanced technical features of today's modern laptops.
Also Read: Best Student Laptop in 2022
Best Computer for Virtual Assistant in 2022
While compiling the list of best computer for virtual assistant in 2022, we have reviewed all these laptops in detail. So each and every requirement related to your work can be fulfilled easily.
Our listed laptops will provide you with the top-notch performance you are looking for, they have been tested thoroughly during the performance tests.
With that being said let's jump into the post to find you the best computer for virtual assistants. Also, visit intolaptop.com to find out more about the latest laptop & computer systems. 
1.

Lenovo IdeaPad Duet 5 Chromebook
"Best in The Class OLED Display" 
There is a misconception about Chromebooks that they are not preferable for work purposes which is entirely Wrong, the performance only depends on what kind of specs your Chromebook has.
The reality is that capable hardware-equipped Chromebook can fulfill your virtual assistant needs sometimes better than traditional notebook laptops.
And without a doubt, Lenovo Ideapad Duet 5 Chromebook is one of the most capable and practical Chromebook we have just talked about in this article.
The first main plus point is the OLED display this Chromebook offers which is far better than any other in the competition, even some more expensive brands do not offer this in their similar laptops. 
There are two USB-C connections on the Chromebook, each of which can be used for charging and video output. Remember that this Chromebook lacks any 3.5 mm audio jack, that's why to listen to the audio you can either use type-C headphones or wireless audio devices.
According to the manufacturer, this Chromebook can give you 11-hour battery timing but during our battery drain tests, we got almost 11 hours of battery backup which is still amazing. 
The specs of Lenovo IdeaPad Duet Chromebook in this budget sector are utterly decent and performance is more than enough for everyday virtual assistant tasks. 
BUY NOW ON AMAZON
2.

Lenovo IdeaPad 3i 2022
"Hyper-Threading Technology"
As compared to the previous model Lenovo has made several needed changes in the new Ideapad 3i 15 inches laptop so it can keep up well with the growing virtual assistant needs of consumers. 
If we talk about the main design of this laptop Lenovo this time has also focused on privacy because the webcam is hidden in the top bezel, when you press the cut out there you can see the camera pops open. 
The keyboard is decent and comfortable for typing also it contains a separate numeric keypad on the left side so you can enter numbers with ease and convenience.
Connectivity wise it offers an HDMI port, USB-2.0 ports, USB-3.0 ports a power connector as well as the SD-Card slot for expanding the memory or transferring files more easily. 
During our battery drain tests, this laptop shows almost 9 hours of battery backup time which is decent but not extraordinary since some similar laptops offer you even more battery life. 
The consumers know how reliable Lenovo laptops are so there is no question mark there, service is pretty easy because you can find parts if something broke down without any trouble.  
Lenovo Ideapad 3i is loaded with all the tools and requirements you would require for your virtual assistant purposes from a decently powerful CPU to more than enough battery timing. 
BUY NOW ON AMAZON
3.

Acer Swift 3 
"Easy to Travel With"
The Swift 3 14″ laptop streamlined case is made of aluminum. The display frame only consists of plastic. Color choices include silver, purple, blue, and rose gold. There is no question about craftsmanship.
The gap widths are right, and material overhangs are not present, stability, however, isn't persuasive. The base unit should be of higher stiffness, the battery is securely installed. Although there is no flap of repair.
The bottom panel would have to be removed to get access to the innards. To do this, remove all screws at the device's underside first. The bottom panel can then be removed, for example, with the help of a flat spatula.
Starting at any of the two front corners is recommended. The Swift 3 has a keyboard with a backlit chiclet on board. The smooth, flat keys offer a clear pressure point and short stroke. Not disturbing though but the keyboard does display a minimal flex during typing.
The matte 14 inches Acer Swift 3 display offers a fixed 1920×1080 pixel resolution. The screen provides good contrast at 1613:1, and the overall luminosity of 252.4 cd / m2 is not very high. Values above 300 cd / m2 are considered good.
However, the brightness value can be lived with due to the price level of the notebook. On the positive side, this screen shows no flickering from the PWM. The screen displays an ex-factory decent color representation. 
The Acer Swift 3 SF315 comes loaded with an AMD Ryzen 7 5700U Octa-Core Processor, which is Quad-Core and has a clock speed of up to 4.3 GHz. It also offers 8GB of LPDDR4X RAM and 512 GB NVMe SSD, for graphics you will find integrated AMD Radeon Graphics.
BUY NOW ON AMAZON
4.

Beelink SER5 Mini PC
"Compact Design with Powerful Performance"
The SER5, which is branded as an "SER PRO," is the latest addition to the Beelink SER family. It comes equipped with an AMD Ryzen 5000 H-series processor from the previous year, which is generally found in high-performance virtual assistant productivity laptops and one of the Best Computer for Virtual Assistant.
A square metal chassis measuring 126 x 113 x 42mm makes up the Beelink SER5 hardware. With 3.3 GHz base speed and a boost to 4.2 GHz of Radeon Graphics, It features AMD's 7 nm Zen 3 Ryzen 5 5600H Cezanne processor, which is a 12-thread six-core mobile processor. 
Also, this compact PC is equipped with the actively cooled technology of AMD. This specific model came with two sticks of Solid 16 GB DDR4 3200 MHz memory for a total of 32 GB, but it should be noted that this particular memory is a single channel. 
There are also two SODIMM memory ports enabling up to 64 GB of memory. Performance-wise, the Beelink SER5 and SER4 are fairly identical.
The SER5 ought to be considered an alternative rather than an improvement since it has a more modern Zen architecture, however, it performs comparably to the SER4.
At the start, you could face an error about mismatched software and driver version since this pc is running on AMD Radeon software but you can easily resolve it by simply updating to the latest version. 
Beelink SER5 is the perfect option for you if you want to work on your virtual assistant-related tasks in a stationary place like from home or an office environment. 
BUY NOW ON AMAZON
5.

Lenovo IdeaCentre AIO 3i
"Large Screen, Well Build"
Though Lenovo IdeaCenter AIO (all-in-one) pc is an entry-level AIO still it has enough juice to keep your virtual assistant workflow going without any halts or delays and this product is recommended as one of the Best Computer for Virtual Assistant. 
Lenovo really has worked on design elements since the PC's unique foundation offers it a touch of design while providing sturdy support for the 24″ display. Which is also larger than the 21″ panels that are regularly found in AIOs at this cost.
But a quick glance at the IdeaCentre reveals several neglected prospects. Despite being larger than other inexpensive AIO displays, the brightness is shockingly dull.
Despite this flaw, the IdeaCentre AIO 3 still has an elegant look. The display is suspended above your desk or table by the beautiful base. A streamlined edge around the display gives the device a futuristic appearance.
The IdeaCentre is a rather well-rounded system that enables you to perform about any task you would desire with a device focused on the virtual assistant workplace.
You can open multiple browser tabs without any lag or delay at once thanks to the Ryzen Processor and 16 GB of RAM. The CPU's processing capability enables rather a good midrange performance, covering everything from simple video editing to MS Office tasks and media viewing.
Since the 512 GB solid-state drive in the IdeaCenter offers faster media transfers and improved overall performance, it is a superior choice to standard spinning hard drives.
However, to store all the data or other stuff Lenovo has equipped ThinkCentre with a 1 TB hard disk drive as well so you really don't have to worry about going out of space. 
BUY NOW ON AMAZON
6.

Acer Aspire C27
"Competitive Performance, Compact Design"
Although the 27-inch Apple iMac continues to set the bar for large-screen all-in-one (AIO) computers, however not everyone is able to buy a computer with a high starting cost and a steep price increase over time.
So if your virtual assistant needs demand an iMac but either you don't want to go for mac OS or currently your budget is tight then don't worry we have a great alternative for you in the shape of the Acer Aspire C27 AIO computer. 
During our review and testing, the Acer Aspire C27 all-in-one computer has not only shown better performance in some aspects of the iMac but also provides better hardware and components.
However you have to ignore some of the cosmetic sacrifices of Apple iMac's legendary design, moreover despite the fact that Acer Aspire has a bigger screen the brightness levels are average which is kind of common in this budget sector.
In terms of performance and underload output, Acer Aspire is a strong contender since it can handle all those tasks pretty easily with its decent hardware configurations. You should not miss this product as it is one of the Best Computer for Virtual Assistant.
Connectivity wise this pc has all the ports and options you will need for your virtual assistant workload except the USB-C port, which is kind of a bummer since some similar AIO computers come equipped with it at the same price tag.
When tested Acer Aspire  C27 AIO under load it shows no sign of hiccups in any task we have thrown at it, also it fans are not noisy during the workload. you can barely hear them. 
BUY NOW ON AMAZON
7.

Dell Inspiron 7700
"Great Productivity Packed with Infinity Display"
Because of the quality that it provides to its consumers, Dell is a well-known brand in the electronics sector. Due to its excellent performance, the Dell Inspiron 7700 all-in-one computer is exceptionally durable and dependable.
This desktop is one of the most popular computers among users who perform tasks related to virtual assistance and ofcourse it is one of the Best Computer for Virtual Assistant. The majority of people are tempted by this device through its high performance and superb graphical capability.
The most promising features of the Dell Inspiron 7700 all-in-one pc are its potential to play back video and its aesthetic, functionality, and fast speed.
One Intel Core i7-1165 4.2 GHz CPU powers the device. This CPU has four cores. The device can reduce processing speed because this CPU is a powerhouse.
Before purchasing any device for oneself, a buyer must carefully check the capacity of storage and RAM of any PC. If talk about the RAM it is 12 GB which is a decent memory for today's standard and according to the overall price tag.
But one big drawback is that Dell Inspiron 7700 AIO lack an SSD though they have given the 1 TB hard disk you can feel the absence of SSD while booting up or transferring files.  
However, a good thing is you can connect wireless keyboard and mouse sine some similar computers are only offering wired keyboard and mouse. Apart from that this pc also offers an Ethernet cable which really helps you in downloading stuff and working online. 
BUY NOW ON AMAZON
8.

HP Pavilion 27
"Great Productivity Packed with Infinity Display"
As we have mentioned above earlier in this article that it's wrong to think that all-in-ones PCs can't do your daily working tasks. Now the Hp pavilion 27 AIO will also make you rethink if you believe that myth.
This is one of the Best Computer for Virtual Assistant equipped with a 27″ touchscreen, 16GB RAM, and dual storage consisting of a 256GB SSD and a 1TB Hard Disk.
This Pavilion boasts greater storage space, strong processing power, and more RAM than inexpensive AIOs like the Acer Aspire. This all-in-one computer has proved that to perform better it doesn't need to be expensive.
The HP Pavilion features the majority of its connectors on the back, like the rest of all-in-one computers, do. The power button is located at the bottom left, and to the right of the display, there is a single USB Type-A port.
Along with an SD card slot, a Gigabit Ethernet jack, an HDMI-out port for connecting to a secondary display, and an HDMI-in port for connecting a cable box or gaming console to the HP screen, there are three more USB-A ports and one USB Type-C port on the back.
Bluetooth 5 and 802.11ac Wi-Fi are the wireless options. A wireless mouse and keyboard are also included in the box. HP has made sure to make a difference here from other brands.
Bottom line is that the HP 27 Pavilion all-in-one is an excellent option not only for a virtual assistant but also for students or creatives who want a great looking as well as powerful AIO PC.
BUY NOW ON AMAZON
Last update on 2023-11-28 / Affiliate links / Images from Amazon Product Advertising API