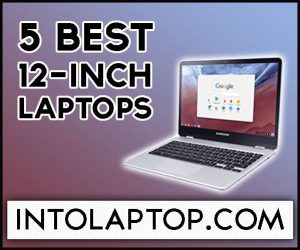 If you look back in the past you will observe that 12-inch laptops have not existed back then.
At that time the only laptops you could find were big and bulky.
But these 12-inch category devices have overtaken those big computers from almost the moment they were introduced to the consumers in the market.
Users loved these laptops because of the fact that despite having slim and portable design they offer great productivity and excellent performance.
You have clicked on the right post if you are in search of replacing your heavy, fat computer with a slim, sleek, and powerful notebook laptop.
And to help you out in finding the best device we have compiled a list of the top 10 best 12 inches laptop you can buy in the year 2023.
As compared to the 11 inch notebooks you can get more options and features if you choose to go with and 12 inches laptop.
In this list, you can even find some of the premium high-end laptops without sacrificing the slim and sleek and lightweight design.
From the list below you can choose whichever 12 inches laptop fits best for your work requirements or need.
Also, you can explore intolaptop.com to find out even more options.
So without any further delay let's jump into the post.
Also Read: Best 13 Inch Laptops
Best 12-inch Laptop in 2023
Many of the 12 inches range laptops will feature a hybrid design, allowing them to be set into an angle like a regular notebook or to be used as a touch screen tablet whenever you need it.
You can explore intolaptop to find out more about the different sizes of laptops.
Another plus point for a 12 inches laptop is that you can it in almost any configuration as you want. So let's jump into the article without any further delay. 
1.

 Microsoft Surface Pro 6
"The Best Laptop You Can Get Under $1000"
Design
Microsoft Surface Pro 6 has an elegant black color scheme overall,  the material from which the body is build feels good when touched.
However, the design is the same as the previous model. Surface Pro laptop weighs just 1.7 pounds and the thickness of this machine is only 0.33 inches, which is not new since the last model has the same measurements and weight.
Also including the type cover, all the ports are exactly the same as the last year. This is good since the type of cover is excellent and loved by the people who are users of Microsoft Surface Pro 6.
The thing is that this laptop offers USB 3.1 instead of USB 3.0, which comes standard in all 2019 models.
Now you will be able to transfer your data almost double the speed of the previous models. 
Display 
Although the display of Microsoft Surface Pro 6 is the same as last year's machine, the company does have improved its one specific property.
The contrast ratio has been improved 1,300:1 to 1,500:1 as compared to its predecessor, which is pretty strong.
The company has done that especially for those people who are content creators. They can now make more superb looking movies with deeper black and vibrant colors. 
For content creators, this change will make media editing more accurate and easier than ever before. It will benefit the consumer as well. 
Performance Under Workload
In terms of daily typical work and media streaming, Microsoft Surface Pro 6 will not disappoint you at all. It can handle any kind of task you threw at it.
If you want a laptop for work as well as entertainment like streaming HD movies then this laptop is one of the best.
You can also consider this laptop for editing videos because it can handle that work pretty smoothly.
Lite gaming is possible on Surface Pro 6 though we will not recommend that. Because in our tests it gaming performance of this laptop was pretty average.
BUY NOW ON AMAZON
2.

Huawei MateBook Signature Edition 2 in 1 PC Tablet
"Premium Metal Unibody Stylish Design"
Design 
The Huawei MateBook Signature Edition 2 in 1 is among one of the new generations of Windows tablets which are very compact and lightweight. At 11 x 7.5 x 0.25 inches and 1.4 pound this is an externally portable computer.
Almost as thinner than the Microsoft Surface Pro 4 and as slim as the Samsung Galaxy TabPro S. The days are long gone when Windows computers used to be bulky.
The MateBook looks very elegant with its all-metal back and all-glass face, whether customers want the grey or golden edition. That coloring spreads over the back and sides so the viewing area is still gray.
It is not possible since we prefer bezels with black text. They can be more easily ignored. With about 81 percent of the front viewable area, at least these screen bezels are all very slim.
The only issue you can say is the number of ports since Huawei MateBook Signature Edition 2 in 1 PC Tablet has only one USB-C port along-side a keyboard connection and a headphone jack.
However, to solve this issue Huawei offers a MateDock 2, by connecting it you can have additional USB-A. USB-C, VGA and, HDMI connections. If you want according to your work or needs you can attach a key with this tablet which also has a touchpad so you can use this device like proper laptop replacement.
The mouse pad responded great during our review no matter from which corner you use it, the keys are soft and work great during typing as well. 
Display 
Huawei added a 12 inches IPC LCD into the MateBook Tablet PC. Its resolution of 2160 x 1440 gives it a density of 216 pixels per inch, smaller than that of the Surface Pro 4 but equal to the pixel density of the TabPro S.
We find that with clear text and bright colors this display looks pretty fantastic in an office environment. With the backlight at 100 percent, it is functional outside in the shade, but like all typical LCDs, it is not meant to be used under direct sunlight.
This MateBook has demonstrated that the screen is well suited to a wide variety of professional and personal activities, from word processing to video streaming during our review.
With that being said, you can attach an external display while operating in the workplace if 12 inches screen seems a little small for your work. A MatPen which is a pressure-sensitive stylus comes with this Huawei MateBook Signature Edition 2 in 1 PC Tablet.
The truth is that the screen of our review device is one of the very best in the market. The MateBook tablet pc has color-space visibility of 100 percent sRGB and has color-space visibility of 71 percent AdobeRGB.
Display-wise this tablet is even better the some of its rivals more costly products. 
Performance Under Workload 
A sixth-generation Intel Core m processor drives the Huawei MateBook. The company is currently selling a 2.2 GHz Core m3 or 2.7GHz Core m5 chip, with aims to introduce a 3.1GHz Core m7 variant in the near future as well.
As compared to the Intel Atom CPU powered devices like the Microsoft surface pro and the Dell Venue 8 Pro. Although some 2 in 1 tablet with Intel core I series processors provide an even better performance they come with a higher price tag so you can not complain at all.
The Core m5 powered MateBook review model significantly outperformed the Core m3-powered Samsung Galaxy TabPro S and Surface Pro 4 in the wPrime and PCMark 8 benchmark tests. On the 3DMark 11 test, though, it didn't do as well.
In short, the package from Huawei can handle daily activities and normal office work. But Obviously this tablet is not meant for more challenging tasks such as HD video editing or high-end gaming.
Windows 10 boots in under 15 seconds is a way to demonstrate its success. While doing the processor-intensive work this tablet doesn't need a fan at all.
But our review unit Core m5 model's backplate got slightly warmer when playing a video which is normal because it's made of quality aluminum. So what's interesting is it only gets slightly warmer because many other similar tabs get even hotter when performing the same intense tasks.
BUY NOW ON AMAZON
3.

Samsung Chromebook Plus V2
"Great Display & Long Battery life 2 in 1 Convertible"
Design
The Samsung Chromebook Plus V2 has a very minimalist design, the chassis is made out of aluminum though it not as wide it if you compare to other notebooks under the same price tag.
It is a very simple looking laptop, apart from the monochromatic Samsung and Chrome brandings the lid is very plain with rounded edges.
Under the lid of Chromebook Plus V2, you will get a full island-style Keyboard and trackpad but due to the screen's size and shape, there is very little on the sides of the chassis.
The weight of the Samsung Chromebook Plus V2 is 2.4 pounds and its dimensions are 11.1 x 8.7 x 0.6 inches, which makes it a machine that can be used on the go while traveling easily.
Display 
Samsung Chromebook Plus V2 offers 12.2 Inches display with 1900 x 1200p max screen resolution.
This screen is very colorful and sharp, in fact, it is one of the best Chromebook displays we have ever reviewed.
The colors this screen shows fair and accurate, which is surprising because even in some of the higher price Chromebooks you don't find this level of accuracy.
The maximum brightness of the Samsung Chromebook Plus V2 display is measured at 376 nits, which makes it far more luminous than its rivals. Instead of the typical 16:9 ratio.
This display uses a 3:2 ratio which is just perfect especially for the tablet mode or if you frequently use a touch screen rather than a keyboard and trackpad.
Performance Under Workload
Samsung Chromebook Plus V2 got powered by an Intel Celeron 1.5 GHz processor with 4GB of LPDDR3 RAM and Intel HD Graphics 615.
The built-in memory is 64GB but you can add up to 400GB with a Micro SD Card. With that this device has more than enough power for doing multitasking, you can open multiple Google Chrome tabs and run a full HD 1080p video on YouTube at the same time easily.
It will not show any sign of slowing down or lagging. You can do your day to day typical work on Samsung Chromebook Plus V2 without having any problem.
Light gaming is also possible but not recommended since in our test light games run pretty smooth but there were one or two spots that got bit choppy.
This laptop is one of the rare machines in which you can get good display and performance both otherwise under a certain budget this combination is very hard to find.
BUY NOW ON AMAZON
4.

HP Elite X2
"Powerful & Fast Performance"
Design 
The hardware of the HP Elite X2 is housed in a silver metal casing and looks fantastic. There is a 2 cm long black line at the upper edge on the back probably to cover the antennas, which kind of breaks down the pattern.
The Elite x2 reaches 8.05 mm and is thus marginally slimmer than IdeaPad Miix 700's 9 mm and Surface Pro 4's 8.5 mm. It does, however, weigh more than the competition especially with a keyboard dock.
The construction quality is top-notch, and the materials match well together. The device bends so easily which means the one critical point is its sturdiness. We were expecting a better structural rigidity.
A stand also comes with the Elite x2 Chromebook laptop. As compared to the Miix 700 and the Surface Pro 4, the HP x2's stand is not a flat metal block, but a u-shaped bar about 8.5 mm wide.
The hinges are noticeably tighter at 55 degrees, which is intended to keep the stand from collapsing. The HP Elite x2 Chromebook laptop lacks a number of physical ports.
Its Type A USB 3.0 port lets you connect common USB devices such as a keyboard, printer or hard drive. There's no video-out port so this is where the Thunderbolt 3 connector fits in handy.
It is not only the connector used by the power adapter, but it also acts as a USB 3.1 port which can supply HDMI or-with the assistance of additional adapters.
Display 
The HP Elite x2 Chromebook laptop comes with a touchscreen display measuring 12.5 inches, and 1920 x 1280 pixel native resolution. The illumination at 318.8 cd / m2 is good.
But it could be a little better because a 2 in 1 convertible is likely to be used in various situations with different ambient light levels. 767:1 is a strong ratio of contrast but some of the better new panels surpass 1000:1 ratios.
Those wanting a very vivid and contrasting screen should try out the other similarly priced laptops. The Elite x2 is not at all influenced by PWM flickering which is a promising aspect.
The HP detachable display has a smaller resolution if compare it with the Lenovo IdeaPad Miix 700's 2160. We didn't really find a big gap between the three models here, and the Elite x2 screen is obviously pretty decent considering the price tag.
The HP Elite x2 as delivered has a 6.02 DeltaE variance which is neither fantastic nor bad. The goal is a minus 3 rating. The panel has a rather faint bluish hue too.
A correction increases the image distinctly but when the color difference decreases to 2.81 and the bluish hue fades. With that, the gray levels become equally more balanced. The HP Elite x2 is fitted with an IPS-based screen, as usual in this class.
Performance Under Workload 
It's not shocking, considering the hardware, that the HP detachable runs quickly and efficiently. The PCMark benchmark test results, too, are really great.
The Elite x2 is marginally quicker than the Lenovo IdeaPad Miix 700 since for longer periods of time it can keep the Turbo Accelerator. The performance bonus is not just as high here as opposed to the CPU tests, because the PCMark comparisons measure not just the CPU but all hardware components as well.
The consumer can't change the overall performance because HP has already used all of the tuning choices. To perform the functions of graphics the HP Elite x2 has an Intel HD Graphics 515.
The GPU operates at 900 MHz or higher and supports DirectX 12. The HP convertible even ranks in 3DMark tests ahead of the Lenovo IdeaPad Miix 700.
Both systems have dual-channel RAM which contributes to better performance and efficiency.  In this budget HP Elite x2 Chromebook laptop is a great option that can provide powerful performance during intensive work. 
BUY NOW ON AMAZON
5.

Asus C302CA-AH74 Chromebook Flip
"Lightweight & Compact 2 in 1 Convertible"
Design 
The Asus Chromebook Flip is built in an all-aluminum frame like the Asus Chromebook C100 before it, except this time instead of a brushed texture it comes with an anodized finish.
Overall it has a smooth feel, no-nonsense, and it folds up to an almost symmetrical metal base. Thankfully, the long, bar-shaped hinge of the original Chromebook C100 has been replaced by the multi-gear, metal design of the ZenBook Flip UX360.
Those two smaller hinges let this laptop seem less like a toy and make it look like a normal notebook as well. The Asus Chromebook Flip, coming in at 1.19 kg, is one of the lightweight Chromebooks available, just 0.3 lbs heavier than the Samsung Chromebook plus.
In comparison to the 3.3-pound 1.5 kg Acer Chromebook R13, it is also one of the first portable Chrome OS devices you'll ever want to use in laptop mode.
In general, the Asus Chromebook Flip C302 continues to follow in the footsteps of every other MacBook Pro-inspired unibody laptop in recent times.
The straight lines, rounded corners, and 0.9 inches 2.29 cm compact frame all add up to a clever style that competes with the more expensive versions from HP and Google, but with a considerably cheaper cost.
Display 
The Flip's Full HD 1920 x 1080-pixel 12.5 inches screen offers clear images, good visibility, and decent color. The Flip reproduces 76 percent of the sRGB range, a point above the numbers from the Acer Chromebook R 13 64 percent and the ThinkPad 13 Chromebook 63 percent, according to our colorimeter.
The ultra portables average 98 percent and the Dell Chromebook 13 96 percent render more colors. You can say lower is better since on the Delta-E scale the Flip produces a fairly specific color with a score of 1.6, compared to the ultra portables average 2.2 this laptops score is higher.
The Dell Chromebook 13 with 1.4, ThinkPad 13 Chromebook with 1.1 and Acer Chromebook R 13 with 1.4 and have done even better though. The panel of this convertible emits up to 292 nits according to our brightness measurement, the ultra portables average is 303 nits.
Which means it is marginally below the average. This brightness helps for a wide variety of viewing angles since at 75 degrees to the left or right we could see the details of the screen.
Performance Under Workload
Our Flip review configuration packs an Intel Core m7 CPU and 8 GB of RAM, a combination that allows for a lot of multiple tasks. After dividing our screen into 15 Chrome tabs we saw no lag.
There was also a 1080p YouTube video running in the background as well as Slack, Gmail and TweetDeck. The budget Chromebook Flip has received a score of 127 for JavaScript efficiency on the JetStream benchmark.
That's stronger than the Acer Chromebook R 13's 59 powered by the MediaTek MT8173C and the Dell Chromebook 13's 86 powered by Intel Celeron for almost the same price tag.
But it's less than the ThinkPad 13 Chromebook's 171 which Intel Core i5 powered but there is a significant difference between them. On the WebGL Aquarium graphics check the Flip worked Well by rendering 2,000 fish at 50 fps.
This means this Chromebook laptop is a great option for consumers who are searching for a budget device.
BUY NOW ON AMAZON
Last update on 2023-09-12 / Affiliate links / Images from Amazon Product Advertising API