Top 3 Best HP Core i7 11th Gen Laptop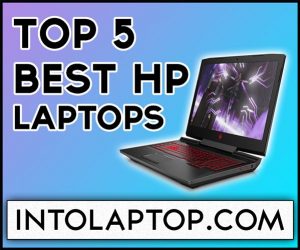 You will definitely make the correct decision if you are considering the HP brand in 2023 whether you are upgrading from an older laptop or thinking of getting your first new machine.
To help you with that we have compiled a list of the Top 10 Best HP Laptops you can get in 2024 with their detailed review so you can easily choose one of them according to your requirements and work needs.
HP not only produces laptops for day-to-day work or business purposes in competition with rivals like Dell and Apple but also this brand has been known among the consumers because of its high-end gaming machines.
Top 10 Best HP Laptop Reviews in 2024
In the past, HP has introduced many great, powerful, and reliable machines for every purpose under various price ranges.
Especially the Elitebook series of business laptops and the Spectre lineup of Omen gaming laptops by HP were massive hits among the consumers market and these laptops are famous for their top-notch performance and attractive aesthetics.
Don't forget to read the Best Laptop Buying Guide to know all the technical details of your laptop, before buying it.
You can also check out into laptop for more details about the different laptop brands.
Also, comparatively HP laptops are easier to upgrade and maintain because this brand sells its products globally and it is indeed a well-known name in the market.
You can easily find any accessories for your HP laptop, no matter in which part of the world you live.  
1.

 Omen by HP

"The Best Gaming Beast Laptop by HP"
Design
The Omen 15 by HP is considerably heavy and it feels pretty sturdy. According to the official details this gaming machine weighs about 2.23 kg and its thickest point it is 20mm.
Though Omen 15 is made out of a combination of Aluminum and plastic, this laptop is pretty well built.
Hp finally has said goodbye to the dual-hinge design, because the lid of Omen 15 has been attached to the chassis from the center.
This laptop is very attractive due to the angular cut design on the top and the matte black dual-tone finish on the metal.
Display 
The HP Omen 15 has a Full HD 1920×1080 resolution, 15.6-inch display.
For a smoother gameplay experience, its IPS screen offers a refresh rate of 144Hz, whereas the bezels remain the same as the last year's model.
The top and bottom bezels are irregularly sized though the side bezels are thin and narrow. On the top bezel there is a wide-vision HD camera and on the center of the bottom bezel Silver colored Omen logo has been placed.
In this price range, Hp Omen 15 delivers the best-looking visuals while the game plays, in simple words its display will not going to disappoint you.
Performance Under Workload
To ensure a smooth gameplay experience with Omen 15, HP has brought together a combination of Nvidia RTX 2070 Max-Q design with a powerful chipset.
With features like real-time Ray Tracing, AI-based optimizations, programmable shaders, and support for DirectX 12, RTX graphics take this gaming laptop a notch up against its competitors.
Without any apparent frame drops, the RTX graphics work together with a high refresh rate screen to ensure an experience of blur-free gaming. Even in regular use, there are no performance-related issues with Omen 15.
No matter which game, program or App you threw at Hp Omen 15, it blazed right past it with no problem.
The only downside of this laptop is the poor thermal cooling. Despite the fact that it packs three ventilation shafts as a thermal solution, it picks up temperatures very rather quickly.
These hot temperatures can affect the performance of Hp Omen 15 in the long run, considering the price tag of this machine it is really disappointing.
The company has to solve this issue since build and performance-wise this Omen 15 laptop is pretty good.
BUY NOW ON AMAZON
2.

 HP – Spectre x360 2 in 1
"Stunning & Beautiful Laptop with 360 Degree Turning Radius"
Design
The Spectre X360 series of HP is a laptop which always been considered as a thing of beauty, no doubt this laptop looks really gorgeous. But this time with Spectre x360 2 in 1 laptop HP has really stepped up the game.
It is also a lot thinner then the previous model, usually in thinner laptops the space for keyboard and trackpad got cramped up.
But this is definitely not the case with HP Spectre x360 series since these laptops always come with the best keyboards.
That's why in this new Spectre x360 2 in 1 the keyboard is even better than before.
Display 
The HP Spectre x360 2 in 1 has a 90% screen-to-body ratio, which is simply unbelievable. Its large OLED panel can distract you from anything around you easily because it is very bright and colorful.
If you are used to watching TV shows and movies frequently on the go then nothing can be a better option but this display.
Spectre x360 2 in 1 laptop is available with two different display options, you can have a 4k panel or an FHD panel.
Both of the screens are pretty reflective and the reason for that is the protective layer of Gorilla Glass Coating.
The 13.3-inches FHD display turns out to be a great decision by the company since with that you can avoid facing any scaling issues.
The only downside of this display is that it contains a maximum brightness of 300 nits, which is not enough as we have mentioned above that the screen is pretty reflective.
So it can trouble you outdoors, however, the overall impression it provides you is pretty good. In our review, we observed flickering when the brightness level was 99% or below, whereas in the above brightness settings, there was no flickering detected.
Performance Under Power
HP Spectre x360 2 in 1 laptop got powered by an Intel Core i7-1065G7 processor with the combination of 16GB ram and 1TB lightning-fast SSD drive.
It has Intel's Graphics, which will enable you to do light gaming as well as some graphic work. Because of the Ice Lake processor, this laptop can provide you decent battery life while traveling.
According to HP, Spectre x360 can last almost 22 hours on a single charge, on top of that you can carry it very easily with you.
The price tag for the top-of-the-line variant, however, seems too much, considering the specs.
BUY NOW ON AMAZON
3.

HP Elitebook 840 G5
"Most Stylish Laptop with Powerful Performance"
Design
If you want to work in style then you must choose HP Elitebook 840 G5 laptop. Under $1000 budget it is without a doubt the most stylish laptop you can get.
The overall exterior is made of Aluminum with a silver finish, HP logo sits in the middle of the lid. The design of the Elitebook 840 is quite neat and simple.
The angle on which hinges have been placed gives this laptop an attractive look as compared to the other machines in the same budget.
Inside the lid, there is a very classic-looking, backlit keyboard with a pointing stick in the middle of it.
Display 
HP Elitebook 840 G5 laptop has a 14-inch IPS LED display with 1920 x 1080 resolution. One problem is that the display is too dim, which can trouble you while working or watching and HD movie.
In HD videos the display shows a kind of bluish tint that is really annoying. However, because of the 1920 x 1080 configuration the integrated privacy screen shows vibrant and bright images.
The maximum brightness level that Elitebook 840 G5 laptop can show is 214 nits, which is far below the 375 nits average of this budget laptop. 
Performance Under Workload
HP Elitebook 840 G5 can run your daily work with even more than 30 Google Chrome tabs open and playing HD videos in the background. which is pretty amazing.
This machine offers UHD Graphics 620, which are more than enough to fulfill your multitasking requirements.
Elitebook 840 G5 scored an excellent 12,253 on Geekbench 4 in our overall performance test. With that, it has successfully passed the 10,483 premium laptops average.
In our Handbrake test, Elitebook 840 G5 transcoded a 4K video to 1080 in almost 15 minutes and 50 seconds.
This performance is amazing since its competitors have done the same task in 21 minutes 35-sec average. Elitebook 840 G5 only took 10 seconds to copy 5 GB data thanks to its 512 GB NVMe SSD.
BUY NOW ON AMAZON
4.

 HP Envy X360
"Sleek & Stylish Lightweight 2 in 1 Convertible"  
Design 
HP Envy X360 convertible laptop is available in Black color which the company has named nightfall.
It seems like the color of this laptop changes with the light angle from purple-black to brownish kind of black, which looks pretty cool especially on a budget laptop.
When you hold this device it does feel like a premium laptop because of the aluminum finish on the surface of the lid.
The only downside we have noticed in its design is that the surface area should have been stronger, it feels like you can bend this thing without using much force very easily. 
Thought the lid feels pretty stiff maybe because of the glass. Although HP Envy X360's lid is stiffer maybe because of the glass panel.
There are two 360 degree hinges that connect the top lid with the bottom part since it is a convertible. 
Display 
Hp Envy X360 offers a 15.6-inch IPS touch screen WLED display with 1920 x 1080p resolution, which provides 166 PI pixel density.
On top of that, you will also get a 120Hz refresh rate. Envy 360 offers great quality because of its higher resolution with one downside though.
Every App will not be perfectly scaled due to the higher pixel density but that is not the problem of the laptop, so don't worry.
HP Envy X360 convertible laptop achieved 675 average brightness levels during out test, which is, by the way, the best result as compared to all other under $700 laptops we have tested so far. 
Performance Under Workload
For doing daily tasks, typical work or watching videos HP Envy X360 laptop is a great option to be considered but it is worth mentioning that the performance is decent not very good.
If you want a laptop with 360-degree capabilities and a good touchscreen display under the budget then you can go for it.
One main problem is that it only provides you the best performance with multi-thread configuration, even with that it kind of slows down after the first run.
The good thing is that after how HP Envy X360 performed in our test we can definitely rank it between the good or acceptable kind of machine in terms of performance. 
BUY NOW ON AMAZON
5.

HP Pavilion Gaming Laptop
"Best Gaming Specs in Affordable Price"
Design 
HP has completely redesigned the case of the Gaming Pavilion 15 laptop to make it look different and aggressive as compared to the other Pavilion laptops.
There are a few main things left to remind us about its predecessor. The chassis of the Pavilion 15 gaming laptop has been made out of plastic with a matte black color.
HP has named it Shadow Black, though it does contrast the black color including the keyboard with several green areas.
While we were reviewing the machine, the air outlet design on the back shocked us. Pavilion 15 gaming laptop does not have any maintenance cover and you can not remove the battery as well.
If you want or access the battery for some reason then you have to open up the bottom cover, don't the reason why HP has done that but it would have been far more convenient and easy if this laptop has the simple procedure of removing the battery like normal laptops.
Display 
The HP Pavilion Gaming laptop offers a 15.6-inch display with a resolution of 1920 x 1080, which has a 144Hz refresh rate.
In our tests, it has achieved an average maximum brightness of 324 cd/m, and it has become the brightest screen we have ever tested. Under a $700 budget, it is a plus point for this laptop since the majority of machines with this price tag has always an issue with the dimmer screen.
The contrast ratio of HP Pavilion Gaming laptop is excellent as well as measuring at 821:1, so display wise this laptop is recommended if you are interested in buying a gaming laptop.
Performance Under Workload
The HP Pavilion gaming laptop performed considerably well in our benchmark test, which was expected though regarding the specs it comes equipped with.
Pavilion gaming laptop powered by a Hexa Core CPU, powerful GPU, dual-channel RAM, and an NVME lightning-fast SSD.
No other laptop offers this kind of amazing specs and powerful performance, especially under a $700 budget.
It seems like HP has chosen to focus on the hardware of the pavilion gaming laptop rather than on its looks.
HP Pavilion is a powerhouse gaming laptop that can provide you with the epic experience of real gaming at a cheaper price tag as compared to a premium gaming laptop.
BUY NOW ON AMAZON
Some More Latest HP Laptops in 2023
Last update on 2023-11-27 / Affiliate links / Images from Amazon Product Advertising API