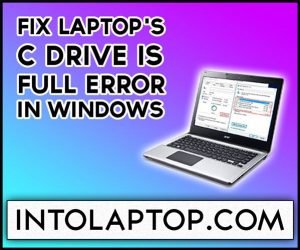 If your laptop is alerting you that your C drive is full or out of space in Windows 10 then you have clicked on the right post. We will guide you on how to resolve this issue easily with a few simple steps and different methods.
But before skipping to what to do when your laptop C drive is a full guide, you should first know that what happens when your C drive got out of space. Also, do check out intolaptop.com's tips section for more tutorials like this one.
1.

What Happens When C Drive Storage is Full?
In that scenario, you will likely face one or more of these situations. Your laptop will start to run slow even in some basic tasks, you will not be able to install Windows operating system updates and any other software or programs required for your work.
Now by following the simple instructions below, you can fix this issue in no time so let's start this post without any delay.
2.

How to Easily Resolve it in No Time
No matter how much capacity your SSD or HDD has, with daily heavy usage C drive starts to get out of space. Sometimes the software and programs you install for your work can take a lot of space, on the other hand, you can face the same issue if you are not cleaning the cache.
But don't worry do as we have mentioned in the steps below to clear storage space in your laptops' C drive.
Step No.1 
The first thing you have to do is that scan your C Drive with WinDirStat software it will show the visual heatmap and tree structure of files and folders occupying maximum storage space on Laptop's C drive.
It is a free to use program that can help you clear up space in the C Drive of your laptop in a snap. By scanning the C drive with this program you will be able to see detailed information about which things are covering up space in your disk drive.
Step No.2
Secondly, you should clear cache files and temporary files from your laptop's C drive. To do that manually in Windows 10 just simply follow the instructions below.
To open the Windows setting just press Windows key + I, after that click on system and then storage.
When you click on storage on the right side all of the drives will appear, select the C drive which will be shown as This PC and click on analysis.
Now select the temporary files by going back to the storage usage
Then click on the remove files after check-marking the boxes of the content you want to remove.
Step No.3
If you have any kind of data or bigger files stored in the C drive of your laptop then move it to any of the other storage drives or to portable storage like a USB stick.
Only install Windows and other essential programs in the C drive and do not store any multimedia or bigger files in that drive. Since Windows files, updates, and programs needs a lot of free space in the C drive.
Step No.4
Another convenient way to free space in C drive of your laptop is CCleaner, it is free to use software that can help you out immensely. Just download and install it.
After that open the CCleaner and select custom clean option which will be the second on the left side. In the center, it will show you the checkboxes in windows and application tabs.
You can check or uncheck any of them according to your will. After that simply press analyzes at the bottom, it will show you the estimated space you can free in C drive. Just click on run cleaner and that's it.
Step No.5
The last thing you can do to resolve this storage full in C Drive error is that you can make a repartition C drive volume. For example, make it more than 200 GB so it will not get full with heavy usage. You can use tools like Partition Magic to repartition the size of your existing hard drive volumes. Perhaps you might lose your existing data and would also have to reinstall the Windows Operating System.
Or you can upgrade your SSD or HDD to a bigger capacity one. I will recommend you to go for an SSD since your laptop will perform faster with that under intensive work scenarios. IntoLaptop highly recommends getting M2 NVMe SSD, if your laptop supports it. They are faster than traditional SSDs. Do check out high capacity laptop SSD storage drives below. 
Above were the few simple steps that can resolve the issue of laptop C drive is full in Windows 10. We have tried hard to explain every step as simple as we can so everybody can understand it not matter if you are a beginner or novice in technical terms. You must visit and bookmark intolaptop.com for the latest laptops related updates.
FAQ Section:
Why Laptop Slows Down When C Drive Storage is Full?
When your laptop is running out of storage in C Drive, where your primary operating system is usually installed, its performance will get affected. Check the best ways to fix this issue on your laptop computer, in this guide.
How Often Should I clear Temporary Files on my Laptop Computer?
It is wise to clear temporary files on your laptop computer each month. It will keep your laptop's performance smooth.
Can M2 SSD NVMe Storage, help to speed up my Laptop?
Yes, M2 NVMe SSD storage drives can help you to speed up your laptop. Make sure to install your operating system on SSD Storage (C Drive).
Which is the Best M2 SSD Drive?
In this article, we have covered 5 best M2 SSD storage drives. Please check them out.
LAPTOP BUYING GUIDE 2023
Laptop Brand: Which Brand's Laptop is your priority?
Display Size: Which Screen Size will you prefer?
Performance: Which CPU will you need?
Graphics Card: Which GPU will you like to have? 
RAM & Storage: How much RAM & Storage is needed?
Operating System: Which Operating System you want to have?
Battery Life: How much battery life do you expect?
Work Purpose: Know the purpose and buy a Laptop tailored for your work purpose.
Budget: Find the Laptop within your budget.
Last update on 2022-12-11 / Affiliate links / Images from Amazon Product Advertising API