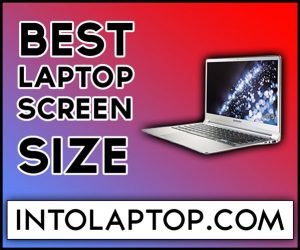 One of the main aspects to consider while buying the laptop is the screen size, in fact, this is the thing you decide before anything else. If you are wondering which is the best screen size then you have clicked on the right post.
Basically it varies user to user according to there needs or work requirements. To make choosing the screen size easier for you in this article, we will share with you the pros and cons of different screen sizes.
Laptop Screen Size Selection Guide
Choosing the best screen size for your laptop with the right configuration may sound easy, but often it may be a little more difficult than you expect. There are several different systems with a variety of sizes and features out there.
The important thing here is that the exact size of a laptop is not a clear indication of efficiency or functionality. It's hard to resist the advantages and attractiveness of a large-screen laptop for certain people.
On the other hand for many users, the main priority is to focus on a portable device that offers greater usability and productivity. It's all about what you prefer the best, according to your requirements.
Having said that let's jump into the article and you should also visit intolaptop.com to find out the best laptops in all screen sizes. 
1.

Standard Screen Sizes for Laptops
When it comes to screen sizes or general physical configurations of laptops, there is no standardized specification, though certain parts are more identical than others.
Growing numbers of manufacturers, for instance, prefer thin builds below 1 inch thick. Which makes it clear that a larger display size does not always affect the portability of a laptop.
However with most laptops sporting screens between 15 inches and 17 inches the screen size is much more consistent. Portable laptops appear to stretch from 11 inches to 14 inches.
Although display sizes can still confuse you a lot. Only if two screens have the same lateral dimension doesn't simply mean that they have the same horizontal and vertical dimension.
To avoid getting confused just make sure that you know the specs of your laptop's manufacturer.

The following laptop screen sizes are very common among laptop buyers. 
2.

Benefits of Large Display's 
Technically, the wider viewing angle is the biggest advantage you can get with a larger display laptop. You can have a great view of everything while being further away since large screens are bigger.
But at the same time, some larger display laptops can trouble you because of their size and weight. We are not saying that every laptop with a larger display always comes with more weight since there are some laptops like LG Gram which even weighs less than some smaller display laptops.
But still, they are not much suitable if you work on the go or travel a lot with your laptop. But if you work at a stationary place or you don't need to always carry your laptop with you then you can definitely go for larger display laptops.
They also provide you some features which you cannot get in a smaller size laptop, for instance, the number of ports.
3.

Benefits of Smaller Display's
Small display laptops are also lighter, thinner, and more portable. Despite having smaller displays you can find ones that still deliver decent resolutions, however, you may have to compromise improved viewing angles.
But in return, you will get a laptop with less weight and with slim and sleek aesthetics. And if we talk about performance then there are plenty of great small displays laptop (also called Ultra Portable Laptops) even in the gaming segment that comes equipped with hardcore specs like Razer Blade to deliver even better performance then there bigger and bulkier rivals.
Small display laptops are great for you if you prefer working comfortably in any environment, such as airplane seats or busy coffee shops. Since small screens do usually use less power than larger alternatives so weight isn't the only thing you want to keep in mind, you will also get better battery life.  
4.

Other Important Things to Keep in Mind
Now do remember that not every big-screen laptop provides you great performance neither every small display laptop is good on battery life, you have to consider the specs a laptop is offering like hardware and which battery you are getting with it.
We have compiled lists of several laptops with their detailed reviews on intolaptop.com. So you should give those articles a read before choosing your preferred device.
Another important thing is the purpose you are getting a new laptop for, like if you are getting it for gaming, office work, or for simple home use. Since these are different categories and they require different hardware configurations.
Gaming means that you will need better viewing angels to enjoy your experience to the fullest so choose a bigger display laptop but with the correct hardware configurations.
But if you travel a lot and want to game while traveling the smaller display laptop would be a better option. For office work, many users choose to go with a portable but powerful device that can also provide them good battery timing.
5.

Extend Laptop Display with Secondary Monitors
You can also extend display of your existing laptop with the help of modern curved monitors or install a portable touch screen secondary display monitor along with your laptop.
8 Best Curved Gaming Monitors for Laptops Mac 2023 | IntoLaptop
6 Best Touchscreen 4K Portable Monitors 2023 | Laptop, xBox, PC, Smartphone, Playstation, Nintendo
Conclusion
Now if you have decided the screen size with which you want to go then you should read the fully detailed Laptop Purchasing Guide we have crafted for you since other then display size there are many important things you must consider.
No matter how much great viewing angles you get with a big screen of your laptop or how much battery timing and portability you are getting with your smaller display laptop if the hardware is not powerful enough then you will not get the productivity you are expecting from it.
By reading our laptop purchasing guide you will get the technical and detailed information that which screen size matches the best specs like processor, GPU, RAM, SSD you should choose to get the best performance from your laptop according to your work needs and budget.
LAPTOP BUYING GUIDE 2023
Laptop Brand: Which Brand's Laptop is your priority?
Display Size: Which Screen Size will you prefer?
Performance: Which CPU will you need?
Graphics Card: Which GPU will you like to have? 
RAM & Storage: How much RAM & Storage is needed?
Operating System: Which Operating System you want to have?
Battery Life: How much battery life do you expect?
Work Purpose: Know the purpose and buy a Laptop tailored for your work purpose.
Budget: Find the Laptop within your budget.