Is it worth buying ASUS 2-in-1 Q535 Laptop? Read this article to know the answer.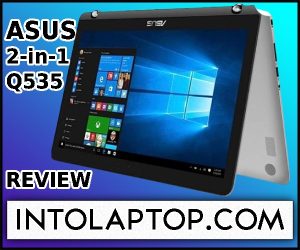 ASUS has created a name for itself as a leader in the tech industry, offering innovative products that cater to various needs and preferences.
Let us discuss about ASUS 2-in-1 Q535 in detail in the below section.
Also Read: Best Asus Gaming Laptops
ASUS 2-in-1 Q535 Review
Among its latest releases is the ASUS 2-in-1 Q535, a stunning hybrid laptop, and tablet that redefines the meaning of versatility and convenience.
From its sleek and modern design to its top-of-the-line features and advanced technology, the ASUS 2-in-1 Q535 is a game-changer in the world of computing.
Whether you're a student, professional, or someone who wants to stay connected on the go, the ASUS 2-in-1 Q535 has something for everyone.
With its seamless transition from laptop to tablet and back, you can switch to your preferred mode with ease and take advantage of its responsive touchscreen display.
What's more, the ASUS 2-in-1 Q535 boasts impressive performance, thanks to its NVIDIA GeForce graphics card and Intel Core processor.
And if you're looking for a laptop that can keep up with your hectic schedule, you'll be pleased to know that the ASUS 2-in-1 Q535 has an extended battery life that lasts many hours.
It's no wonder why the ASUS 2-in-1 Q535 is becoming a popular choice among users who demand both power and versatility.
Also Read: Best Gaming Laptops under $2500
1.

 Design and Build Quality
The ASUS 2-in-1 Q535 boasts a sleek and modern design, perfect for the tech-savvy professional.
Its slim frame and durable build quality make it easy to carry around without worrying about damage.
The 15.6-inch touchscreen display is both vivid and responsive, allowing users to easily navigate through all of their programs and applications.
The keyboard is spacious and comfortable, making typing a breeze, and the touchpad is smooth and responsive.
One of the most impressive features of the q535 is its versatility.
It can be easily transformed from a laptop to a tablet, thanks to its flexible hinge design.
This makes it perfect for presentations, meetings, and on-the-go work.
The build quality of the ASUS 2-in-1 Q535 is top-notch, with a sturdy aluminum chassis that feels both strong and lightweight.
The device also includes a durable Gorilla Glass display, which is perfect for those who rely on their tech for work and need something that can withstand the occasional bump or drop.
Overall, the ASUS 2-in-1 Q535 is a stylish and reliable device that is built to last.
Also Read: Best Gaming Laptop under $1500
2.

 Performance and Battery Life
The performance of the ASUS 2-in-1 Q535 is nothing short of impressive.
The laptop houses an Intel Core i7 processor that can take on even the most demanding of tasks with ease.
The 16 GB RAM ensures that multitasking is a breeze and nothing slows down the system.
Whether you're editing videos or playing graphics-heavy games, the ASUS – 2-in-1 q535 handles it all without breaking a sweat.
But what good is all this power if it's not supported by a good battery life?
Thankfully, the ASUS – 2-in-1 Q535 boasts an excellent battery life that lasts for up to 10 hours on a single charge.
You can use the laptop all day without having to worry about finding a power outlet.
This makes it a perfect choice for students, professionals, or anyone who's always on the go.
In addition, the laptop features a fast charging technology that can charge the battery up to 60% within just 60 minutes.
This means that even if you forget to charge the laptop overnight, you can still get a decent battery backup even after a quick charge.
Overall, the performance and battery life of ASUS – 2-in-1 Q535 are remarkable.
It's a powerful machine that can keep up with your workload and can last long enough to get you through your day.
Also Read: Best Battery Backup Laptops
3.

 Display
The ASUS 2-in-1 Q535 Display is a feature-rich device that combines the convenience of a laptop and the flexibility of a tablet.
Boasting a generous 15.6-inch 4K touchscreen display and an integrated HD webcam, this device offers a stunning visual experience and seamless video communication.
The ASUS 2-in-1 Q535 features a large 15.6-inch 4K touchscreen display, delivering exceptional visual quality with a resolution of 3840 x 2160 pixels.
The LED-LCD panel produces vibrant colors, sharp details, and impressive contrast, immersing users in a visually captivating experience.
Whether you're working on creative projects, watching movies, or browsing the web, the Q535's display ensures a heightened level of clarity and crispness.
The ASUS 2-in-1 Q535's design offers users the flexibility to switch between laptop and tablet modes effortlessly.
The sturdy 360-degree hinge enables smooth transitions and multiple usage options, including tent mode for presentations and tablet mode for on-the-go convenience.
The device's sleek and modern design, coupled with its slim profile, makes it not only visually appealing but also highly portable.
Equipped with an integrated HD webcam, the ASUS Q535 enhances video communication and content creation.
The webcam captures clear and detailed images, ensuring high-quality video calls and recordings.
Whether you're participating in online meetings, connecting with loved ones, or engaging in content creation, the Q535's webcam delivers excellent performance.
The well-placed positioning of the webcam also ensures optimal framing during video calls.
Also Read: Best 2 in 1 Convertible Laptops
4.

 Powerful Performance with Intel Core i7-8250U
The ASUS 2-in-1 Q535 combines versatility and power with its Intel Core i7-8250U processor.
Featuring a base frequency of 1.6GHz (up to 3GHz with Intel Turbo Boost Technology), 6MB cache, and 4 cores, the ASUS 2-in-1 Q535 offers impressive performance for multitasking, productivity, and resource-intensive applications.
5.

 Efficient Multitasking and Productivity
With the Intel Core i7-8250U processor, the ASUS Q535 excels in multitasking scenarios.
The quad-core architecture and hyper-threading technology of the i7-8250U allow for the smooth and efficient handling of multiple tasks simultaneously.
Whether you're working with demanding applications, running virtual machines, or multitasking between various software, the Q535 can effortlessly handle the workload, ensuring a seamless and responsive user experience.
Users can enjoy increased productivity, reduced lag, and improved overall system performance.
Also Read: Best Intel Core i9 Processor Laptops 12th Gen
6.

 Boosted Performance with Turbo Boost Technology
The ASUS 2-in-1 Q535's Intel Core i7-8250U processor is equipped with Intel Turbo Boost Technology, which dynamically increases the clock speed of the CPU when needed.
This intelligent technology allows the processor to reach speeds of up to 3GHz, providing a significant boost in performance for tasks that require extra processing power.
Whether you're rendering videos, editing high-resolution images, or running CPU-intensive applications, the Turbo Boost Technology ensures optimal performance, delivering quick and efficient results.
7.

 Optimized Efficiency with Smart Cache
The i7-8250U processor on the ASUS 2-in-1 Q535 features a generous 6MB cache, enhancing overall system efficiency.
The smart cache intelligently stores frequently accessed data, allowing for faster retrieval and minimizing data latency.
This optimizes performance across various tasks, such as loading applications, launching files, and accessing frequently used data.
The smart cache ensures that the Q535 responds quickly to user commands and maintains a snappy and responsive user experience.
In summary, the ASUS 2-in-1 Q535 impresses with its powerful performance capabilities, courtesy of the Intel Core i7-8250U processor.
With its quad-core architecture, hyper-threading technology, and Intel Turbo Boost Technology, the Q535 offers efficient multitasking, enhanced productivity, and boosted performance for resource-intensive tasks.
The smart cache further optimizes system efficiency, ensuring a responsive user experience.
Whether you're a professional user who requires a capable device for demanding applications or a casual user who wants a device that can handle multitasking and entertainment, the ASUS Q535 with the Intel Core i7-8250U processor is a reliable and powerful choice.
Its performance capabilities ensure smooth operation across various tasks, making it a versatile and capable device for a wide range of user needs.
Also Read: Best 2 in 1 Laptops under 600 dollars
8.

 Connectivity
The ASUS 2-in-1 Q535 is a highly versatile device that offers a comprehensive range of connectivity options, enabling users to easily connect peripherals, external devices, and accessories.
USB Ports for Peripheral Connectivity: The Q535 includes two USB ports, offering different connection speeds and compatibility.
The presence of a USB 2.0 Type-A port ensures compatibility with a wide range of USB devices, such as keyboards, mouse, and printers. This port is suitable for connecting peripherals that don't require high-speed data transfer.
In addition, the device features a USB 3.0 Type-A port, which provides faster data transfer speeds compared to USB 2.0.
This port is ideal for connecting external hard drives, high-speed storage devices, and other USB 3.0-compatible peripherals.
The USB 3.0 port allows for quick file transfers, reducing waiting times and enhancing overall productivity.
HDMI Output for External Displays: The ASUS Q535 comes equipped with an HDMI output, enabling users to connect the device to external displays such as monitors, projectors, or TVs.
This allows for expanded screen real estate and provides a convenient solution for presentations, multimedia playback, and working with multiple displays.
The HDMI output ensures high-quality audio and video transmission, providing a seamless viewing experience.
9.

 Media Card Reader for Convenient Data Transfer
The inclusion of a media card reader in the Q535 simplifies the process of transferring data from compatible memory cards.
With the media card reader, users can easily access and transfer files from digital cameras, smartphones, or other devices that use memory cards.
This feature saves time and eliminates the need for additional card readers or adapters, streamlining the data transfer process.
10.

 Headphone, Microphone Combo Jack for Audio Needs
The ASUS Q535 is equipped with a headphone, and microphone combo jack, allowing users to connect headphones, headsets, or external microphones.
This jack supports audio input and output, facilitating clear communication during video calls, online meetings, or gaming sessions.
The combo jack ensures convenience by providing a single port for both audio input and output, eliminating the need for separate jacks for headphones and microphones.
11.

 Enhancing Productivity and Flexibility
The connectivity options of the ASUS 2-in-1 Q535 enhance productivity and flexibility by allowing users to connect a variety of devices and peripherals simultaneously.
Whether you're connecting a USB keyboard and mouse for comfortable typing and navigation, extending your display through an external monitor, transferring files from memory cards, or enjoying immersive audio through headphones or external speakers, the Q535's connectivity options cater to diverse user needs.
12.

 Graphics Performance
The ASUS 2-in-1 Q535 combines versatility and performance by integrating the NVIDIA GeForce GTX 1050 graphics card.
This powerful GPU delivers immersive graphics capabilities, making it an ideal choice for users who require high-quality visuals for gaming, content creation, and multimedia consumption.
13.

 Immersive Gaming Experience
The NVIDIA GeForce GTX 1050 brings immersive gaming experiences to the ASUS 2-in-1 Q535.
With its dedicated graphics processing power and 4GB of video memory, the GTX 1050 ensures smooth gameplay and stunning visuals.
Users can enjoy the latest gaming titles with high frame rates and detailed graphics, allowing for an immersive and captivating gaming experience.
Whether you're exploring vast open worlds, engaging in fast-paced action, or delving into virtual reality, the GTX 1050 on the Q535 brings games to life with impressive graphics.
14.

 Enhanced Content Creation
Beyond gaming, the NVIDIA GeForce GTX 1050 on the Q535 offers enhanced capabilities for content creation tasks.
Whether you're a professional video editor, graphic designer, or 3D modeler, the GTX 1050 provides the graphical horsepower required to handle complex visual projects.
With its CUDA cores and powerful processing capabilities, the GTX 1050 accelerates rendering times, improves editing workflows, and enables smooth real-time previewing of high-resolution content.
Users can create stunning visual designs, edit videos seamlessly, and bring their creative visions to life with greater efficiency.
15.

 Immersive Multimedia Playback
The Q535, with the NVIDIA GeForce GTX 1050, elevates multimedia playback to new heights.
Whether you're streaming high print quality videos, watching movies, or enjoying content in 4K resolution, the GTX 1050 enhances the visual quality and ensures smooth playback.
It provides excellent color reproduction, crisp details, and vibrant visuals, creating an immersive multimedia experience.
With the ASUS 2-in-1 Q535, you can immerse yourself in cinematic visuals and enjoy a superior viewing experience.
16.

 Flexibility and Versatility
The inclusion of the NVIDIA GeForce GTX 1050 in the Q535 enhances its versatility, allowing users to seamlessly transition between productivity, gaming, and entertainment tasks.
The GTX 1050 ensures smooth performance across a variety of applications, enabling users to multitask, switch between resource-intensive software, and handle demanding graphics workloads with ease.
This versatility makes the Q535 a reliable companion for users who require a device that can cater to their diverse needs.
17.

 Premium Features for Enhanced User Experience
The ASUS 2-in-1 Q535 combines impressive features to deliver a premium user experience.
With a backlit keyboard, Wireless-AC connectivity, Harman Kardon stereo speakers, and a lightweight design weighing just 4.63 pounds, the Q535 offers convenience, audio excellence, and portability.
18.

 Illuminated Typing with Backlit Keyboard
The inclusion of a backlit keyboard in the Q535 enhances usability and convenience, especially in low-light environments.
The illuminated keys provide visibility and ease of typing, ensuring accurate input even in dimly lit surroundings.
Whether you're working late at night, on a red-eye flight, or in a dimly lit room, the backlit keyboard allows you to comfortably and efficiently use the device without straining your eyes.
19.

 Seamless Connectivity with Wireless-AC
The Q535 is equipped with Wireless-AC connectivity, which ensures fast and reliable wireless internet access.
Wireless AC offers superior speed and stability, allowing for smooth browsing, streaming, and downloading.
Whether you're working remotely, streaming content, or engaging in online multiplayer gaming, the Q535's Wireless-AC ensures a seamless and uninterrupted connection, keeping you productive and entertained.
20.

 Immersive Audio with Harman Kardon Stereo Speakers
The ASUS Q535 features Harman Kardon stereo speakers, delivering high-quality audio output.
Harman Kardon is renowned for its audio expertise, and the inclusion of these speakers elevates the audio experience on the Q535.
Whether you're enjoying your favorite music, watching movies, or participating in conference calls, the stereo speakers produce a rich, immersive sound that enhances your overall multimedia experience.
21.

 Value for Money
When it comes to value for money, the ASUS 2-in-1 Q535 is an outstanding choice that won't break the bank.
With a price point that competes with some of the more basic laptops on the market, you're getting an exceptional device that is well worth the investment.
This laptop is full of features that will impress even the most demanding users.
The touchscreen display is gorgeous and allows for easy navigation of both the Windows 10 operating system and your favorite apps.
The build quality is solid and the laptop has a nice weight to it that suggests it will be able to withstand heavy use for years to come.
In terms of performance, the ASUS 2-in-1 Q535 certainly does not disappoint.
Benefits of using a 2-in-1 Laptop
Using a 2-in-1 laptop offers several benefits that make it an attractive choice for users looking for versatility and convenience.
Here are some key benefits of using a 2-in-1 laptop:
A).

 Flexibility and Versatility
The primary advantage of a 2-in-1 laptop is its ability to switch between multiple modes.
It can function as a traditional laptop with a keyboard and touchpad for productivity tasks, such as typing documents or browsing the web.
Additionally, it can transform into tablet mode by folding the keyboard behind the screen or detaching it completely, allowing for more portable and touchscreen-based usage.
This flexibility enables users to adapt their devices to different scenarios, whether it's work, entertainment, or creativity.
B).

 Portability
2-in-1 laptops are designed to be lightweight and slim, making them highly portable.
Their compact form factor allows for easy transportation, fitting comfortably in backpacks or bags.
This portability is especially beneficial for students, frequent travelers, and professionals who work on the go.
The ability to carry a single device that serves as both a laptop and a tablet eliminates the need to carry multiple devices, reducing bulk and simplifying the overall setup.
C).

 Touchscreen Interaction
The touchscreen functionality of 2-in-1 laptops adds a new dimension to user interaction.
It enables intuitive and direct control over the content on the screen, similar to using a tablet or smartphone.
Touchscreens facilitate tasks like scrolling, zooming, and tapping, enhancing the overall user experience.
Whether it's navigating through web pages, drawing sketches, or playing touch-based games, the touchscreen feature offers convenience and more immersive interaction.
D).

 Enhanced Creativity
2-in-1 laptops with touchscreens and stylus support provide a platform for enhanced creativity.
Artists, designers, and content creators can take advantage of the touch-sensitive screen and digital pen to draw, sketch, and annotate directly on the display.
This feature opens up possibilities for digital art, note-taking, precise edits, and brainstorming.
The combination of touch input, stylus support, and powerful software applications can unleash creativity and productivity in various artistic endeavors.
E).

 Productivity and Efficiency
The keyboard and trackpad of a 2-in-1 laptop offer a familiar and efficient input method for productivity tasks.
Users can type quickly, perform complex operations, and navigate through applications with ease.
When required, the laptop can be transformed into tablet mode, allowing for more natural interaction with touch-based apps or reading documents without the need for a keyboard.
The ability to seamlessly switch between laptop and tablet modes enables users to be productive in various work scenarios.
Space-saving and Cost-effective: Owning a 2-in-1 laptop eliminates the need to invest in separate devices, such as a laptop and a tablet, saving both space and money.
It offers the functionality of two devices in one, streamlining your technology setup.
This can be particularly advantageous for individuals who have limited space, such as students living in dorms or professionals with compact workspaces.
Consolidating devices not only saves physical space but also reduces the cost associated with purchasing multiple gadgets.
In summary, the benefits of using a 2-in-1 laptop include flexibility, portability, touchscreen interaction, enhanced creativity, productivity, and cost-effectiveness.
These devices provide a versatile computing experience, adapting to different usage scenarios and catering to the needs of a wide range of users, from students and professionals to artists and casual users.
BUY NOW ON AMAZON
Final Verdict about Asus 2-in-1 Q535 Laptop
In conclusion, the ASUS – 2-in-1 Q535 is a remarkable piece of technology that truly delivers on its promises.
From its stunning display to its powerful components, this laptop or tablet hybrid is a versatile and portable solution for anyone looking to get work done on the go.
Whether you're a student, a creative professional, or a businessperson, the ASUS – 2-in-1 Q535 is an excellent choice for your computing needs.
With its sleek design, impressive performance, and thoughtful features, it's no wonder that this device has become a top choice for many consumers.
So if you're in the market for a new laptop or tablet, consider giving the ASUS – 2-in-1 Q535 a try. You won't be disappointed.
Also Read: Razer Blade 15 2018 H2 Review
Last update on 2023-09-22 / Affiliate links / Images from Amazon Product Advertising API