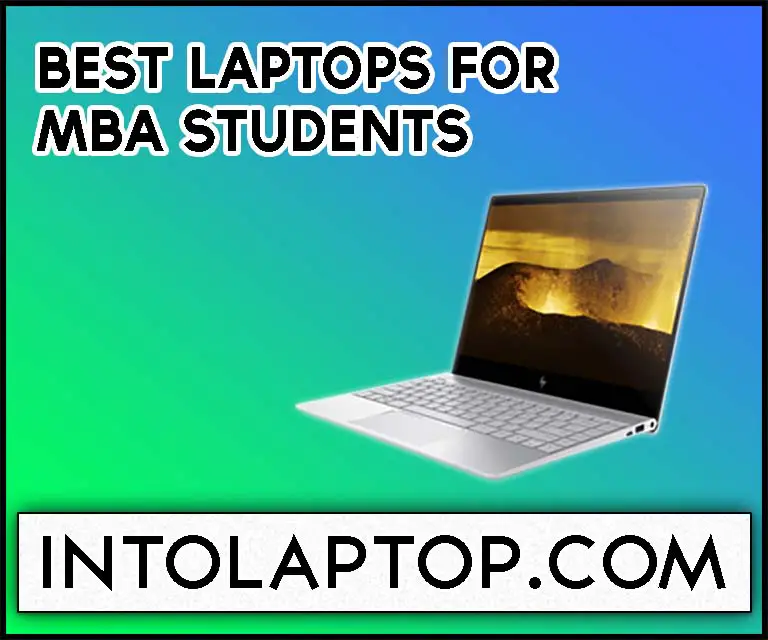 For those considering getting their Master of Business Administration (MBA) degree, dependency on technology has become essential in the rapidly changing field of business and administration.
It has become crucial for MBA students to have a stable and efficient laptop as the distinctions between conventional and digital education continue to blur.
MBA students can cope with data-heavy coursework with the aid of the correct laptop, collaborate easily with peers and professors, and maintain organization despite the demands of a demanding academic curriculum.
However, choosing the ideal laptop might be challenging given the wide range of alternatives on the market.
In order to satisfy the needs and constraints faced by MBA students, we have set out to compile a list of the Best Laptop for MBA Students in 2023 in this post.
11 Best Laptop for MBA Students in 2023
We attempt to provide a selection of excellent solutions that are able to strike the right balance between functionality and value by taking into account variables like performance, mobility, battery backup, and cost.
Our carefully chosen laptops are outfitted with modern amenities and powerful hardware to elevate your MBA adventure, whether you're crunching figures, making spectacular presentations, or digging into intricate financial models.
So without wasting any more time let's jump into the article to find you the best laptop according to your needs.
Also, you can explore intolaptop.com to find out plenty of more laptops that come with different processors. 
1.

Apple MacBook Air 

"Powerful, Premium & Portable"

Even though the manufacturer has upgraded the M2 processor and graphics chip in the most recent Apple Macbook Air, its external appearance is essentially the same.
The only other feature on the display is a notch in the style of an iPhone, which we shall discuss further in this review. This most recent laptop is significantly lighter and thinner than the previous model, offering both more portability and more compact looks.
Apple has crammed a ton of power and a fantastic liquid retina display into this compact MacBook Air, allowing you to work on your projects as an MBA Student without encountering performance problems all the time.
 When you shut the lid of the latest MacBook, it almost resembles an iPad, giving you an indication of how minuscule it is. Let's discuss the notch as, in our opinion, Apple might have been better off without it.
It occasionally kind of obstructs your view and doesn't seem to belong here. On the other hand, the build quality is excellent as always, and as this is a premium flagship model, the entire chassis is constructed of aluminum.
The MacBook can perform well under demanding jobs owing to its 8-core M2 CPU, which is 20 times quicker than the M1 chip it replaced.
BUY NOW ON AMAZON
2.

Dell XPS 15 9520
"Gorgeous & Bright Display"

The Dell XPS 15 9520 has an outstanding configuration at its core. With its Intel Core i7 CPU and plenty of RAM, this computer can accomplish difficult jobs with ease.
The XPS 15 9520 provides fluid performance when multitasking without tiring, whether you're using complicated software, editing high-resolution videos, or both. The XPS 15 9520's 15.6-inch display is nothing less than amazing.
The images are extraordinarily clear, colorful, and immersive thanks to FHD+ and Dell's Infinity Edge technology. The display's color accuracy and wide viewing angles provide an outstanding visual experience regardless of whether you're watching movies, editing images, or creating graphics.
This also makes it an ideal choice for MBA Students since this device is perfect for work as well as entertainment. The XPS 15 9520 is another example of the svelte and upscale looks that Dell is known for.
The aluminum chassis of the laptop not only radiates elegance but also offers endurance and a featherweight experience. The minimal bezels surrounding the display add to the overall appearance while maximizing the screen's area and fostering a more engaging viewing experience.
The XPS 15 9520 is surprisingly portable given its strong hardware. It is light and inadequate, weighing only a little under 4 pounds, and it fits easily into most backpacks and laptop bags.
BUY NOW ON AMAZON
3.

Lenovo ThinkPad X1

"Well Built & Durable"

Lenovo ThinkPad X1 Carbon 7th Generation Laptop is the finest option you can acquire as an MBA Student if you want a laptop that should be thin, stylish, lightweight, and robust.
This laptop has a striking appearance due to the magnesium and carbon fiber used to create its ultra-portable chassis. Lenovo seems to place more emphasis on functionality than aesthetics, especially with Thinkpads, as the X1 Ultrabook maintains the same understated design language as its predecessor.
This laptop has a really appealing appearance because of the carbon fiber touch. The Thinkpad logo and the fashionable X1 logo are located on the rear of the lid. The Thinkpad logo also illuminates in red. 
You'll find two speakers on the surface when you first open it. accompanied by a sticking point, curved keys, and. The on/off switch has been relocated to the right side.
And the touchpad buttons are painted red so you can readily use them even when the notebook is docked and the lid down.
However, the X1 Carbon's power button is less accessible in its new position than in its original position. The Thinkpad's classic black lid is more resistant to scratches than the carbon fiber one.
BUY NOW ON AMAZON
4.

HP Envy (Latest Model)

"Power Packed CPU & Hardware"

HP Envy x360 is a two-in-one convertible touch laptop that has been always the most favorite device in this category. And the reason is simple it is a complete package, with power portability and build quality.
The latest model is even better than before because of the powerful hardware specifications it offers. It is equipped with the latest generation powerful multi-core Intel processor which enables it to outperform many similar devices.
On top of that it is loaded with spacious and fast SSD storage which kind of boosts its overall performance even more. Although it is equipped with an integrated Intel-based graphics chip it is certainly more than enough especially for MBA Students and professionals.
Also, this model comes in various specifications, and if you want you can choose the variant which offers a dedicated GPU.
Since it is a slim and sleek laptop the connectivity options are not excellent but at least good at the same time. The superb battery backup allows you to work on the go when your device is fully charged without worrying about recharging it.
The only thing we were missing in this device was a numeric pad which was because of some strange reasons wasn't available. 
BUY NOW ON AMAZON
5.

Microsoft Surface Laptop

"Ideal for Students"

The Microsoft Surface line of laptops is another great convertible 2-in-1 touch notebook with a superior build quality for MBA Students.
The Microsoft Surface laptop is an excellent option for anyone looking for a Windows laptop with the build quality of a MacBook.
It is totally built of metal and other high-quality materials, giving it structural strength and a lovely appearance. You probably assumed the price would be very costly because it is a luxury item, however, this isn't actually the case.
Yes, it is quite pricey, but you get unrivaled workmanship, capabilities, and hardware for the market. However, it is also true that additional features like the spacious SSD storage and ample amount of memory make it the best-in-class laptop for your studies or job at this price point.
It has a stunning 13.5-inch touch-enabled display panel as well. The most incredible touch screen you could ask for in a convertible laptop, in fact.
The display is quite bright and vivid, and the picture quality is excellent. It has a very nice keyboard that you can operate for a longer amount of time without stressing out your fingers, considering the fact that it is a hybrid touch notebook.
BUY NOW ON AMAZON
6.

 ASUS ZenBook

"Innovative & Stylish"

The ASUS Zenbook is unquestionably among the most visually attractive laptops on the market right now. When used in public, it features a style that is likely to draw attention.
However, due to its brilliant surface, fingerprints and smudges are very easily attracted. The positive aspect is that it is available in a variety of color schemes to suit diverse tastes.
The display borders on the laptop's screen are narrow, giving the appearance of a larger panel. The user's experience is made more comfortable by the elevated palm rest area underneath the keyboard.
In addition, the trackpad is roomy in comparison to other laptops of similar dimensions, and the ASUS Ergo raised hinge design improves airflow for more comfortable typing.
The upwards or downwards arrow keys are thinner but the keyboard is pleasant and has wide keys. With its many connectivity ports, the laptop makes it simple to connect all necessary devices without sacrificing its sleek and small form.
It's also easy to transport, which makes it a fantastic option for MBA Students. The backup of the battery is sufficient to allow for prolonged work hours. This is fantastic if you need a laptop that can run tasks. 
BUY NOW ON AMAZON
7.

 Acer Swift

"OLED Display is Fabulous"

Despite being made up of metals like aluminum and magnesium, the Acer Swift 3 laptop's outside design and color scheme are old-fashioned, so it doesn't look particularly intriguing.
On the contrary, despite this laptop's svelte design and relatively low weight, it really weighs a little bit more than other identical devices made by other manufacturers.
The Acer Swift 3 laptop is a solidly constructed device with a slightly dated look. In our tests, we have not observed any flex or wobble throughout the structure. 
Additionally, it has a lift hinge architecture, which is typically utilized to improve airflow and allows for more comfortable typing at a helpful angle.
Speaking of the keyboard, it is not the most comfortable and we found it to be tedious to type on for extended periods of time.
The positioning of the fans on the upper right side of the keyboard is another element that astounded us. In addition to being an odd location for the vents, the lift hinge design makes it puzzling as well.
This location additionally is not exceptionally practical because a beverage spilled over the keyboard area could enter the air vent and damage your laptop.
BUY NOW ON AMAZON
8.

 Lenovo Yoga

"Stylish & Productive"

The Lenovo Yoga was elegantly designed with a slim and light build that easily fits into your lifestyle. Its svelte aluminum body conveys a feeling of high quality while being sturdy.
The Yoga's special 360-degree hinge makes it easy to switch from a laptop to a tablet, giving consumers the versatility they want. The Lenovo Yoga's vivid display offers clear pictures and excellent color reproduction.
The Yoga's high-resolution display provides a spectacular viewing experience whether you're editing images, watching films, or working on essential papers.
Another degree of convenience is provided by the touchscreen feature, which streamlines interaction and navigation. The Lenovo Yoga's solid hardware is hidden beneath its svelte design.
Which ensures seamless multitasking and outstanding performance. The Yoga easily completes difficult activities, like as video editing and resource-demanding programs, thanks to its cutting-edge processors and enough RAM.
Which makes it a great option for MBA Students under this price range. Additionally, the device has spacious storage capacities that let you keep all of your information and video without any restrictions.
The Lenovo Yoga's versatility in adapting to different usage conditions is one of its distinguishing qualities. It effortlessly converts into four distinct modes: a notebook, tent, stand, and tablet owing to its 360-degree hinge.
BUY NOW ON AMAZON
9.

 HP Envy x360
"Excellent Connectivity Options"

The HP Envy x360 15.6″ 2-in-1 can double as a touchscreen tablet because of its capacitive capabilities and 360-degree hinge.
This laptop boasts the most recent and powerful latest Generation Intel Core processor and it is available with both integrated AMD or dedicated Nvidia GeForce GPU.
This makes it a wonderful choice for anyone who wants to acquire it for studies as an MBA Student. The newest models in the x360 lineup are the HP Envy x360 15.6-inch 2-in-1 laptop and the HP Spectre x360 laptops.
It can be purchased with either AMD or Intel processors, though we'll focus on the AMD version here. The HP Envy x360 15.6″ 2-in-1 notebook features a 360-degree rotation that transforms the standard folding modular form factor into a tablet.
This indicates that it was designed with innovators in consideration. The HP Rechargeable Stylus Pen included with this laptop allows users to doodle and take notes when it comes to CPU selections.
But do remember that stylus pen is not included with every variant of this laptop and if you don't get one included in the package then you can buy it separately if you want.
While the i5 models are best for producing useful output, buyers retain the benefit of switching to a CPU that is more powerful for higher tasks, such as content creation.
The same goes for the GPU where you can choose between an integrated or a dedicated option according to your needs and budget.
BUY NOW ON AMAZON
10.

Dell Latitude 5530

"Professional Business Laptop"

A superb laptop, the Dell Latitude 5530 hits the ideal combination between compactness and performance. This fluid device was created with professionalism in consideration.
It delivers strong performance, outstanding durability, and a stylish style that renders it a top pick for anyone on the go like MBA Students.
The Dell Latitude 5530 offers outstanding performance because of its use of the newest CPUs from Intel and its generous RAM and storage capacities.
This laptop easily handles multitasking with demanding apps, data crunching, or editing high-resolution content. Smooth visuals are guaranteed with the use of Intel UHD graphics, making it an excellent option for light gaming and entertainment playback as well. 
The Dell Latitude 5530's 15.6-inch Full High Definition display offers brilliant colors and fine details, making it a delight to use.
The images are clear and immersive whether you're watching videos, editing photos, or studying documents. Your multimedia experience will be improved by the laptop's integrated audio system, which offers clear and rich sound.
The Dell Latitude 5530 has a wide variety of connectivity choices, including USB Type-C, HDMI, and several USB ports, allowing you to quickly establish a connection and send data to external devices. 
Its adaptability is increased even further by the addition of a reader for SD cards and a headphone connector.
BUY NOW ON AMAZON
11.

Lenovo IdeaPad Flex

"Big Display With Portability"

If you want a portable and lightweight 2-in-1 convertible laptop as an MBA Student then this Lenovo IdeaPad Flex is the perfect device for you.
In contrast to the HP Pavilion X360, the Lenovo IdeaPad Flex display can swivel 300 degrees, turning the base into a stand and improving the convenience of using it as a tablet.
It has a cutting-edge design that you would only associate with a company like Lenovo. We have long been fans of Lenovo products for their excellent build and reliability, and this device is no exception.
Despite being composed of plastic, it has a robust structure that is solid and appears to have no production flaws. The connectivity is not very good because of the reason that it is a compact and lightweight touch laptop.
Expect nothing spectacular beyond the essential ports, as there isn't even a Thunderbolt port. Indeed, the display is touch-sensitive, and the display panel is high resolution and bright enough for outdoor work as well.
The display's brightness level is generally good and reaches a maximum of 224 nits. This laptop is comfortable to use regardless of outdoor lighting situations.
The battery backup on the other hand is pretty decent considering the fact that it offers a big display.
BUY NOW ON AMAZON
Last update on 2023-09-12 / Affiliate links / Images from Amazon Product Advertising API