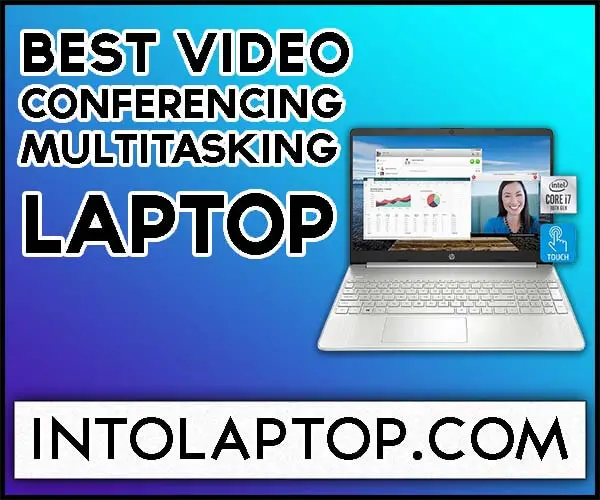 Laptops are used for all of our daily life purposes, from the office and business fields to entertainment and gaming, and in this article, we can see the 11 Best Laptop for Video Conferencing and Multitasking.
However, if you want to use a laptop for video conferencing like online classes and zoom meetings.
You have to acquire the right laptop that offers capable hardware and the required features to support your video conference-related work.
And to do so you should have basic knowledge about laptops to select the correct device since there are tons of options on the market.
But to save you from that headache we have already compiled 11 Best Laptops for Video Conferencing and Multitasking in 2022. During covid, we have seen that we were all bound to work or study from home, and even during the lockdowns still using Zoom for meetings has become a regular occurrence in daily life.
This also requires us to perform multitasking on our laptops since having a device with a good webcam and microphone for video conferencing purposes is essential, whether you need to participate in online classes or interact with your coworkers.
Also Read: 10 Best Laptop for Video Editing
Best Laptop for Video Conferencing and Multitasking in 2022
There are some people who consider desktop PC's a better option for video conferencing and multitasking purposes, which is not entirely true.
With portability and smaller size laptops not only can be more productive but also they can offer you even better performance, you just only need to choose the laptop which best suits your requirement.
Secondly, they provide you with some built-in essential features like a microphone and webcam, and also nobody can deny laptops are more convenient when it comes to traveling.
Also, you can explore intolaptop.com to find out plenty of more laptops that come with different processors. 
1.

HP Envy x360 2-in-1

"Versatility With Great Built Quality"

Due to its 360-degree hinge and touchscreen capabilities, the HP Envy x360 15.6″ 2-in-1 can also be used as a touchscreen tablet.
This laptop is a good option for anyone who wants to get started with Video Conferencing and Multitasking because it has the newest powerful 12th-Generation Intel Core processor and can be updated to include an Nvidia GeForce GPU.
The HP Spectre x360 13.5-inch 2-in-1 laptop and the HP Envy x360 15.6-inch 2-in-1 laptop are the newest models in the x360 line-up. Although we'll concentrate on the Intel variant here, it can be acquired with either AMD or Intel processors.
The HP Envy x360 15.6″ 2-in-1 laptop has a 360-degree hinge that converts the conventional folding modular design into a tablet, suggesting that it was made with creatives in mind.
Consumers can sketch and take notes using the HP Rechargeable Tilt Pen that is included with this laptop when it comes to CPU choices. Consumers have the option of upgrading to a more powerful CPU for heavier workloads, such as content creation, while the i5 variants are ideal for productive output.
Additionally, there are two GPU options: the Intel Iris Xe integrated Graphics or the dedicated GPU from Nvidia, the GeForce RTX 2050. For productivity personnel and some creators, this computer's configuration of up to 1TB PCle storage and up to 16GB of DDR4 RAM should be satisfactory.
BUY NOW ON AMAZON
2.

ASUS L510 Ultra Thin

"A lot of Ports Options with Great Battery Life"

This Asus 15.6″ is a reasonably priced laptop, especially when compared to other low-priced notebooks that can be used for Vidoe Conferencing and Multitasking.
It offers a practical Windows 10 device with respectable battery performance and practical connectivity, but it makes display quality sacrifices in order to achieve the ideal market price.
This Asus laptop's entire body is made of plastic, however, the top has a covering that appears to be better than the Asus VivoBook's flimsy plastic.
Which would not hold up to a drop from your hands or if it were being used carelessly. But the 15.6″ screen is quite bright as compared to other similar laptops.
Its FHD 1920 x 1080 resolution and smooth finish make it an excellent option for using outside. When you're the main objective of buying this device for video conferencing, this is a brilliant option that also works well for multitasking.
A variety of ports are available, including an audio jack combo, a micro-SD card slot USB 2.0, USB 3.2, USB Type-C, and last but not least an HDMI. Wi-Fi 5 is used for wireless connectivity, and a webcam is also present on the top edge.
You can connect all of your accessories using any of these ports. The only drawback of this laptop is that the display screen is overall decent but it misses that crisp you found in similar laptops, as well as its keyboard, which requires some improvements.
BUY NOW ON AMAZON
3.

HP 15.6″ Touch 

"Micro-Edge Bezels and Sleek Aesthetics"
This Hp laptop is a beautiful option if you're seeking a lightweight laptop that offers good performance for Video Conferencing and Multitasking work. It can do this job without any kind of hiccups in performance.
Premium build quality and dual-channel RAM with a powerful processor provide out-of-the-box performance. It just includes not only the newest CPU but also the Windows 11 OS, two of today's most advanced computer technologies.
With a tactile keyboard and a respectable number of ports, the HP 15.6″ laptop is a mid-level notebook that is well-built and stylish. Featuring a tactile keyboard and a respectable number of ports the HP 15.6″ laptop is a mid-level notebook that is well-built and stylish.
The integrated graphics chipset Intel Iris Xe in Intel Tiger Lake G7 SoCs is based on the latest Gen. This integrated graphics card can easily deal with all the intensive software and programs related to your workload.
The Hp 15.6″ laptop comes loaded with 11th generation Intel Core i5-1135G7. Which is designed specifically for high-end laptops with slim and lightweight aesthetics.
It is a mid-range four-core CPU that belongs to intel's tiger lake CPU generation. This hp laptop features a 15.6″ micro-edge bezel design and a full HD 1920 x 1080p display. With this size of display hp still managed to keep this laptop lightweight. It only weighs 1.69 kg which is great for travelers.
BUY NOW ON AMAZON
4.

Acer Aspire 5 

"Good Specs Under Thin, Slim & Lightweight Design"

Acer Aspire series laptops are always lighter in size slim and sleek design and this particular Aspire 5 model continues the same aesthetics. The Acer Aspire 5 slim and thin laptop weighs only about 4.25 pounds, it is 0.7 Inches thin with a footprint of 14.3 x 9.9 Inches.
For a budget laptop, Acer Aspire 5 looks fairly stylish because of the slim aluminum lid and tempered shell. This simply means this can be your Best Laptop for Video Conferencing and Multitasking purposes it is very handy and easy to travel with. Under the lid, there is a 15.6 Inch display supported by svelte left and right bezels.
Aspire logo has been placed near the hinge and by the black keyboard, there is a silver-colored offset. With the lid open you can lay down the Acer Aspire 5 completely flat since it can bend down, even more, the 180 degrees.
At the back near the large cooling vent, there is a pair of speaker grills when turning the Acer Aspire 5 upside down. There is also an extra hard drive bracket if you want to upgrade the storage for whatever reasons.
If you read the specs of Acer Aspire 5 on paper, they really seem decent for a laptop under its price tag category. Performance is decent and it is capable of doing the tasks without feeling under power.
BUY NOW ON AMAZON
5.

Apple MacBook Air Laptop 

"Apple's Latest M2 Processor"

The MacBook Air's recognizable wedge design is no longer in use since after 14 years, three modifications, and two distinct chip architectures Apple finally decided on a significant boost.
It has been replaced with a brand-new MacBook Air that has the same thickness from front to back and an entirely new design. Almost every feature of the new MacBook Air has been tweaked or updated.
These kinds of improvements are significant because, for millions of users, the Air is the standard laptop choice. Much further than that, the Air establishes the benchmark for light and thin laptops, which every other manufacturer attempts to match.
It represents the largest update to the Air since its introduction almost 15 years ago. Along with the updated hardware and appearance, this new Air also features the M2, Apple's most recent internal processor.
However, with this processor obviously, the price tag is higher since Apple has ditched Intel processors for their new Macbooks and according to the company they are much better and technologically advanced than Intel's standard CPUs.
The Apple MacBook Pro 14 and Macbook16 that made their debut in the latter part of last year heavily influenced the new MacBook Air's design and appearance.
Compared to previous MacBook Air models, it has a more modernist architectural presentation and is symmetrical and squared off.
BUY NOW ON AMAZON
6.

ASUS VivoBook F512

"Great Connectivity Management With Decent Battery"

The budget laptop market is competitive in 2022 as always due to a variety of component options, supply issues, and pricing battles. The Asus VivoBook 15 is a basic but cost-effective alternative for tired buyers looking for a super-affordable gadget that can fulfill all their needs and of course Best Laptop for Video Conferencing and Multitasking.
It has a considerably longer battery life than most of its similarly priced rivals and a wider range of ports selection. The two largest compromises are a display with poor sharpness and brightness balancing and a small but typical for this price range 128GB SSD for storage. Though it also offers you HDD alongside still they would have gone for a slightly bigger SSD.
It might not be particularly exciting, but for the money, it's a 15″ Windows laptop that can handle all of your tasks and last the entire day. With this design, simplicity dominates in almost every aspect.
It is a regular 15″ unit with a simple appearance that is ideal for mixing in but not very eye-catching. The VivoBook 15 has a grey paint job, which isn't particularly exciting, but it's not dull either because of its speckled metallic appearance.
The system is lightweight, weighing 3.75 pounds, and measuring 0.78 x 14.1 x 9.1 inches. That's not incredibly light, but it's still a ways away from being hefty, and it should fit easily in your handbag or backpack.
BUY NOW ON AMAZON
7.

Alienware x15 R1

"Out Standing Crisp Display With Performance"

The device definitely looks the part, offering design upgrades over the earlier Alienware m15 gaming laptop. It comes equipped, unsurprisingly, with potent technology this laptop is more than sufficient and ofcourse one of the Best Laptop for Video Conferencing and Multitasking purposes.
The Dell Alienware x15 that we tested has Nvidia GeForce RTX 3070 graphics and an Intel Core i7 11th generation chipset. Dell has created yet another stunning design with the Alienware x15 R1.
The laptop is only 16mm thick, which is astonishing for a top-of-the-line gaming computer and means that this setup undercuts the majority of its larger-sized competitors.
When you consider the strong internals, the Alienware machine's 2.34kg weight is hardly a heavyweight compared to its competitors. Additionally, the matte plastic body's construction quality is excellent.
With its monochrome appearance and honeycomb vents, the x15 is convenient to throw into a bag and will easily withstand time outside the home.
The design concept is stunning, but connectivity is sacrificed in the process. The x15's only ports are Thunderbolt 4, a microSD card slot, USB Type-A, and Type-C. It also offers an HDMI 2.1 output and an audio jack.
That is not very impressive since other competitors offer considerably better connectivity options. The bright ring of RGB LEDs at the back of the Alienware's laptop makes it difficult to notice the ports while you're trying to connect, even if the ports are useful for organizing cables.
BUY NOW ON AMAZON
8.

Lenovo Legion 5 Pro

"High-Performance Dual Purpose Laptop"

The Lenovo Legion 5 Pro belongs to the firm's gaming lineup, but the Pro prefix indicates that this laptop is also intended for professional use like Video Conferencing and Multitasking as well.
Given its distinctive display specifications and several of its functions, this comes as no surprise and makes perfect sense given that many people use the same notebook for both job and fun.
Both of those purposes make good use of the components. The Ryzen 7 5800H is a well-known processor that has proven useful in games and content creation jobs, and Nvidia's GeForce RTX 3070 is a strong GPU for intensive work.
These essential components are included in this review sample along with 32GB of DDR4 memory and a 2 TB SSD, however, there this model is available in the market with other specs configurations as well.
The Lenovo display is the most obvious sign that this laptop is suitable for both work and the newest games. Dell Alienware makes perfect sense in both scenarios.
Since it has a 16:10 aspect ratio, which is more typical for business laptops than gaming machines but it offers the hardware that can do gaming without any sign of slowing down.
With the vertical structural area, you have more capacity for games while also having more ability for internet sites, office programs, and other utilities. On 16:9 panels, these tools can appear a little cramped in comparison to other similar devices.
BUY NOW ON AMAZON
Last update on 2022-12-11 / Affiliate links / Images from Amazon Product Advertising API