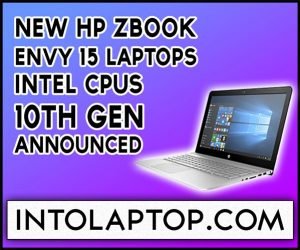 HP always considers the needs of creators in mind before developing an ecosystem of its products.
No matter whether you are a prosumer, professional or consumer, it devices are always there to fulfill your each and every work requirement.
Including an Envy 15 and two new Zbook laptops, HP has announced a total of three of its product's latest line for this year as part of its ecosystem.
Thes new laptop will offer hardware configuration of either the updated Intel's 10th generation core CPU'S or the new Xeon CPU's.
HP Zbook, Envy 15 Laptops Announced with 10th Gen Intel CPUs
Both will offer GPUs all the way up to the Nvidia Quadro as well. For more details, you can also explore intolaptop.com 
1.

Processor & Graphics
ZBook is basically HP's sub-brand which the company has launched for the consumers who want to do creator related tasks since it is the brand's ultra-premium highest performing notebook.
In this lineup, the HP ZBook Studio and the HP ZBook Create are the two laptops that the company has announced officially yet. The processor choice you will get in these two notebooks will be from 10th generation Intel Core CPU's to Intel Xeon series.
Both HP's latest laptops will offer Nvidia GPU's which could be either from Quadro or Gforce series as well.
2.

Other Specs
HP's dream colored display will be offered in both HP ZBook Studio and HP ZBook Create laptops, the company has claimed that it will provide 100% sRGB and Adobe RGB accuracy.
However, we will update you once we got these laptops for a detailed review that how much this claim is true in a real-world testing scenario. To help creators improve productivity HP has done some other needed improvements in these upcoming laptops such as you will get 17.5-hour-long battery life according to the official details.
To keep thermal temperatures in check vapor cooling chamber will be fitted as well as the Z command keyboard to type conveniently. 
3.

Glass Topped Trackpad 
Among the HP's Envy notebook line up the upcoming Envy-15 laptop will be the first one to be fitted with a glass-topped trackpad. The display it offers will be Vesa certified true black color 4L OLED.
To have Delta E it is color collaborated. Other specs options that HP Envy laptop will offer are up to 10th generation Core i9 processor, up to 32GB of RAM and last but not least an Nvidia GeForce RTX 2060 GPU with Max-Q design.
If we talk about battery life then it will offer 16.5 hours on a single charge as the company has claimed and other features will also include Wifi 6, HP Quickdrop and PCI-e SSD.
4.

Availability & Price Tag
The Company will soon announce the price tag for these laptops which could be different according to the specifications. As we have been told you can expect HP ZBook and HP ZBook creat to be available in the month of August of this year.
How the starting price of HP Envy-15 laptop will be approximately $1349.99  and it is expected to be available in the month of June of 2020. Now it remains to be seen that, how much they have been design-wise improved. 
Verdict
HP is without a doubt one of the best laptop manufacturers in the world, many consumers prefer to buy HP laptops because of their durability and productivity.
This brand has introduced many great laptops, especially in the business and gaming segment. Now with these new upcoming notebooks, HP is offering more than ever portability and functionality to its users.
Time will tell how much these new notebooks will impress the users although based on the official details about the upcoming devices it seems like HP has stepped up the competition with tons of features and hardcore specs. You should explore IntoLaptop.com to find out the Best HP Laptops you can get. 
LAPTOP BUYING GUIDE 2023
Laptop Brand: Which Brand's Laptop is your priority?
Display Size: Which Screen Size will you prefer?
Performance: Which CPU will you need?
Graphics Card: Which GPU will you like to have? 
RAM & Storage: How much RAM & Storage is needed?
Operating System: Which Operating System you want to have?
Battery Life: How much battery life do you expect?
Work Purpose: Know the purpose and buy a Laptop tailored for your work purpose.
Budget: Find the Laptop within your budget.