S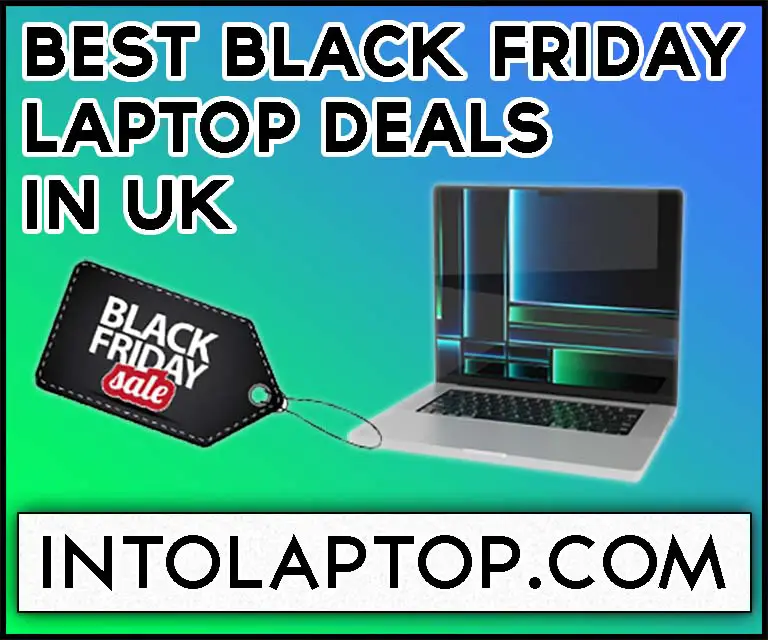 ince Black Friday 2023 is approaching consumers are looking for the best laptop they can buy at the lowest price.
And if you are looking for the same reason then let us tell you you have come to the right place.
Some of you could be wondering why you should read this article. The answer is simple and straightforward, before including any of the laptops in every article we test it thoroughly in real-life scenarios.
And we do not include any device if it is underpowered or not very practical. Just like everywhere in the world, all the major brands are offering huge discounts in the UK as well.
But it doesn't mean that all of those devices are worth buying. Laptops are expensive and nobody likes to invest in a device that is not up to the mark in the performance department.
9 Best Black Friday Laptop Deals in UK
In this article, we have compiled a list of the 9 Best Black Friday Laptop Deals in the UK with their detailed reviews and test results.
So you don't need to spend hours and hours in search of the ideal laptop according to your requirements. Black Friday is the occasion which is the best time to buy a laptop especially if you always wanted a flagship premium model.
Because of the fact that all the devices are available at the lowest price of the Year. So without wasting any more time let's jump into the article to find you the best laptop for your needs.
Also, you can explore intolaptop.com to find plenty of more laptops that come with different processors. 
1.

HP Pavilion 2023

"Superb Specs & Touch Display"

HP once again has used a combination of metal and plastic for the builder of this 15″ Pavilion, as compared to the previous model HP has also done some upgrades in the design.
Because of the fact that it is a 15.6-inch laptop and built with a combination of metal and plastic, there is a slight flex in certain areas.
You don't have to worry about it but at the same time, you don't expect it in a device from a brand like HP. Anyhow at the back of the display lady will find the HP monogram sitting in the center and apart from that there are no other fancy elements there.
This seems fine because it is a budget device and its main purpose of it is maximum productivity. It comes equipped with an Intel multi-core processor which provides it enough power to do any kind of work seamlessly.
On top of that, it offers a dedicated graphics card by Nvidia which is great when it comes to graphics-related tasks. On the other hand, it comes with an excellent amount of RAM and very specious SSD storage.
When you open the display lid you will find a high-resolution touch display panel. The brightness and picture quality is superb and the touch interface is responsive.
You can get this laptop at a huge discount in the UK on Black Friday 2023.
BUY NOW ON AMAZON
2.

Apple MacBook Pro (2023)

"Big Bright Liquid Retina Display"

The Apple MacBook Pro 16.2's subjective output impression is very strong, but considering the fast processor and the SSD, this is hardly shocking.
Inputs are performed without delays, and the fast launch of applications can be considered normal for this powerful laptop.
For the next few years, there's also performance headroom, particularly as compared to the slightly cheaper MacBook Air. Executing the occasional Windows program is also no problem.
Bootcamp performed very well in our tests and even the Touch Bar with special functions such as brightness and volume control works as expected.
Apple uses chips with more powerful integrated GPUs, unlike standard ULV processors. In this case, the Apple M2 19-Core GPU is far more powerful than the integrated Windows graphics.
This simply means that now you can even do gaming on your MacBook Pro because of its strong hardware specifications, especially the Apple M2 Pro 12-Core CPU. It is also very well suited for multimedia applications and high-resolution video playback.
The fan noise with function keys is identical to the old MacBook Pro 13 since the single fan does quite a good job. The fan can reach 39 dB under load and it increases the velocity gradually.
The best part is that this latest generation Apple processor also provides you with exceptionally superb battery backup. Despite the big liquid retina display you still get strong battery backup which enables you to work on the go.
You can get this MacBook Pro 2023 at the lowest price on Black Friday 2023 in the UK.
BUY NOW ON AMAZON
3.

Lenovo ThinkPad X1 Carbon Gen 10

"Powerful Business NoteBook"

The Lenovo ThinkPad X1 is a 15-inch sleek, thin, and lightweight business laptop, its overall build including chassis is made out of luxurious materials.
The sophisticated soft-touch finish is supported by the svelte clamshell laptop's matte black carbon fiber chassis. Placed on the right top corner of the lid and deck is a black ThinkPad logo, with a glowing red dot.
At the bottom corner of the lid Another logo, a stylish red and gray X1 can be seen. Whenever it comes to performance, The Lenovo ThinkPad X1 Business Notebook lives up to its name.
During the intensive workload, this laptop was blazing fast. Lenovo's ThinkPad X1 has proved itself more powerful than the average premium laptop, again with this performance.
And the best thing about this laptop is that considering its price tag it provides you with more productivity than even some more expensive laptops.
 Lenovo Thinkpad X1 offers a touch WUXGA 1920 x 1200, IPS screen, which is great for productivity. The image appears sharp with solid viewing angles, brightness and colors are not very good but decent.
In high-resolution videos, really shows up minute details and accurate quality. Another excellent thing about this laptop is that the screen doesn't reflect that much because of its matte surface at the bay. 
On Black Friday 2023 you can get this Lenovo Thinkpad at the most affordable price of the entire year.
BUY NOW ON AMAZON
4.

Apple MacBook Air 2023

"Premium, Flagship Device"

The MacBook Air's recognizable wedge design is no longer in use since after 14 years, three modifications, and two distinct chip architectures Apple finally decided on a significant boost.
It has been replaced with a brand-new MacBook Air that has the same thickness from front to back and an entirely new design. Almost every feature of the new MacBook Air has been tweaked or updated.
These kinds of improvements are significant because, for millions of users, the Air is the standard laptop choice. Much further than that, the Air establishes the benchmark for light and thin laptops, which every other manufacturer attempts to match.
It represents the largest update to the Air since its introduction almost 15 years ago. Along with the updated hardware and appearance, this new Air also features the M2, Apple's most recent internal processor.
However, with this processor obviously, the price tag is higher since Apple has ditched Intel processors for their new Macbooks and according to the company they are much better and technologically advanced than Intel's standard CPUs.
The Apple MacBook Pro 14 and Macbook16 that made their debut in the latter part of last year heavily influenced the new MacBook Air's design and appearance.
Compared to previous MacBook Air models, it has a more modernist architectural presentation and is symmetrical and squared off. Apple MacBook Air is available on Black Friday 2023 in the UK at a huge discount.
BUY NOW ON AMAZON
5.

HP Victus

"Productive Device For Creators"

HP introduced Victus almost two years ago as a range of reasonably priced high-performance laptops that replaced the Pavilion Gaming range and was positioned below the Omen line. 
Victus 15 laptops from HP are available with both AMD and Intel processors and it is one of the Best Laptops for gaming as well as work purposes in the market right now.
The Victus 15 offers a 15.6″, non-touch screen with a 1920 x 1080 resolution, regardless of the variant. During our testing and review, we found out that it has a very broad viewing angle, clear fine details, decent contrast, and reasonably bright white backgrounds.
But instead of being vibrant and alive, colors are dull and definitely lacking in brightness. The plastic chassis for the Victus 15 is available in dark grey Metallic Silver color or for slightly more price you can get it in Performance Blue or Ceramic White.
The cursor arrow keys are situated correctly in an inverted T rather than an awkward row, which is relatively unheard of for an HP laptop keyboard.
A numerical keypad and top-row system controls are also present. The large, button-free touchpad glides and taps easily, but it has a harsh, dull click.
Although the keyboard is beautifully backlit, it is only available in plain white and lacks numerous zones or RGB color options for each key. In the UK you can get this performance device at the lowest price possible on Black Friday 2023.
BUY NOW ON AMAZON
6.

Dell G15 5520

"Best For Demanding & Intensive Tasks"

Basically, the Dell G15 is a dual-purpose performance laptop that is meant for intensive work and demanding games at the same time.
That is why unlike professional gaming laptops this laptop has a more simple but elegant design. At the back of the laptop, there are two big air vents which indicate that it is a performance device.
The laptop is kind of thick but it is common and almost all of the performance laptops like this. However on the other hand because of this thickness, you get excellent connectivity options.
Which allows you to connect all of your essential devices with it at the same time without having any problems. Secondly, the thick base unit allows a better cooling system and airflow to the internal components.
As a result even under intensive load, the temperatures of the laptop remain optimal. The camouflage design on the keyboard deck area provides this laptop stealthier look.
Do remember that Dell G15 is not a compact device by any means, you can consider this laptop as a replacement for a desktop PC.
Although traveling with it is possible we will not recommend that because of the weight of the device. The keyboard it features provides you comfortable and enjoyable typing experience.
It also houses a numeric pad and the trackpad is kind of hidden in the camouflage design. If you always wanted a powerful gaming laptop then you can get this device on Black Friday 2023 with huge discounts.
BUY NOW ON AMAZON
7.

ASUS VivoBook S

"Gorgeous Display & Powerful CPU"

This ASUS VivoBook S is one of the best options currently available in the market for all of you who are in search of a high-performance laptop for intensive workloads.
Although the color scheme is black from certain angles under the light it looks like sparkling dark blue. This simply indicates that ASUS has done a great job with the design of this convertible touch laptop.
The main purpose of these laptops is always good portability and this laptop is no exception. The device is pretty lightweight and incredibly thin and slim considering the fact that it is a big display device.
Which makes it stand out among other similar devices from rival brands under the same price tag. The display it features is a 15-inch 2.8k panel, and the thin borders around the display enhance its sleek and slim appearance.
The Hinges which support that display in place seem pretty strong which is good since you can tilt this display in a few different positions.
On top of that, it also features a traditional lift hinge design to provide better airflow to the internal components and to make typing more convenient for you when you use it on the work desk.
Despite being a non-touch display the keyboard features provide you with a comfortable typing experience and it also includes a numeric pad.  On Black Friday 2023 you can get this ASUS Vivobook S in the UK and save a lot of money.
BUY NOW ON AMAZON
8.

Acer Swift X

"Solid Build & Performance"

Apart from being a powerful device Acer also offers the Swift X laptop line in metal build and the same goes for the newer model as well, which is great since the majority of the other similar devices use plastic.
Acer Swift X is not very fancy looking but at the same time it has a pretty solid feel and it is well made. The Display lid is pretty sturdy and remains in the desired position since the material used here is aluminum.
Like the majority of other laptops these days this laptop does not offer a hatch to open but you can unscrew the bottom panel easily and can access the internal parts for degradation or maintenance purposes.
Owing to its mono-to-double hinge mechanism you can open the lid of Acer Swift X to a maximum of 130 degrees angle. Connectivity-wise this laptop is great and it even offers a Thunderbolt port and USB type-C charging options.
The built-in webcam however is of basic HD resolution which will not bother you as much since you're buying it for work-related purposes.
Furthermore, Acer Swift X is equipped with a Windows Hello feature and a fingerprint reader at the same time, you will get a Kensington lock feature.
The keyboard, on the other hand, is pretty comfortable with good key travel, it is also backlit so you can work in the dark conveniently. You can get this powerful laptop at a huge discount on Black Friday 2023 in the UK.
BUY NOW ON AMAZON
9.

ASUS TUF F15 (2022)

"Excellent Dual-Purpose Device"

If you are searching for an upper mid-range high-spec laptop with a balanced configuration for all your work and gaming needs then the Asus Tuf  F15 is the best choice for you.
It is also rated as one of the Best Laptop for both gaming and intensive work. However, the main focus of Asus with this device is not the performance though this laptop is capable of excellent performance.
The company's primary goal here is to make it lightweight and keep the aesthetics as compact as possible. The red accent under the Asus Tuf F15 is one of the few attractive colored parts otherwise the chassis of this device is simple but with a clean design.
This laptop is built with a mixture of plastic and aluminum parts which has kept this device on the list of lightweight ones.
If you want to reach the battery compartment you have to unscrew the bottom cover. The good thing is that Asus chooses to screw this battery instead of using glue as some manufacturers do.
One of the Positives of Asus is that you do not find any uneven gaps or flaws since the device is well put together. Loaded with an Intel Core i5 12th generation 12-core processor and an RTX 3050 the performance is top-notch as expected.
There is no lag or any delays during workloads or while playing games which makes it a great all-rounder option for Black Friday 2023 UK.
BUY NOW ON AMAZON
Last update on 2023-09-17 / Affiliate links / Images from Amazon Product Advertising API