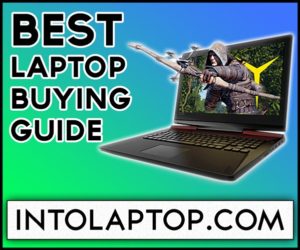 This laptop guide is equally beneficial whether you want to replace your old laptop with a new one for work purposes or if you are in search of a first new laptop for purposes like day-to-day use, editing, gaming, etc.
We have mentioned all the most important things to consider while buying a new laptop and shouldn't be ignored in any case.
In this laptop buying guide, we have included all the information which is required to make sure that your new laptop is perfect to fulfill each and every requirement or need you want.
But for that, you should read this detailed laptop buying guide from start to finish.
As we all know that the smartphone industry is taking over the entire world but it can never replace the functionality and abilities of the machines which we call a laptop.
BEST LAPTOP BUYING GUIDE
However, these machines are getting more expensive day by day because of their powerful features and specs.
With this laptop buying guide, we have tried hard to provide you with enough knowledge so that you can buy the perfect laptop which can perform well in each aspect of computing.  
1.

Quick Summary
Are you looking for the best option to round up a laptop's most critical purchasing elements?
Then you are at the right place because here you will find much more detailed measures and definitions below, or if you want you can just take a look at the short summary here.
On Which Aspects, You Must Focus While Buying a Perfect Laptop? 
Battery LifeWeight Factor2 in 1 FactorConnectivity Ports
You must go for the Laptop with a battery life range of 8 to 10 hours.
Consider the machine with a screen for the most portability and lightest carrying weight in the range of 12 to 14 inches.
If you need a touch screen and want more portability, go with a 2-in-1 hybrid model or anything with a removable keyboard. Alternatively, pick a clamshell to save more money.
A single USB-C port can also work if you don't mind using an adapter, also choose the model which offers an HDMI port and a minimum of 3 USB ports as Standard.
Which Operating System (OS) is Best?
ChromeOSWindows OSMacOS
If you're looking for a cheap computer for web browsing and some light games then the best available option for you is the Chromebook with ChromeOS.
If you need or want to run a wider suite of programs then you must choose a Windows 10 running laptop.
If you want good build quality and don't care about all the bloatware that Windows brings with it then purchasing a laptop with the MacOS is a great option.
Match Laptop Specs With Your Budget and Needs
Cheap LaptopLaptop with Decent SpecsHigh End Professional Laptop
Expect only a budget computer for web browsing and word processing to spend in the $200 to $500 range but you should not buy a laptop which included less than 4 GB of RAM. Unless you choose a smaller SSD Chromebook, consider the model which at least offers a Hard drive space of 500 GB.
Do not allow anything with less than 8GB of RAM to buy a mid-range computer in the $600 plus price tag for other uses and instead of a regular HDD, you should go for the better SSD. Look for a 1920 x 1080 pixel full HD screen and stick to an Intel Core i5 or better processor. Laptops Under $1000 will fall under Decent Specs Laptop category.
Make sure that the device has at least a GTX 1050 Ti graphics card or better if you want a high-end laptop for gaming or video editing purposes between the price range of $800 to $1500. 16GB of RAM and an Intel Core i7  should be ideal minimum specs under this budget for more than enough performance. Laptops Under $1500 fall under High-End Professional Laptops Category.
2.

Choosing the Correct Operating System (OS)
It is up to your needs, requirements, or personal preference for which operating system you go with since both Macs & PCs have their own strengths and weaknesses.
The majority of the laptops offer one of three different operating systems which are Mac OS, Windows, and Chrome.
However, choosing one of them is a very difficult decision especially if you are not familiar with them.
But don't worry below we have mentioned a quick summary of the pros and cons of each operating system, to make this decision a little easier for you to take.
ChromeOSMicrosoft Windows OSApple Mac OS
Despite the fact that Google's Chrome OS is simpler and more secure no one can deny that it is also more limited than Windows and Mac OS.
However, you can find a new Chromebook laptop way cheaper than the machines which run Windows or Mac. 
With a desktop, the ability to drag windows around, and an Application menu, the interface of Chrome OS looks very similar to Windows.
But afterward, you realize that the main App you are using is only the Chrome browser. This brings us to the downside of this operating system.
The majority of web Apps for daily use don't work offline very well. Although if you need a lightweight portable kind of laptop that you can use to navigate social networks, chat online, check email, browse, and day to daylight work with good Battery life at a low price.
Then Chromebooks are the best option, it is very hard to infect them with malware and they are more functional than a tablet or iPad.
Just make sure to select the Chromebook which offers at least 4 GB of RAM to experience faster and better performance. Best Chromebook Laptop Reviews have been done by IntoLaptop.
Microsoft Windows has happened to be the most flexible operating system, as compared to Mac OS it runs far more laptops worldwide.
Another plus point is that the majority of great laptops which runs Windows are available at way cheaper price tag than even a base-level MacBook.
You can upgrade a Windows-running laptop to a certain point considerably easily and conveniently. These laptops start from $150 to several thousand dollars offering touch screens dual graphics chips to fingerprint readers.
Windows laptops also offer a wide range of features at a lower price tag. The latest version of the Microsoft flagship operating system is Windows 10.
Including the ability to switch between desktop and tablet modes, it offers better performance and functionality than Windows 7 and Windows 8.  
Microsoft has also done many improvements in Windows 10 such as revamping the Start menu with live tiles and Cortana a powerful digital assistance to make it more user-friendly.
Laptops that run Windows 10 are best for business users, students, and researchers, and if you are a gamer then you should consider Windows machines only. The majority of the Laptop Reviews covered by IntoLaptop.com are for Windows Laptops, which can be easily found under Laptops by Brands section.
Apple's latest operating system yet, Mac OS Mojave comes pre-installed in all the MacBooks. The overall functionality that it offers is pretty similar to Microsoft Windows, though one major difference is the interface.
Instead of the Windows start menu and taskbar, there is an Apps dock at the bottom of the screen in Mac OS.
As a digital assistant, you will get Siri which substitutes Microsoft's Cortana. With Mac OS, you can do transactions via Apple Pay, use Apple Watch to unlock your laptop, and take calls or messages from your phones as well.
There is no MacBook with a touch screen available yet since Mac OS is not designed for touch. Catalina is the upcoming version of Mac OS which will bring iPad Apps as well as secondary display support to MacBooks in the near future. Here you can find out the Best Apple MacBook Laptops.
3.

Should You Go for 2 in 1 Convertible Laptops?  
2 in 1 convertible laptops are basically hybrid devices, you can use them in traditional clamshell mode, or if you want you can switch between other modes such as a tablet, stand, or tent modes. There are two different styles in which convertible 2 in 1 laptops are available.
Flexible laptops, their hinges can bend back to 360 degrees so you can easily use them as a tablet if you want.
Or detachable laptops, in which you can detach the screen entirely from the keyboard. These laptops can be used as dual-purpose machines which are more powerful performers then Tablets.
If you want to use your notebook as a slate as well then detachable laptops provide you superior tab experience than a 360-degree convertible.
However, it is a fact that traditional clamshell machines provide you with far better performance as compared to a convertible.
So if performance is your first priority or need then you should choose a traditional laptop over a convertible. It really depends on the work or your personal preference for which you are purchasing the laptop. 10 Best 2 in 1 Convertible Touch Screen Laptops could be found here in our reviews.
4.

The Perfect Size
Laptops are usually categorized with different screen sizes so before you look at the price tag and specs you should decide how portable you want your laptop to be especially if you travel a lot with it. You should be able to explore Best Laptops by Screen Size here.
Lightest & ThinnestBalanced ProfileThe Most PopularWorkstations
The laptops with 11 to 12 inches screens come with a sleek and slim design. Which makes them suitable for traveling or carrying all day in a backpack without any problem. These machines usually weigh about 2.5 to 3.5 pounds. Light Weight UltraPortable SSD Laptops fit great into this category.
If you want the best balance between usability and portability then you should go for 13 to 14 inches laptop. You can easily find a laptop in this category that weighs 4 pounds or less.
15 inches laptops are the most popular ones among the users and there are many reasons for that. These machines come with larger screen sizes and provide you with excellent display performance. You can consider a 15 inches laptop if you are not a very frequent traveler.
You can get very high processing power for doing workstation-level productivity or playing high-end games with a 17 to 18 inches laptop. You must check 32 GB RAM Laptops and Gaming Laptops with 6GB GPU.
But the condition is that you should use this laptop on your desk all day every day. Since workstations of this size are bulkier and heavier and you can't even think of traveling with them.
5.

Aesthetics of Touchpad & Keyboard 
Sometimes laptops with the most impressive specs lack a good keyboard or touchpad, meaning a perfect laptop should offer good ergonomics along with powerful specifications.
Before purchasing the laptop ensure that its keyboard provides excellent tactical feedback and decent space among the keys.
Key travel is a term used to define the distance of the key when it goes down while pressed. Normally this distance measures to be 1 to 2 mm which is considered good enough.
You must know all of this detail if you are planning to buy a laptop for doing a lot of work. For those of you who are considering a Windows laptop for purchase make sure that the machine you have selected is offering the precision touchpad drivers.
A perfect touchpad consistently responds to multi-touch gestures, like pinch to zoom in and out. The touchpad which doesn't give you a jumpy cursor is an accurate one, you can look for that while searching and selecting your desired laptop.
6.

Specifications & Components
If the specs sheets of the laptops look like some weird alphabets to you, just don't feel bad. Even the people who understand them perfectly sometimes get confused by the Processor, RAM, Graphics chip, hard drive, and other components of the Notebook.
Intolaptop.com has gathered all the required details for choosing the right specs according to your needs, work, and requirements. Below are the main components you should focus on while making the purchase of a laptop.
7.

Which CPU?
The performance of your laptop always immensely depends on the processor inside it, since it is the brain of your computer.
It doesn't mean that you will have to spend a lot of money on getting a machine that offers a powerful processor.
It entirely depends on the purpose for which you are buying it. It is possible that the least-expensive model of the processor provides good enough performance for the work you want to do on it. The CPU of a LAPTOP cannot be upgraded, unlike Storage & RAM. So you need to choose the CPU factor wisely, during the laptop purchase decision. Best Laptops by CPU can be explored here. It is worth mentioning that CPUs manufactured by Intel Corporation are most widely used due to their excellent performance and reliability. If you want to check in-depth Intel CPU specifications and features including their generations, you must go through ark.intel.com.
Below we have mentioned a short introduction of all the main processors you can get right now.
Difference Between CPU's 
Before making a decision about the processor you must understand the difference between different series and models. For example, Intel Core i3 processors are best for general-purpose use. Whereas for gaming purposes Intel Core i5 and Core i7 Processors provide top-notch performance. And Intel Core i9 processor will be the best choice for you if you want to use your machine for professional-grade work. 
Whenever you read an H with an Intel processor model it means that the processor has high-performance integrated graphics. And if the model mode number included an HK with it that means it has an unlocked multiplier with high-performance integrated graphics. 
Now if you read an HQ written with any processor it basically indicates that this processor high performance integrated graphics and a quad-core CPU, which means ultra-low power consumption. And U with a processor model it simply means ultra-low power consumption.
8.

Storage Drive SSD or HDD?
The performance of your laptop's storage device is one of the most important things even then the speed of the CPU or APU in case you have an AMD processor.
Our recommendation is that you should go for an SSD if you don't require tons of storage and you have a specific budget.
The benefit is that you will get almost three times the speed as compared to an HDD and the overall performance of your laptop will improve immensely.
The newest PCIe x4 or NVME units among the SSD's can provide you triple the speed as compared to the traditional SATA drives.
The eMMC which you can find in a lot of $250 laptops is technically a solid-state but in speed comparison, it is the same as the traditional SATA hard drive.
Storage and Memory of Laptops can be upgraded easily at any later time as well. So if you plan to get a laptop with 512 GB SSD Drive, you can later upgrade it to 2TB SSD, depending on your requirement.
9.

RAM Memory
There are some new laptops that you can get for a cheaper price but they offer only 4GB of RAM. But practically you should go for the 8GB RAM configuration or if you can spend a little more, then opt for 16GB of RAM.
Since these figures are essential if you want to use your laptop lag and stutter-free. Although you can go even further from 32GB to 64GB only if you are a power user and work on power-intensive programs.
Otherwise, in most cases, 8GB to 16GB RAM is more than enough to provide you with overall great performance.
In case you are looking for a workstation laptop to render 3D animation videos with Adobe After Effects, you should consider having at least 32GB of RAM.
Modern Laptops these days use DDR4 RAM, while DDR5 RAM is soon to be released. The Memory of Laptops can also be updated at any later time, so if you are getting a laptop with 16 gigabytes of RAM, you can later upgrade it to 32GB or whatever your requirement is.
10.

Display & Screen
The benefit of having more pixels on your laptop's screen is that you can fit more content on it that will look sharper as well.
Unfortunately, some of the budget laptops, as well as business laptops, still offer 1366 x 768 displays.
However, our recommendation is that you should go for at least a 1920 x 1080 display panel which is also known as the 1080p or Full HD (FHD) even if you have to pay some extra cash.
Though premium level and flagship laptops offer 2560 x 1600 to 3840 x 2160 display sizes which are 4K and look even sharper. But they also take more power which results in lowering your battery life.
If you want a touch screen display then you should go for a 2 in 1 convertible laptop since in the regular clamshell laptop you will not get much benefit from a touch panel instead all you will get is 1 to 2 hours less battery timing.
All the 2 in 1 convertible laptop comes equipped with touch screens. You can visit intolaptop.com to find the best convertible laptops with a detailed review under your specific budget or according to your requirements.
11.

Dedicated or Integrated Graphics Chip?
The integrated Graphics Chip would be good enough if your work requirement is creating 3D objects and doing high-resolution video or photo editing.
But if you are planning to play some games on the laptop, well then you should go for the dedicated GPU's of AMD or Nvidia.
These graphic chips will also provide you excellent performance in other kinds of intensive graphic works than games. However, the laptops with dedicated graphics units run at comparatively higher temperatures as compared to the machines which have integrated graphics chips.
It is worth mentioning that like CPU's the graphics chips also come in high and low-end configurations. Like the CPU of LAPTOP, GPU is also an integrated chip, which cannot be upgraded to a better one, unlike RAM & Storage of Laptop. So you should wisely choose the CPU and GPU of a Laptop, before locking in the final laptop choice.
For example, nowadays low-end workstations and gaming laptops come with GPUs like Nvidia MX250 or GTX 1650 whereas you can get models like RTX 2050 or RTX 2060 with mid-range laptops.
With high-end new-generation gaming laptops, you can get GPU's like RTX 2070 or 2080. AMD and Nvidia both have maintained a whole list of low-end to high-end Graphics Units.
4GB to 8GB Graphics Memory is considered to be the best for gaming laptops and video rendering workstation laptops. If you are looking for a laptop for professional video animation, video rendering, multimedia usage, heavy processing, or gaming, then you must check out High-End Gaming Laptop and High-End Video Editing Laptop.
12.

Speakers & Sound Card
Not for everybody speakers and sound card matters that much since the majority of people use headphones for these machines.
There are some good laptops that offer stereo or Dolby sound quality. On them, you can even make beats if your work is related to music.
Macbooks also offer pretty decent speakers and sound cards but they are kind of expensive and making the decision of buying them only because of sound quality rather than specs seems weird.
If you really want a laptop with good enough speakers then you should find many models in the market and you can test their sound quality before purchasing them. Though every laptop comes with some pros and cons.
13.

Decent Amount of Ports
When you choose a laptop normally the absence of ports is not considered as a deal-breaker since it is a portable machine.
However, having decent amounts of the port is good because in that way you will not need to carry unnecessary dongles and connections with you.
The majority of today's mainstream laptops offer USB 3.0 ports and HDMI out for video connections. You should choose a machine which contains USB Type-C and Thunderbolt 3 ports if you want better functionality from your device.
To connect universal chargers or docks getting a Type-C port on your laptops is the must-have requirement.
Also in the near future, USB 4 will be included in laptops which will enable the ability to daisy chain 4K monitors with only one cable and a faster file transfer rate.
Another useful connection that you should look at while buying a laptop is headphone jacks, SD card slots, and if you are a gamer then also Ethernet ports.
14.

4G Connectivity
You should consider buying a Notebook that offers 4G LTE support if you want to use your laptop on the go while traveling.
It will allow you to access the internet even if you are away from the router although you will have to pay for a data subscription plan.
If you can find a laptop with Wi-Fi 6 support under your budget then it will be the best option since it provides you with the latest and greatest connectivity options.
Wi-Fi 6 provides you more stable connection as compared to the 802.11 ac as well as increased theoretical throughputs.
To get improved connectivity with Bluetooth enables devices like mic and headphones you should look for the laptop which offers the latest standard Bluetooth 5.  
15.

Is DVD Drive Essential?
Since nowadays all the software and movies are downloadable majority of laptops come with optical drives.
However, IntoLaptop has kept track of the machines which offer DVD drives for users who really need to read or write disks.
Don't get depressed if the laptop of your choice doesn't offer it because in that you can buy an external DVD drive any time which you will get under $20.
16.

Battery Life Matters A lot
There is only one condition in which you don't have to worry about the battery life of your laptop. That condition is that you have a gaming rig and a bulky workstation which you only use on our desk near a power outlet.
Otherwise, if you want to use your laptop on your lap even at home then it should provide you at least 7 hours of battery life on a single charge, though 8 hours is considered ideal.
To know the exact battery time which you will get on your desired laptop, do not ever believe in the manufacturer's claims. Instead, read third-party reviews like you can find on IntoLaptop.
17.

Budget & Requirements  
 As we always say that laptops are getting expensive due to the continued demand of the market and also their specs.
You can consider buying a used laptop but we will recommend you to go for the new one by slightly raising the limit of your budget.
Below we have mentioned some perfect specs of a laptop that you can get under the specific price tags for your ease.
Don't forget to read IntoLaptop's Best Budget Laptop Series to find out the perfect laptop according to your needs.
$300 Laptops$300 to $500 Laptops$700 to $900 Laptops$1000 or Above Laptops$1500 to $2500 Laptops
18.

Which Brand to Choose?
The company which stands behind your laptop matters a lot for things like accurate and timely technical support. For that purpose, IntoLaptop has curated Best Laptop by Brands. Make sure to have a look at them.
You can find other details about your desired brand at IntoLaptop. Customer support is the main thing that makes a laptop brand worth spending your money.
In terms of design, value or selection, performance, and other criteria manufacturers always stacks up the competition which you also have to consider.
There are some brands of computers that have succeeded to gain the trust of users in terms of reliability and performance.
Such as Apple's Macbook and Dell, HP, Asus, and Lenovo as Windows machines. Also if you are interested in buying a gaming laptop then you can also check out MSI, Acer, and Dell's Alienware machines.
19.

Buying Refurbished Laptops
First of all, you need to understand what a refurbished laptop is if you are thinking of getting one for yourself.
Some of the machines which you can get under the name Refurbished are actually not at all refurbished.
There are minor factory defects in those products, because of the fact that manufacturers cannot throw them away neither they can get rid of them by selling them as new, they usually blame the previous owner for the fault and brand them as refurbished laptops.
So you must think twice before making up your mind to get a refurbished laptop. People usually buy refurbished laptops when they cannot afford that high-end machine as new, but they need it for their work.
Because you can get the same laptop with the exact style and manufacturer which you want, many people ignore things that must be inspected before the purchase.
If you are willing to buy a refurbished laptop then we have included mentioned some ways in the following to check that the machine is working properly.
When purchasing the laptop you must inspect the keyboard, because in some refurbished machines you can find signs of wear and tear, especially in that area.
You have to make sure that on the surface and particularly on the screen there are no scratch marks.
When laptops go back to the factory for getting fixed and refurbished obviously they took off screws.
So do check that your laptop has all the screws in place and that not a single one is missing. You can identify the laptop is refurbished by the serial numbers.
Check the laptop serial number and then match it to the chassis serial number. The main downside with refurbished laptops is that they came with reduced warranties, like a maximum of three months.
Also do confirm that your laptop has the sticker on the back which confirms that it is a refurbished machine.
Checking the product number is also essential since new laptops do not contain an R letter in that number whereas refurbished laptop has an R in the product number.
20.

Manufacturer Claims VS Reality
The laptop's features and specifications are not everything you must have to focus on some other aspects as well.
To compete with rivals and sell the products laptop manufacturers sometimes lie, which is a fact. For example the majority of the time, they claim the battery life of a notebook is twice the capacity of the real battery and you only realize that after purchasing and using the machine for some time.
Also to attract customers they advertise that all the specs you need are packed into the laptop but in reality, they do cut some corners.
To avoid these tactics and getting fooled by the company you can use some tools. With them, you can check the real capacity of the battery and specifications of the laptop before making the decision of purchasing it.
It is a reality that special offers or discounts get the attraction of customers instantly mainly because of the affordability of the laptop. That is why we don't want you to be tricked into buying a low-quality or under-power machine.
You can also check Into Laptop latest articles to get more details on this matter. Here you have our detailed laptop buying guide, we hope it will help you in choosing the desired laptop.
Conclusion
All the points we have discussed above in this Laptop Buying Guide will enable you to choose the machine which is best for you according to your needs. 
We have tried hard to define technical details in as simple words as we could. So everybody can understand it especially those people who don't know much about it. 
Good research before purchasing a laptop is very important if you want to get excellent performance out of it for your purposes. But it requires a lot of time and professional knowledge.
We have done the research part for your convenience now you only have to give a thorough read to this guide. So you can have an idea about which specifications are good for which purpose in detail.
We have mentioned all the essential specs of the best laptops for great performance under almost every budget. And it will make sure that you will find out the perfect laptop according to your needs from Into Laptop's Laptop Buying Guide.
If this laptop buying guide has helped you to make the right choice, please make sure to spread the word and share this valuable resource which we have compiled after a few weeks of thorough research on the best laptops.