Are you struggling with your Laptop Keyboard and want to know How to fix your laptop keyboard if it stops working?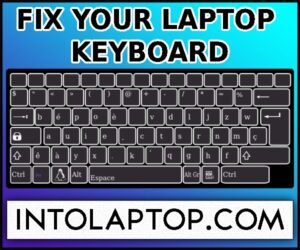 No worries. Follow the solutions provided in this article to fix your Laptop Keyboard.
How To Fix Your Laptop Keyboard If It Stops Working
It may seem strange, but one of the biggest problems with laptops is the keyboard.
We are going to tell you what to do if your laptop keyboard does not work and what are the possible solutions.
We can try different things, which are quite simple before we start with other verifications or checks that can be more laborious.
Mostly below solutions can fix your laptop keyboard as an answer to your question on How to Fix Your Laptop Keyboard if it Stops Working.
Also Read: BEST KEYBOARD LAPTOP FOR WRITERS
Software Problems:
1. Restart Your Laptop
Turn off and turn on your computer
Although it seems silly, many computer problems are solved by turning off the computer and turning it on again. They could be software conflicts or some kind of similar problem, quite easy to fix.
This is solved by turning off and on, or directly, restarting the computer.
All processes are stopped and get restarted from scratch with this basic step.
So it is possible that everything works again, without further ado.
2. Check BIOS
Something very simple that we can do is enter or at least try to enter the BIOS.
We must turn off the laptop and turn it on again.
To enter the BIOS, we must press the Del, F12, F10 or F1 keys, which are the most common keys to access it.
If we can't get into the BIOS, everything points to the problem being with the keyboard.
If we enter the BIOS without major problems, we have found that the problem is at the software level.
For this reason, at this point, we quickly know that the problem is in the operating system or in the drivers. There is no physical problem with the laptop.
3. Run Windows Components Scan
A fairly simple option if the laptop keyboard is not working is to run a scan with Windows to see if everything is working properly.
This is done through the Command Prompt window that we will run as administrator. Follow the steps.
Right-click on the Windows Start button
Click on the Command Prompt (Admin) option
When the window opens, we enter this command: sfc /scannow
Now the operating system performs a check of all the components to verify that everything works.
It is recommended to restart the computer after finishing this process.
4. Install Pending Windows Updates
Among the fastest and easiest options to correct the problem is in the software as one of the answers to your question on How to Fix Your Laptop Keyboard if it Stops Working.
There may be a problem with Windows or the drivers being updated.
We have two options that we can try if our laptop keyboard is not working and not quite fast.
It is not uncommon that after a Windows update, something has stopped working properly.
It is also possible that there is an update pending and the system is starting to have performance problems.
The first thing we will do is see if there are pending updates.
A). To install Pending Updates:
Click on the Windows Start button
Now click on Settings and go to Updates and Security
If it tells us that there are pending updates, install it.
In case we do not have pending updates, we can search to see if there are any.
If the problem persists after updating or there are no pending updates, we can uninstall the latest update.
B). To Uninstall the latest update:
Within Updates and Security, we are going to see updated history.
The first option is to Uninstall updates. 
Look for the most recent update.
Right-click on it and click Uninstall.
If the problem has been corrected, it is best to wait for future updates.
If everything points to a problem with Windows then some kind of bug.
5). Update and/or uninstall drivers
Let's go with another possible software solution.
A fairly quick and easy solution may be to update your drivers.
The easiest method is to do it using Driver Booster, a software that searches for all the drivers on our computer.
So we don't have to search the laptop manufacturer's website.
If this doesn't fix it, we can move on to reinstalling the drivers. The process is the following:
1.  Right-click on the Windows Start button
2. Enter the Device Manager
3. Go to the Keyboards section
4. Right-click on the first option
5. Several options will appear and choose to Uninstall the device
6. Now restart the computer
We try to install the driver again, either manually or through Driver Booster
Laptop Keyboard Physical Damage Issues

and Solutions
If the problem still persists then let us go with other possible answers to the question How to Fix Your Laptop Keyboard if it Stops Working.
Most likely a keyboard problem.
After verifying that the problems are not software problems, we now go with physical problems that make the laptop keyboard not work.
Most likely, we will find ourselves in a situation where it is damage to the hardware itself.
First of all, we must identify the problem to know how we can solve it (or not)
a). You have spilled some liquid on the keyboard accidentally?
Spilling a liquid on the laptop, such as coffee, water, or a soft drink, is not unusual at all.
keyboard won't work properly if accidental spilling of water on it happens. 
If this has happened to you, rest assured that the keyboard will die totally or partially.
Some high-end laptops have liquid resistance, but in many cases, to a limited extent.
But, most laptop keyboards don't have liquid resistance.
Manufacturers do not make them resistant to liquids because they make the product more expensive.
Even if we run to dry it and we do it with desire, it is unlikely that you will be able to solve the problem.
The liquid will quickly seep down the inside of the keyboard and cause short circuits.
It should be clear that the switches are mounted on a PCB and this can be damaged, just like any other component board.
Consequently, we are left with no keyboard on the notebook at best.
Also, warranties on laptops (just like other electronics) don't cover liquid damage.
b). Cable is broken or damaged?
If you have not spilled a liquid on the laptop keyboard and you have ruled out software problems, we go with the last possibility. The problem may be with the cable that connects the keyboard to the laptop.
Like any keyboard, this one must be connected to the laptop's motherboard in order to work.
For laptops, a flex cable is used, which is a very thin but elongated type of flat cable.
This cable may have been damaged or the connection pins may have oxidized.
The cable at one end is soldered to the keyboard itself.
While the other end goes to a connector on the motherboard of the laptop and that is where the problem may be if it has oxidized.
It may be, at best, that they are rusty. There are products to remove or attempt to remove rust.
It is not usual, but the rust could be in the connector and there the thing becomes almost impossible to fix.
We can try to remove the rust, but it is quite difficult.
The simplest solution would be to change the keyboard, since removing the cable, being soldered and very thin, is quite difficult.
c). Is one or more keyboard keys not working?
It may be that it is not the whole keyboard that does not work, but a part of it or some specific keys.
Before continuing, we must know which specific keys are not working.
One thing we can do is type in a text document, although some keys, like function keys, won't be marked.
We can opt for the web key test, which when we press a key will light up on the screen.
This allows us to see which keys are failing.
Once we have them identified, it is time to see what is failing at this point. There can be two types of failures:
If the problem is a key or several keys and they are in different rows or separated, it is possible that the switch or membrane is broken
If the problem is a set of keys in the same row or column, the biggest problem is a problem in the track that communicates them or it is a design issue and a switch or a set of them fails.
The fastest and easiest is to replace the keyboard.
If we have knowledge and skill, we can try to replace the key(s) in question.
If the Warranty is still there, then the Laptop Product manufacturer may service it for FREE
If you still have a warranty applicable for the Laptop and it is within the warranty period then the product manufacturer will service it for us for Free if it is a manufacturing defect.
In case of not having a warranty, we can change it ourselves or take it to a specialist or choose to use an external keyboard.
Get your Laptop Keyboard Serviced by a nearby Technical Specialist – if Warranty Expired or Not Manufacturing defect
At this point, we already know if the problem is software (and we have fixed it) or if it is a hardware problem.
Now, it is time to see what options we have to correct the problem when it is hardware, or what is the same, the keyboard has totally or partially died.
Send it to the technical service for repair.
As we mentioned at the beginning, after downloading all the software problems and if it is not due to liquid spillage, one option is to send it to the technical service.
Use an External Keyboard
If the laptop keyboard doesn't work, the solution may be to opt for an external keyboard.
We can buy a USB keyboard or a Bluetooth keyboard and we can continue using the laptop without much problem.
There are very good compact keyboards that can be a great complement and are easy to transport.
What's more, many users (including myself) don't often use the laptop keyboard, as they don't like the feel of the membrane-type buttons on laptops.
Change the Laptop Keyboard
For those who are out of warranty and don't want to use an external keyboard and still think that you did not get an answer to your question How to Fix Your Laptop Keyboard if it Stops Working… then you can choose to change the keyboard.
You can go to a specialist or you can do it yourselves.
You must keep one thing in mind, disassembling the laptop keyboard is not easy in most cases.
Typically, disassembling much of the laptop is required, as the motherboard usually needs to be removed.
If you don't have advanced knowledge, it may be that by trying to fix the laptop you may end up breaking something else. 
Also Read: BEST BACKLIT KEYBOARD LAPTOP
Final Words about How To Fix Your Laptop Keyboard If It Stops Working
Hope by now you got an idea about How to Fix Your Laptop Keyboard if it Stops Working.
Also, you can visit this page IntoLaptop.com/tips to find more Laptop Troubleshooting Guide
Leave your comments if any more queries.
LAPTOP BUYING GUIDE 2023
Laptop Brand: Which Brand's Laptop is your priority?
Display Size: Which Screen Size will you prefer?
Performance: Which CPU will you need?
Graphics Card: Which GPU will you like to have? 
RAM & Storage: How much RAM & Storage is needed?
Operating System: Which Operating System you want to have?
Battery Life: How much battery life do you expect?
Work Purpose: Know the purpose and buy a Laptop tailored for your work purpose.
Budget: Find the Laptop within your budget.