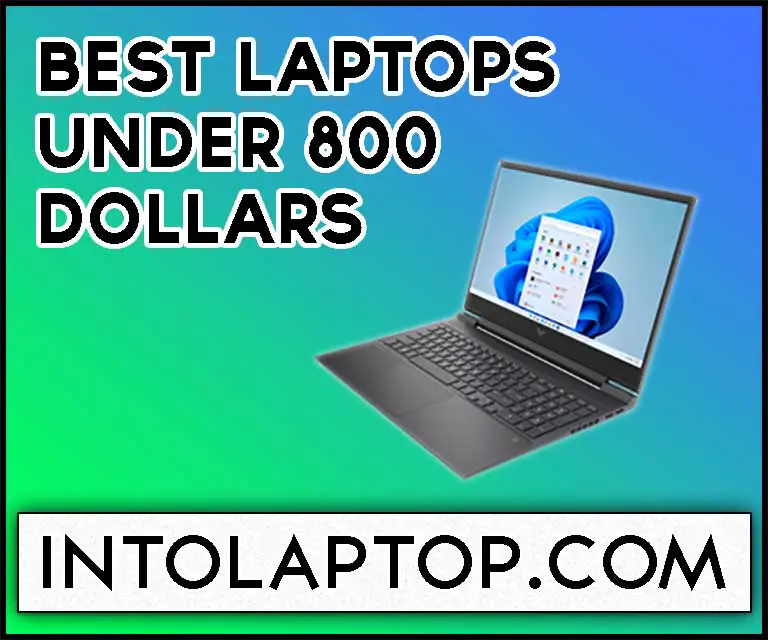 The laptop prices are still high and they are not expected to come down in near future, that is why you have to still make some compromises even if you extend your budget to $800.
We have already discussed the factors for the high prices of laptops in many other articles. Only a few years back when laptop prices what comparatively lower $800 was a budget range in which you could get a premium flagship laptop.
But now before buying a laptop on this budget you have to make your mind clear about the requirements.
In the current computer market, you can get a decent mid-range laptop under this price range which can provide you high all round performance whether you want it to use for work or other purposes.
There are many different brands offering tons of options only a few fulfill the essential requirements. Searching for the best laptop under the price tag of $800 requires a lot of time and technical knowledge about hardware components.
Also Read: 10 Best High End Laptops Under $2500
11 Best Laptops under 800 Dollars In 2023
And in their busy schedules, it is difficult for many people to find that much free time. On top of that, every consumer does not have the proper technical knowledge and without it, you could end up with a powerful laptop that you will regret buying.
That is why in today's article we have compiled a list of 11 Best Laptops Under 800 Dollars In 2023 with a detailed review of test results. We have listed these laptops randomly after measuring their performance and you will find devices from all the different manufacturers with different specifications.
So let's start the article to find you the best laptop of your choice without any further ado.
Also, you can explore intolaptop.com to find out plenty of more laptops that come for different work purposes and configurations.
1.

 ASUS TUF F15

"Stylish, Slim & Powerful"

If you want a powerful laptop for playing intensive games or doing demanding work-related tasks then this ASUS F15 is the perfect pick for you.
Especially under the price tag of $800 the features and specifications, these gaming laptop offers are simply unmatched. The main design remains unchanged from the previous models which are kind of good since it is a great practical design.
The slim aesthetics and curved corners make it looks more premium and elegant. On the display lid, there are some fake screws which In all honesty don't look bad and seem to be a pretty nice styling element.
As compared to other similar devices under the same price tag the design of this ASUS F15 dual-purpose gaming laptop looks more refined. On the other hand, when you flip the laptop the covering for the maintenance hatch looks plasticky and cheap.
However, the manufacturer has to cut corners somewhere and the good thing has ASUS upgraded the internal components instead. At the back of the base unit just below that display lid, you will find too big air vents which help a lot in maintaining the optimal temperature.
It features a decent amount of ports and connections despite being a slim and thin gaming laptop. The display it features is a full HD 1080 p panel with a refresh rate of 144 Hertz.
You can use this gaming laptop for various purposes like gaming, photo, and video editing, graphic designing, etc. The hardware specifications ASUS F15 gaming laptop offers will definitely be going to provide you with excellent performance no matter for which purpose you use this high-performance device.
BUY NOW ON AMAZON
2.

 Acer Aspire Vero 

"An Eco-Friendly Device"

The Acer Aspire Vero is a unique laptop that is made out of PCR material which makes it an environmentally friendly device. At the same time, the durability of this material seems pretty good, and the texture kind of looks like granite.
The surface of the laptop is not very shiny which is good because it makes it resistant to fingerprints and smudges. The Acer Aspire Vero officer has a rugged texture because of that it cannot be scratched easily.
Since the laptop is made environmentally friendly that's why there are no branding elements at the back of the display lid. Instead, the name of the manufacturer is stamped into the base unit at the front.
It offers a lift hinge design like various latest laptops these days to provide better airflow to the internal components. Also, this slight lift makes typing a more comfortable and enjoyable experience for you at a more convenient angle.
Not only the laptop but the box which it comes in it is also made out of recycled material mostly paper. Apart from the eco-friendly element, the overall design of this Acer Aspire Vero laptop looks pretty nice and the structure is strong and sturdy.
On the other hand, It is not thick but offers a boxy design which makes it comparatively heavy. It's not that you cannot take it with you while traveling it is compact and portable.
But at the same time, you feel a bit of weight on your back when you carry it. The Acer Aspire Vero laptop offers a full-size keyboard including a numeric pad. You can also find a fingerprint reader integrated into the trackpad at the top left corner.
BUY NOW ON AMAZON
3.

MSI GV15

"Metal Build Features An Amazing Display"

Matte black color, brushed aluminum structure, and aggressive design the MSI GV 15 is without a doubt one of the most durable solid-giving laptops.
Under the budget of $800, there are very few devices that come in this kind of excellent build. The MSI GV 15 gaming laptop is the ideal choice for those people who wanted to play intensive games or do demanding work.
The best part about this MSI GV 15-giving laptop is that it features a dual-fan cooling system which also happens to be energy efficient. Meaning that temperatures will remain optimal no matter how much load you put on this device.
On the underside, you will also find a few rubber Stoppers which will prevent any slipping and sliding on uneven surfaces. This device features a 15.6 inches full HD display panel with a refresh rate of 144 Hertz.
The display panel is also equipped with IPS Technology as well as anti-glare coating which allows you to work in any outdoor lighting conditions.
The picture quality is great and the display looks amazing from almost all viewing angles. The keyboard on the other hand is not RGB but offers red colored LED backlit at the same time.
This also matches with the red accent here and there in the overall design which is most prominent at the back of the lid where you find the red glowing logo of the manufacturer.
Because it comes with a dedicated GPU and Hexa Core processor the performance of this device is exceptionally great for gaming as well as work-related purposes.
BUY NOW ON AMAZON
4.

 HP Victus

"Best Entry-Level Gaming Laptop"

Although there are no RGB lightings and too much aggressive styling apart from the air vents at the back of the base unit the HP Victus still feels and looks like a high-performance gaming laptop.
It is basically a budget entry-level high-performance laptop that can not only run games but is also capable of doing demanding and intensive tasks like editing and graphics designing.
Under the price tag of $800, it is very difficult to find a similar multi-purpose laptop in nowadays market. HP has done great with the overall design of this device, it is attractive but at the same time not styled which is very hard to balance.
At the back of the display laid instead of the branding of HP, you will find the logo of V which stands for the Victus series of gaming laptops.
Considering it is a gaming laptop still HP has managed to make it comparatively slim as opposed to other rival laptops. On top of that connectivity options are great as you would expect from a gaming laptop.
You don't have to to connect any external docking station in order to use your essential devices. With that being said another plus for HP Victus is that it offers pretty decent battery backup as compared to other gaming laptops.
That is played features a full HD 1080p panel with IPS Technology and a refresh rate of 144 Hertz. The keyboard it comes equipped with is backlit but doesn't feature any RGB lighting which is fine because as we have mentioned it is an entry-level gaming laptop.
BUY NOW ON AMAZON
5.

 Acer Swift X

"Equipped With An RTX" 
The overall design of the Acer Swift X is rather simple but at the same time, it looks elegant. On top of that Acer is offering great plenty of color schemes in both light and vibrant colors.
Which color scheme is the best depends on people-to-people however for us the steam blue color was the winner. Not only do the design and color schemes look great but also the build quality is top-notch.
The manufacturer has used metal for both that is plane lead and the base unit. Under the price tag of $800, you will not find many laptops offering strong and sturdily built like this.
Despite the fact that it is made out of aluminum the Acer Swift X is still pretty lightweight which increases its portability. As we know to provide you with better hardware manufacturers always cut corners in the build quality.
But thankfully it is not the case with this Acer Swift X laptop. Alongside with metal build you will also get an Nvidia RTX 3050 Ti with 4GB of video memory.
To achieve lightweight aesthetics Acer also has not compromised the connectivity options. It was a decent amount of ports allowing you to connect all of your essential devices with it easily.
The display it features is a full HD 1080p panel offering enough brightness to be used conveniently in any outdoor lighting conditions. The Numpad is included in the keyboard, it is comfortable to type and the keys have short travel distances and clear pressure points.
We were not expecting very good battery backup from this device since it is equipped with powerful hardware which drains a lot of battery. But still, it provides decent battery backup for you to get going.
BUY NOW ON AMAZON
6.

 HP 17z 2022

"Huge Display With Essential Features"

HP has introduced some Great Ultrabooks in the recent past and this HP 17z 2022 is definitely one of them. The best part about this laptop is that HP has upgraded a lot of features as well as hardware components but the price is almost the same.
Under the price tag of $800, this HP 17z 2022 laptop is one of the few premium-looking devices which looks like belongs to the higher price tag. Since it is a pretty large laptop HP has made it out of plastic mainly to reduce the overall weight.
Normally these big laptops are not recommended for traveling and they are considered more of a desktop PC replacement. However, this is not the case with the HP 17z 2022 because of its lightweight aesthetics as compared to other similar devices.
At the same time, HP has compromised the sturdiness of the device since because of its size the laptop slightly flexes from a few points. Anyhow with the HP logo embedded at the center of the display lid, this laptop looks stylish and elegant.
We have noticed a rough texture on the display lid which prevents it from catching fingerprints and smudges. Instead of a full HD 1080 p panel, HP has decided to equip it with an HD Plus display.
On the other hand, Hinges that hold a display in place a perfectly rigid and keep the display from moving from the desired position. We were pleased to find out that despite the big display this HP 17z 2022 office has decently good battery backup.
The overall performance is also pretty decent however this laptop is more recommended for professionals who wanted to do work-related tasks
BUY NOW ON AMAZON
7.

 Lenovo Legion 5

"Durable & Powerful"

Lenovo has not surprisingly changed the overall design of the Legion 5 dual-purpose gaming laptop however there are a few little bit of changes in terms of the overall design.
Lenovo is known for its durable devices and under the price tag of $800 it is one of the best options for you to choose from. Although it is made out of plastic the build quality is top notch as you would expect from a Lenovo device.
To prevent slipping and sliding on uneven surfaces or from your hands Lenovo has equipped with kind of a grape on the underside. We have not heard any unusual plastic noises while opening and closing the display lid.
Changing the base unit of this laptop has some weight to it you can open it with one hand easily. The Hinges which hold the display in place a pretty solid and they allow the display lid to be open at the maximum angle of 180 degrees.
Feature the 15.6 inches full HD 1080p display with thin borders around it which match its overall slim and sleek appearance. There is a slight flex as you would expect from a plastic build laptop but at the same time it's normal and you don't have to worry about it.
We have found an attention-to-detail element which worth mentioning, the light integrated into the power button also indicates what mode you are running your laptop in.
For example, it has different colors to indicate each mode red indicates performance mode, blue indicates quiet mode and white indicates the balanced mode.
BUY NOW ON AMAZON
8.

 Dell Inspiron 3511

"Allrounder Performance Device"

As compared to the previous model the new Dell Inspiron 3511 laptop comes with a lot thinner and narrow bottom display border. As a result, the screen-to-body ratio of the new model is far better which is a good thing.
Just like many similar laptops this Dell Inspiron 3511 offers a lift hinge design enabling better airflow to the internal components. It also improves the typing experience since the slightly tilted position of the keyboard is more convenient for type.
Just like you would expect under the price tag of $800 it is made out of plastic however the build quality is pretty good and there are no uneven gaps. At the same time, the build quality also feels better than the previous models comparatively.
Just like any other plastic build laptop of this size we have noticed a slight flex in certain areas which is normal. The Inspiron series of laptops by Dell is specifically intended for people who wanted an all-rounder device to fulfill their requirements.
That is why connectivity options are excellent and you could easily connect all of your essential devices without any problem. It is worth mentioning here that it also features an SD card reader which is kind of a thing you don't get in every laptop.
The keyboard it features is not a separate panel but instead, it is integrated into the base unit. Since it is a full-sized keyboard it also features a numeric pad. The trackpad on the other hand is decently big and wide and also pretty responsive to that touch.
BUY NOW ON AMAZON
Last update on 2023-11-27 / Affiliate links / Images from Amazon Product Advertising API