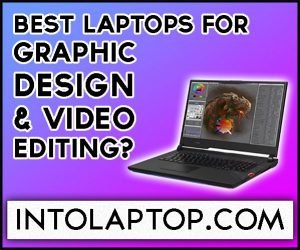 Graphic designing and video editing are pretty challenging works, only a laptop with hardcore specs and powerful hardware can cope up with their requirements.
The weight and size of the laptop also matter when you have to travel and work on the go. No matter for whichever purpose you want to get a laptop, you always have to focus on some basic aspects like performance, portability, price range, screen dimensions, features, and weight.
Are Gaming Laptops Best Fit for Graphic Design & Video Editing?
And if you want to get all of those things in one place then you should go for the gaming laptop. In today's post, we will share with you some of the best gaming laptops that can provide you top-notch performance for graphic designing and video editing related work under your specific budget.
Since gaming laptops usually have great graphic and processing capabilities in terms of GPU, CPU & RAM, hence they are the best choice for graphic and video editing gigs.
You can visit intolaptop.com to find out even more options according to your work requirements, so without any further ado, let's jump into the post. 
1.

Lightweight Aesthetics
Pros
Great Gaming Performance 
Thin & Lightweight Design 
Easy to Carry 
Plenty of Storage
Cons
Dull Display
Ports are Not Well Marked 
First in our picks of the best gaming laptops for graphic design and video editing is the ASUS ROG Strix G, Shockingly this laptop is the most affordable one in the entire ROG gaming laptops series despite the fact that it has slim and sleek aesthetics and attractive design.
On top of that, it is pretty lightweight so you can carry it with you easily while traveling. ASUS ROG Strix G gaming laptop offers powerful enough hardware that you can do intensive graphics design and video editing related tasks without facing any performance issues.
BUY NOW ON AMAZON
2.

 Fast Performance
MSI GF63 Thin 9SC-066 15.6" Gaming Laptop, Thin Bezel, Intel...
Display: 15.6″, FHD, 1920 x 1080, 60Hz IPS
Processor: Intel Core i7-9750H, 4.5 Ghz, 6 Core
Graphics Card: NVIDIA GeForce GTX 1650, Max-Q, 4GB GDDR5
RAM & Storage: 16GB DDR4, 512GB NVMe SSD
Operating System: Windows 10
Pros
Lightweight & Slim 
Fast Performance 
Full HD Display 
Cons
Battery Life is Average 
Dull & Dim Screen
And when we are talking about slim and sleek design we have to mention MSI GF63 Thin 9SC-066 gaming laptop, it is another great device for those who have to work on the go because of its lightweight characteristics.
Performance-wise this laptop is a beast you can, it offers you hardcore specs and because of that, you get fast performance even while doing intensive graphics design work or video editing. 
BUY NOW ON AMAZON
3.

Most Compact
Pros
Compact & Portable 
Slim & Sleek 
Attractive Design 
Great Performance 
Cons
No LAN Support
Battery Life is Short 
According to the company ASUS this ROG Zephyrus S gaming laptop, is the most compact among all the others in the entire ROG series. Just like its other sibling we have mentioned above.
It is slim, sleek, and lightweight despite the fact that it offers 15.6 inches screen size and great hardware including the dedicated powerful GPU.  This laptop is one of the best options for professional graphic designers, youtube video editors, and content creators.
No matter how intensive work you do ASUS ROG Zephyrus S it always impresses you with its excellent performance under load. 
BUY NOW ON AMAZON
4.

Nano Edge Bezels
ASUS ZenBook 14 Ultra-Slim Laptop 14" Full HD 4-Way...
Display: 14″, FHD, 1920 x 1080, Wide View, 4-way NanoEdge bezel 
Processor: Intel Core i7-8565U, 4.6 Ghz, 8th Gen
Graphics Card: NVIDIA GeForce MX150, 2GB, GDDR5
RAM & Storage: 16GB DDR4, 512GB PCIe SSD
Operating System: Windows 10
Pros
Screen to Body Ration is Incredible 
Well Build
Great Gaming Performance
Ultra Slim Design
Cons
No USB C Charging
Ports Selection is Not Enough
It looks like ASUS just knows the best about how to blend in performance and compact design together since ZenBook 14 gaming laptop performance is as great as its looks.
Its nano edge bezels make it looks like almost a bezel-less device, but don't get fooled by its slim and sleek design since this laptop can outperform some more expensive and bulky gaming laptops in terms of performance under the workload.
ASUS ZenBook 14 offers you one of the best display especially if you want to buy his laptop for video editing and graphics design related tasks. 
BUY NOW ON AMAZON
5.

Solid Build
Pros
Decent Performance
Good build Quality
Solid Feel
Cons
No USB Type-C
Design Looks Old
If you want a laptop that can provide you the performance of a gaming laptop but with the looks of a business laptop, you should go for a Dell G3 gaming laptop.
It's not like it looks extremely simple though it has backlit keyboard and ring around the mouse pad also lights up to indicate that this is a gaming device.
However, design-wise it is pretty similar to Dell Inspiron series business-class laptops. Due to the powerful processor and Graphics unit, this laptop provides you great performance under intensive graphic design and video editing workloads.
BUY NOW ON AMAZON
Conclusion
Here you have our top picks of the best graphic design and video editing laptops, which can also be used as gaming laptops. There were some more options as well which we haven't included here.
The reason is that for graphics design and video editing tasks you have to full fill some specific requirements such as processing power and graphic capabilities, and the options were either too heavy in weight or were under power.
We have tested all the laptops we have mentioned here first with different benchmarks and real-world work scenarios. You can read their full reviews and find many other laptops by visiting intolaptop.com.
You can choose any of the above laptops according to your work requirements and budget. But before making the mind of buying one, you should read our full detailed Laptop Buying Guide that will help you in choosing the best laptop according to your preferences. 
LAPTOP BUYING GUIDE 2023
Laptop Brand: Which Brand's Laptop is your priority?
Display Size: Which Screen Size will you prefer?
Performance: Which CPU will you need?
Graphics Card: Which GPU will you like to have? 
RAM & Storage: How much RAM & Storage is needed?
Operating System: Which Operating System you want to have?
Battery Life: How much battery life do you expect?
Work Purpose: Know the purpose and buy a Laptop tailored for your work purpose.
Budget: Find the Laptop within your budget.
Last update on 2023-09-17 / Affiliate links / Images from Amazon Product Advertising API