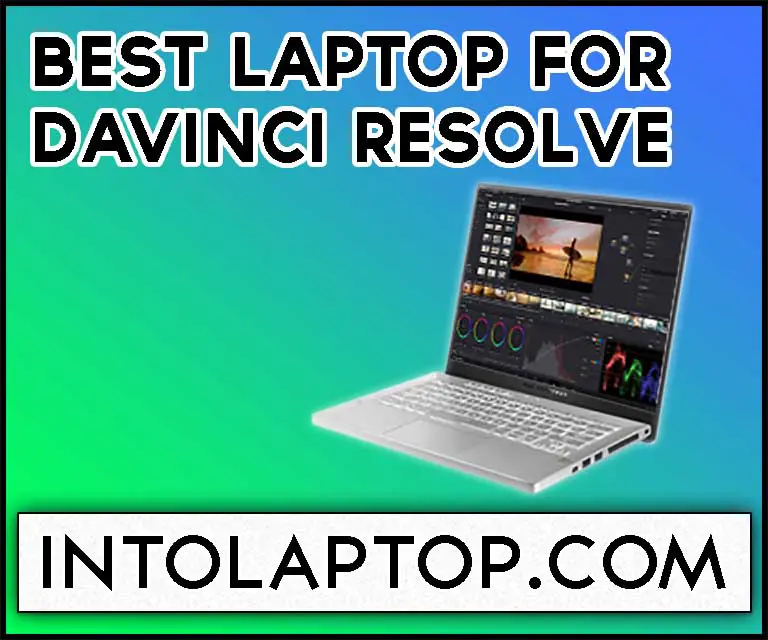 DaVinci Resolve is an advanced video editing program meant for professionals developed by Blackmagic Design so it is recommended that you should have one of the Best Laptop for DaVinci Resolve to work with this advance software.
This software also known as NLE stands for Non-Linear video editor which provides you the convenience of color grading and tools for correction.
It offers all the required tools such as color balance, contrast, curves, saturation, tints, etc. at a very highly customized level.
It also allows you to make changes to objects and keyframes that you can afterward save as lookup tables known as LUTs.
And then you can use them in other videos as well instead of doing it again. Now when software is providing you with so much convenience it is obvious that the system requirements will be high. And only the best laptops will be able to run this software smoothly.
11 Best Laptops for DaVinci Resolve in 2023
That is why when you are searching for a laptop you have to remember a few key requirements which we will discuss later in this article.
While compiling the list of the Best Laptops for DaVinci Resolve in 2023 we have included laptops from every price segment.
Also with each laptop, you will get a detailed review and test results to better understand the performance. So without further ado let's jump into the article to find you the best laptop.
Also, you can explore intolaptop.com to find out plenty of more laptops that come with different processors. 
1.

 Apple MacBook Pro

"Premium Build & Performance"
It seems like Apple is slowly but gradually starting to implement a newer design for this MacBook Pro 2023. This strategy seems correct because suddenly redesigned model could fail to win the liking of consumers.
That is why it is not being changed drastically However, it certainly has started to look more streamlined and slimmer as compared to its predecessors.
On top of that the build quality is as good as it was before. In fact, MacBook laptops are always known for there best in class quality and durability.
The chassis is the same unibody structure built out of premium metal. There are also a few new color schemes to give it a more modern and Stylish look.
The real upgrades have happened with the hardware components. The Apple MacBook Pro 2023 comes equipped with an M2 Pro processor which is super fast but battery efficient at the same time.
Apart from that it is also equipped with a 19-Core Apple integrated GPU which can deal with any kind of intensive and demanding load easily.
That is why if you want a laptop with premium build quality, portability, and superb performance for DaVinci Resolve then MacBook 2023 is one of the best options you can choose from.
BUY NOW ON AMAZON
2.

 Dell XPS 15 9520

"Gorgeous Bright Narrow Borders Display"

The Dell XPS 15 9520 is made out of aluminum which provides it a full premium feel as well as durability. It is one of the best business laptops which can be used for DaVinci Resolve.
It provides seamless performance owing to the kind of powerful hardware it is equipped with. We were astonished to find out the fact that the display borders are extremely thin despite the fact that it is a big laptop.
On top of that, the display panel it features is Full HD and bright, and due to the narrow borders, it simply looks fantastic. The trackpad it features is humongous and you can conveniently use the Windows gesture controls.
The power button of this XPS serves for dual purpose since it also features an integrated fingerprint reader. We don't know why manufacturers have started ditching the numeric pad in 15.6 inches laptops like this model but it is what it is.
However, because of a numeric pad, the keyboard layout looks more spacious and the key is big. Which ultimately makes your typing experience more convenient and enjoyable.
Despite the fact that it is a comparatively slim and sleek device it still offers a decent amount of connectivity options. And you can easily connect all of your essential devices without any problem. 
BUY NOW ON AMAZON
3.

HP ZBook Firefly 16 G9

"Lightweight & Portable"

When we heard the name HP Zbook Firefly G9, we were expecting a completely different design from the manufacturer.
But the moment we got it out of the box we were taken aback by the fact that it exactly looks like an HP Envy at least from the outside. However, at the back of the display laid instead of the manufacturer's logo, you will find a Z written.
Another difference we noticed was that it offers a darker color scheme as opposed to the HP Envy lineup. On the other hand, while testing this device out we were pleased to find out that it is made out of aluminum.
Also, the sharp edges and comparatively sleek and slim design make this laptop look more elegant and attractive. Although because of the metal built the weight of the device is slightly higher but it is not like you cannot travel with it.
In fact, you can easily carry it with you wherever you go. Also, the battery backup of this device considering its size of it is pretty excellent.
Despite the fact that it is equipped with an integrated graphics chip by Intel it still manages to offer pretty decent performance for DaVinci resolve. Especially when you consider the price tag the manufacturer is offering this notebook.
BUY NOW ON AMAZON
4.

 ASUS ROG Zephyrus 2022 

"Streamlined Design With Performance"

If you ever wanted to buy a laptop for DaVinci Resolve which looks like a traditional business notebook with a little bit of gaming aesthetics.
But it can perform like a beast no matter which task you through it. In that case, you have found the best-suited laptop for your needs in the form of this ASUS ROG Zephyrus dual-purpose giving laptop.
The compact and portable aesthetics of this device allows you to carry it wherever you go comfortably. On the other hand, the build quality is excellent and everything is well food together.
At the back of the display lid, half of the area in the vertical fashion is covered with tiny LED lights. You can configure these lights into showing a text or an image of your liking.
The front of the base unit offers a streamlined design with a keyboard with big keys is offered for a comfortable typing experience.
The trackpad on the other hand seems to be small but at the same time, we haven't noticed any issue with it regarding response and accuracy.
The battery backup considering the fact that it is equipped with high-performance hardware components seems to be pretty decent.
Also, it varies what kind of work you are doing since for normal browsing or watching Netflix this laptop provides even better battery backup.
BUY NOW ON AMAZON
5.

Lenovo Thinkpad X1 Carbon Gen 10

"Professional Device With Upgraded Design"
The 10th generation of the Lenovo Thinkpad X1 carbon edition has gone through a few major upgrades in terms of both exterior and interior.
However, the manufacturer has kept the core design similar and you can still recognize it as a Lenovo in the very first glance. First of all the display borders especially on either side are now considerably narrower than before.
We were pleased to find out that Lenovo has still managed to keep the physical click buttons above the trackpad. Although it varies from person to person but in our experience, the physical click buttons are more accurate and easier to use as compared to the integrated touch buttons.
And that really matters when you are using software like DaVinci Resolve for a more convenient working experience. On the other hand, the keyboard offers big keys with decent travel distance allowing you to use it comfortably even for longer periods of time.
On the other side of the keyboard, you will find speakers which in our opinion is the better placement for them instead of the bottom.
The Lenovo IdeaPad is not too thick but at the same time, it is not the slimmest laptop as well. That display it features Full HD but we felt that it should've been brighter.
BUY NOW ON AMAZON
6.

MSI Thin GF63
"Excellent Connectivity Options"

When we unboxed the MSI GF63 we instantly knew that it looks exactly like the traditional premium dual-purpose gaming laptop because of that thick base.
However, that thick base certainly has a few benefits as well such as excellent connectivity options. Also to provide better airflow to the internal components for optimal temperatures this design is best suited.
On the other hand, the chassis of this device is mostly plastic built but the back of the display lid is made out of metal. As compared to the metal build base the plastic certainly feels less sturdy.
But at the same time, it gets less warm as opposed to the metal while you do demanding and intensive tasks on DaVinci Resolve.
The keyboard it offers is not full RGB but instead, the manufacturer has equipped it with a red backlit. As we have mentioned you have got plenty of connectivity options for all of your essential devices.
The hardware it is equipped with is without any doubt best suited for intensive and demanding tasks. On the other hand, the battery backup of this performance laptop is as expected pretty average.
In fact, it is a pretty common problem with majority of the similar performance devices.
BUY NOW ON AMAZON
7.

 Acer Swift 3 OLED

"Gorgoiuse OLED Display"

Acer has introduced two different variants of Swift 3 laptops. In this article, we are reviewing the variant which comes with an OLED display panel and slightly better hardware configurations.
When we opened the display lid of the Acer Swift 3 OLED notebook we found this display panel to be really impressive. Not only the picture quality is excellent as well as the brightness of the display.
But also the borders around it are pretty narrow which kind of makes the display look bigger than its actual size. On the other hand, this OLED variant as expected drains the battery faster as compared to the normal version.
However for using DaVinci Resolve if you want a laptop with an excellent display then this Acer Swift could be a great option for you to consider.
The device is made out of aluminum including the chassis. The color scheme is that traditional brushed grey which to be honest makes this laptop look old school unless you open the display lid.
The trackpad below the keyboard is although not the most specious but at the same time decently responsive. It doesn't offer physical click buttons which is fine since the majority of the laptops come with the same kind of trackpad these days.
BUY NOW ON AMAZON
8.

 Microsoft Surface Pro 9

"Productive & Portable With Superb Battery"

The newer model looks Just like you would expect from a Microsoft Surface two-in-one convertible laptop. The manufacturer has done only minor changes in terms of design upgrades otherwise it looks the same as the predecessor.
The keyboard can still be removed if you want to use this device as a Windows Tablet instead of a traditional laptop. Stylus can be used with this Microsoft Surface Pro 9 however we didn't get that included in the package with our review unit.
This means you have to buy it separately and for that, you have to pay some extra money. All the hardware components, battery, and connectivity options are also still housed in the display lid.
And because of that connectivity of this device is comparatively limited. And if you want to connect all of your essential devices you have to get an extra docking station with it.
On the other hand, because of the detachable keyboard, the device feels more like a tablet than a laptop. Also, the keyboard is not as comfortable to use as you will find in a traditional claim shall laptops.
However, the battery backup is simply an exception and you can easily use this device for DaVinci Resolve on the go. The touch pixel sense display panel it features is also pretty responsive and bright.
BUY NOW ON AMAZON
9.

GIGABYTE AERO

"Performance With Portability" 
The Gigabyte Arrow is by far one of the very few performance dual-purpose gaming laptops that look minimalistic and Stylish at the same time.
First of all the design at the back of the display lid makes this laptop stands out prominently among similar device. Although we have noticed some similarities between this Gigabyte arrow and the Dell Alienware when you open the display lid.
But still, this device is best suited for those consumers who wanted to use DaVinci Resolve on the go while traveling. And the main reason is that the Gigabyte arrow is very portable and compact.
On top of that compared to rivals it is considerably lighter in weight. Which is very rare when you search for a laptop equipped with powerful hardware components.
While testing this device out we have also noticed that comparatively this Gigabyte arrow is more streamlined and slim. However, the manufacturer hasn't compromised the number of connectivity options to achieve this.
You can connect all of your essential devices with this notebook because of the fact that it offers more than enough connectivity ports.
When you open the display lid you will find that it offers a huge mono hinge instead of a traditional dual hinge. Which makes it look identical to the Dell Alienware since it also comes with the same mono hinge configuration.
BUY NOW ON AMAZON
10.

 Lenovo Legion Pro

"Beast In Terms of Performance" 
The Lenovo Legion Pro is Made out of CNC aluminum and our review unit was in a black color scheme. Although it can be used as a gaming laptop owing to its powerful hardware components.
The device is more suitable for creative-intensive work like DaVinci Resolve. The design is fairly attractive but at the same time, the manufacturer hasn't over-styled it.
This is fine like we have said it is a performance device that is not only limited to playing games but also offers excellent performance for demanding tasks.
On top of that the cooling system of this laptop is pretty good and keeps the temperatures at the optimal level. The device is no doubt thick but it was necessary in order to provide excellent airflow to the internal components.
The air vents are big as you would expect but at the same time, they are pretty functional. When we tested this device out under intensive load we were impressed by the performance.
It will not let you down no matter what task you throw at it. On the other hand, this performance certainly comes with a high price tag. But after testing this device out we can say that it justifies each and every penny you spent on it. 
BUY NOW ON AMAZON
11.

Dell Alienware X17 R2

"For Those Who Want Extreme Performance" 
Alienware X17 R2 is not a very small dual-purpose gaming laptop, it offers a big display which increases its size. At the back of the base unit, there are big air vents on either side with a honeycomb design.
In between them, you will find tons of connectivity options including the ethernet connection. The back of the past unit is surrounded by an LED light bar with RGB colors.
It offers the mono Hing design instead of the traditional dual hinges, however, it holds the display in place pretty well and doesn't allow the display to wobble too much.
In order to provide big keys with decent travel distance the manufacturer has ditched the numeric pad. But on the other hand, the keyboard is full RGB and offers a mechanical feel for a comfortable typing experience.
This laptop is best suited for those consumers who wanted to work in a studio and doesn't require much traveling. You can consider it a desktop replacement for DaVinci Resolve.
Now when it comes to performance this laptop is a beast. It is equipped with high-performance latest generation hardware components which provide you the best performance for intensive tasks.
The downside is it doesn't offer very good battery backup so you have to be aware of this fact when you are traveling.
BUY NOW ON AMAZON
Last update on 2022-12-11 / Affiliate links / Images from Amazon Product Advertising API