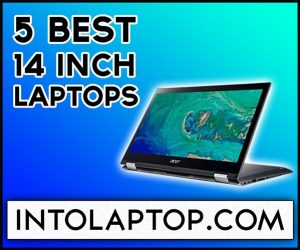 The 14 inches laptops are the best option whether your requirement is a color-accurate display or battery life that can last all day.
For the people, who feel that the most common 13 inches or 15 inches alternatives are not exactly suited to their size needs then you can choose a 14 inches laptop.
Although there is plenty of 14 inches laptop you can find, we have recommended the top 8 best 14 inches laptops, which include alternatives at various budgets and designs that you can get in the year 2023.
Below we have not only listed them but also reviewed them in detail for your convenience.
Exploring opportunities from every perspective when it comes to investing in a robust laptop for your everyday needs is always advantageous.
Best 14 inch Laptop in 2024
No matter if you want fast speed, great display, newer generation or the perfect size, a 14 inches laptop can fulfill all of these requirements for you.
On top of that, the 14 inches laptop always provides you with the best typing experience because of the comfortable keyboard as compared to a smaller size laptop in which keys are always cramped up due to the dimensions.
You can also explore intolaptop.com to find out more about the different sizes of laptops and their advantages and limitations. 
1.

Lenovo ThinkPad X1 Carbon 7th Gen Ultrabook
Sleek & Slim Laptop with Attractive Design
Design
If you want a laptop that is slim, attractive, lightweight, and durable then Lenovo ThinkPad X1 Carbon 7th Generation Ultrabook is the best option you can get under $1500.
Its ultra-portable chassis is made out of magnesium and carbon fiber, which gives this laptop a stunning look.
It seems like Lenovo lays focus more on the power rather than on look especially in the case of Thinkpad since the X1 ultrabook follows the same minimalist aesthetic as the previous model.
The carbon fiber touch gives this laptop a very attractive appearance.
On the back of the lid, you will find the Thinkpad emblem and stylish X1 logo, Thinkpad emblem glows in red color as well.
When you open it, there are two speakers on the deck. accompanied by curved keys and a sticking point.
Touchpad buttons are in red paint and the power button has been moved to the right side, so you can easily operate it even if the laptop is docked with the lid closed.
But in a normal position, this new location of the power button on X1 Carbon is less accessible. The traditional black lid of the Thinkpad is more scratch-proof than the carbon fiber one.
Display 
Lenovo's Thinkpad X1 Carbon has 1080 or 4k display options, the screen size is 14 inches. The 1080p version panel is quite sharp and colors turn out to be vibrant, which is great.
But the 4k display version is even better and notably brighter. However, the 4k laptops screen considerably reflects in brighter conditions, since it is very glossy.
With 1080p measured around (336 nits) and 4K at (432 nits), the ThinkPad X1's both displays are bright enough.
The measurements of both displays fall in the average of premium laptops, which is amazing considering the price tag.
Performance Under Workload
Currently, all the variants of Thinkpad X1 Carbon laptops are powered by 8th Generation CPU's but in the coming year, Lenovo is expected to bring Intel's new 10th Generation CPU in these machines.
Thinkpad X1 carbon can cope with typical extreme workloads easily. However, if you are a multi-tasker then we recommend you should go for 16Gb Ram configuration.
During our tests on Geekbench 4, Thinkpad X1 Carbon was able to score solid 16,545, these results are better than the last year's model. X1 carbon can convert 4.97GB of multimedia files in seconds.
Pros
Keyboard is Best in Class
Long Battery Life
Display Options are Great
Improved Speakers
Top notch Performance
Cons
No Slot for Micro SD Card
Top Variant is Expensive
BUY NOW ON AMAZON
2.

 Lenovo ThinkPad T470
"The Mix of Classic Design with New Features"
Pros
17 Hours Long Battery Life
Keyboard is Comfortable
ThunderBolt 3.0
Good Performance
Cons
Speakers are Average
Dim Brightness
Design
Under the lid, Lenovo ThinkPad T470 has an eraser-shaped red track point thankfully on the right spot where it needs to be. Were as the exterior surface is soft in matte charcoal grey color.
The weight is around 3.74 pounds and the dimensions are 0.79 x 13.25 x 9.15 inches. Lenovo Thinkpad T470 offers a standard three-cell battery, you can get a 6 cell battery if you want but it will increase the overall weight of the machine 4.15 pounds.
This laptop is not thin or lightweight but at the same time not very bulky either, it is kind of in the middle.
Display
Lenovo's Thinkpad T470 has a 14-inch anti-glare non-touch display, because of the slightly dim brightness it does reflect especially if you are working outdoors.
Its full HD 1920 x 1080 resolution performs great, the only problem is again the brightness which is only 220 nits.
This figure is okay for doing office work but not much if you wanted to work on Adobe Photoshop or video editing software.
Overall you can not say that display-wise this laptop is average, though it will depend on the work which you wanted to do.
Performance Under Workload
The Thinkpad T470 is certainly powerful enough to do any kind of office-related work. If you want to get this machine for business use then it is the best choice you can have under this budget.
You will be amazed that on a single charge, this laptop can provide you with almost 17.5 hours of battery life. Which is great if you want this laptop for doing longer tasks.
The price is very reasonable compared to the specs. You can do more than light gaming on this rig but the purpose of the laptop is mainly not gaming.
From every angle, Lenovo's Thinkpad T470 suits business work.
Due to its top-notch performance in our tests, we will have to rank this laptop as one of the best in the business class category despite one drawback.
Thinkpad T470 is slightly heavier than its rivals.
BUY NOW ON AMAZON
3.

HP Elitebook 840 G5
"Most Stylish Laptop with Powerful Performance"
Pros
Keyboard is Excellent
Stylish Design
Audio Quality is Good
Vivid Privacy Display
Long Battery Life
Cons
Webcam is Average
Display Quality in Base Model is Disappointing
Design
If you want to work in style then you must choose HP Elitebook 840 G5 laptop. Under $1000 budget it is without a doubt the most stylish laptop you can get.
The overall exterior is made of Aluminum with a silver finish, HP logo sits in the middle of the lid. The design of the Elitebook 840 is quite neat and simple.
The angle on which hinges have been placed gives this laptop an attractive look as compared to the other machines in the same budget.
Inside the lid, there is a very classic-looking, backlit keyboard with a pointing stick in the middle of it.
Display 
HP Elitebook 840 G5 laptop has a 14-inch IPS LED display with 1920 x 1080 resolution. One problem is that the display is too dim, which can trouble you while working or watching and HD movie.
In HD videos the display shows a kind of bluish tint that is really annoying. However, because of the 1920 x 1080 configuration the integrated privacy screen shows vibrant and bright images.
The maximum brightness level that Elitebook 840 G5 laptop can show is 214 nits, which is far below 375 nits average of this budget laptop. 
Performance Under Workload
HP Elitebook 840 G5 can run your daily work with even more than 30 Google Chrome tabs opened and playing HD videos in the background. which is pretty amazing.
This machine offers UHD Graphics 620, which are more than enough to fulfill your multitasking requirements.
Elitebook 840 G5 scored an excellent 12,253 on Geekbenh 4 in our overall performance test. With that, it has successfully passed the 10,483 premium laptops average.
In our Handbrake test, Elitebook 840 G5 transcoded a 4K video to 1080 in almost 15 minutes and 50 seconds.
This performance is amazing since its competitors have done that the same task in 21 minutes 35-sec average. Elitebook 840 G5 only took 10 seconds to copy 5 GB data thanks to its 512 GB NVMe SSD.
BUY NOW ON AMAZON
4.

Lenovo ThinkPad T480
"Excellent Work Machine with Good Battery Life"
Pros
Excellent Key Board
Performs Good
Long Battery Life
Nice Build Quality
Cons
Screen is Dim
Slightly Heavy
Design
Standard raven black chassis and a soft graceful lid, these aesthetics made Lenovo Thinkpad T480 laptop stand with one of the few machines which were designed with functionality in mind rather than look or appearance.
The overall design is almost the same as its predecessors,  so at first glance, you can not tell which machine is this.
Thinkpad T480 weighs almost 3.58 pounds and its dimensions are 13.25 x 9.15 x 0.78 inches. If you want you can have a high-capacity battery but it will increase the overall weight pf the laptop to 3.98 pounds. 
Display 
Lenovo Thinkpad T480 offers a no-touch 1920 x 1080 HD screen, which is great for productivity. The image appears sharp with solid viewing angles, brightness and colors are not very good but decent.
In HD videos it really shows up minute details and accurate quality. Another excellent thing about this laptop is that the screen doesn't reflect that much because of its matte surface at the bay.
This is a good thing since Thinkpad T480's maximum level of brightness is measured to be 269 nits. That's why You will not have any problem using it even in outdoors.
Performance Under Workload
Lenovo Thinkpad T480 is more than fast enough to handle any typical work you require because under the hood it has an Intel Core i5-8350U CPU with 256 GB SSD and 8GB of Ram.
During our test, we did a video conference with at least a dozen Google Chrome tabs opened, the laptop performed great. We didn't experience any kind of lag or other problems.
On Geekbench 4 Thinkpad T480 scored a strong figure of 12,047. To measure overall performance we did a synthetic test, in which Thinkpad T480 scored a massive 12,140.
Which is way ahead than the premium laptop category average of 9,724. To match 6500 names with their addresses in Excel, Lenovo Thinkpad T480 took only 11 seconds.
With that, this laptop has again performed far better than the category average which is 1:42.
BUY NOW ON AMAZON
5.

 Acer Spin 3 Convertible Laptop
"Flexible 2 in 1 Design with Responsive Touch Screen"
Pros
1080p Display
2 in 1 Flexible Design
The price is Very Reasonable
Good Speakers
Cons
Battery Life is Average
KeyBoard is Shallow
Brightness is Slightly Dim
Design
Acer Spin 3 Convertible laptop has rather unique aesthetics, it is quite light but not like other similar machines.
It is a decently thin and portable machine that you can carry with you conveniently. The body is all made out of plastic which honestly looks cheap, on the other hand, the gunmetal silver on the bottom crosshatched chassis looks very classy.
On the bottom, there is also a pleasant soft-touch finish. The Acer logo is on the center of the lid and the spin name is written on the speaker grill at the base.
It has the 2 in 1 design so you can flip the lid 360 degrees to use it in Tab mode.
Display
Thankfully the Display quality of the Spin 3 convertible laptop has not been compromised by Company Acer in order to reduce the price.
Its display consists of a super glossy 14-inches IPS panel which has the resolution of 1920 x 1080. Because of that, you see more content on a single page.
You can find this on any other laptop under the budget of $1000 since most laptops under this budget contain a lower-resolution screen.
Fairly vibrant color and a deep black level of contrast will amaze you by showing minute details in Ultra HD videos and movies.
The brightness level of Acer Spin 3 is 226 nits, which more than enough for this size display. However, working outdoors under bright light can be slightly problematic because of the screen reflection. 
Performance Under Workload
Acer Spin 3 convertible comes equipped with an Intel Core i7 processor with 512GB SSD hard drive and 16Gb of RAM. With that, it can run the day-to-day task without having any problems.
In our test it only slows down when we opened the Twitch stream otherwise, it performed great. Spin 3 Convertible laptop has a 10-figure touch-sensitive display so when you use this laptop in 360-degree tablet mode.
Its display is quick enough to react to gestures and swipes like pinch to zoom. This laptop can handle gaming pretty well however the purpose of this machine is daily typical work.
BUY NOW ON AMAZON
Conclusion
Here you have our top 5 Best 14 inches Laptops list you can get in the year 2024 and their detailed review.
The 14 inches laptops fall right into the middle category that's why their design does not contain over spacing and chassis wise they are always strong devices.
We know that there are many other laptops that are available in the 14 inches size but in the above top 5 list, we have only those laptops which have shown great performance during our tests.
To know their exact capabilities and power we have run benchmarks and tested them out in real-world work scenarios as you have read in their reviews.
You can pick any of the above 14 inches laptops according to your needs, personal preference, or work requirements.
And in case if you are still unable to decide then you should visit IntoLaptop.com, there you will find even more options and a full Laptop Buying Guide.
That will definitely be going to help you in getting yourself the perfect laptop you want for yourself under your specific budget.
LAPTOP BUYING GUIDE 2023
Laptop Brand: Which Brand's Laptop is your priority?
Display Size: Which Screen Size will you prefer?
Performance: Which CPU will you need?
Graphics Card: Which GPU will you like to have? 
RAM & Storage: How much RAM & Storage is needed?
Operating System: Which Operating System you want to have?
Battery Life: How much battery life do you expect?
Work Purpose: Know the purpose and buy a Laptop tailored for your work purpose.
Budget: Find the Laptop within your budget.
Last update on 2023-11-29 / Affiliate links / Images from Amazon Product Advertising API