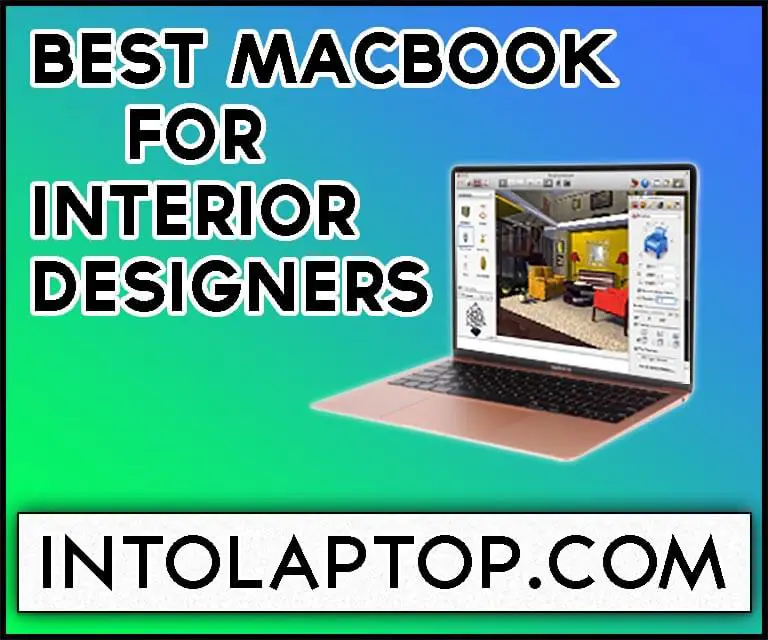 The profession of interior designing demands a powerful and capable laptop since the software and program are pretty intensive and they put any computer to its limits.
Interior designers require a laptop on which they can work for hours and hours to complete the projects.
It also includes browsing because many professionals do get inspiration from web surfing as people do in many professions.
There are so many requirements for this specific profession that a laptop should fulfill and as we know there is one worthy device capable of fulfilling them which is the Apple MacBook.
It's not because of only the brand name, the reality is MacBook's hardware, performance and portability make it the ideal device for the interior designing profession.
On top of that as you may know that good battery backup is pretty important along with performance since the majority of interior designers work on the go. Apple MacBook offers excellent battery backup so you don't have to carry the charger every time you go out for work purposes.
Also Read: 11 Best Laptops for 4K Video Editing
8 Best Macbook For Interior Designers in 2022
MacBooks are also pretty lightweight, compact, and portable so traveling with one is not a problem at all. The processors it features like M1 and M2 with equally powerful GPU chips are perfectly capable of handling interior designing related intensive programs and software.
Processing power and graphical capabilities are one of the most important requirements in a laptop for this profession since you don't want to suffer any performance-related deficiencies while working on a project.
Other than that the build quality and connectivity features also matter so you can connect all the essential devices according to your needs. Considering there are a lot of versions with different hardware configurations of Apple MacBooks's so its pretty hard to choose which one is the best option for this professional especially if you don't have the required technical knowledge about hardware.
But don't worry to save you time and energy we have already compiled a list of the Best MacBook For Interior Designers in 2022. So without wasting any more time let's jump into the blog to find you the best one for your needs.
Also, you can explore intolaptop.com to find out plenty of more laptops that come with different processors. 
1.

 Apple MacBook Air 2022

"Excellent Portable & Compact Design"
Although the new Apple Macbook Air company has upgraded the processor to a more powerful and efficient M2 as well as the graphics chip but the exterior is almost the same.
Only there is an iPhone-style notch on the display about which we will talk later in this review. This newest laptop is even thinner and more lightweight than the previous model which provides more compact aesthetics and portability at the same time.
In this 13.6 inches, slim MacBook Air Apple has packed so much power with a great liquid retina display that enables you to do your interior designing work without any performance hiccups constantly.
You can have an idea of how thin is this new MacBook by an example that if you close the lid it almost looks like an iPad. Let's talk about that notch here since it would have been better in our opinion if Apple haven't included this.
It kind of blocks your view sometimes and doesn't feel like it belongs here. On the hand build quality as always is top-notch, it is entirely made out of aluminum including the chassis since it is a flagship premium model.
The 8 cores M2 processor it houses is 20 times faster than the previous M1 chip, it enables your MacBook to offer high performance under intensive tasks like interior designing.
Battery backup is also better as compared to the previous model owing to its M2 CPU that not only provides you computing power but also efficiently uses the battery resulting in amazing battery backup timing.
Memory however included in this MacBook is 8 GB which is decent but it would have been great if Apple has offered it with a higher amount.
BUY NOW ON AMAZON
2.

 Apple MacBook Pro 2022

"Great Battery Back Up With Top-Notch Performance"
The new MacBook Pro 13 inches by Apple is a mix of a lot of things for example it offers a lot of power but in an older design. The new hardware configurations excite you but at the same time, no exterior upgrades are kind of setback.
What vi is you here is is that company e is trying to play it safe, they know that the current design is a trademark and it is well affected among the consumer. So redesigning the MacBook completely can go wrong as well.
On the other hand, you cannot deny the fact that M2 processor-equipped MacBook Pro 2022 has without a doubt revolutionized the market and become the trendsetter again. The good thing is that this time with MacBook Pro Apple hasn't included the notch above the display as they did with the new MacBook Air.
There is not much to say about the exterior since we are seeing this design for decades now. So let's talk about the internals instead. This new MacBook Pro 13 inches laptop houses an 8-core M2 processor that is packed with power but battery efficient at the same time.
The graphics chip has 10 individual cores which enable you to even do gaming on this MacBook. This configuration is more than enough to provide you with seamless performance for your interior designing-related intensive work.
You don't have to keep the charger always with you because MacBook Pro 13 inches offers you whooping 20 hours of battery backup. The Apple exclusive is comfortable as always and you enjoy typing on it. The trackpad is huge despite the fact that it is a compact laptop.
BUY NOW ON AMAZON
3.

 Apple MacBook Pro 2021

"Top Class Performance With Some Little Design Updates"
Under this price tag for the professional work of interior designing, you cannot find a better laptop than the Apple MacBook Pro 16 inches 2021 model. As we have discussed previously the outdated design Apple is still using for the MacBook laptops.
This time however there are few differences despite the fact that the core design is as same as it was. The first difference we noticed when we reviewed this MacBook Pro from 2021 is that the bottom part is bulkier as compared to the previous models.
It could be because the newer M1 processor provides it with better airflow and how to place it at a perfect location inside. We have also noticed the corners of the lid and the base to be more curved than before.
Maybe Apple is thinking to redesign the MacBook series and they are experimenting with different ideas in the initial phase. If we talk about connectivity we have pointed out many times that connectivity is one and the only thing which is always not very good in MacBook laptops. However, you at least get two Thunderbolt ports this time alongside some type-C USB 4.0 ports.
The MacBook Pro 16 inches 2021 model houses an M1 processor that offers 10 individual cores to provide you with Top-Notch performance. It is paired with a 16-core Apple GPU that can handle all of your interior designing intensive workloads without showing any sign of stress.
Additionally, it features 16GB of Ram and 512GB of SSD storage. Another Plus for this MacBook is that it offers a high-quality web camera for video conference purposes.
BUY NOW ON AMAZON
4.

Apple MacBook Air 2019

"Sleek & Slim Compact Device"
The MacBook Air 2019 model is a very sleek and slim device intended for people who travel for work or whose job requires work on the go. This device got some iconic looks as well as premium build quality.
The whole structure and the chassis are made out of aluminum in a very clean-looking fashion. The color choices Apple chooses for this MacBook are truly gorgeous and beautiful.
This device looks best in our opinion if you buy it in the gold color. Since it is a very compact and slim device Apple has only offered USB Type-C ports which is understandable.
If you are thinking of getting this device and you have a lot of gadgets to connect with it don't forget to buy an external docking station as well.
As we have mentioned earlier in this article we were shocked to find out the good battery life of the Apple MacBook Pro 16 inches. On the other hand, we were not pretty impressed with the battery backup this MacBook Air 2019 provides us of hardly 10 hours.
Despite the fact that this MacBook is only equipped with 13.3 inches display as compared to the MacBook Pro which has used 16 inches display.
One of the main reasons for this can be the processor as we know that Apple M1 and M2 processes are powerful and more battery efficient as compared to the Intel CPUs.
Another downside of this MacBook Air 2019 is that it only offers 128 GB of SSD storage. So as an interior designer you will need to buy an external storage device or you have to upgrade the integrated SSD because your profession requires decently big space to store all of your data.
BUY NOW ON AMAZON
5.

Apple MacBook Pro 2019

"Large Beautiful Retina Display With Great Battery Backup"
We have mentioned in this article that newer MacBooks equipped with M1 and M2 processors are without a doubt faster and more efficient. But at the same time, older models equipped with Intel processors are still capable of doing intensive work without any performance hiccups.
This Apple MacBook Pro 16 inches laptop is from 2019 offering a large retina display with shockingly great battery life. As we know that it's common for smaller and more compact laptops to offer good battery backup but this 16 inches display with FHD resolution has even beaten-those compact laptops with whooping up to 11 hours of battery backup.
The only downside however is that this MacBook is slightly heavier as compared to other 15 inches laptops. On the other hand, it offers a comfortable keyboard as well as a responsive trackpad.
Traveling with this MacBook is possible but will not recommend it, this laptop is more intended for people who work in a stationary position or require a desktop replacement.
Also if you currently can't afford the latest MacBook models then you can go for this instead. Under the hood, you will get a ninth-generation Intel Core i7 processor with 8 or 6 cores.
For graphics cards, you have two options to choose from either an Intel UHD graphics 620 integrated chip or an AMD Radeon graphics card. The USB ports to get and this MacBook 16 inches laptop are not full-sized and the same goes for the SD card reader.
However, you can buy an external docking station if you want to connect your essential devices conveniently. Speaking of connectivity even Apple's latest MacBook models lack good connectivity options.
BUY NOW ON AMAZON
Last update on 2023-09-16 / Affiliate links / Images from Amazon Product Advertising API