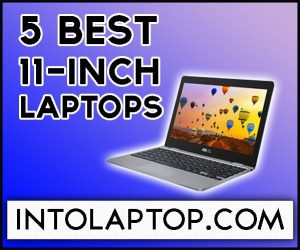 Looking for the Best 11 Inch Laptop? Any user who has been using computers for some time knows how personal computer use has changed over the years. With giant PCs that take up half of the office space nearly being outdated.
The computer industry is overflowing with a number of powerful and better 11 inches laptops that might just be the type of computers this generation wants.
Now that we have recognized the value of handheld computers, we should only mention that the advancement of laptops is continuously moving towards sleeker, slimmer, and more power-intensive designs.
Also Read: 5 Best 12 Inch Laptop Reviews
Best 11 Inch Laptop Reviews in 2023
You may have felt at some point the need for a feather-thin, portable laptop that you could bring around without thinking about the extra luggage. And to make your hunt for a laptop easier we have not only compiled a list of the top 5 best 11 inch laptops you can buy in 2023 but we also have reviewed them in detail.
11 inches laptops are the best choice for you if you are looking for an ultra-portable device for normal work requirements. You can also explore intolaptop.com to find out even more options, now without further ado let's jump into the post. 
1.

Lenovo 130S
"Solid Performance & Long Battery Life" 
Pros
Stylish Design 
USB Type-C Charging  
Affordable 
Solid Performance 
Cons
Build Is Flexible
Screen is Average
Design
The 130S 11 inches laptop from Lenovo is inexpensive but it does not look cheap. Sporting a matte-finished mineral-gray casing, the device might almost trick you into believing it's made of aluminum.
The subtle bend in the deck and keyboard gives off the polycarbonate and ABS rubber construction of the notebook though. Seamless construction is disrupted by a silver Lenovo emblem on the cover.
Once you raise the lid of the notebook, you can see an island-style keyboard with charcoal buttons, a panel with reasonably spaced black bezels and a matching gray touchpad, a small Lenovo logo in the bottom-left corner.
The hinge on the laptop will turn back to almost 180 degrees but it feels a little flimsy on the frame. So, we'd advise someone with this design not to add pressure.
It might be great to have the better soft rubber grips at the bottom of this device, we noticed the Lenovo 130S device slipped over our desk.
Display 
The screen of the Lenovo 130S 11 inches laptop carries a resolution of 1366 x 768 so you do not get the sharpest picture. But remember this is a budget laptop.
According to our colorimeter, 69 percent of the sRGB color gamut was represented by the panel of the Lenovo 130S laptop. Which is a very mediocre result that does not reach the 100 percent segment mark.
On the Lenovo 130S laptop, the real user experience was a mixed bag. As we played some HD videos, yellows and reds came up, but on other screens, they weren't as bright as we've seen them on other similarly priced laptops.
Any lighter-colored things were washed away. Especially in the background, the multicolored scenes were notably overexposed. And some colors were not shown in their correct tint.
However, we were impressed by the clarity the display shown despite the fact that this laptop offers a low-resolution screen panel.
Performance Under Workload
The 130S laptop from Lenovo comes with an Intel Celeron N400 CPU, 4 GB of RAM and 64 GB eMMC storage drive, in our laptop testing in this price range all of which provided good performance.
When in Google Chrome we had eight tabs open, like streams from YouTube, Pandora, and Netflix, we didn't notice any lag for even a second. On our OpenOffice Spreadsheet Macro comparison, it took the Lenovo 130S laptop nearly 9 minutes to accommodate 20,000 names and emails.
The average is better than you can get on the same price scale from many of its competitor notebooks. In the graphics test the Lenovo 130S laptop performed better than its rivals, it is still not a suitable gaming laptop.
In the Dirt 3 racing game review, the Lenovo 30S laptop didn't reach our 30-frame-per-second playability mark, earning a 24.5 fps ranking.
BUY NOW ON AMAZON
2.

ASUS Chromebook C223NA
"Decent Storage Space with Premium Looks" 
Pros
Runs Apps Smooth
Portable & Light Weight 
Reasonable Price 
Good Battery Life 
Cons
Average Display 
Poor Viewing Angles
Design 
The first thing about ASUS C223NA is that for a Chromebook the build quality is pretty good at this price. It's an all-plastic build, but Asus has managed to make it seem like Chromebook that is more costly.
It's certainly not going to turn any heads, but it's got a solid frame and cover that's perfect if you want a Chromebook you can chuck around on the go. At just 1.73 cm in thickness and lightweight, it's super compact with almost 1 kg of weight.
That makes it a perfect choice for those looking to have a laptop on the go too. There is nevertheless a wide border around the screen that makes the Asus C223 look low priced laptop.
As we have already said that the Asus C223 Chromebook is the correct size for those wanting to use a Chromebook on the go. To a lot of users, portability is important but there's more to purchasing a Chromebook.
This needs to perform for being the best in many different fields. 
Display 
Any type of display on a computer is genuinely important. The Asus C223 Chromebook computer is, unfortunately, a bit of a letdown. Sure, it's a Chromebook budget but you don't want it to sound like that when you buy a new Chromebook.
It is an 11.6 inches display that has 1366 x 768p resolution. A screen without 1080p will always be a bit of an issue if you ask our opinion. However, you can not hope to get a 1080p screen in this price range when you know that the panel on sale here is only 11.6 inches.
The biggest concern about the display is it doesn't feature IPS. If you have used an IPS screen you won't want to use a non-IPS display. When it comes to the viewing angle the Asus C223 panel is disappointing as well.
And with that, you got an idea where the company has cut corners to make it a budget Chromebook. We all like a discount, but if the screen is of low quality, what is the point of making a super cheap Chromebook anyways?
Performance Under Workload
The Asus C223 Chromebook laptop comes with a dual-core Intel Celeron N3350 CPU. It will achieve 1.10GHz with a 2.40GHz turbo boost. It comes with 2 MB cache, as well.
Make no mistake this is a budget CPU, so don't expect the Chromebook to do too much. However, it's worth mentioning that most budget Chromebooks come with an Intel Celeron CPU, so marking it down too far would be impractical to do so.
If you're planning to use a Chromebook for everyday activities like internet browsing or word processing then you're going to be perfectly fine. However, if you need a Chromebook that gives you more performance then this isn't your option.
The Asus C223 offers you a 4 GB of RAM, more than sufficient for most tasks since it is a Chromebook. It is great that the Asus C223 can run Android Applications without any problem. 
BUY NOW ON AMAZON
3.

ASUS E203MA
"Excellent Keyboard & Light Weight Design"
Display: 11.6″, HD, 1366 x 768
Processor: Intel N4000, 1.1GHz 
Graphics Card: Intel UHD Graphics 605
RAM & Storage: 4GB DDR4, 64GB eMMC
Operating System: Windows 10
Pros
Clean Design 
Great Keyboard   
Decent Performance
Cons
Average Display 
Short Battery Life
Low Resolution 
Design 
To make the E203MA laptop's case and decorates it with a honeycomb pattern at the top of the lid ASUS has entirely used plastic. The inner side surfaces are in dark gray and offer a rugged look.
Ultimately the Asus laptop looks very stable because of its small dimensions. However, when a bit of pressure is applied the lid yields, and when the laptop is placed against it even the bottom right corner creaks.
After loosening some bolts, the bottom is quickly detached. Nevertheless, internally, there is no ability for users to make changes. A cleaning fan is not available, so all memory modules are soldered as well as the WLAN board.
All USB ports, however, meet the standard of the latest 3.1 Gen1. A Type-C USB port is available in addition.
Display 
Capable of providing a maximum resolution of 1366 x 720 pixels the ASUS E203MA laptop's screen consists of an 11.6 inches TN LED panel. With an overall brightness of 235 cd / m2, the luminosity is just enough for a position in the lower center of our range of comparative units.
However, with 93 percent, the illumination is graded as very strong. And consumers can not get any alternative display versions for the E203MA laptop since ASUS doesn't provide any.
Our tests of the display characteristics of the Asus E203MA laptop indicate an average contrast ratio of 534:1 and a higher-than-normal black level of 0.44 cd / m2.
The computer still has a red amount which is too small. A calibration can account for that, but this results in a significantly higher level of violet. 
Performance Under Workload
An Intel N4000 processor and 4 GB of RAM ensure a seamless device running on the ASUS E203MA laptop. The image quality is shown via the graphics processor equipped with Intel's UHD Graphics 605.
For operating systems and data storage, a 64 GB eMMC flash memory is available. The E203MA laptop with these specs is ideal for office work, simple image editing, and Web browsing.
The Asus E203MA laptop has achieved the second position on our comparison list in the PCMark versions 8 and 10 benchmarks. Thanks to the active fans, marginally better CPU performance and quicker SSD, the Lenovo V130-14IGM is again ahead of the competition.
The Asus E203MA laptop is not ideal for games since even very old ones are only running smoothly at low setting settings.
BUY NOW ON AMAZON
4.

Dell Premium
"Powerful Performer with Amazing Battery Life"
Pros
Excellent Performance 
Great Audio 
Aggressively Priced 
Cons
Display is Dim
Less Storage Space 
Design
These days, you're going to be shocked by what you can find for a low price. Take Dell Premium laptop, for instance, an 11 inches notebook with amazing battery life and strong audio, it offers some really fun colors too.
The screen is on the dim side, but in general, this Dell is a fantastic option for a secondary computer or if your work requirements are just basic office kind of.
Dell placed on the left side of the Premium 11 inches laptop an SD card reader and its power ports, USB 3.0, and HDMI. On the right are the USB 2.0 connector, headphone jack, and Noble security lock slot.
Display 
The screen of the Dell Premium 11.6 inches laptop gets the job done but it's not perfect for entertainment. When we watched HD videos on this screen the colors seem kind of gloomy.
Though we're not shocked to see that Dell has fitted this laptop with a 1366 x 768-pixel screen since it is a low-priced device. On the other hand, if you want to read web pages and write in Google Docs, the display is good enough for you.
The Dell Premium laptop generates just 67 percent of the sRGB array, according to our colorimeter. That's similar to Ideapad 110S 70 percent scores and Chromebook 11 72 percent average.
Performance Under Workload
On the Dell Premium 11.6-inch laptop, you can comfortably do some multi-tasking as the AMD A6-9220e CPU and 4 GB of RAM packed in it provide enough power.
However, you can not expect a budget laptop as this will provide you with shockingly great performance, especially during intensive work. In this price tag almost every laptop no matter which brand it is will offer you almost the same specs, especially the CPU & RAM.
However, there are some similarly priced notebooks that offer 64GB storage space as compared to the Dell Premium 11.6 inches laptop's 32GB. 
BUY NOW ON AMAZON
5.

HP Stream
"Stylish Design with Great Audio"
Pros
Excellent Speakers
Decent Performance 
 Stylish Design
Cons
Colors Seem Gloomy 
High Temperatures
Front Edge is Sharp
Design 
Whether you love or dislike the revamped HP Stream 11 new look there's no middle ground in here. It offers you a range of colors but our review unit was in silver color with the white keys and black screen panel from inside.
This laptop might be a perfect alternative for students just wishing to bring something fun and portable. The Stream may not look competent enough to put in a meeting of corporate investors, though.
The plastic casing of the HP laptop feels very solid, with slight flexing around the keyboard and rest of the hand. Unfortunately, as we tried to click on it we noticed that the front edge is really sharp and scratch the wrists.
Display 
What pops out automatically from the 11.6 inches HP Stream 11 is the 1366 x 768 screen, which is just how the colors look washed out. Despite the fact that the colors generated by the display of the Stream 11 were not very accurate.
Though in its price range, they are on a par with those of other laptops. This received a Delta-E ranking of 3.69 lower is higher, and is in the same range as the ratings for the Dell Inspiron 14 3000.
And also from its 11 inches competitors 3.46 and the Lenovo Ideapad 100S-14 average of 3.85.
Performance Under Workload 
Considering that price tag the performance of HP Stream 11.6 inches is great. The Stream 11 is snappy when performing common programming functions, credit goes to its 1.6GHz Intel X5-E8000 CPU, Intel Graphics 400, 4 GB of RAM, and 32 GB of eMMc flash storage.
However, when you do multitask, the machine will easily become overloaded, which we saw firsthand when we switched between 10 web browser windows while watching a long video from YouTube and editing a few Google Docs.
The laptop still worked, but there was a noticeable pause over there.
BUY NOW ON AMAZON
Conclusion
Here you have our list of the top 5 Best 11 inch Laptop Reviews. Yes we know that there are plenty of other options you can get as well but we have only included the laptops in this list that have shown us top-notch performance during our tests.
After all, laptops are costly and no one will like to end up with an under power device after investing money. In the reviews above we have tested out each and every laptop with different benchmarks and real-world work scenarios.
So we can share with you the exact capabilities and limitations of the laptop which you are thinking of buying. It also depends on the work for which you want to get a laptop, that is why you should explore IntoLaptop.com where you will find a fully detailed Laptop Buying Guide.
That will help you in choosing the right laptop for you according to your work requirements under your budget. Don't forget to check the Laptops by Screen Size section to find more laptops with different dimensions and screen sizes. Do not forget to check out Laptops by Screen Size section for more laptops with different dimensions.
Leave your queries regarding information given about the Best 11 Inch Laptop reviews via this article
LAPTOP BUYING GUIDE 2023
Laptop Brand: Which Brand's Laptop is your priority?
Display Size: Which Screen Size will you prefer?
Performance: Which CPU will you need?
Graphics Card: Which GPU will you like to have? 
RAM & Storage: How much RAM & Storage is needed?
Operating System: Which Operating System you want to have?
Battery Life: How much battery life do you expect?
Work Purpose: Know the purpose and buy a Laptop tailored for your work purpose.
Budget: Find the Laptop within your budget.
Last update on 2022-12-11 / Affiliate links / Images from Amazon Product Advertising API