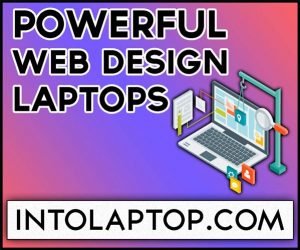 It's important to have the right laptop for web design & development no matter how you design websites or do your web development work as a web designer and developer. Some people may have questions about why to go with a laptop instead of a desktop PC.
The answer is pretty simple, being a web designer means you have to visit your clients for giving them a web project presentation, you don't have to stick to a particular location to complete your web design projects. And carrying a professional work laptop is much more feasible than a traditional desktop PC.
That is why a Desktop computer is not suitable for this work as compared to a notebook because it is portable and can be used even while traveling. In this post to take your web designing and development journey to the next level, we will share with you the top 5 best laptop for graphic designers, web designers and web developers.
Also Read: Best Laptops for Freelancing & Video Editing
Powerful Laptop for Graphic Design & Development in 2023
As a web designer and developer, you would be concentrating on your work and screen for hours while if you are a graphic designer you would be using Photoshop to edit images and intensive editing software for videos.
This means to perform these activities without any performance hiccups you will need a powerful laptop that can cop up with your work requirements easily as compared to an outdated one.
So without any further ado let's jump straight into the article, you should visit intolaptop.com to find out even more laptop options according to your work requirements. 
1.

Apple MacBook Air 13 inches
"Thin & Lightweight with Sharp Retina Display" 
Apple MacBook Air (13-inch, 8GB RAM, 256GB Storage, 1.6GHz...
Display: 13.3″, FHD, 2560 x 1600, Retina Display
Processor: Intel Core i5-8210Y, 3.6 Ghz, Dual-Core, 8th Gen
Graphics Card: Intel UHD Graphics 617
RAM & Storage: 8GB DDR4, 256GB SSD
Operating System: macOS
Pros
Slim & Portable Design  
Aluminium Chassis 
Thunderbolt 3.0 Ports
Touch ID, Touch Bar
Cons
Comparatively Slower Performance 
Display Should Be Brighter
Design 
The updated Apple MacBook Air concept is almost identical to the existing MacBook Pro range and the only difference is the tapered top. Apple mentions that for the first time the frame is made of 100 percent recycled aluminum.
This could be the reason that the feeling of design is just as strong as on the more expensive models. for such a slim laptop, the stability is excellent and the build quality is impeccable.
It just feels like you're using a high-quality product because of the metal surface's haptic impression. After a few years of use, the surfaces still look fantastic and the new MacBook Air will not be an exception.
We can confirm it based on our own experience with Apple products. The new Air is also available in gold in addition to the two popular silver and space gray color options, previously which was only reserved for the smaller MacBook 12 inches.
Compared to the previous generation, Apple has reduced the bezels, but when we compare it with XPS 13 it seems like there is still scope for optimization.
The central hinge is well balanced and can prevent the screen from bouncing. Because of the light base unit, it isn't easy to open the lid with one hand. 135–140 degrees is the average angle of opening.
Multiple Pentalobe-screws protect the bottom plate. When you have the correct device, it is easy to remove, but so there's not much to do since almost all the parts are either glued into the frame or soldered.
Display 
The screen was probably the old MacBook Air's greatest downside, as the 13.3 inches screen was still based on TN technology with small viewing angles and a low resolution of 1440 x 900 pixels.
It was far from the expectations of Apple itself Retina technology, which would improve with the updated edition. Thankfully now you can get a 13.3 inches screen with 2560 x 1600 pixels (16:10, 227 PPI), identical to the new MacBook Pro 13.
But a closer look at the specs indicates variations in price. Apple is advertising the MacBook Pro 13 for the latest MacBook Air with a 500 nit screen and full P3 coverage but it actually provides just 48 percent more colors than the old version.
During our analysis of the last MacBook Air, we calculated about 60 percent sRGB, so the new Air will hit the full sRGB gamut hopefully. Apple does not state the luminosity at all, however.
As compared to the last generation MacBook Air's old TN panel subjectively, you'll instantly note the difference. The text is extremely bright, but the colors are not as vibrant as on MacBook Pro devices obviously very fine screens.
Nor can the luminance keep up with the Pro models. For the panel with the designation APPA039, we evaluate an average value of 315 nits. Just the two Asus and HP 1080p rivals are marginally darker while all the other high-resolution screen comparison models are much brighter than this laptop.
Performance Under Workload
For the new MacBook Air, the performance is an interesting topic because for many customers the designation of the processor suggests a higher performance level.
Like Apple introduces only a dual-core processor while almost all other Core i5 8th Gen CPU's offers four native CPU cores. The subjective performance impression with daily tasks is still very strong, thanks to quick PCIe-storage.
With the less-powerful configuration, most users who don't know whether they need a dual-core or a quad-core should be well. The memory is soldered onto the motherboard (either 8 or 16 GB LPDDR3-2133) and it is not possible to upgrade it any further.
The current nomenclature of Intel will make measuring the performance of the level processor very difficult. Apple uses an 8th generation Core processor with the Core i5-8210Y label.
The Y at the end means a highly powerful processor, which can normally be passively cooled.w The design is named Amber Lake-Y, which was used in the tiny MacBook 12 and it based on Kaby Lake-Y.
However, the main difference to the MacBook 12 is the add-on fan. This is uncommon for this type of processor and should boost efficiency during prolonged workloads in particular.
We're going to take another look at the cooling solution, but it looks like there's no Heat pipe because the fan isn't attached directly to the pipe.
2.

Apple MacBook Pro 13 inch
"Best Combo of Display Quality, Speed & Battery Life"
Apple MacBook Pro (13-Inch, 8GB RAM, 256GB Storage) - Space...
Display: 13.3″, FHD, 2560 x 1600, Retina Display, True Tone
Processor: Intel Core i5-8257U, Quad-Core, 4.1GHz, 8th Gen
Graphics Card: Intel Iris Plus Graphics 655
RAM & Storage: 8GB LPDDR3, 256GB SSD
Operating System: macOS
Pros
Battery Life is Great 
Performance is Fast
Color Full Bright Display
Powerful Speakers
Cons
Bezels are Thick 
Only Two Thunder Bolt 3 Ports
Keyboard has Shallow Key Travel 
Design 
The style hasn't changed except for the TouchPad. The only noticeable difference is the number of ports from now on between the two 13 inches Pro versions.
However, as compared to last year's model there are minor improvements inside like the battery has slightly higher strength, the CPU heat pipe and the speakers, on the other hand, are a little smaller. The reliability of the case is still outstanding and comparable to the costlier MacBook Pro 13.
Removal of the bottom panel is pretty simple but only if you have the right Pentalobe screwdriver, but it is not much you can upgrade, although you can clean the fan easily.
All the remaining components are either soldered on the logic board or glued into the case. All comes fitted with the OLED Touch Bar above the keyboard it doesn't matter which model you get from the current MacBook Pro.
The bar shows different details according to the query. Compared to previous years, when the program and the Touch Bar optimization also rely on it. For daily circumstances such as flipping between various Safari windows, it can be a helpful gadget but often it only doubles the content.
Similar to the old model of dedicated function keys, it often needs one more input to adjust items like brightness or volume. However, this OLED Touch bar is a cool feature to have in your Apple MacBook Pro 13 inches laptop. 
Display 
When you purchase a MacBook Pro 13, you don't have to worry about the display. The 13.3 inches IPS screen provides outstanding subjective image quality without distracting flickering from the backlight and it has a resolution of 2560 x 1600 pixels. The contents are very sharp and look very vivid.
The brightness adjusts very well to the ambient light and true tone is also enabled, too. The average luminance at 577 nits is very good, and even exceeds our MacBook Pro 13 test unit with four TB3 ports.
Given the high luminance, the black value 0.35 is still good and results in an outstanding contrast ratio of more than 1700:1. At a very high 116 kHz, we can only measure a flickering of the background light since the PWM is not used to manage the brightness.
It can not, however, be associated with conventional PWM. The calibration of the screen is already really strong off the rack. Our measurements with the skilled CalMAN program and the spectrophotometer X-Rite i1 Pro 2 confirm that the color deviations are below the relevant 3 limits and we didn't encounter any noticeable color cast on this display.
Calibrating the display is not really important but we still tried it and managed to further boost the performance. In fact, this display is one of the best improvements Apple has done in any of its MacBook laptops so far. 
Performance Under Workload 
The Apple MacBook Pro 13's subjective output impression is very strong, but considering the fast processor and the SSD, this is hardly shocking. Inputs are performed without delays, and the fast launch of applications can be considered normal for this powerful laptop.
For the next few years, there's also performance headroom, particularly as compared to the slightly cheaper MacBook Air. Executing the occasional Windows program is also no problem.
Bootcamp performed very well in our tests and even the Touch Bar with special functions such as brightness and volume control works as expected. Apple uses chips with more powerful integrated GPUs, unlike standard ULV processors.
In this case, the Iris Plus Graphics 655, which is faster then the Iris Plus Graphics 645, is fitted with an eDRAM cache of 128 MB. While the regular UHD Graphics 620 is beaten by 30-40% the gap in the more expensive MBP 13 between the 645 and the 655 is not that high.
Although gaming isn't its strong suit the Iris Plus Graphics 655 is very well suited for standard multimedia applications and high-resolution video playback. Simpler games, like DOTA 2 for example, can only be treated at medium detail.
The fan noise with function keys is identical to the old MacBook Pro 13 since the single fan does quite a good job. The fan can reach 39 dB under load and it increases the velocity gradually.
3.

Dell XPS 9370 13.3 Inches
"The Most Favorite Business Laptop According to Consumers"
Pros
Performance is Excellent
Slim & Light Weight
Good Cooling System
Great Display
Cons
Basic Looks
Build Wise Normal
Design
The last few generations of Dell's XPS series are so similar in looks that you hardly can differentiate them unless you watch on the deck where the CPU Sticker is. However, Dell's XPS 13 has emerged as one of the most favorite laptops according to the consumers.
Maybe because of that Dell has added a new gold and white color scheme in their latest XPS 9370 laptop. Despite the same physic like previous models, it has a slightly slimmer and lighter overall profile.
But if you want you can get 9370 in the traditional silver and black aesthetics of Dell's XPS series.
Display
With the Infinity Edge display and 13.3 inches screen, the XPS 13 9370 laptop has 23 percent thinner bezels as compared to the previous XPS series model.
Images on the screen just seem to pop up because at the top and sides of the screen there is virtually no frame.
There are two variants available on this laptop. One offers 3840×2160 4k ultra HD touch screen whereas the other one has a 1920×1080 non-touch screen.
Although the 4k touch screen is noticeably better both of the resolutions provide impressive color quality, sharpness, and brightness. 
Performance Under Workload
Dell's XPS 13 9370 comes loaded with two different configurations known as high end and mainstream. Both can handle anything you threw at them without a hiccup including web surfing, working, and light gaming.
The Dell XPS 13 9370 is capable of performing better on long tasks like running a benchmark test again and again or compressing a 4k video.
The main reason for that is the new cooling system added by the company.  Most laptops slow down there CPU to cool down during long tasks, but XPS 13 9370 laptop works differently.
During the compressing test of 4k video, the 9370 increased the power of CPU. Because of that, this task was completed only in 16 minutes, which means the cooling system works great on this machine.
But in any case where you experience warmer temperatures on XPS 13, by using Dell's power management App you can configure the ultra-performance for thermal cooling.
According to our review, we recommend that you can get the best performance with balanced temperatures by configuring the optimized mode, especially during longer tasks.
4.

HP ENVY 13
"Slim & Attractive Design with Powerful Performance"
Pros
Fast Performance 
Attractive & Light Weight
Long Battery Life
Great Speakers
Cons
4K Model Display is Slighlty Dim
Thunder-Bolt 3 is Missing 
Design 
As you probably know, placed above its Pavilion PCs but below its Spectre models Envy is HP's upscale but not deluxe sub-brand. If you want redesigned aesthetics of the much-missed ultraportable Spectre 13 then you can consider buying the latest Envy 13 laptop.
It is a clamshell laptop that doesn't bear HP's 2 in 1 convertible x360 suffix despite the fact that it is a touch screen. It's also one of the best bargains in the 13.3-inch range, at a much lower price tag as compared to the Dell XPS 13 laptop and a similar Razer Blade Stealth laptop.
The Envy besides not being perfect is still a popular laptop among the consumers. With the company's stylized logo placed in the center of the lid, the HP Envy 13 is an elegant, stylish laptop.
It's Natural Silver anodized aluminum chassis features a cantilevered rear hinge that, when opened, props the keyboard at a slight typing angle. It's a fit for the Stealth at 0.58 by 12.1 by 8.3 inches, but a bit lighter 2.82 than 3.04 pounds previous model.
This system comparatively thing especially when you compare it with other laptops you can buy under the same price tag. Also on either side, the USB Type-A ports feature drop-down covers or you can say partial covers, like those of Ethernet jacks from some notebooks.
Display 
On base Envy 13 offers the 13.3-inches, 4k touch display which is one of the best high-resolution screens you can get in a laptop under this price tag. Though all touch screen displays are very smooth and vibrant, the FHD version is much more colorful as compared to the display in higher resolution.
Once we scribbled some notes on a screengrab taken in the Microsoft Snip & Sketch app, we found the Envy's 4 K touch screen to be very responsive. We also had no issues with typing URLs or draft emails using the on-screen keyboard either.
The 4 K display, which only achieved 99.4% sRGB color gamut as compared to The 1080p screen which reproduces 109% of the sRGB spectrum of colors, making it more vibrant.
As compared to the 1080p display in the Notebook 9 Pro 118%, the 2256 x 1504-pixel display in the Surface Laptop 2 176% and the Asus ZenBook S UX391UA 116% display in 4K both displays seems slightly less colorful.
The FHD and 4 K panels of the Envy 13 look very vivid because of how light they are getting despite the showing. The Envy 13 handily outshines the displays on the Notebook 9 Pro 254 nits, the Surface Laptop 2 321 nits, the ZenBook S UX333FA 225 nits and the regular Luxury laptop 346 nits at 411 nits of brightness on the 1080p screen and 397 nits of peak luminance on the 4 K display.
Performance Under Workload 
We have tested the versions of the Envy 13 which offers 4K display with an Intel Core i7-8565U CPU and 16GB of RAM. However, HP also offers its base model with a Core i5-8265U CPU and 8GB of RAM that has Full HD resolution.
On our simulated benchmark checks, the Envy 13 versions of the Core i5 and Core i7 did an outstanding job. On the Geekbench 4 evaluation, both models scored 15,147 and 15,738 respectively.
Both Envy 13 versions exceeded Surface Laptop 2 score 12,744 with core i5-8250U, ZenBook S UX333UA score 15,110 with core i5-8265U and average group 15,085. Whereas between those numbers the Notebook 9 Pro's 15,432 with core i7-8565U also fell.
They also have beaten the MacBook Air's score of 7,880 which is shocking considering the price tag difference of both laptops. On our hard drive check, the Envy 13 did well too.
Inside the more expensive model, the 512 GB SSD that you will get in Core i7 variant took 14 seconds while duplicating 4.97 GB of mixed-media data at a rate of 363.5 MBps while the base model with Core i5 that offers 256 GB SSD did the same task in 13 seconds at a rate of 391 megabytes per second.
That's slower than most of the competition, including 391.5 MBps of the Notebook 9 Pro, 424 MBps of the Asus UX333, 1.011 MBps of the MacBook Air, and 646.3 MBps of the average group. However, the performance is better than the 203 MBps Surface Laptop 2 at least.
5.

Microsoft Surface Laptop 2
"Sleek Aesthetics & Long Battery Life"
Pros
Great Performance 
New Colors Range
Perfect Keyboard
Proper Windows 10
Cons
Thunder-Bolt 3 is Missing
Comparatively Less Ports
Maintenance is Not Easy  
Design
Except that Microsoft currently sells the Surface Laptop 2 in four different colors, no other improvements were made to the case. Users can also choose cases in black, burgundy, or cobalt blue Besides our platinum test unit.
On top of the base unit, the color of the surface of the Alcantara varies accordingly. Under the workload, the surface doesn't feel as warm as metal tends to. Additionally, this material feels very good and does not necessarily reveal marks and dust.
Aluminum is used in the rest of the case, which is designed very well. both the base panel and the display lid are very good instability and we find no splitting. A coating of Corning Gorilla Glass 3 also covers the touch screen.
The key hinge is balanced well and only makes slight screen wobbling. Unfortunately, Microsoft has opted to follow the same direction as its convertibles when it comes to maintenance.
Since opening up, this device is impermissible for users. There are chances of breaking sections when removing the glued case since there are no visible screws. Surface Pro 6 has a significant advantage in our size comparison, because of its slightly smaller display.
Display 
The Surface Laptop 2 's highlight is, without hesitation, its 3:2 size. Practically all other subnotebooks are fitted with 16:9 screens, only Apple offers 16:10. Which are very good for viewing videos but also need a lot more scrolling when using more practical software.
In these cases, the 3:2 panel is more appropriate. The 13.5 inches screen has a 201 PPI pixel width and 2256 x 1504 pixel resolution. it is absolutely acceptable especially considering the screen size although this value is below the other 4K screens.
We think subjectively the video quality was very good and the image is very sharp in reality. Such full colors and vivid images we don't often see. You can see minor backlight flickering across the edges at high brightness and with a dark text.
This isn't especially uncomfortable though. Its response levels, however, are not especially high since the Panel does not use PWM to monitor brightness.
Considering that this is not a gaming system and that an external GPU can not be connected, this should not be a concern for most consumers. With our X-Rite i1Pro2 spectrophotometer we tested out the display and the results are we observe were decent.
But not as good as those of its predecessor. We weighed a faint cast color (blue-green), and the temperature of the color was too cool.
Performance Under Workload 
To make a laptop capable of coping up with workload the usage of Modern CPU, enough RAM, and fast NVMe SSD is the formula that virtually all traditional subnotebooks use. For Surface Laptop 2 the same is true and our test unit is acting as expected.
There were some issues with two tools, however, for instance, the reason why we can only display two sub-scores is that PCMark 10 did not run perfectly. And after around 20 seconds, HWiNFO was aborted too.
We were unable to find a reason for these issues and all the other benchmarks were going smoothly. Microsoft has mainly updated the old Surface model, as mentioned at the start.
The Surface Laptop 2 provides up-to-date four-core chips, a quieter cooling system, marginally better speakers, and a new variety in colors. With its accurate display of colors paired with strong brightness and high contrast, the screen proceeds to reflect the device's highlight and impresses us.
The Surface Laptop 2 picture is really vivid and we have really enjoyed it personally although 4 K displays give a higher resolution. Just remember one thing before choosing this laptop that you will not be able to upgrade it and if ever this laptop got into a technical problem then you will be in trouble.
Since as we have mentioned above that all the internal components and even the bottom cover is glued. 
Verdict
Here you have our list and detailed review of the top 5 best laptop you can get for graphic design, web design and web development. We know that there are plenty of other laptops that we have not included in this list.
The reason is that before compiling this list we have tested many laptops in real-world work scenarios and with different benchmarks. Then we have only included those laptops in this list which has shown us great performance under the workload.
Apart from that, we have focused on many essential aspects like battery timing and temperatures since no one among us would want to be stuck with short battery life after spending this much money.
You can keep visiting into laptop where you will find many great laptops according to your budget. You are requested to check out our exclusive Laptop Buying Guide that will help you in choosing the right laptop according to your work needs.
LAPTOP BUYING GUIDE 2023
Laptop Brand: Which Brand's Laptop is your priority?
Display Size: Which Screen Size will you prefer?
Performance: Which CPU will you need?
Graphics Card: Which GPU will you like to have? 
RAM & Storage: How much RAM & Storage is needed?
Operating System: Which Operating System you want to have?
Battery Life: How much battery life do you expect?
Work Purpose: Know the purpose and buy a Laptop tailored for your work purpose.
Budget: Find the Laptop within your budget.
Last update on 2022-12-11 / Affiliate links / Images from Amazon Product Advertising API