In this detailed Lenovo vantage guide, you can find some of the Features, Benefits of using Lenovo vantage on your Laptop, and some of the frequently asked questions.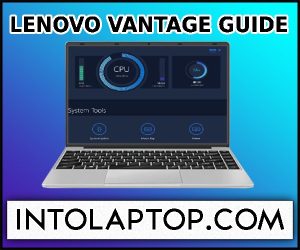 Let us discuss about Lenovo's vantage in the below section.
Also Read: Best Lenovo Laptops Review
Lenovo Vantage Guide
Lenovo Vantage is the ultimate tool for streamlining, personalizing, and powering up your experience with Lenovo products and ofcourse it works with other branded products too.
Whether you're looking to optimize your system performance, make customizations to your laptop or desktop, or just keep track of system health, Lenovo Vantage has you covered.
It provides essential tools and guidance to get the best out of your device.
In this article, we will discuss all the details about Lenovo vantage & how you can download it and use it to maximize the performance of your device.
Also Read: Best Dell Laptops Review
What is Lenovo Vantage?
Lenovo Vantage is a Windows-based program created by Lenovo that enables users to customize their PCs for an optimized experience.
This feature programs itself to prioritize user needs and make the most out of their Lenovo devices.
The application helps individualize various settings, from specialized gaming performance to providing access to a variety of utilities. Depending on what the user needs, they can configure their laptop to fit their lifestyle and computing needs.
Lenovo Vantage is designed to create a "One Stop Shop", offering quick access to system updates, product information, support, warranty services, and more.
It can also manage settings such as battery performance, audio, camera, and more.
Those wishing to save time on system maintenance can use Lenovo Vantage to keep their device running smoothly. The application can quickly perform important tasks without taking users away from their work.
Additionally, Lenovo Vantage offers the option to automatically update firmware and drivers.
This ensures that users have the most up-to-date version of their device for optimum use. The convenient "Get Help Now" feature allows users to reach advanced technical support quickly.
Lenovo Vantage's ability to quickly detect abnormalities and prevent problems from occurring is one of its most useful features.
By running the program, users can quickly detect available security updates, or check for hardware or software that might be causing instability.
They can also make sure that their device is protected from cyber-attacks by running a security scan.
Overall, Lenovo Vantage is a great tool for those who want to customize their PC's settings and take control of their computing experience.
It can be used to gain quick access to a range of features and information, giving users a better understanding of their device and allowing them to tailor it to meet their individual needs.
Whether that's gaming, productivity, or anything else, Lenovo Vantage can help make sure their machine is running smoothly and efficiently.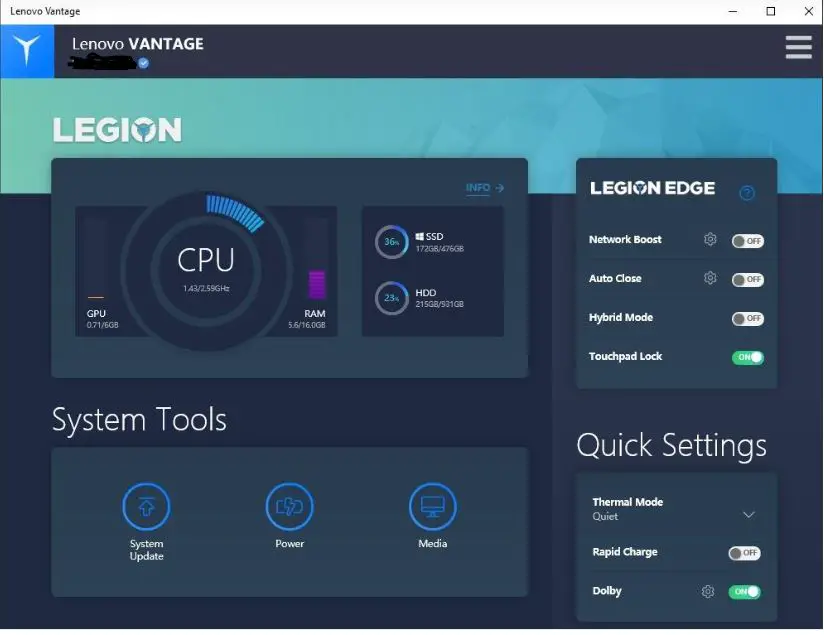 Features of Lenovo Vantage
Lenovo Vantage is a revolutionary piece of software that has been designed to enhance the user's experience with their Lenovo device.
It is a powerful piece of software that comes packed with amazing features and capabilities that can greatly improve your productivity as well as your enjoyment when working with a Lenovo device.
By taking advantage of the features of Lenovo Vantage, users can make the most of their Lenovo devices and optimize their workflow.
Some of the things that can be done using Lenovo Vantage include:
A).

System updates
You can use Lenovo Vantage to update the drivers, firmware, and BIOS of your Lenovo device.
B).

Battery Optimization
Lenovo Vantage can help you optimize the battery life of your device by adjusting the power settings.
C).

Performance Optimization
You can use Lenovo Vantage to optimize the performance of your device by adjusting the system settings.
D).

  Security settings
Lenovo Vantage can help you improve the security of your device by configuring the built-in security features.
E).

 Support and warranty
You can use Lenovo Vantage to access Lenovo's support resources and check the warranty status of your device.
F).

 Hardware diagnostics
Lenovo Vantage can run hardware diagnostics on your device to identify any issues and provide solutions.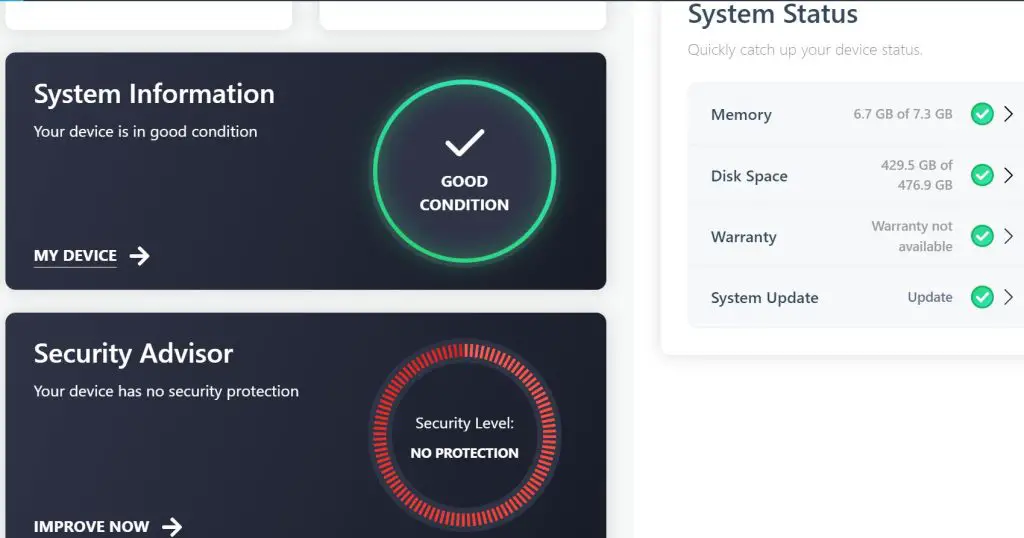 Benefits of Using Lenovo Vantage
Using the Lenovo Vantage application for your Lenovo laptop can drastically improve the overall performance of your computer.
With a multitude of features included in the package, it can even make complex computing tasks simple and efficient.
Here's a look at some of the key benefits of using Lenovo Vantage.
The foremost advantage of Lenovo Vantage is that it makes monitoring, managing and troubleshooting operations extremely simple.
With its intuitive and user-friendly interface, you can keep track of the overall health of your laptop in the blink of an eye.
The available system health check-up feature lets you run a hardware and software scan over your system so that you can detect any anomalies in the system.
Having the latest drivers installed is another essential benefit associated with Lenovo Vantage. The application enables seamless software updates so that your laptop performs optimally every time.
Moreover, with Lenovo Vantage's Wi-Fi optimization feature, you can get more range and stability for your wireless connection.
Another major benefit of using Lenovo Vantage is its Active Protection System, which provides powerful PC security.
It offers real-time detection for any potential security threats and prevents malicious files from gaining access to your laptop.
Plus, with its improved privacy protection, you can ensure that your most confidential data remains secure.
Lenovo Vantage also helps you to stay productive and connected with the help of its quick optimize feature.
This helpful tool allows you to adjust your laptop hardware settings, thus enabling enhanced performance with minimal hardware damage.
With its auto-update capabilities, you can also keep your laptop up to date with the latest version of applications.
Overall, Lenovo Vantage offers a wide range of intuitive and advanced features that make everyday activities easier and faster.
With its robust security capabilities, you can keep potential digital threats away from your system. Additionally, its intelligent power optimization can help you to save up to 30 minutes of battery life each day.
With these and many more benefits, Lenovo Vantage is the perfect application for your Lenovo laptop.
FREQUENTLY ASKED QUESTIONS
1.

 How to Install Lenovo Vantage?
Are you an owner of a Lenovo device and looking for an easy way to install the Lenovo Vantage app on your device?
If yes, then you are in the right place! Installing Lenovo Vantage is extremely easy and can be done in a matter of minutes.
Lenovo Vantage is an app used to manage and customize your Lenovo device and comes with a variety of features including keeping your device up to date and managing your hardware.
Around 26000+ reviews Lenovo Vantage has so you will definitely benefit if you use it.

Installing Lenovo Vantage is relatively straightforward; as long as you have your device available and a working internet connection you can easily install the app within a few minutes.
The first step to installing Lenovo Vantage is to open your device and find the app store.
Once you have located the app store, search for "Lenovo Vantage" and select the app from the search results. The next step is to press the "install" button and wait for the app to download and install.
Or
Visit this link: https://www.lenovo.com/us/en/software/vantage/
Click the download button, and it will take you to the Microsoft app store & you can easily download the app from the store.
After the app is installed, you can customize and optimize your device to ensure that it is running as effectively and efficiently as possible.
Once you have set up the app, you can begin to use it. Lenovo Vantage has a plethora of features available to manage and customize your device.
It allows you to keep your device up to date with the latest updates, and manage your hardware such as RAM and processor frequency.
You can also optimize the performance of your device through the app and keep an eye on the health of your device's battery.
It is also important to note that Lenovo Vantage has a built-in support option that allows you to contact a customer representative if you are having any issues with your device.
2.

 What can I do with Lenovo Vantage?
Lenovo Vantage is the ultimate companion to your Lenovo PC that helps you get the most out of your device.
It's a great tool for both experienced and novice users who want to optimize their computer's performance, manage Windows updates and settings, as well as explore the latest features.
If you have a Lenovo laptop, you can do a number of things with Lenovo Vantage. It can help you access and manage compatible hardware and software.
It also serves as a single interface to easily monitor your device's vital signs like battery health, available storage, and CPU usage.
You can also use the app to update and keep track of your system's drivers, BIOS, and other system features.
Not only can Lenovo Vantage help you tweak advanced settings, but it also provides an extensive range of interaction.
For instance, if you're using Vantage's eye care feature you can adjust the screen brightness and color temperature.
Or, you can use the app to set presets for frequently used functions including enabling or disabling Bluetooth, or pairing a mobile device to your PC.
Besides managing the systems and settings of your device, Lenovo Vantage can recommend relevant software and apps.
With the help of this app, you can use the "Discover & Purchase" option to purchase or download music, movies, games, and software that enhances the use of your laptop.
You can also keep your device's software and drivers up to date.
The Lenovo Vantage app also offers a range of sound enhancement features, allowing you to customize the sound on your laptop.
You can tweak the sound performance of your laptop for voice, gaming or music, allowing you to adjust equalization, bass boost, and surround sound.
To sum it up, Lenovo Vantage is an invaluable tool that can be used to get the most out of your Lenovo PC.
3.

 Does Lenovo Vantage improve performance?
When it comes to optimizing the performance of your laptop, many users ask the same question: Does Lenovo Vantage improves performance?
The short answer is: Yes.
Lenovo Vantage is a software utility developed by Lenovo that, among other things, allows users to customize their laptops and adjust various settings, including performance optimization.
The software provides a range of tools intended to enhance gaming experiences, optimize battery life, and speed up the performance of your machine.
However, whether or not your laptop will benefit from the use of Lenovo Vantage depends on a variety of factors, such as the type of hardware in your machine and the workload you are asking of it.
Some users will experience immediate and noticeable improvements, while others may find that they experience only marginal improvements or even no improvement at all.
One of the features of Lenovo Vantage is the Performance Boost feature. This feature allows you to adjust the settings of specific components of your laptop, such as the processor and memory, to speed up your laptop.
However, in order for this to be effective, the hardware itself has to be capable of handling higher performance settings.
If your laptop's hardware can't handle the increased workload, then the performance boost feature will not be very effective.
Lenovo Vantage also allows you to change other settings, such as the background services.
By disabling unnecessary background processes, you can free up system resources that can be used to speed up your laptop's overall performance.
Again, this depends on the type of hardware in your machine and the current workload.
Finally, Lenovo Vantage is capable of optimizing the performance of gaming laptops.
It can automatically adjust settings such as the max processor speed and GPU frequency in order to provide a seamless and immersive gaming experience.
Also Read: Best Gaming Laptops under 2500 dollars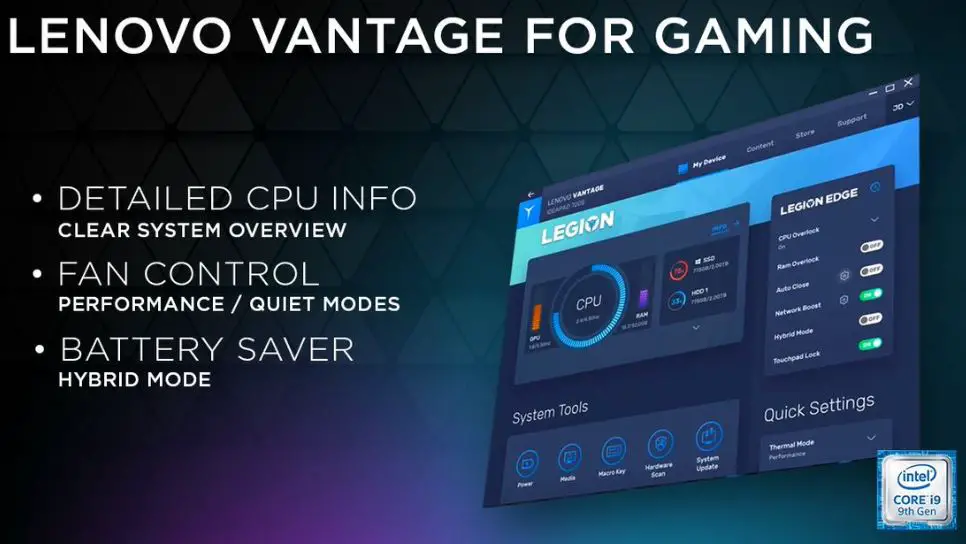 Again, this depends on the type of hardware in your machine and the current workload.
Overall, the effectiveness of Lenovo Vantage in improving the performance of your laptop depends on the type of hardware in your machine and the existing workload.
Some users will benefit more than others, but in most cases, users will at least experience improved battery life and some minor performance improvements.
Also Read: Best Gaming Laptops under 1500 Dollars
4.

 Is it OK to delete Lenovo Vantage?
If you're the proud owner of a Lenovo computer, you may be wondering: is it okay to delete Lenovo Vantage?
After all, it's taking up space on your hard drive and you do want to keep your computer running as efficiently as possible.
The short answer is yes – it is indeed okay to delete Lenovo Vantage. The longer answer is that it depends on what specific features you wanted to use on your Lenovo computer.
Lenovo Vantage is the dedicated support and advice app that comes pre-installed on your Lenovo computer.
It provides tools and features to help you get the most out of your laptop and keep your device running efficiently and optimally.
Many of these features are useful, but they can also become a burden on your laptop's performance if they're not used or updated regularly.
For instance, if you don't use the system health monitoring and optimization tools, then it could be beneficial to delete Lenovo Vantage.
This will free up some storage space and reduce CPU usage, which ultimately leads to better performance.
On the other hand, if you like the idea of staying in control of your device's performance, then it might be better for you to keep Lenovo Vantage.
This way you can use the software updates and system optimizations to keep your laptop running smoothly. Portions of the software can even be used manually if you so choose.
At the end of the day, it's important for you to evaluate your own use case for what is best for you when it comes to removing or leaving Lenovo Vantage.
In general, it's safe to delete Lenovo Vantage, but if you find yourself needing its services in the future then you may need to reinstall the software.
So, if you're debating whether or not to delete Lenovo Vantage, the ultimate decision will come down to your own individual needs.
Consider removing the software if you're fine doing without its features and services, and keep it around if you find them to be valuable. Ultimately, the success of your system is entirely up to you.
5.

 Why is Lenovo vantage not opening?
There are a number of potential issues that could be preventing the app from launching, including errors in the Vantage configuration, faulty Windows services, low system resources, and improper installation.
If you're determined to get back up and running with the app, there are several potential solutions you can try.
A common culprit behind failed app launches is corrupted application data.
When the Vantage launch sequence is interrupted, it's possible that the data powering the app has become corrupted and thus needs to be fixed or purged for it to launch.
One way to tackle this issue is to reset the app by running a repair through the Programs and Features menu in the Windows Control Panel.
If you've tried this but still can't get it to open, you may need to uninstall and reinstall the software.
Sometimes system services can become disabled or go awry, affecting how Vantage runs.
To remedy this, check the status of the required Windows services and make sure they're all running.
If a service is stopped, right-click on it, select "Properties", and make sure it is running in Automatic mode. Reboot the system after carrying out these steps.
It could be that your system resources are low and this is holding back the Vantage launch. Your computer should have enough RAM, CPU, and other processing power to open and operate the app without any delays.
If the system isn't functioning properly, you should consider freeing up some of the resources by shutting down other applications that you don't need.
Also, the issue might simply be a problem with the installation procedure. Lenovo Vantage is a powerful application — it needs to be installed properly for it to open.
To check, click on "Programs and Features" in the control panel and select "Modify" from the drop-down menu. If something isn't quite right, you may need to uninstall, restart the system, and reinstall.
It can be incredibly irritating when a program won't launch, especially when it's a crucial tool like Lenovo Vantage.
Before you start banging your head against the wall, give the solutions mentioned above a try. With any luck, you'll soon be up and running with your application once again.
6.

 Does Lenovo Vantage drain the battery?
On one side, many current Lenovo laptop owners have said that Lenovo Vantage does, in fact, drain their battery's longevity.
They point to a sudden decrease in usage time as evidence of this. This can be particularly concerning if users do not realize the day-to-day demands that the Vantage software places on their machines.
On the other hand, there are users who blog and write extensively about their positive experiences with the software who say that using Vantage has not affected battery life.
They note that the settings and features within the software are all adjustable so that users can opt out of features that may be using more energy than necessary.
Lenovo itself has also weighed in on this debate due to the intense interest in this query.
In a statement they released, they highlighted that while Vantage can be used to optimize battery life, it's important for users to further refine settings to their individual preferences if needed.
Finally, let's look at some possible solutions for this issue.
Perhaps the most glaring is for users to make sure they are only accessing the features within Vantage that are useful and necessary to their usage of their laptop.
Additionally, users could also opt out of particular features, like auto-updates, which consume energy even when the user is not actively using Vantage.
It may, in the end, come down to a trial-and-error process; that is, users need to test different combinations of settings, track the results, and inform their individual usage.
It's important to remember that because everyone's usage of a Lenovo laptop is different, the reactions to the software might be different for each individual.
Also Read : Best Gaming Laptops under 1000 Dollars
Conclusion about Lenovo Vantage
Lenovo Vantage is an invaluable tool for any user who wants to take full control of their devices.
It allows users to easily diagnose any potential problems, customize settings, and keep their PCs running at their peak performance.
The intuitive and straightforward interface makes it a breeze to use and explore the numerous features it has to offer.
Whether you're a beginner or an experienced user, Lenovo Vantage is sure to have you covered.
Incase if you are looking for some more Laptop Troubleshooting Tips here you can read about it.
LAPTOP BUYING GUIDE 2023
Laptop Brand: Which Brand's Laptop is your priority?
Display Size: Which Screen Size will you prefer?
Performance: Which CPU will you need?
Graphics Card: Which GPU will you like to have? 
RAM & Storage: How much RAM & Storage is needed?
Operating System: Which Operating System you want to have?
Battery Life: How much battery life do you expect?
Work Purpose: Know the purpose and buy a Laptop tailored for your work purpose.
Budget: Find the Laptop within your budget.