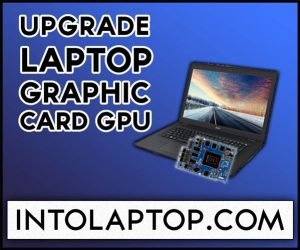 Upgrading the graphic card GPU of your gaming or work laptop is almost impossible, but there are some ways you can actually upgrade it though most of the consumers are not aware of this secret. 
And then people who knew how to upgrade laptop GPU tricks prefer to buy a new laptop since according to them it does not worth spending your money.
The main reason for that is you cannot be 100% sure whether this upgrade will work or not and it varies on which laptop you want to upgrade. 
Upgrade Laptop GPU (Graphics Card)
However, if you are interested in this topic then you have clicked on the right post because below we have mentioned some possible ways of upgrading your laptop's graphics card.
But before we start this post we have to clear one thing that to do this at your own risk. Also if you want to find out the best laptops with graphic cards then visit intolaptop.com, now let's jump into this post.   
1.

GPU Upgrade Kits 
For the consumers who are willing to take risk of messing with the hardware of their laptops, just recently a Canadian laptop manufacturer has started offering GPU upgrade kits.
We will share with you the performance difference after you will install these kits and whether these GPU kits are really worth your money.
After reading this if you are getting excited with the thought that you can now convert your cheap or outdated gaming/work laptop into a beast with these GPU kits then it might not be possible for everyone.
You can only install these GPU kits in bulky and fat laptops so if you have a lightweight slim system then don't even think about that. But no need to worry since below we will share with you how can you upgrade your slim laptop's graphics card GPU as well. That's why read the full article till the end. 
2.

External Graphics Card
Now if you are unable to upgrade your laptop's graphics card with kits mentioned above because of slimmer size or any other reason then you can go for an external graphics card.
It has its own pro and cons, the good thing is that you will not need to open your laptop's hardware in order to use an external graphics card. Instead, you can simply connect it with your system with a data cable.
It also offers you the option of connecting it with a secondary display via HDMI cable. However please note that external graphics cards are not meant for gaming so do not buy them with the intention of playing hardcore games because you might be disappointed by the performance.
Though they provide you enough power to run graphics-intensive Applications and software without any performance issues. On top of that, they will work perfectly with any capable laptop and you will not waste your money. 
3.

Should You Upgrade the GPU? 
Now above we have mentioned the ways of upgrading your laptop's graphics card GPU. But the question is should you do that since no matter if you want to buy the GPU upgrade kit or the external graphics card, in both cases, you will need to spend a lot of money.
We all know that GPUs do not come cheap especially if you want one of your laptops. The laptop is a compact device that makes it difficult to find the specific GPU which can fit in it. Unlike desktop computers where you can easily upgrade the graphics card without worrying about the other issues.
It's up to you if you feel that upgrading the GPU of a laptop with ways mentioned above worth it then go for it. But do remember that while installing the graphics card upgrade kit, if you don't have the proper idea about the hardware then do not do it by your self and let a professional do that for you. 
Verdict
If you will ask us for our opinion about Upgrading Laptop GPU, then we will surely not recommend you upgrade the graphics card (GPU) of your laptop, instead, you can buy a new laptop with preinstalled powerful graphics card GPU.
Many people think that laptops with decent graphics cards are extremely expensive which is not entirely true especially the gaming and video editing segment laptops. There are a lot of laptops that offer great GPU(s) at cheaper prices than you think.
Instead of spending money on upgrading the graphics card GPU of the system, you should go for brand new laptops. They will provide you more productivity and better performance under workloads or while doing gaming.
At IntoLaptop.com we have compiled lists of many budget laptops with great graphics cards you can get so do check that out. 
LAPTOP BUYING GUIDE 2023
Laptop Brand: Which Brand's Laptop is your priority?
Display Size: Which Screen Size will you prefer?
Performance: Which CPU will you need?
Graphics Card: Which GPU will you like to have? 
RAM & Storage: How much RAM & Storage is needed?
Operating System: Which Operating System you want to have?
Battery Life: How much battery life do you expect?
Work Purpose: Know the purpose and buy a Laptop tailored for your work purpose.
Budget: Find the Laptop within your budget.