Top 3 Best 13 Inch Laptop Picks in 2023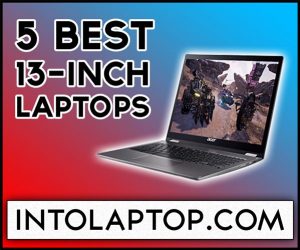 According to many consumers, the 13 inches laptop is the best choice and that's why it is the most frequently purchased laptop size all over the world.
The 13 inches laptops not only look good because of the fact that their build quality is always great but with them, you also get tons of power and battery life into a tiny chassis that you can carry very easily where ever you want.
You need to go for the best 13 inches laptop around if you're after computing portability.
And to help you in that we have not only compiled a list of top 8 best 13 inches laptop but also we have reviewed them in detail for your convenience.
All the 13 inches laptops mentioned below provide you great power with incredible portability.
This means these rigs are capable of getting you through everyday challenging tasks without being a burden in your backpack.
Best 13 Inch Laptop in 2023
That nice, space-saving spot is covered by the best 13 inches laptops for consumers who want to squeeze efficiency while they travel.
They provide you enough power to even do some light gaming, editing music, and photo editing.
If you want to know more about laptops by size then you can visit into laptop.
So let's start our today's post without any further ado to get you the best 13 inches laptop. 
1.

Dell XPS 9370 13.3 Inches
The Most Favorite Business Laptop According to Consumers
Design
The last few generations of Dell's XPS series are so similar in looks that you hardly can differentiate them unless you watch on the deck where the CPU Sticker is.
However, Dell's XPS 13 has emerged as one of the most favorite laptops according to consumers.
Maybe because of that Dell has added a new gold and white color scheme in their latest XPS 9370 laptop. Despite the same physic as previous models, it has a slightly slimmer and lighter overall profile.
But if you want you can get 9370 in the traditional silver and black aesthetics of Dell's XPS series.
Display
With the Infinity Edge display and 13.3 inches screen, the XPS 13 9370 laptop has 23 percent thinner bezels as compared to the previous XPS series model.
Images on the screen just seem to pop up because at the top and sides of the screen there is virtually no frame.
There are two variants available on this laptop. One offers 3840 x 2160 4K ultra HD touch screen whereas the other one has a 1920 x 1080 non-touch screen.
Although the 4K touchscreen is noticeably better both of the resolutions provide impressive color quality, sharpness, and brightness. 
Performance Under Workload
Dell's XPS 13 9370 comes loaded with two different configurations known as high end and mainstream. Both can handle anything you threw at them without a hiccup including web surfing, working, and light gaming.
The Dell XPS 13 9370 is capable of performing better on long tasks like running a benchmark test again and again or compressing a 4K video.
The main reason for that is the new cooling system added by the company. 
Most laptops slow down their CPU to cool down during long tasks, but XPS 13 9370 laptop works differently.
During the compressing test of 4K video, the 9370 increased the power of the CPU.
Because of that, this task was completed only in 16 minutes, which means the cooling system works great on this machine.
But in any case, where you experience warmer temperatures on XPS 13, by using Dell's power management App you can configure the ultra-performance for thermal cooling.
According to our review, we recommend that you can get the best performance with balanced temperatures by configuring the optimized mode, especially during longer tasks.
BUY NOW ON AMAZON
2.

 Asus ZenBook 13
"Premium Looking Machine with Excellent Performance"
Display
Asus ZenBook 13 contains a gold color glossy logo at the center of the lid which does give it a classy look. The overall build is aluminum and the lid is in royal blue shade.
They do look really mesmerizing but can be covered in fingerprints after holding it. The edge of the hinge and font of the keyboard are leathered in rose gold color.
Asus ZenBook 13 weighs almost 2.7 pounds and has dimensions of 11.9 x 7.4 x 0.7 inches however it is slightly thicker than its rivals in this league.
Despite being thin and lightweight ZenBook 13 offers USB Type-A ports and even an HDMI slot, which is pretty amazing.
Whereas Thunderbolt 3.0 is missing which is kind of disappointing since this laptop has a complete selection of ports.
Display
Asus ZenBook 13 offers an almost bezel-free screen which is 13.3 inches. This glossy but rather dim panel offers 1920 x 1080 resolution.
The maximum brightness level you can get on Zenbook 13's display is 225 nits, it is below the average but not too bad while using outdoors in direct overhead lighting.
The 13-inch panel of ZenBook 13 almost covers 115 percent of the sRGB spectrum which is not much but slightly below the premium laptop average of 117 percent.
On HD videos this display does perform well enough apart from the dim brightness issue. 
Performance Under Workload
Asus ZenBook 13 offers an Intel Core i5 8th Generation processor accompanied by 8GB of Ram. Because of these handsome specs, Zenbook 13 can handle 40 Google tabs and HD 1080p videos running at the same time without any lag.
In our overall performance test, ZenBook 13 has scored excellent 15,110 on GeekBench 4. It also transcoded 13 minutes 4K video to 1080p in just 20 minutes 48 seconds.
With that, it has successfully topped the premium laptops' average of 21:51. So performance-wise ZenBook 13 has proven itself a worthy option under $1000 budget.
BUY NOW ON AMAZON
3.

Dell XPS 13 9380
"Sleek & Slim Aesthetics with Portable Design"
Design
Although the XPS 13 9380's design is exactly the same as the previous models of this series still this machine looks finely crafted machine with elegant aesthetics.
Its Andolized aluminum lid, carbon fiber deck, and sleek design gives this laptop a premium look and feel. XPS 13 9380 laptop has razor-thin bezels which make its display look extremely gorgeous and reduce the footprint.
The infamous nose came has been replaced with a tiny looking one place in the top bezel. To give XPS 13  a stealthy appearance Dell has added carbon fiber with a plush soft touch on the deck.
Dell XPS 13 9380 has 1.9 x 7.8 x 0.5 inches dimensions and it weighs almost 2.7 pounds. Which makes this a portable lightweight and easy-to-carry machine.
XPS 13 9380 is more compact than any of the other laptops under this budget.
Display 
Dell XPS 13 9380 offers 13.3 inches non-touch display with 1080p 4K resolution.  In our test, we were impressed by this laptop's richly saturated, bright panel.
If you want to use this laptop outdoors then you must choose the matte panel configuration since the 4K display is very glossy.
The maximum brightness of Dell XPS measured at 382 nits, more than enough for the laptop of this size and specs.
For watching HD 4K movies and videos the display of Dell XPS 13 in one of the best, only the reflection of the screen can be bothering.
Performance Under Workload
With the 10th Gen Comet Lake processor, Dell XPS 13 provides you enough power to easily do your typical office work.
Its performance on different tasks during our test was considered good enough that we can suggest you this laptop.
It can keep its cool during intensive work and lite gaming for a decent amount of time. After that, it is not like this laptop starts heating up badly but you do start feeling the touchpad and the center portion is getting warm.
We continuously did web surfing and at 150 nits during our battery test, Dell XPS 13 lasted almost 8 hours before giving the battery low notification.
BUY NOW ON AMAZON
4.

Acer Chromebook Spin 13
"Most Stylish & Premium Looking Chromebook"
Design
After Google, Acer also adopted the aspect ratio of 3:2 for the display of the Acer Chromebook Spin 13.
This laptop weighs almost 1.5kg with a footprint of 310 x 246mm and 18mm of thickness. These factors make Acer Chromebook a relatively big laptop.
The good thing is that this laptop offers all those aspects which you usually expect from a premium-level machine.
Such as diamond-cut edges, Gorilla glass for the touch screen and touchpad, and an anodized aluminum chassis.
Acer Chromebook Spin 13 really looks like a high-end laptop from its appearance. The lid has two hinges for support for either side of the deck.
The material which was used for building this laptop does catch fingerprints even if you just hold it to examine it.
On the right side, you've got a volume rocker, status light, USB Type-C connector, and a power button.
Whereas on the left side there is a headphone jack, USB 3.0 port a Micro SD card slot and another Type-C connector.
Display 
Acer Chromebook spin 13 offers 13.5 inches 2k 10-point multi-touch screen, which shows a bright and color full display.
The resolution of 2256 x 1504 is rather unique, not only for a Chrome book but for any laptop.
However, we didn't have any complaints with the display of Chromebook spin 13, in fact, this is one of the best touch displays you can have under the budget of $700.
It provides detail in HD videos, the best experience is to use it in tablet mode. The screen is very responsive to the touch and the touch pen you got with it works pretty smooth.
In simple words, this laptop has most of the premium specs and features but in budget price.
Performance Under Workload
Acer has tried its best to make Chromebook Spin 13 perfect in every aspect whether its design, display or hardware.
This laptop offers the best you can get from a budget laptop. Chromebook Spin 13 powered by an Intel Core i5 8250U processor which has four hyperthreaded cores.
With that, it gets a 1.6GHz base speed and 3.4GHz of turbo peak. On top of that 8GB of RAM, 128GB SSD, and Intel integrated graphics provide this machine enough power to run through daily typical work and day-to-day tasks.
Yes, the 128GB SSD is not enough for storage that's why Acer Chromebook Spin 13 offers 100GB more of cloud-based storage where you can store some things up.
BUY NOW ON AMAZON
5.

Acer Chromebook R13 Convertible 
"Best Chromebook for Students & Typical Related Tasks"
Design
Acer Chromebook R13 Convertible is a skinny and lightweight laptop that has a frame made out of plastic but with metal accents.
This kind of build is very common among other similar convertible Chromebooks, you can find a lot of them under the same price tag with these aesthetics.
You will see a metal finish under and top of the Chromebook R13 convertible which provides it a stronger appearance and premium kind of look.
The plastic under this metal skin is however less premium-looking grey colored. The dimensions of Acer Chromebook R13 Convertible are 15 x 326 x 228mm, and it weighs around 1.5kg.
On the left, you will get a USB-A, USB-C, HDMI, and a Micro SD card slot. On the right side, there is a 3.5mm headphone/microphone combined jack.
The Acer Chromebook R13 Convertible is not a very heavy machine but as compared to other similar Chromebooks its weight is slightly higher.
Display
For an under $500 budget Chromebook, Acer R13 Convertible's display is excellent with good viewing angles, near-ideal color temperatures, and a decent level of contrast.
Its 13.3 Inches display offers 1920 x 1080p full HD resolution, but if you want you can crank it up to 2400 x 850.
However, we wouldn't recommend increasing the resolution to more than 1920 x 1080, because with that it's getting impossible to read out the text.
One more plus point of the display of Acer Chromebook R13 Convertible is that it is IPS, which means you can watch it from any angle you want, it will be viewable from every side.
Performance Under Workload
You should know before making the decision of getting Acer Chromebook R13 Convertible laptop that it is a Chrome OS machine, which means it mainly revolves around Google's free office suite like Google Docs, Gmail, and other similar applications.
A MediaTek M8173C Quad-Core CPU powers up the Acer Chromebook R13 Convertible with a 1MB of cache and 4GB of RAM.
This configuration will provide more than enough power for the kind of work Chromebooks usually are designed for.
The good thing is that overall performance is very good even when we played 4k videos and zoom in to High-resolution photos, we didn't experience any kind of sluggishness, instability or stuttering.
BUY NOW ON AMAZON
Last update on 2023-09-13 / Affiliate links / Images from Amazon Product Advertising API