Top 3 MSI Laptop Picks in 2024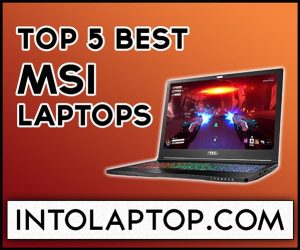 MSI is a brand that beats its every rival in terms of performance especially when we talk about gaming laptops. If you want a laptop for power-intensive work or hardcore AAA gaming that can handle all the stress without any slowdowns then there is no better choice than MSI.
Almost every laptop comes equipped with Intel's coffee lake processor and Nvidia Turing graphics, that's why without breaking a sweat these laptops can handle the most demanding work and gaming.
Top 5 Best MSI Laptop Reviews in 2024
Now if you have already decided to go for an MSI laptop then there are a lot of models available in the market and some are very highly priced according to their specs.
So which one you should choose? no need to get confused, we are here to help you you in choosing the right one. First of all, you need to access your work or gaming needs since there are many budget laptops of MSI you can get under a cheaper price tag but they are capable of providing you top-notch performance.
Now for your convenience, we have compiled a list and detailed review of the Top 5 Best MSI Laptops you can get in 2024.
To find out more about different technical aspects of laptop brands including MSI you must read The Best Laptop Buying Guide by IntoLaptop.com.
So without any further delay, let's jump into the post. 
1.

MSI GT63
"Powerful Performance & Stunning Display"
Design
The MSI GT63 Titan gives a subtle yet sleek impression from the brushed aluminum to the curved etchings around the seams and the middle of the frame. MSI's backlit logo and the glossy red lines, however, look more like a Hot Wheels toy rather than a gaming machine.
The moment you will open the lid RGB-backlit keyboard will capture your attention with waves of gorgeous colors. A very incognito speaker vent is situated above the deck, alongside buttons to enable the fans, the SteelSeries lighting App, and control of the XSplit Gamecaster streaming App.
The MSI GT63 Titan gaming laptop weighs around 6.7 pounds and its body dimensions are 15.4 x 10.5 x 1.6 inches.
Display 
The 15.6-inch display of the GT63 Titan and its 1920 x 1080 FHD resolution will definitely be going to impress with vivid colors, detailed images and seamless graphics because of the Nvidia G-Sync technology 120-Hz screen.
The screen of the GT63 Titan displayed a stunning 161 percent of the sRGB gamut of colors. With that, it has tops the luxury gaming-laptop average of 132 percent.
The MSI GT63 Titan delivers 274 nits of brightness, falls just marginally behind the category average of 278-nit. However, this display is far better than some of the similar machines dim and dull screens under the same price tag.
Performance Under Workload  
The MSI GT63 Titan gaming laptop comes equipped with an Intel Core i7-8750H CPU, 16 GB RAM, and 256 GB SSD accompanied by 1TB SATA 7,200-rpm HDD.
During our test GT63 cope up well with 30 Google Chrome windows opened, a 1080p movie trailer playing and a graphics-intensive game running at the same time. This machine didn't show any signs of slow down, which is impressive considering its price tag.
The MSI GT63 Titan scored impressive 20,137 on the Geekbench 4 general performance test, among its competitors, this happens to be the highest score. The only downside is the battery life which only lasted 2 hours 48 minutes while even web surfing only. 
BUY NOW ON AMAZON
2.

 MSI GS65 Stealth-432
The Most Stylish Laptop Under $2500
Design 
The Stealth MSI GS65 Stealth-432 gaming laptop looks stunning with gold color accent and attractive thin design, it is one the few most good looking gaming laptops available in the market.
The laptop's chassis is made out of sandblasted aluminum alloy in black finish. MSI has replaced little Midas touch with a printed black and gold emblem on GS65 Stealth-432 laptop, Instead of its usual backlit red and white dragon logo style.
The top of the lid has thin, diamond-cut golden strip lines. For an elegant look, the company has added some gold color to the side vents as well.
Display 
1920 x 1080 is the only resolution that MSI GS65 Stealth-432 laptop's 15.6-inch display offers. 144-Hertz refresh rate helps to cut down screen tears and latency however this laptop does not have any QHD or 4K version.
The pink and green neon holographic controls in the Tears of Steel gives MSI GS65 Stealth-432 a rather unique look.
Even though this laptop lacks support for 4k videos, the display provides details sharp enough in HD videos. While playing games the repose time and refresh rate of the display were fast as well.
GS65 Stealth-432 gets the 288-nit premium gaming score and when measured for brightness its panel averages at 293 nits.
Which is nowhere near its competitors with almost the same price tag. The maximum brightness of this laptop is rather low so it will be okay if you wanted to use it for indoors only.
On top of that, there were few cases in which people got this model with faulty displays suffering uneven illumination.
Having uneven illumination of the display is not a thing which you spot easily, to find that you have to use dark-colored wallpapers on full brightness.
Performance Under Workload
MSI GS65 Stealth-432 is among those few gaming laptops in which Intel's new 8th Generation Coffee Lake processor got added for the first time.
That's why it delivers more performance than the previous generation since instead of four these new chips have six cores.
This powerful processor is the main reason that GS65 Stealth-432 laptop can easily handle multitasking while running heavy games, it does not show any sign of latency under full load.
It has scored 17,184 on Geekbench 4 and easily achieved the 15,942 premium gaming average during the synthetic tests.
BUY NOW ON AMAZON
3.

MSI P65 Creator-1084
"Full-Fledged Gaming Beast & Video Editing Workstation in Reasonable Price" 
Design
The MSI P65 Creator-1084 is made out of aluminum with a silver finish, good thing is that at least we don't have to worry about it being made of plastic. However, when adding some weight to the center of the keyboard its lightweight produces some visible flex.
Also when you push the corners of the screen and area around the power button, the same flex happens. A security lock slot, two Type-A USB 3.1 ports an Ethernet port, and separate jack for headphones and microphones are included in the connectivity options of MSI P65 Creator-1084 gaming laptop.
You will find a display outputs for mini DisplayPort and HDMI, an external USB-A port, an AC adapter connector and a Thunderbolt 3 port on the right side of this gaming rig.
Display 
The MSI P65 Creator-1084 offers a 4K 3840 x 2160 resolution eye-friendly display, the screen is non-touch. Though as games do, productivity and innovation Applications will not going to exploit their high refresh rate.
All of the images look incredibly sharp on this display. backed by wide viewing angles and inky blacks set on pristine white backgrounds, the level of brightness and contrast is more than enough.
Even though the matte finish of the screen minimizes screen glare but at the same time, the colors look faded. Ultimately, for long work sessions, this screen will appear to be a good place. So overall the display of MSI P65 Creator-1084 is great especially if you are interested in playing triple AAA games. 
Performance Under Workload 
The MSI P65 Creator-1084 is as powerful as it comes in performance with the new Intel Core i7-9750H CPU, 32 GB RAM, 1 TB Teton Glacier SSD, and Nvidia GeForce RTX 2060 graphics card.
Good thing is that this configuration is the same as compared to gaming laptops. This simply means for the vast majority of things as a content creator you can throw at it, this machine is capable enough to cope up well with them all as its name suggests.
This laptop easily edits a 4 K video without slowing down throughout the whole process during our test and it takes a matter of seconds to render the edited video at the tail end.
To be honest, that kind of performance level you only get from a pro-machine built for content creation and editing. So if you require a laptop for video editing and content creation then consider MSI P65 your best option under the budget of $2500.
BUY NOW ON AMAZON
4.

MSI GL73 9SDK-219
"Powerful Gaming Workstation with Great Specs" 
Design
The MSI GL73 9SDK-219 gaming laptop is the GL72's relatively small redesign version. While there has been no change in its overall appearance and chassis material, there are now more ventilation grills than before and the integrated optical drive has been dropped.
It makes us believe that when MSI developed the successor to the GL72, cooling was a high priority.
The dimensions of the chassis are almost identical to the last generation GL72 and, depending on the installed storage, are significantly lighter by about 200 g to 300 g.
Nevertheless, the MSI GL73 in its budget category is still thicker than many competitors. The GL73's thick and unsightly display bezels do no favors either.
Display 
Surprisingly, the MSI GL73 uses the same high-quality panel of Chi Mei N173HHE-G32 TN as used on the MSI GE73 Raider.
The response time of black & white fast 5 ms eliminates ghosting whereas a buttery-smooth Windows experience is guaranteed by the native refresh rate of 144 Hz.
There are no major problems with graininess on the matt panel. However It is not as crisp as a full-on glossy display, but on some Clevo systems, it's nowhere near as grainy as you can experience on them.
In order to satisfy most digital artists, color space covers sRGB in its entirety and about 76 percent of AdobeRGB.
In many budget-mainstream gaming laptops, colors are deeper and more vibrant. For example, the AUO panel on the Dell G3 17 covers only 58% of AdobeRGB.
Performance Under Workload
First of all MSI G73 has gotten the Intel Core i7-9750H processor as a major upgrade from last year's model.
The Core i5-8300H and i7-9750H are common to enthusiasts of gaming laptops on the budget as well.
For instance, the biggest difference is the GeForce GTX 1660 Ti Turing GPU to replace the last version of GeForce GTX 1060 Pascal GPU used on most yesteryear's mainstream gaming laptops.
Nvidia Optimus comes standard with the integrated UHD Graphics 630 for automatic graphics switching.
Therefore, on the GL73, G-Sync is not an option.  Exactly as we have expected by 3DMark, while RTX-specific features such as ray tracing and DLSS are off.
Real-world performance in games is very similar to the GTX 1070 Max-Q. Based on the model, the performance boost over a GTX1660Ti can be even higher at up to 50 percent.
For a total of 7, the newer GL73 has almost double the heat pipes while keeping the same 50 mm twin fans as before.
BUY NOW ON AMAZON
5.

MSI GV62 8RD-276
"Sleek & Stylish Power Packed Gaming Machine"
Design
While MSI's GV62 offers a minimal exterior that looks pretty beautiful, it is not as flashy as other gaming notebooks. We do have some questions about the build quality of this laptop, however.
The plastic, black colored chassis with IMR paint is soft to the touch and elegantly hair-brushed. On top just below where the curves meet to form a stylish arrow, shines a black, engraved MSI logo.
The shiny dragon shield from MSI is protruding from the case below that. We spotted trendy red highlights all along with the vent grill as we made our way down to the hinge. Unfortunately, when the lid is open, the bottom portion of the lid flexes, if you even apply slight pressure.
Despite being a high-priced machine one of the trade-offs should not be that flexing lid. With bold red and black paint and red LED lights on the GV62, the keyboard is quite traditional.
Display 
The 15.6-inch MSI GV62's, 1920 x 1080, matt IPS screen provides fairly broad viewing angles and it is decently bright. but this panel is simply not very colorful. The panel of the GV62 recorded only 72 percent of the sRGB color gamut on our laboratory tests, well below the average of 102 percent in the group.
The MSI was edged out by the Lenovo Legion Y720, with 73 percent whereas Acer Predator Helios scored a much higher 81 percent when compared. With just 68 percent, the HP Pavilion Power 15 t did even worse. 
The MSI GV62 was not too far behind the average category of 260-nit at 240 nits of brightness. The overall performance of this display on gaming is pretty impressive even better than some of the premium devices. In fact, this display shows you even minute details from every angle even under the dark backgrounds. 
Performance Under Workload
Shadow of War ran silky smoothly with the MSI GV62, with 30 Google Chrome tabs open in the background and Childish Gambino's This Is America running at the same time. The MSI GV62 seems like quite the steal at $1,049 between its powerful 8th Gen Intel Core processor and its fairly powerful Nvidia GTX 1050 ti graphics.
The sleek construction, outstanding keyboard support, and powerful speakers make it a great option under a budget of $1000. Yet the experience is marred by the flexing lid, painfully loud fan, and slender show.
There is no such thing as a perfect gaming laptop that exists since you have to compromise on something at the end. If you want an excellent-performing laptop then consider MSI GV62 a great option. 
BUY NOW ON AMAZON
Last update on 2023-11-27 / Affiliate links / Images from Amazon Product Advertising API