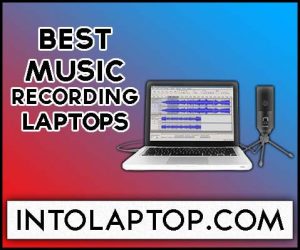 To some music is entertainment for their spare time and to some, it is their bread and butter. With the increasing trends in music, music production has become an accessible option for many.
Thanks to the technological advancements and musical applications that have made making music easy for artists. And with more need to take your music with you, it is the high time we look on the best laptops that help you to do so.
Also Read: 10 Best Video Editing Laptops
5 Best Laptop for Music Production  & Recording In 2022
Looking for the best laptop for Music Production and Recording in 2022? WE have you covered. We have gathered a list of the top 5 picks that stand out in the music production and audio recording category.
Have a look!
Also, you can explore intolaptop.com to find out plenty of more laptops that come with different processors. 
1.

Apple MacBook Pro
The Best For The Brightest.
Pros
Stunning Retina Display
Premium design
Touch Bar & Touch ID
Up to 11 hours of Battery Life
Six Speaker Sound System
Cons
Slightly Heavier
Quite Pricey
If you want a high-end gadget that can help you do the task, nothing can perform best other than Apple. MacBook Pro is our top pick among the best laptops for music production if you are willing to pay $$$.
This laptop from Apple packs a stunning Retina Display, powerful processor, and an ergonomic design. It comes with 16GB RAM but can be maxed out at 64GB. The storage can be extended up to 8TB. What else you would need?
BUY NOW ON AMAZON
2.

HP Spectre x360

A Speedy Little Performer With Great Look.
Obviously, this laptop from HP isn't as pricier as MacBook Pro, but you would definitely need to pay more compared to other options on the list. HP Spectre x360 is one of the best laptops ever made.
It is an all-rounder machine that can perform multitasking very well. This is a stunning 2-in-1 laptop that comes with every feature you might need. It packs a good 12+ hours battery life, a powerful processor, and yes a beautiful design.
Pros
Beautiful Graphics
Great Look
Gorgeous OLED Display
Impressive Battery Capacity
Comfortable Keyboard
Overall Fast Performance
BUY NOW ON AMAZON
3.

Razor Blade 15

Ultra Fast. Ultra Small. Ultra Powerful.
Pros
Impressive Design
Powerful Processor
Amazing Cooling Support
Cons
Screen Quality Needs Improvement
This is a gaming laptop though, but it can help you do other tasks as well, and that too quite well. Razor Blade 15 series is counted among one of the most powerful laptops ever produced. Thanks to i7-8750H clocked at 2.2GHz.
Since it is a gaming laptop, it comes with an impressive battery cell and visual touches. Its screen quality does need some improvements, otherwise, this is a complete beast that needs attention here.
BUY NOW ON AMAZON
4.

ASUS VivoBook
See more. Carry Less.
Pros
Immersive Graphics
NanoEdge Bezel Display
Backlit Keyboard with Fingerprint Sensor
Comfortable Keyboard
Overall Great Performance
ASUS VivoBook has been one of our favs because of its outstanding features. Although it is short of a good battery, but if that's not what you need, it is the best option you can have.
It offers quite good connectivity options, along with crisp visuals. It comes with 4 displaying modes and everything that you need for exceptional performance.
BUY NOW ON AMAZON
5.

Acer Aspire 7

Launch Your Creativity.
Pros
Lightweight and Ultrathin Design
Sharp & Crisp Visuals
Extensive Connectivity
Comfortable Keyboard
If you are looking for a budget laptop that helps you perform your given task, Acer Aspire 7 stands out. It is overall the best option that comes with everything you need to ramp up your creativity.
It comes with a lightweight design but has an average look that obviously doesn't matter since it performs quite well. It also has an efficient battery and comfortable keyboard to help you create more.
BUY NOW ON AMAZON
Conclusion
Choosing a laptop for music production is not hard. All you need to have to look for good battery life, enough storage, and a powerful processor. All the above consists of that, of course, and more.
Apple MacBook Pro is a higher-end option for those looking to invest big money. But if you are looking for a budget-friendly device for your needs, Razor Blade 15 and HP Spectre x360 also make a good choice.
We have listed our top 5 best laptops in the list above that you can consider before buying one for your music production. Also, you can check Into Laptop for more reviews on laptops.
Bonus Music Production Laptops
LAPTOP BUYING GUIDE 2022
Laptop Brand: Which Brand's Laptop is your priority?
Display Size: Which Screen Size will you prefer?
Performance: Which CPU will you need?
Graphics Card: Which GPU will you like to have? 
RAM & Storage: How much RAM & Storage is needed?
Operating System: Which Operating System you want to have?
Battery Life: How much battery life do you expect?
Work Purpose: Know the purpose and buy a Laptop tailored for your work purpose.
Budget: Find the Laptop within your budget.
Last update on 2022-09-19 / Affiliate links / Images from Amazon Product Advertising API